Recounting the Biggest Missteps in Nick Diaz's Career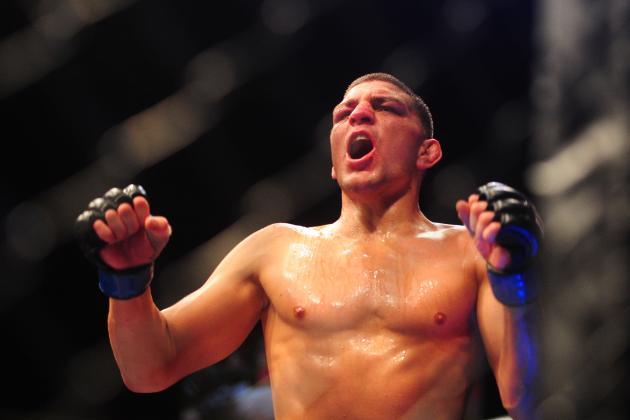 Mark J. Rebilas-USA TODAY Sports
Nick Diaz has committed many, many faux pas over the years.
When I do research for an article, I often read articles on similar subjects done by my Bleacher/Report comrades. Here, one of my old bosses leaves off his article on Nick Diaz's most outrageous moments with a cryptic "so far."
He was right in doing so.
While Diaz has a downright irrational, inconsolable fanbase, his is a career defined by controversy and a lack of impulse control. That is impressive, given how many amazing fights he has been part of.
So what are the moments that made Diaz become equal parts fan favorite and annoying malcontent? What are the moments that made his fans stand up and cheer, and every other MMA fan sigh and shake their heads?
Find out right here!
Begin Slideshow

»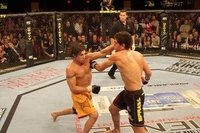 Nick Diaz and Diego Sanchez had a good fight, but it wasn't their first dance that night. Photo c/o CNN.com.
This September will see the 10th anniversary of Nick Diaz's UFC debut against Jeremy Jackson. Crazy, isn't it? Well, the "old" Nick Diaz (in reality, the young Diaz) had a couple years in the UFC defined by nothing more than being a really exciting fighter.
The first hint that Nick Diaz was a bit "off" came when he faced The Ultimate Fighter winner Diego Sanchez, and it's very appropriate to list this as a "misstep."
Things started innocently enough, with Diaz taking swipes at Sanchez based on his time on The Ultimate Fighter. It was a bit indignant, sure, but it was not a sentiment that Sanchez hadn't heard before.
The real trouble came immediately before the fight, though, as Diaz approached Sanchez's locker room and reportedly hurled a shoe at him.
Yeah.
Diaz's sick kicks wouldn't work before, or during the fight, as Sanchez took a unanimous decision victory. Diaz would say in the post-fight interview that Sanchez and his fellow Ultimate Fighters still had no place in the cage, in spite of the loss.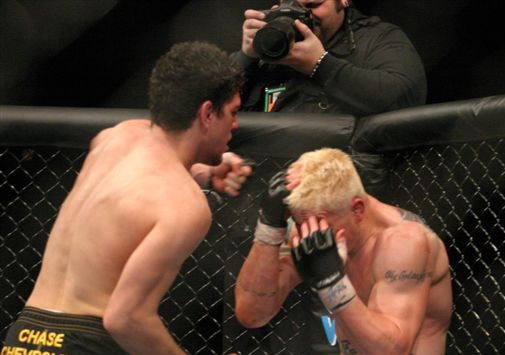 In back-to-back fights, Nick Diaz would have a violent out-of-the-cage altercation with his opponent. Photo c/o Sherdog.com.
For the second fight in a row, Nick Diaz had a wacky, violent outburst outside the cage. This time, it came against former WEC middleweight champion and former UFC welterweight title contender Joe Riggs.
Again, Diaz would taunt Riggs as soon as the fight was announced, and continued all the way through the fight. Again, he would lose. Again, he would be less than a sport about it.
Both Riggs and Diaz were sent to the hospital after the fight for observation. In fact, they were sent to the same hospital. This is where things get murky, but what we do know is that the two fighters came upon each other, had words, and then had another fight.
In terms of sheer ridiculousness, this takes the cake for Diaz's antics.
Nick Diaz had a huge win over Takanori Gomi...until it was overturned. Photo c/o Sherdog.com.
After dropping fights to Sanchez and Riggs, Diaz would then lose to Sean Sherk. After three consecutive losses, Diaz was briefly released from the UFC, brought back, and then left of his own accord. His eventual landing spot? Pride FC. His first opponent? Top lightweight Takanori Gomi.
This would end up being one of the greatest wins in Diaz's career, as he came back from being rocked by the heavy-handed Pride champ, wore him down and submitted him in the second round with a gogoplata. That win, however, would not last very long.
Diaz checked in with literally off-the-chart levels of THC after the fight. The NSAC would turn the win to a no contest and suspended him for six months.
Cesar Gracie, naturally, cried foul and played up Diaz as the victim. Diaz, hilariously, said the positive test was embarrassing and that he doesn't usually abuse any drugs.
As you probably know, this wouldn't be the last time Diaz found himself in trouble for his weed habit.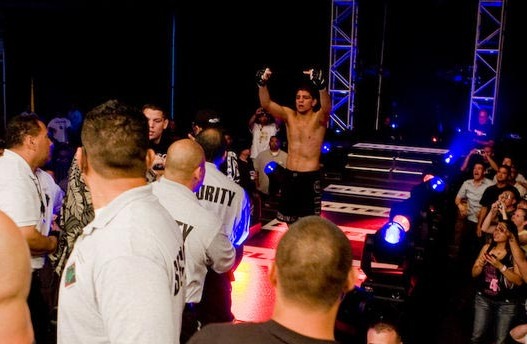 Nick Diaz's first brawl in the cage came in Hawaii with EliteXC. Photo c/o CombatLifestyle.com.
After Pride was purchased and harvested by Zuffa, Nick Diaz found himself in EliteXC. He won his first fight against Mike Aina, but lost his second fight to KJ Noons after the first round due to a doctor stoppage from an ugly cut. The loss didn't sit well with Diaz, and EliteXC knew they had a headline-worthy rematch on their hands.
To hype the fight, they brought Diaz into the cage after Noons defended his belt from Yves Edwards. The results were what you would expect.
Nick and Nate both entered the cage, and began jeering Noons, which included the now-famous "don't be scared, homie" line that would remain the most memorable quote of his career. Eventually, a member of Noons' corner took a swipe at Nick and Noons himself tried to move in on the action.
Security was present in the cage and quickly separated everyone and the Diaz brothers would be escorted to the locker rooms waving their center digits.
The rematch, however, would never come to fruition. Noons would pass on Diaz and was scheduled to instead face Eddie Alvarez at what was supposed to EliteXC's final event. The event would be canceled and Diaz would then find his way to a more permanent home in Strikeforce.
Nick Laham/Getty Images
Jay Hieron was the first fighter Nick Diaz skipped out on.
Nick Diaz had two catchweight fights in Strikeforce before dropping to welterweight and being offered a title bout. His opponent? Joe Riggs.
Yes, the same Joe Riggs.
Riggs, unfortunately, withdrew from the fight from an allergic reaction to a drug and was replaced by UFC veteran Jay Hieron. Diaz, though, would scuttle this title fight. A notion which, more than anything else, has come to define his MMA career to this point.
Diaz skipped CSAC-mandated pre-fight drug tests. The reason? Naturally, because he knew he was going to test positive. Cesar Gracie said as much, and complained the CSAC didn't give him adequate time to cover up the fact he had, once again, been smoking weed before a fight. Again, this is after he already received a suspension for his bout with Takanori Gomi.
Diaz would not receive his license to fight and, as such, was replaced by Jesse Taylor. Strikeforce was not interested in having a title fight that didn't involve Diaz, and took the belt off the table.
As we know, however, this would become a trend for Nick that he is yet to buck.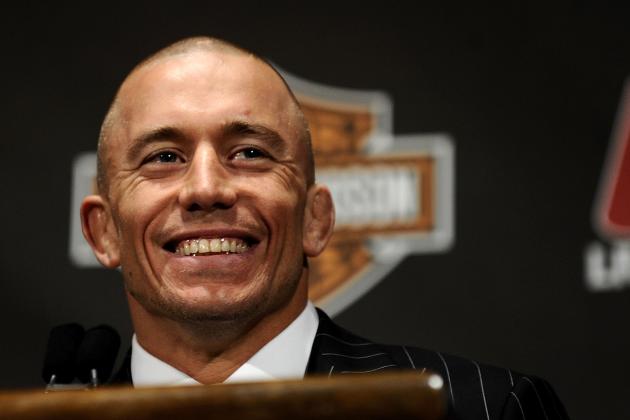 Jeff Zelevansky/Getty Images
Diaz failed to live up to his media obligations and would be removed from a title fight with GSP.
Diaz would take the Strikeforce welterweight belt by knocking out Mariusz Zaromskis. He would defend it three times, from KJ Noons, Evangelista Santos and Paul Daley.
When Zuffa purchased Strikeforce, though, Diaz was officially through with the promotion, and politicked his way to the UFC. His first opponent? Welterweight champion Georges St-Pierre.
St-Pierre was coming off a win over Diaz's teammate and fellow Strikeforce champion, Jake Shields. While St-Pierre was heavily favored, it was still a highly-anticipated event, and would almost certainly be the most exciting title fight we've seen in the welterweight division in a long time.
Then, suddenly, it was canceled. The reason? Diaz consistently passing on his media obligations.
GSP was scheduled to take on Carlos Condit and Diaz, eventually, was pitted against former lightweight and welterweight champion BJ Penn. As you probably remember, GSP would withdraw due to a knee injury that would keep him on the shelf for over a year.
Diaz would rough up BJ Penn and was downright wacky at the post-fight press conference. He was lined up for yet another shot at UFC gold. That, too, would go very poorly...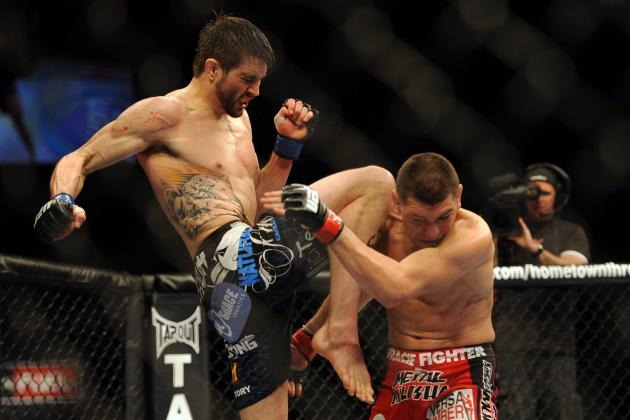 Kelvin Kuo-USA TODAY Sports
Some fans say Diaz beat Carlos Condit...but Diaz was never going to hold the belt with his failed drug test.
With St-Pierre out of commission indefinitely, an interim title fight was set up between Nick Diaz and Carlos Condit. When the two fought at UFC 143, Condit would out-land and out-work Diaz in a tight, striking-focused battle.
The fight itself may have been close, but the outcome was predetermined. Nick Diaz, once again, would fail a post-fight drug test for smoking weed. A rematch Dana White was scrambling to put together was halted before it truly began, and with that, we had not one, not two, not three, but four title fights that Nick Diaz had successfully ruined for himself.
The talk then immediately turned to how lengthy Diaz's punishment would be. The consensus was not great for the former champion. What came next, however, was downright ridiculous.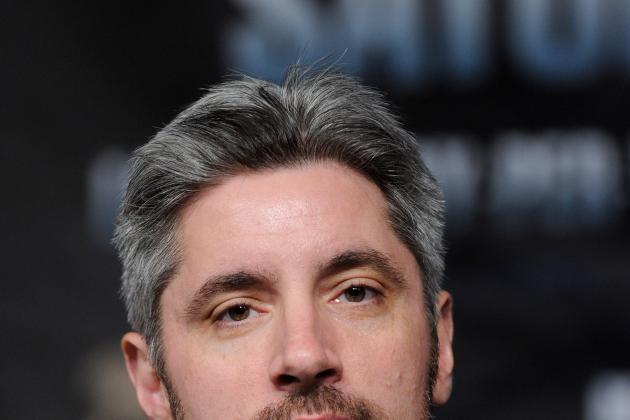 Ethan Miller/Getty Images
The battle over Diaz's suspension, from the outside, was downright hilarious.
As soon as it was announced that Diaz was again facing a suspension for weed, everyone knew what was coming. Diaz was going to be suspended for a year. We have seen it before, and there was no doubt that Diaz would find himself in the same position as everyone else.
Still, he would not go gently into that good night. He would go kicking, screaming and suing.
The entire thing was a circus from start to finish. The hearing was pushed back. Finger-pointing resulted.
Keith Kizer, the Executive Director of the NSAC, got in his words. Cesar Gracie gave a ridiculous explanation on how they usually cover up his marijuana habit on drug tests.
Diaz's lawyer, Ross Goodman, had a downright absurd defense, claiming that testing positive for marijuana metabolites does not...I don't know...indicate marijuana use? Or that marijuana metabolites themselves aren't on the banned substance list?
When the actual hearing happened, Nick Diaz spoke...and did not help his case. He admitted to getting weed from drug dealers, rather than dispensaries.
He admitted to lying on his forms before his fight with Condit and to lying to the NSAC directly during the hearings for his previous failed test. He also disagreed with the notion that marijuana doesn't enhance his performance.
It was a ridiculous series of events that showed the whole world that, yes, there is something off about Nick Diaz.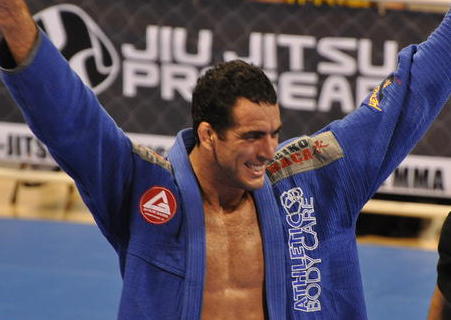 Diaz skipped a charity fight for no discernible reason, and looked the fool as a result. Photo c/o rossfinlayson.com.
When Nick Diaz files his taxes, his accountant probably writes in "professional fighter" as his job.
Diaz has always struggled with the "professional" part of that moniker. It seemed, however, when he skipped out on a BJJ contest that was set up for charity, that he was having just as much trouble being a "fighter."
With plenty of time on his hands courtesy of his suspension, Diaz started returning to his Brazilian Jiu-Jitsu roots. He agreed to take part in an event for the World Jiu-Jitsu Expo, which would donate a portion of the pay-per-view proceeds to St. Jude's Children's Research Hospital.
He would face world-renowned BJJ practitioner Braulio Estima. Diaz, naturally, did not bother to show up for the event.
Explanation from the Diaz brothers and Cesar Gracie were wide-ranging and absurd. The promoters didn't cut a check to charity, even though the event was yet to take place. Braulio Estima came in overweight initially, even though other matches had even bigger weight differences, and even though Estima came into the fight at the agreed upon weight.
Diaz didn't want somebody to piggyback on his fame, even though this is a for-charity event and Estima was a well-known member of the Blackzilian team.
Ultimately, anybody of average or greater intelligence was beyond skeptical of Diaz's explanations.
That, ladies and gentlemen, brings us to the end of this list. Make sure to check in later, though. We all know it's going to grow.