Chelsea vs. Arsenal: 5 Biggest Things the Blues Should Fear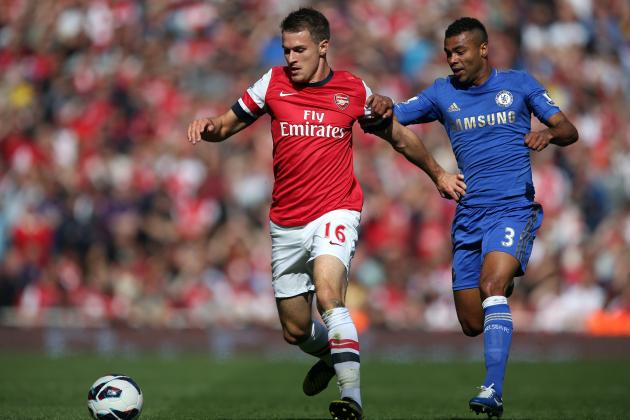 Richard Heathcote/Getty Images

Chelsea will face their fiercest London rivals Arsenal at Stamford Bridge in the lunchtime kickoff on 20/1 having won the reverse fixture at the Emirates 2-1.
Fernando Torres and Juan Mata scored for Chelsea either side of a Gervinho strike as the European champions continued their great run of form at the start of the season.
Since then, the Blues have been pounding the self-destruct button and have conceded five goals in their last three matches at Stamford Bridge.
Having gone 86 games unbeaten in the league at home under Jose Mourinho, they have turned their fortress into a sand castle and will hope for a better result against Arsenal to stave off the Gunners' challenge for a Champions League spot.
Here are the top five things that Chelsea should be most worried about heading into the derby.
All stats are provided by EPLindex.com
Begin Slideshow

»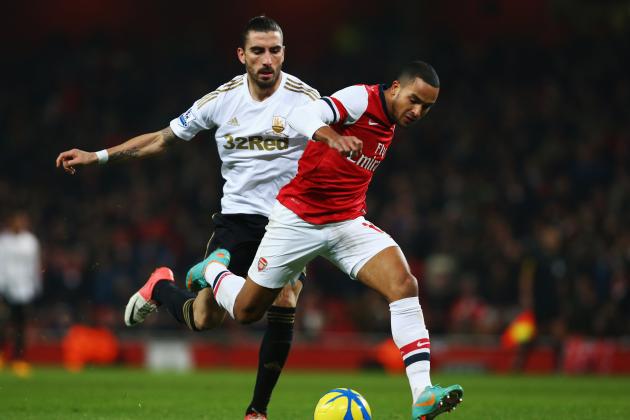 Jan Kruger/Getty Images

Theo Walcott signed a new contract with Arsenal on Friday, and he is now looking to cement a move up front to become an out-and-out striker. However, his goal-scoring ability is secondary to his speed and dribbling.
So far this season, Walcott has completed 21 successful dribbles and has been dispossessed a measly 18 times. His final-third passing accuracy stands at 79 percent, higher than Chelsea's playmaker Juan Mata, and the nifty winger has a pass completion rate of 84 percent from open play.
Chelsea's width comes from their full-backs Ashley Cole and Cesar Azpilicueta, which leaves them vulnerable on the counter, especially with the likes of Walcott on the attack. Cole will need to be on the top of his game to neutralise the threat posed by Walcott.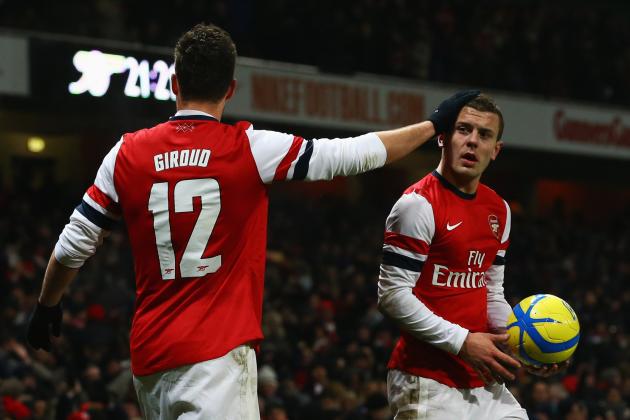 Jan Kruger/Getty Images

Arsenal like to pass the ball.
A lot.
One of their fans' biggest grievances with the club over the past few years has been their apparent inability to score unless they walk the ball into the net. This philosophy centres around the Gunners hanging on to the ball for as long as possible.
So far this season they have held possession for an average of nine minutes at a time, two minutes more than Chelsea have managed. The Blues have been starting slowly in their recent games, but they will need to get an early foothold against the Gunners if they want to halt their horrendous home form.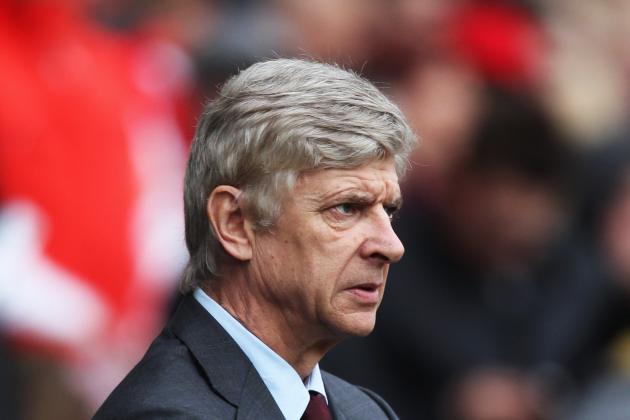 Ben Hoskins/Getty Images

Once upon a time, Arsenal were title challengers. They even won the Premier League in 2003/04 by going through an entire season unbeaten.However, since winning the FA Cup in 2005, the Gunners have failed to win any silverware in seven successive seasons.
The fans have stood behind Arsene Wenger and his policy of not making big-name, big-money signings throughout that time, but the sale of Robin van Persie to Manchester United in the summer has highlighted the major flaw in Wenger's management.
Instead of hanging on to their star players for as long as possible, Arsenal have become something of a feeder club. They will have been troubled by the development of Financial Fair Play regulations having accrued a massive debt in the move from Highbury to the Emirates stadium, but now that they are on a more secure financial footing they will need to splash a bit of cash if they want to succeed any time soon.
They made a profit of around £20 million on Robin van Persie, having bought him from Feyenoord for a reported £3 million in 2004, but they need to re-invest some of that money to find a goal scorer who will provide as much as Van Persie did.
The frustration of failing to bring home a trophy in any of the past seven seasons will be compounded as their recent poor run of form has seen them slip further off the pace in the running for a Champions League spot. A win over their London rivals would provide the boost to morale that the Gunners are so desperately seeking.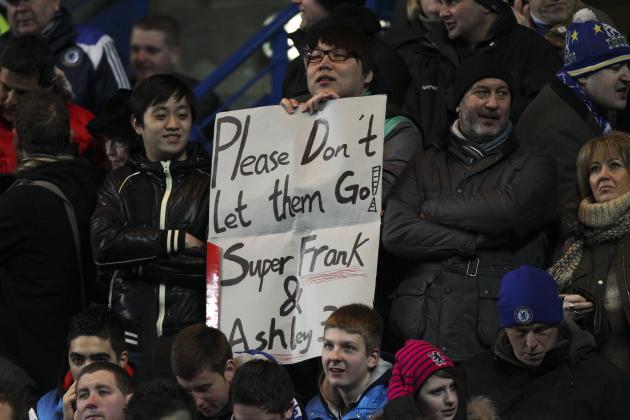 Ben Hoskins/Getty Images

So much has been written about the mutinous atmosphere at Stamford Bridge and the impact that it's having on the team's performances. Commentators are right when they say that if the fans want the team to succeed they need to get behind the manager whoever he is.
That is not going to happen, though. Chelsea's fans feel betrayed and angry, and the revelation that the club have failed to even speak to Frank Lampard about a new contract has only fanned the flames of an already raging inferno.
It is sad that Chelsea have performed so much better on the road. They have won their last three away matches in the Premier League, whereas at Stamford Bridge they have one win, a draw and a loss to their name.
If this game was to be played at the Emirates, Chelsea would likely feel far more confident of a win, which speaks volumes about the way the club has imploded since November.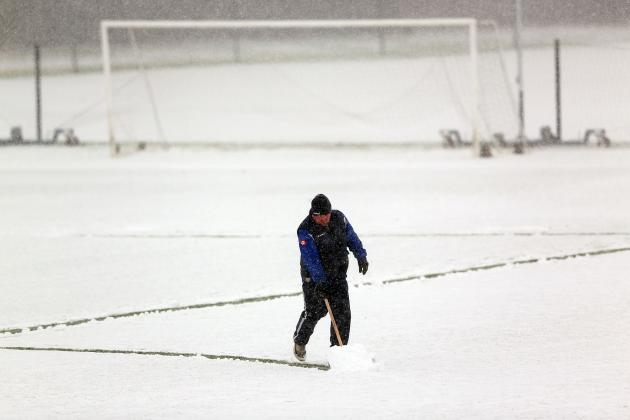 Clive Rose/Getty Images
This is the scene at QPR's training ground, as London is covered by significant snowfall.
The British fascination with the weather is well-documented. This national obsession has reasonable grounding in the reality that the weather on this small island is so unpredictable and extreme.
Whilst the pitch will have been covered and undersoil heating will be employed, the matchday weather forecast is predicting light snowfall, with temperatures of minus-1 centigrade, dropping to minus-6 with the wind chill.
This fixture is traditionally very physical and any knocks will hurt a lot more than usual.