US Men's National Team: Grading Every Member of Klinsmann's Training Squad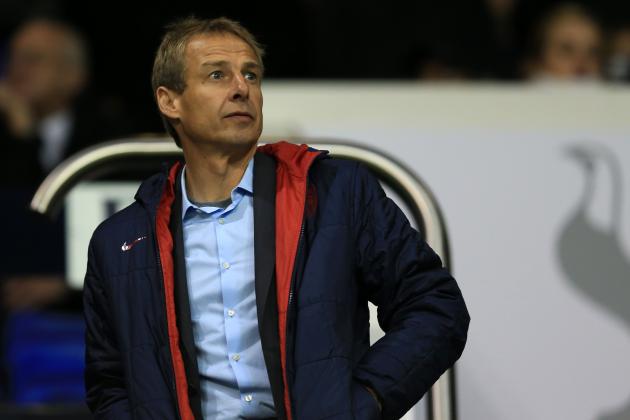 Richard Heathcote/Getty Images

With the United States Men's National Team January camp now in full swing, the big question is, who from the camp has a chance to make the roster for the U.S.' first hexagonal World Cup qualifier against Costa Rica on February 6?
In this article, I'll be grading each player's odds of making the February roster.
Begin Slideshow

»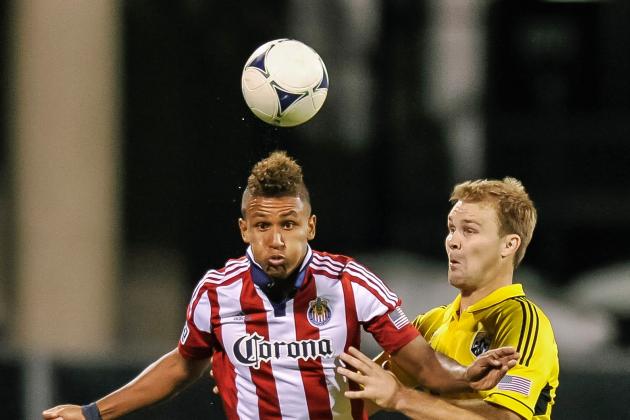 Jamie Sabau/Getty Images

After a surprisingly poor 2012 MLS season, Juan Agudelo pushed his way back into the national team conversation by picking up an assist in the U.S.' friendly against Russia in November.
This offseason, Agudelo has spent time training with both Celtic and West Ham and appears ready to resurrect the promise he showed in 2010 and 2011.
With Clint Dempsey, Herculez Gomez, Jozy Altidore and Terrence Boyd still all in the mix, Agudelo will have to have a solid camp to earn his way in.
Odds of a February call-up: 6/5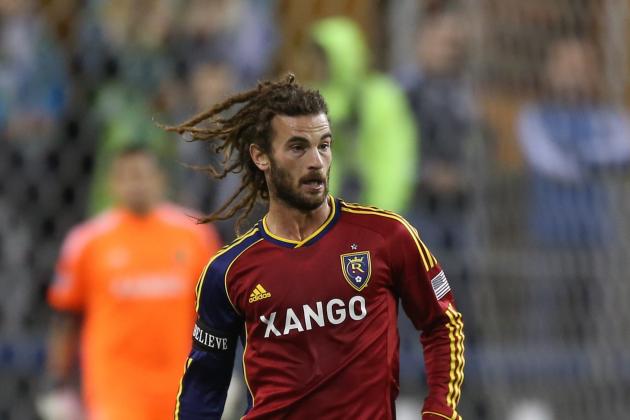 Otto Greule Jr/Getty Images

For whatever reason, USMNT head coach Jurgen Klinsmann rates Kyle Beckerman much higher than the vast majority of the U.S. fanbase.
Beckerman has earned 11 caps under Klinsmann, despite the fact that Beckerman has been unimpressive in all of them.
Michael Bradley and Jermaine Jones have the inside track on the holding-midfield positions for February, but after those two players, it's a crap shoot.
Maurice Edu is a solid player, but has been in the abyss with his new club, Stoke.
Danny Williams performed well against Jamaica back in September, but has since put in a couple of shaky performances.
Against Costa Rica, Klinsmann is likely to look for all three points and adopt a more aggressive strategy. This means that he is likely to use Jones or Bradley in a more advanced position and slot in someone else to take care of the holding duties.
As much as that might annoy USMNT fans, that player clearly could be Kyle Beckerman.
Odds of a February call-up: Even money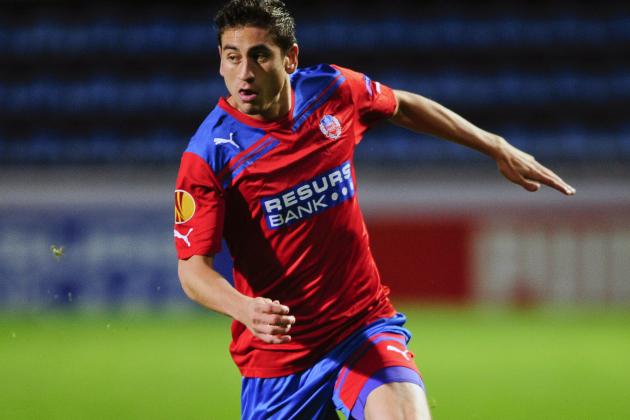 EuroFootball/Getty Images

For many USMNT fans, Alejandro Bedoya's call-up to the January camp was welcome news.
Bedoya had starred for the U.S. in the 2011 Gold Cup, but a rough club stint with Rangers left Bedoya in the cold after Jurgen Klinsmann took over the reins of the national team in the summer of 2011.
This past season with Helsingborg, Bedoya put together a good run of form and just in time. With the U.S. still uncertain about the future of Landon Donovan, and Clint Dempsey being preferred up top, the U.S.' strength on the wings has diminished rapidly over the past 18 months.
In the September and October qualifiers, Graham Zusi and Eddie Johnson made strong cases for the starting spots out on the wings. But, after Zusi and Johnson, the fight gets tighter.
Wunderkind Josh Gatt is the fan favorite and many of the U.S.' attacking midfielders (Mix Diskerud, Sacha Kljestan, Jose Torres, Benny Feilhaber) can be pushed out wide, if necessary. Brek Shea, despite his offseason injury, may still be in the discussion, especially as a Klinsmann favorite, as is frequent Klinsmann call-up Joe Corona.
Klinsmann has even shown in the past that he is willing to move Danny Williams or Jermaine Jones out to the wing, so predicting what he'll do here is a bit of a fool's errand.
Odds of a February call-up: Even money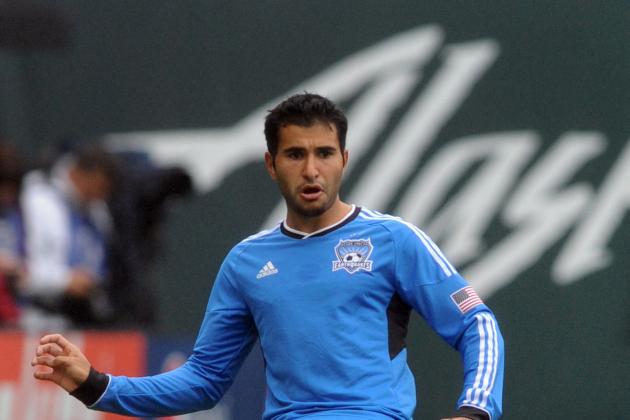 Steve Dykes/Getty Images

Steven Beitashour enjoyed a solid MLS campaign in 2012 and went 90 minutes in the MLS' All-Star victory over Chelsea in July.
He then earned a surprise call-up to the USMNT for their August friendly against Mexico, but did not play in the match.
The problem for Beitashour is that no matter how well he plays in the January camp, it is extremely unlikely Jurgen Klinsmann would call him up in February. Barring injury, USMNT regulars Steve Cherundolo, Michael Parkhurst and even Timmy Chandler are the clear favorites for the right-back position.
Odds of a February call-up: 25/1
Tony Beltran, who plays his club football for Real Salt Lake, is probably most well-known for his goal-line clearance against the Seattle Sounders in 2011 that helped RSL win the playoff series between the two teams.
In terms of the U.S. national team picture, Beltran's chances are pretty bleak. While Beltran can play at either left-back or right-back, he will clearly be behind players like Steve Cherundolo, Michael Parkhurst, Timmy Chandler and Fabian Johnson.
If Klinsmann was in a pinch due to injuries, he would still probably go with Edgar Castillo or Michael Orozco Fiscal over Beltran.
Odds of a February call-up: 50/1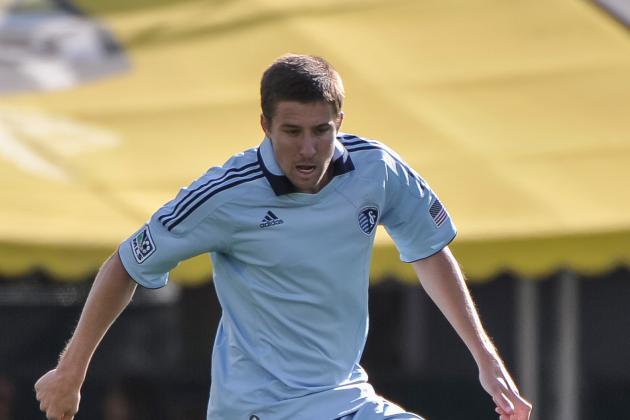 Jamie Sabau/Getty Images

The 2012 MLS Defender of the Year, Matt Besler has as good a chance as anyone in this camp to make the February roster.
A large part of that has to do with the U.S.' relative inconsistency at center-back.
With Geoff Cameron and Carlos Bocanegra still the most likely first-choice pairing at center-back, there are no obvious backups. Oguchi Onyewu has not played for the U.S. since last June and Clarence Goodson has been shaky when he has played.
Besler's chances of a February call-up will depend largely on his January camp showing. If he plays well, he's probably in. If he doesn't, Klinsmann will look elsewhere.
If Klinsmann wanted a more experienced option, he could go back to Goodson or Onyewu. Klinsmann could also go with Michael Orozco Fiscal, Michael Parkhurst or Maurice Edu, all of whom have played center-back for the USMNT under Klinsmann.
Finally, Klinsmann, as he so often does, could throw a curveball and call-in Seb Hines, Zak Whitbread or Tim Ream if Besler does not live up to his billing.
Odds of a February call-up: 7/5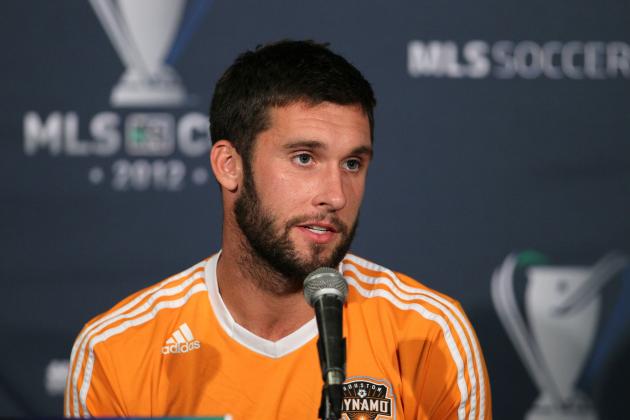 Victor Decolongon/Getty Images

Will Bruin had a solid 2012 MLS campaign helping the Houston Dynamo to the MLS Cup for the second straight year. Bruin finished 2012 with 12 regular-season goals and four playoff goals.
However, Bruin would have to surpass Clint Dempsey, Herculez Gomez, Jozy Altidore, Terrence Boyd and Juan Agudelo, among others, to make the squad.
It's not likely.
Odds of a February call-up: 40/1
Otto Greule Jr/Getty Images

To put it nicely, it was a shock to most U.S. fans to see Edson Buddle's name included on the roster for the January camp.
While Buddle once looked like he might be able to be a valuable contributor to the USMNT, those days are long past. The U.S. forward pool is much, much stronger than it was when Buddle made the 2010 World Cup team.
Buddle's 2012 club form was nothing to write home about either. He finished the MLS season with three goals and looked dreadful for the L.A. Galaxy in the MLS playoffs.
Odds of a February call-up: 100/1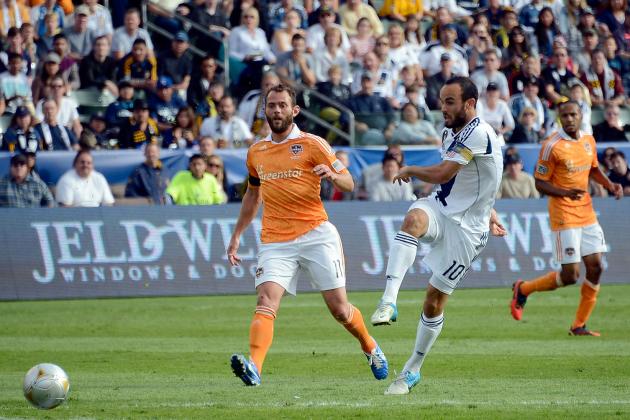 Kevork Djansezian/Getty Images

Brad Davis has been one of those players hanging around the fringes of the USMNT for the last half-decade.
His consistently solid play has helped lead the Dynamo to four MLS Cups and two championships, and he was in fine form again this fall.
However, Davis would have to pass a very strong pool of wingers to make this squad and that is very unlikely.
Furthermore, at 31 years of age, this is probably Davis' last hurrah with the U.S. squad.
Odds of a February call-up: 40/1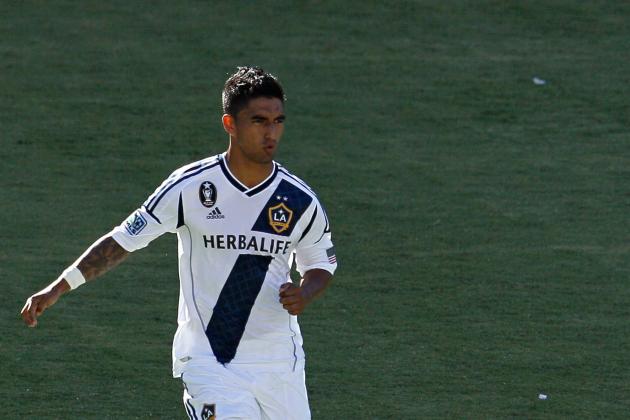 Ric Tapia/Getty Images

A.J. DeLaGarza is a bit of an enigma in American soccer. While he stands only 5'9" tall, he routinely plays center-back for his club, the L.A. Galaxy.
DeLaGarza is able to do this because of his superior positioning and game smarts.
The U.S. has experimented with small center-backs in the past—most recently using Michael Parkhurst there in the January 2012 friendlies.
The question, of course, is will DeLaGarza get dominated in the air against international opponents of superior physical stature? If DeLaGarza can prove that he can, at the least, minimize his physical limitations, the U.S. weakness at center-back could be enough for him to sneak in the door in February.
Odds of a February call-up: 2/1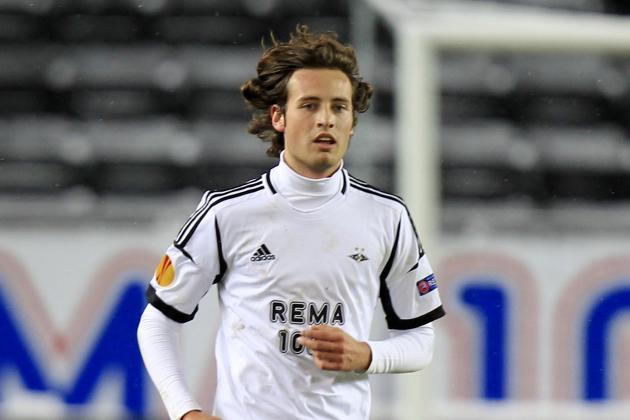 EuroFootball/Getty Images

Mix Diskerud is one of the most exciting prospects the USMNT has seen in a few years. He put together a solid campaign with Rosenborg this past year and scored for the U.S. in their November friendly with Russia.
As a more attack-minded center midfielder, Diskerud's competition for a roster spot is complicated. Of late, Jurgen Klinsmann has preferred to line up in a 4-1-3-2 formation. He has also shown a preference to playing either Michael Bradley or Jermaine Jones as the more attack-minded center midfielder in such a set-up.
However, since both Bradley and Jones can play as a holding midfielder, it is difficult to predict who Klinsmann will call in. Maurice Edu, Kyle Beckerman and Danny Williams are all still in the mix as options as holding midfielders.
However, if Klinsmann decides that having both Jones and Bradley on the roster has the team covered at holding midfielder, the most-likely center midfielder to get called in would probably be Sacha Kljestan.
Jose Torres remains a potential candidate for that position as well, but due to injuries has not featured for either club or country in a while.
So many variables, plus a coach who has a penchant for making unpredictable roster decisions makes this a tough one to predict.
Odds of a February call-up: 5/1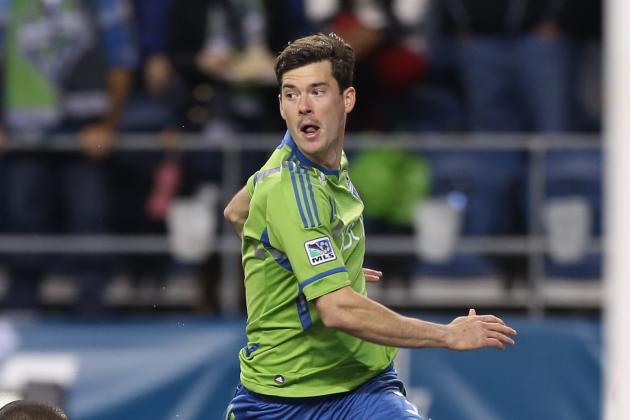 Otto Greule Jr/Getty Images

In 2012,Brad Evans played all over the pitch for the Seattle Sounders including center-back, right-back and all the way across the midfield.
That versatility, which makes him valuable to the Sounders, also makes his potential value to the USMNT a relative unknown.
That being said, Evans is still well behind the competition as a right-back, or at any of the midfield positions.
Odds of a February call-up: 50/1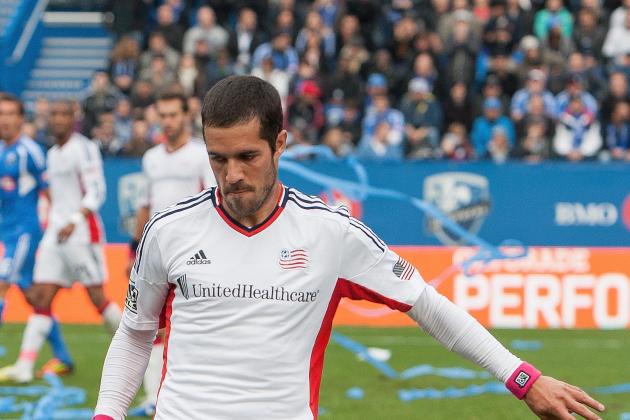 Francois Laplante/FreestylePhoto/Getty Images

Benny Feilhaber, a 2010 World Cup veteran and favorite of former USMNT coach Bob Bradley, has seen call-ups few and far between under Jurgen Klinsmann.
After a relatively anemic season with the New England Revolution, in which he only recorded one goal and two assists, it was a bit of a surprise that Feilhaber was called up at all.
There's no doubt that Feilhaber has talent and the type of creativity few American players possess, but his inconsistency makes him an unlikely choice.
Competition for a spot for Feilhaber will also certainly include Sacha Kljestan, Mix Diskerud and Jose Torres, with only one of the four likely to make the roster in February.
Odds of a February call-up: 10/1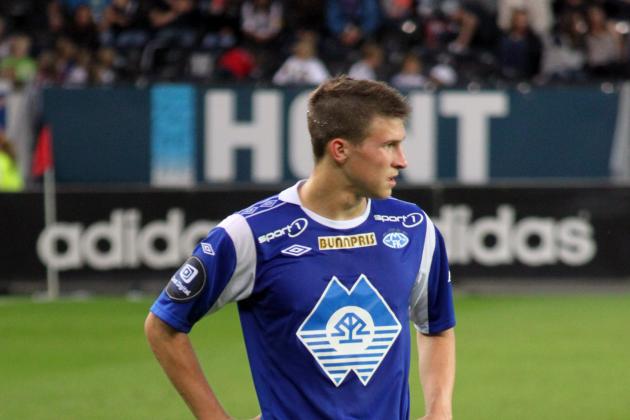 EuroFootball/Getty Images

Josh Gatt continues to be one of the most talked about and most anticipated players in the USMNT player pool.
Fans finally got to see Gatt in action with the U.S. in the friendly against Russia when Gatt played 63 minutes. Gatt possesses world-class speed and could be a serious option out wide for a Landon Donovan-less USMNT.
Graham Zusi and Eddie Johnson probably still have the inside track for the starting spots on the wing and there are plenty of other competitors as well.
Alejandro Bedoya is back in the mix and Jurgen Klinsmann has been willing to use traditional central midfielders (Sacha Kljestan, Jose Torres, Benny Feilhaber, Jermaine Jones, Danny Williams) on the wing on numerous occasions in the past.
Gatt could also face competition from Klinsmann-favorite Brek Shea or Joe Corona.
Odds of a February call-up: Even money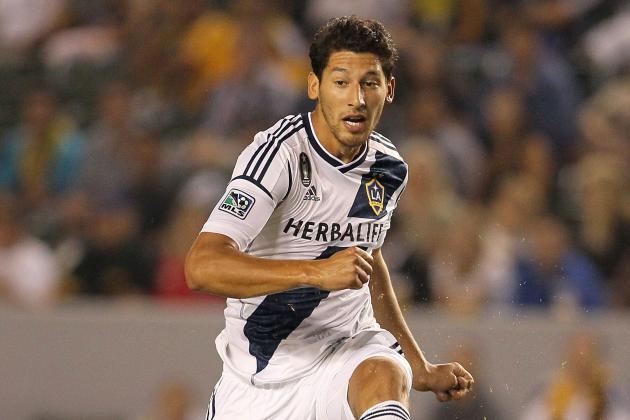 Victor Decolongon/Getty Images

Omar Gonzalez is probably as close to a lock as anyone in the January camp to be a part of the February roster.
Gonzalez once again turned in an outstanding season with the L.A. Galaxy despite spending the first half of the year recovering from a torn ACL. Gonzalez was also fantastic in the playoffs helping lead the Galaxy to a second consecutive MLS Cup where Gonzalez was named the MVP.
Gonzalez was probably on his way to signing a European contract last winter when he injured his knee and, one year and one surgically repaired knee later, he is primed once again for the big stage.
With the U.S.' options at center-back the worst of any position on the roster, Gonzalez, barring a disastrous January camp, is a virtual shoe-in.
Odds of a February call-up: 1/4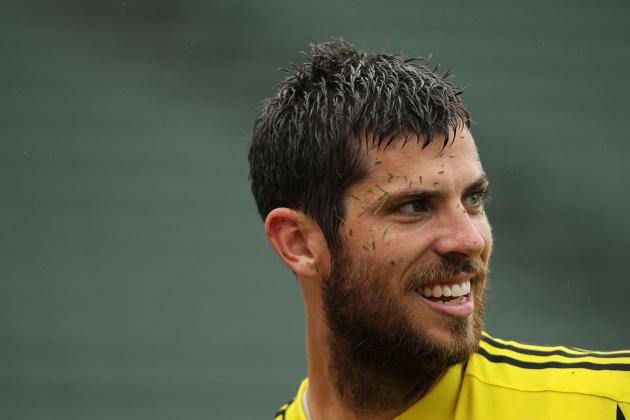 Victor Decolongon/Getty Images

Tally Hall has helped the Houston Dynamo to two consecutive MLS Cup finals and was an MLS All-Star in 2011.
His solid showings with the Dynamo, particularly in the playoffs, helped him earn his way into this camp.
However, with Tim Howard, Brad Guzan and Nick Rimando the three obvious choices at the goalkeeper position for the USMNT, it is extremely unlikely Hall will be a part of the February roster.
Even if Howard, Guzan or Rimando were injured or otherwise unavailable for selection, Jurgen Klinsmann has shown a preference to the Chicago Fire's Sean Johnson and DC United's Bill Hamid in the past.
Odds of a February call-up: 35/1
Despite playing very poorly in the MLS playoffs, Bill Hamid still earned a call-up from Jurgen Klinsmann into this camp.
While there's no doubt about Hamid's potential talent, goalkeeper is a position of experience as much as it is about talent.
Hamid showed his inexperience in the 2012 playoffs, scoring an own goal for the New York Red Bulls in the first leg of their MLS playoff series before being sent off in the second leg.
Still, Klinsmann has shown a tremendous amount of faith in Hamid, choosing him for the camp over other goalkeepers like Steve Clark and Dan Kennedy.
If Tim Howard, Brad Guzan or Nick Rimando were unavailable for a call-up, it is not inconceivable Hamid would be Klinsmann's choice for the No. 3 goalkeeper spot on the roster.
Odds of a February call-up: 25/1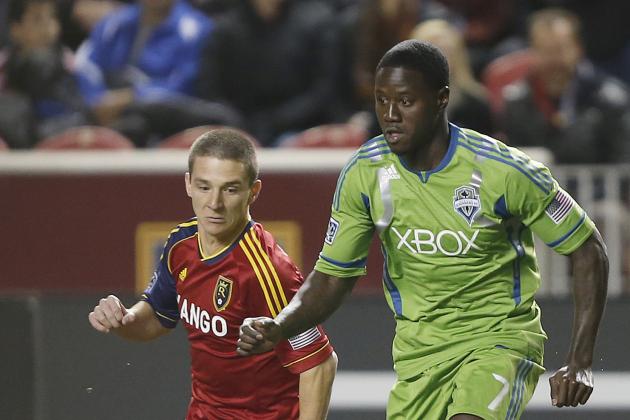 George Frey/Getty Images

In 2012, Eddie Johnson gave every American who has struggled in Europe the perfect example of how to recover.
After stints with Fulham, Cardiff City, Aris and Preston North End, none of which panned out, Johnson returned to Major League Soccer.
With the Seattle Sounders, Johnson scored 15 goals in 2012 and earned his way back into the national team fold in October. In his two appearances for the Nats in October, Johnson played very well,s scoring two goals against Antigua and Barbuda and providing the crucial assist on Clint Dempsey's game-winning goal against Guatemala.
Johnson's performances in October put him in the driver's seat for a starting spot on the wing for the USMNT headed into the final round of World Cup qualifying.
Barring injury or an explosive falling out with Klinsmann in the January camp, Johnson is a virtual lock for the February roster.
Odds of a February call-up: 1/5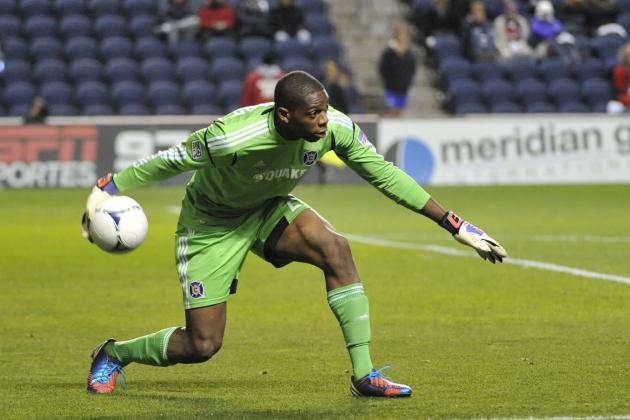 David Banks/Getty Images

Sean Johnson recovered well from the ignominy of his howler during the U.S. U23's failed Olympic campaign to put together a solid 2012 effort with the Chicago Fire.
Johnson, like Bill Hamid, is a youngster with boatloads of talent, but enough inexperience to still cost his team through bad decision-making.
Jurgen Klinsmann picked Johnson over others like Steve Clark and Dan Kennedy, showing that Klinsmann has faith in Johnson's abilities.
If Tim Howard, Brad Guzan or Nick Rimando are unavailable for selection in February, Johnson could be picked as the U.S.' No. 3 goalkeeper.
Odds of a February call-up: 30/1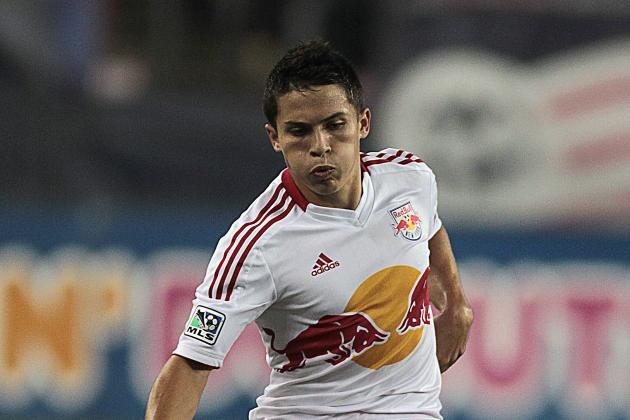 Gail Oskin/Getty Images

Connor Lade is another player Jurgen Klinsmann chose for the U.S. camp based on potential instead of performance.
While Lade showed well for the New York Red Bulls at various times during the 2012 MLS season, he was utterly outclassed in the playoffs. During the DC United series, DC midfielder Chris Pontius repeatedly beat Lade, showing the gulf in class Lade still has to overcome to become a top-level player.
Lade, who played all over the field for New York this year, is most likely competing as an full-back—a position in which he is hopelessly buried underneath a bevy of more qualified and more talented players.
Odds of a February call-up: 100/1
Alfredo Morales has been called up by Jurgen Klinsmann on a number of occasions, but has yet to earn his first cap. Coming up as a youth player, Morales has played as a defensive midfielder and along the back line, therefore, headed into this camp, it's difficult to know exactly who he is competing against.
Regardless, at any position, Morales does not have the experience to be trusted in an important international game and has been relegated to appearances with Hertha Berlin's Bundesliga 2 reserve side in 2012.
Odds of a February call-up: 100/1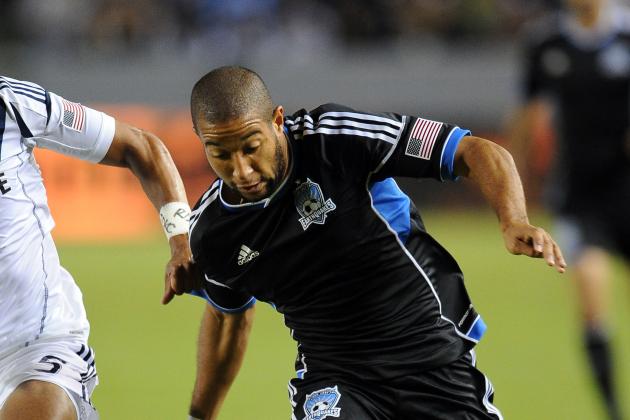 Jayne Kamin-Oncea-USA TODAY Sports

The big thing Justin Morrow has going for him is that he's a left-back, a position the U.S. has been notoriously thin at the past few years.
However, this isn't the summer of 2011 anymore and over the past 18 months the U.S. has seen the emergence of Fabian Johnson as the unquestioned No. 1 at left-back for the USMNT.
Jurgen Klinsmann has also used Michael Parkhurst at the position and former USMNT coach Bob Bradley was a proponent of using Timmy Chandler on the left.
Klinsmann has even tried out Jose Torres at left-back, although most USMNT fans would concur that was a poor decision.
Additionally, the U.S. has Edgar Castillo, who has been in good form for Tijuana in Liga MX, and potentially Greg Garza and Eric Lichaj for the position. Jonathan Spector probably even comes in over Morrow in a pinch.
Odds of a February call-up: 80/1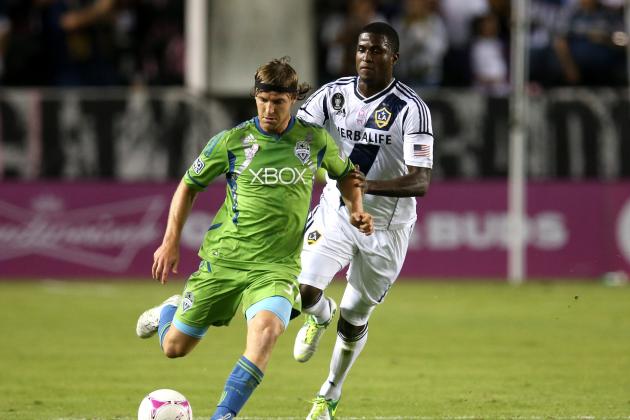 Stephen Dunn/Getty Images

Jeff Parke was the Seattle Sounders' Defender of the Year in both 2011 and 2012 and plays center-back, a position the U.S. is critically short of depth at.
The combination of being in-form and at a position of great need give Parke a shot at making the roster for the February qualifier.
But, with Geoff Cameron and Carlos Bocanegra firmly entrenched as the first-choice pairing and Omar Gonzalez an odds-on favorite to make the roster, Parke will have to prove that he is a better backup than Clarence Goodson, Oguchi Onyewu, John Anthony Brooks or Matt Besler. And that's to say nothing of the possibility of a Klinsmann wild-card selection of a player like Zak Whitbread or Seb Hines.
Odds of a February call-up: 15/1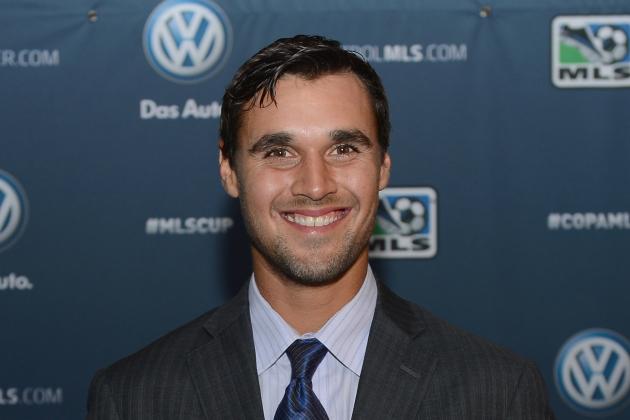 Harry How/Getty Images

Chris Wondolowski had another banner year in 2012. He scored 27 goals, tying the single-season MLS record, and, for the third year in a row, made the MLS Best XI.
However, Wondo still finds himself out in the cold regarding the USMNT forward pool.
For the U.S.' vital October World Cup qualifiers, and with Jozy Altidore firmly in Jurgen Klinsmann's doghouse, Klinsmann still didn't select Wondolowski. Instead, the forward pool for those games included Clint Dempsey, Herculez Gomez and two surprise call-ups, Eddie Johnson and Alan Gordon.
The true insult for Wondolowski is that Alan Gordon is Wondolowski's teammate with the San Jose Earthquakes, and while Wondolowski was having his record-setting 27 goal season, Gordon had 13 goals.
Several months later, Wondolowski still appears to be a long shot to make the U.S. roster for the February qualifier.
Clint Dempsey and Herculez Gomez appear to be locks, and even if Eddie Johnson is counted as a wing, Terrence Boyd, Jozy Altidore and Juan Agudelo all have a better shot of making the roster.
While a monster game against Canada could propel Wondolowski into the conversation, it doesn't appear likely.
Odds of a February call-up: 15/1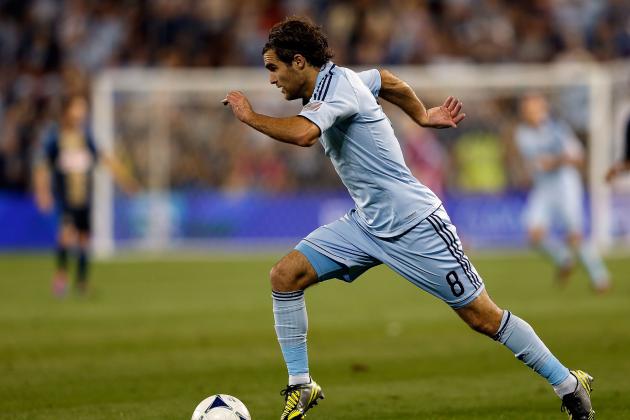 Jamie Squire/Getty Images

Graham Zusi, Geoff Cameron and Michael Parkhurst, are the poster boys for the international footballing anomaly U.S. Soccer calls the January camp.
In 2012, Zusi turned two strong performances with the U.S. in January into a call-up for the September qualifiers.
Earning a start for the U.S. at home against Jamaica in the must-win qualifier, Zusi played well and helped the U.S. to a 1-0 win.
Then, in October, Zusi was again called in for the qualifiers earning two more starts and getting the assist on Eddie Johnson's first goal against Antigua.
Barring injury or a major falling out with Klinsmann over the next two weeks, Zusi is a virtual lock for the February roster.
Odds of a February call-up: 1/5
Follow me on Twitter @AmerTouchline
Follow me on Facebook www.facebook.com/AmericanTouchline