Creating Each Phillies Player's To-Do List to Win the 2013 World Series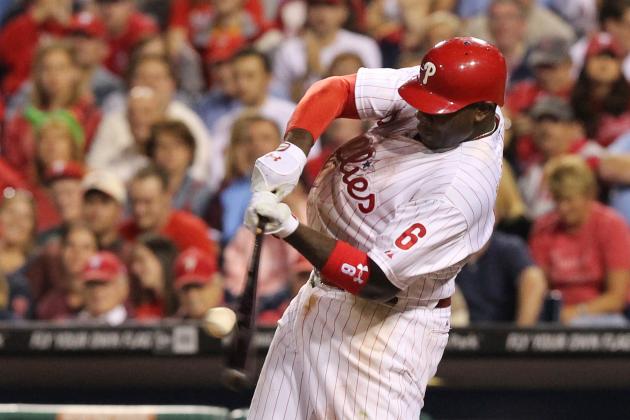 Hunter Martin/Getty Images

In case you weren't aware, winning a World Series is not an easy thing to accomplish. We're talking about a sport where in any given season a team can make the postseason by the skin of their teeth, get hot at the right time and stun the world.
So how do you best position yourself to win a World Series? Is it some kind of advanced science? Do you work on developing young talent through the draft, or throw millions of dollars at free agents? The truth is that there is no right answer.
It's never easy to look at a club's roster and narrow down exactly what it is that they need to do to win the World Series, but a quick look at the Philadelphia Phillies roster turns up some obvious answers. For example, they need to stay healthy and have their younger players produce.
But this isn't a game where one man can realistically change the landscape of a team's hopes. It's a team sport, and luckily for the Phillies, I've created a to-do list for each player on their active roster. Following it to the letter should put this team on course for a parade in October.
Now, can it actually be done? Let's find out.
Begin Slideshow

»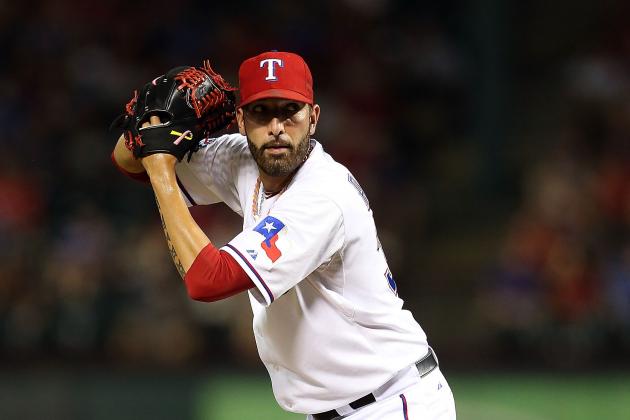 Ronald Martinez/Getty Images

- Come back 100 percent healthy and comfortable.
- Don't throw too many innings. The Phillies are going to need you all year.
- Provide some stability in the eighth inning. The Phillies were missing that in 2012.
This city is a pressure cooker for professional sports teams, so any time that the Phillies have World Series aspirations and wind up winning just 81 games, it's easy to call the season a train wreck. But the Phillies were a club riddled by injuries, and it shows.
One of the few areas of this club that was underwhelming without the aid of an injury was the bullpen. Sure, Jonathan Papelbon was as good as advertised and there were a few bright spots, but the eighth inning quickly devolved into a baseball black hole.
Righting the ship will be the job of new setup man Mike Adams, who is recovering from offseason surgery to treat Thoracic Outlet Syndrome. Widely regarded as one of the game's top relievers, the Phillies will need to keep Adams fresh and healthy in order to fully utilize him in 2013.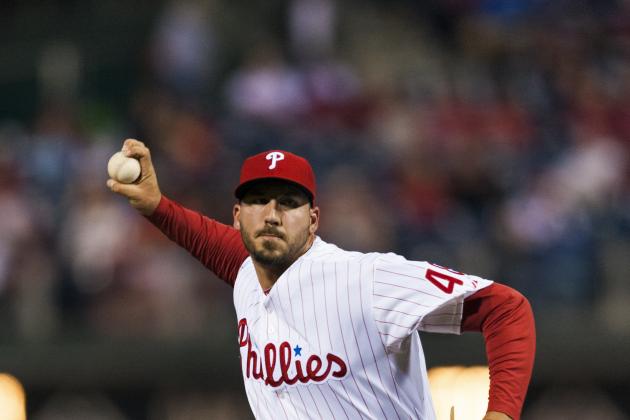 Howard Smith-USA TODAY Sports

- Pitch for Team Canada in the World Baseball Classic.
- Learn to repeat pitching mechanics.
- Pound the strike zone with all of your pitches.
One word that quickly comes to mind when describing Phillippe Aumont is "impressive." He's a huge, power reliever with tremendous movement on all three of his pitches and a very high ceiling in the bullpen.
The bane of his success, to date, has been his mechanics and control. He'll have the opportunity to jump-start his season in 2013 by pitching in the pressure-packed World Baseball Classic for Team Canada, and repeating his delivery and locating his pitches will be huge factors throughout the '13 campaign.
There were times where Aumont couldn't hit water if he fell out of a boat in 2012, and I suspect that a lot of that has to do with trying to get a bit too fancy with his offerings. He gets enough movement on his pitches to throw them for strikes and watch guys miss. That should be the game plan.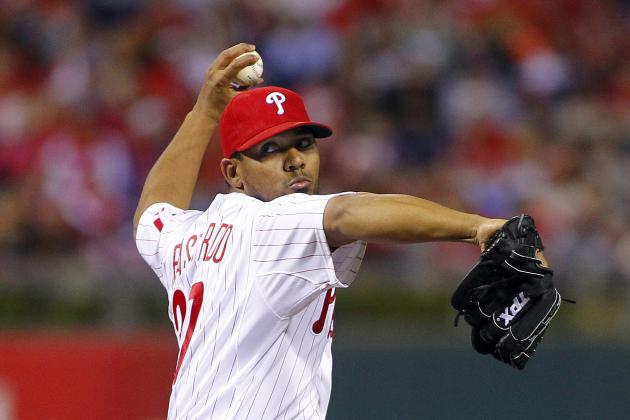 Rich Schultz/Getty Images

- Build on success from last half of 2012.
- Focus on establishing the fastball by improving location and repeating mechanics.
- Work primarily as a left-handed specialist! The Phillies have options in the later innings.
If Antonio Bastardo could pitch with any kind of consistency, the Phillies probably wouldn't have needed to sign Mike Adams, because when the lefty is throwing the ball well, he's tough to hit. But Bastardo's 2012 season was the perfect example of why the Phils felt as though they had to get a setup man.
Bastardo opened the '12 season very cold. He couldn't locate his fastball and was getting crushed by opposing hitters. Following the All-Star break, he was nearly untouchable. That's the volatile nature of relievers, to an extreme.
So Bastardo's primary goal this year should be to build some consistency. The Phillies need to rely on him as a left-handed specialist first and use him against right-handed hitters only when necessary.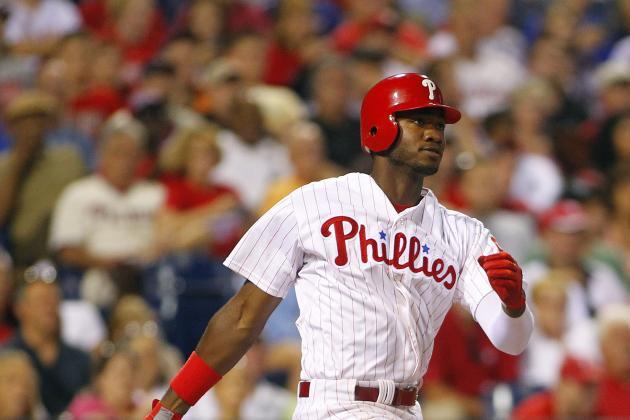 Rich Schultz/Getty Images

- Come into spring training ready to win a job.
- Improve defensively!
- Keep the offensive production consistent. It's time to take the next step.
In a sports town like Philadelphia, it doesn't take long for someone as highly touted as Domonic Brown once was to fall from grace, and the drop hasn't been pretty for the Phillies' former top prospect. The bright side, however, is that the 2013 is his perfect shot at redemption.
Listen. Rome wasn't built in a day. Baseball is a sport of repetition. It takes time for players to adjust to different levels of pitching and by the end of 2012, it sure looked like Brown was ready to take the next step.
The Phillies could potentially find their outfield in dire straits next season, and who better to save the day than Brown? To do so, he'll need to be a solid defender and give the Phillies a consistently good at-bat at the plate.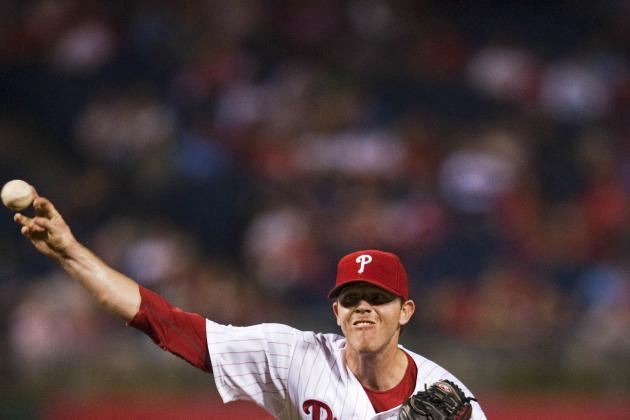 Howard Smith-USA TODAY Sports

- Come to camp ready to fight for a job in the bullpen.
- Work on establishing the fastball early in the count.
- Throw more sliders!
If there's one area of this club that has the potential to make a complete reversal of their 2012 fortunes, it's the bullpen, and arms like Justin De Fratus are the reason why.
After missing the first half of the season with arm troubles, De Fratus rejoined the Phillies in September and once again teased baseball people and fans alike with his potential. He has a strong fastball / slider repertoire that should help him develop into a late-innings relief-type.
The one thing that I personally would like to see him do more is establish the fastball early in the count. This will allow him to throw that good slider more effectively and help him take the next step in this bullpen.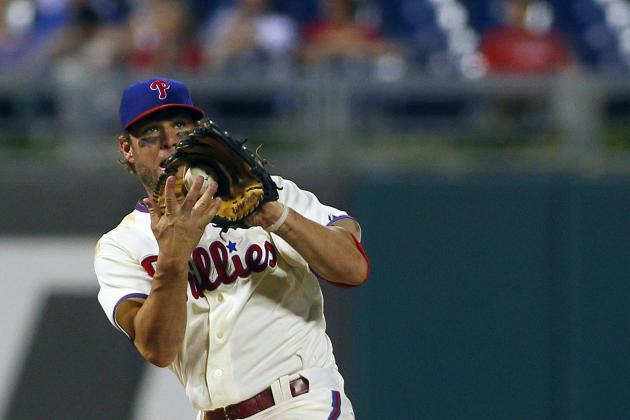 Rich Schultz/Getty Images

- Adjust to new role on the fly.
- Take enough repetitions defensively to be comfortable playing second base, third base and shortstop.
- Come to the plate with the same approach from 2012, even if the results aren't as spectacular.
For a brief moment earlier this offseason, Kevin Frandsen found himself preparing to battle for the Phillies' third base job in spring training, but the acquisition of Michael Young erases that opening. Now, Frandsen will likely battle with defensive wizard Freddy Galvis for the club's super utility role.
For Frandsen, that means he has to show up to spring training as the Jack of all trades, ready to play at least three different positions capably and prove that he can be a better offensive option than Galvis, despite a much reduced role.
If Frandsen can do that, the Phillies will be much better on the bench for it in 2013.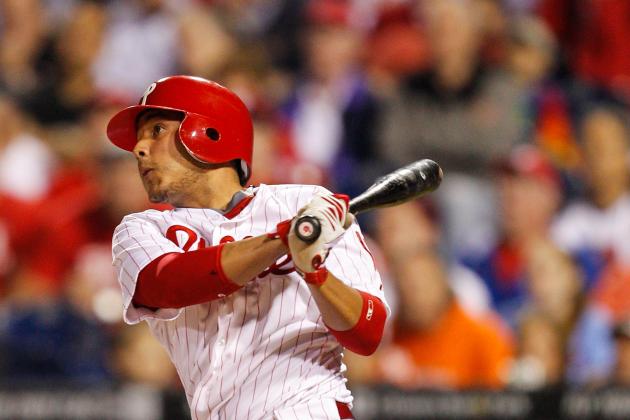 Brian Garfinkel/Getty Images

- Put the suspension in the past. That's history.
- Come to camp with the goal being to get as many at-bats as possible to show the Phillies you're ready for a limited role. If not, accept a demotion to Triple-A in stride. It's all about the process.
- Improve your approach at the plate! Show some discipline! Take some pitches!
The Phillies have a couple of options regarding Freddy Galvis this season, but the ultimate plan of attack will likely depend upon how they feel about him coming out of spring training, especially given his success in the Venezuelan winter league.
From a defensive standpoint, he's exactly what you want in a super utility player, capable of providing above-average defense at three infield positions. Offensively...well, there is room for improvement with the bat, to say the least.
That could be the ultimate reason that the Phillies send Galvis to Triple-A to start the season—more playing time. But if they can find him the at-bats with the MLB club, he could stay. This ball is still up in the air.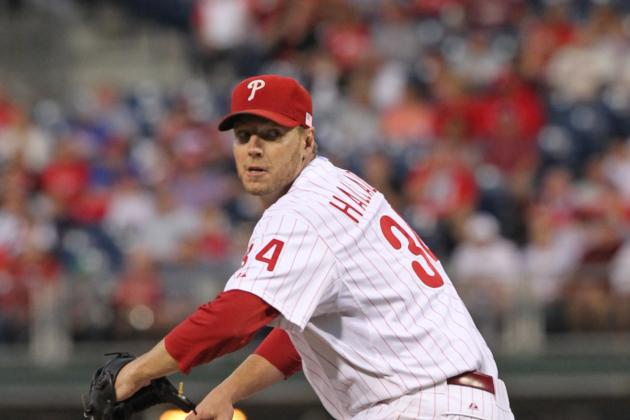 Hunter Martin/Getty Images

- Adapt and evolve conditioning program. Health is key.
- For the Phillies: Keep him fresh! He needs to be in it for the long haul.
- Just one win shy of 200, work to show that 2012 was a fluke.
It's not much of a secret, but I'll let the cat out of the bag anyway: The Phillies are a much better team when Roy Halladay is healthy and pitching well. Whew. There, I said it.
But seriously, that fact was never more apparent than in 2012, when Halladay missed a chunk of the season with a strain in his right latissimus dorsi that hampered him both before going on the disabled list and after he returned.
The key to Halladay's 2013 season starts with his conditioning program in the offseason. He needs to learn to adapt to pitching at this stage of his career and is always the case with this player, preparation is huge.
The real onus may be on the Phillies here, however. It will be up to Charlie Manuel and Rich Dubee to understand that Halladay isn't a cyborg capable of throwing 250 innings. He'll need to be treated with caution and used properly.
Then, the Phillies should be in good shape.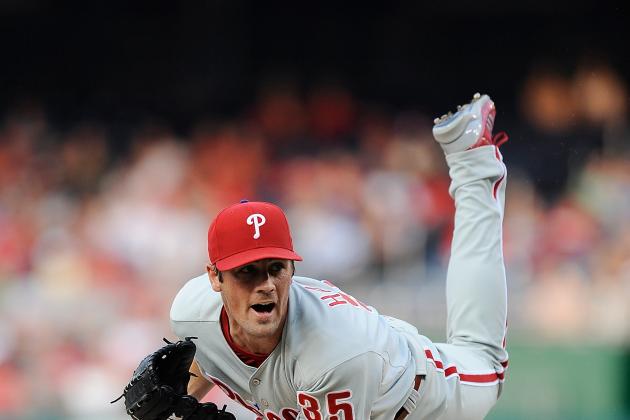 Patrick McDermott/Getty Images

- Don't come into camp hiding an injury. Be honest and, more importantly, healthy.
- Embrace the new contract and the expectations that come with it.
- There's no need to change your approach from 2012. Aim for the next step, but be happy with similar results.
One of the biggest storylines from the 2012 Phillies season was whether the club had the gall to let Cole Hamels reach the free agent market in the offseason, where sharks like the Los Angeles Dodgers and Boston Red Sox were lurking.
We got our answer when Hamels and the Phillies agreed to a mammoth contract extension midseason. Now, the goal for the Phillies' homegrown lefty is to embrace the pressure that a contract like that brings on a professional athlete in this city.
But that's the only thing that should change for Hamels in 2013. He had an excellent campaign for the Phils' in '12 and was arguably their best pitcher. If all he does is repeat that kind of season, that's a very good thing for this team.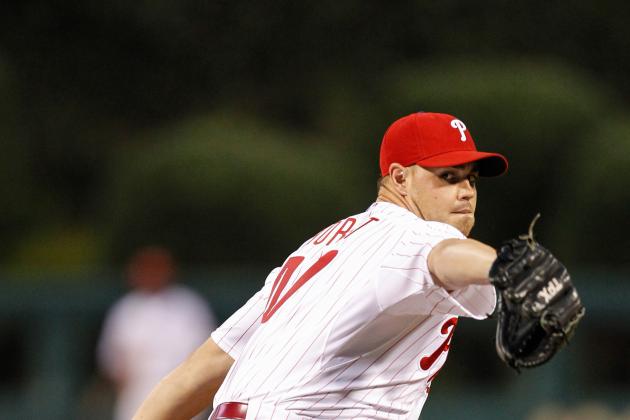 Brian Garfinkel/Getty Images

- Come into camp ready to fight for a job.
- Approach the game in the same manner as 2012.
- Work to solidify yourself as one of this bullpen's top arms.
You wouldn't think that a guy like Jeremy Horst, who posted a 1.15 ERA in 31.1 innings, has to fight for a bullpen job in spring training, but relief pitching is one of the Phillies' deepest areas. Guys like Jake Diekman, Raul Valdes and Joe Savery could give him a run for his money with a solid spring.
So coming to camp ready for a fight should be the first thing on Horst's to-do list. It's the same kind of approach that helped him excel in 2012—a year in which he opened the season in Triple-A.
With numbers like Horst posted in '12, he should be working on replicating his approach to the game this season.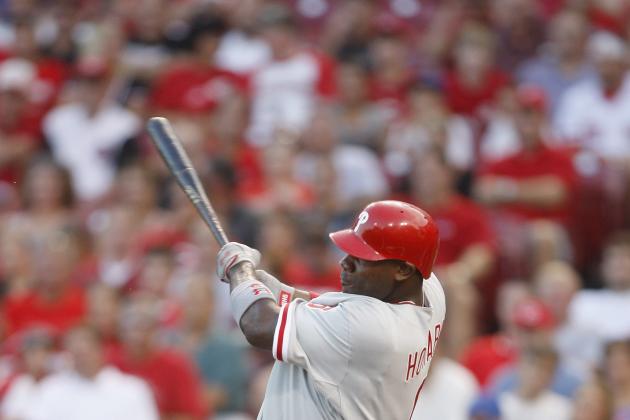 John Grieshop/Getty Images

- Come into camp in best physical shape possible.
- Refocus approach at the plate. More patience, fewer strikeouts.
- Don't look completely lost against left-handed pitching.
At this stage of his career, everyone knows what kind of player Ryan Howard is. The man is a big-bodied first baseman that looks terrifying to opposing pitchers and hits a lot of home runs. The rest of his game is kind of, well, lacking.
The sad part about this whole conversation is that the Phillies would be really happy to get the big bodied, power hitting first baseman back after he was lost to a torn Achilles tendon in October 2011. He returned last season, but was never quite the same.
That sets the stage for 2013. He needs to come into camp ready for the long haul, in what should be his best physical conditioning of the last calendar year.
If he can do that, the other pieces should begin to fall into place. He watched his strikeout rate jump and his walk rate decline last season, but those factors could potentially be written off to a lack of comfort at the plate following his injury.
The Phillies need him to feel comfortable in the batter's box, improve on his discipline and not look like a child lost in the woods against left-handed pitchers.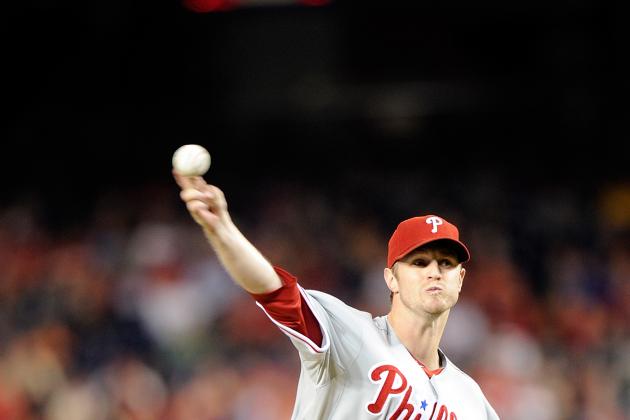 Greg Fiume/Getty Images

- Utilize the full offseason you've had to prepare as a starting pitcher.
- Keep pounding the strike zone!
- Recreate pitch repertoire that led to second-half success in 2012.
At this time last year, Kyle Kendrick was on the outside looking in. The Phillies had a full starting rotation and sent him to the bullpen where he was set to serve as the "swingman," or long reliever, a role in which he struggled.
Injuries, however, forced him back into the starting rotation, and after making a few mediocre starts prior to the All-Star break, Kendrick really found his groove in the second half. With a full offseason to prepare for this role, expectations are modestly high for Kendrick.
So what does he have to do to be successful? Kendrick was at his best in 2012 when he was commanding all of his pitches, but more importantly, throwing them for strikes. He found a perfect blend of cutters, sinkers and changeups and saw an increase in productivity.
While recreating the results from his second half of '12 is a long shot at best, recreating the approach that led to those results will be a boon for both Kendrick and the Phillies in 2013.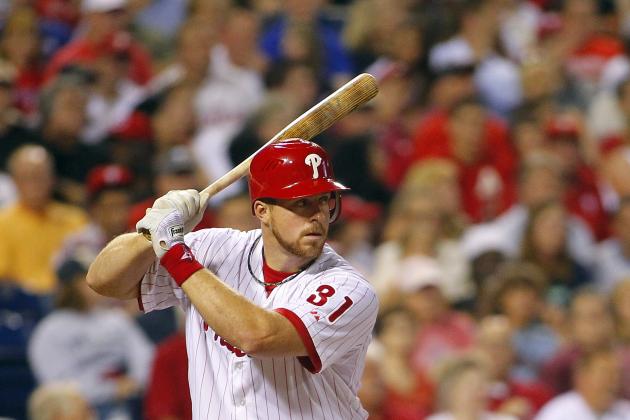 Rich Schultz/Getty Images

- The challenge: More success with less playing time.
- Play solid defense, first and foremost.
- Give the Phillies what Brian Schneider couldn't—a quality bat!
With the Phillies' catching depth evaporating in 2012, Erik Kratz stepped up and played a huge role in keeping the club's postseason hopes alive before both he and those hopes began to fade down the stretch.
Health permitting, Kratz's role will be much more defined in 2013, and much smaller. He'll serve as Carlos Ruiz's backup catcher once "Chooch" returns from a 25-game suspension that will force him to miss most of the first month of the regular season.
When Ruiz returns, Kratz's biggest priority will be to play solid defense. The Phillies like their backup catchers to be efficient in all areas of the game—pitch calling, blocking, run defense, etc.
But Kratz also provides the Phillies with something that Schneider couldn't give them in three seasons as the backup catcher—a solid bat with some power.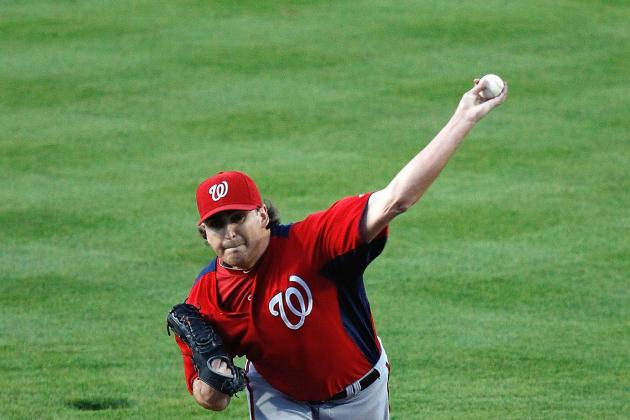 Sarah Glenn/Getty Images

- No guarantees. Come to camp ready to fight for a job.
- Show that your poor Triple-A stint in 2012 was more about your mental state than it was your physical state.
- Throw strikes! Let hitters put the ball in play and trust in your defense.
Starting pitching depth was something that really came back to bite the Phillies in '12. With Roy Halladay, Cliff Lee, Cole Hamels and Vance Worley all having dealt with some kind of injury last season, the Phillies actually traded their healthiest starter in August, Joe Blanton.
That was the eye-opener for the Phillies, who have prioritized starting pitching depth this winter. After dealing Worley to land their center fielder, the Phillies signed John Lannan to take over their fifth starter role, but with an affordable salary, that's not a guaranteed position with guys like Rodrigo Lopez, Aaron Cook, Jon Pettibone and Tyler Cloyd now waiting in the wings.
Lannan's to-do list may be all about his mental approach. He needs to prove that his poor Triple-A numbers were from a lack of competition and that he is ready to fight for a job in the spring.
To win that job, he'll need to pound the strike zone and trust the Phillies' defenders. He has posted a strong ground ball rate throughout his career and should keep the defense on its toes when on the mound.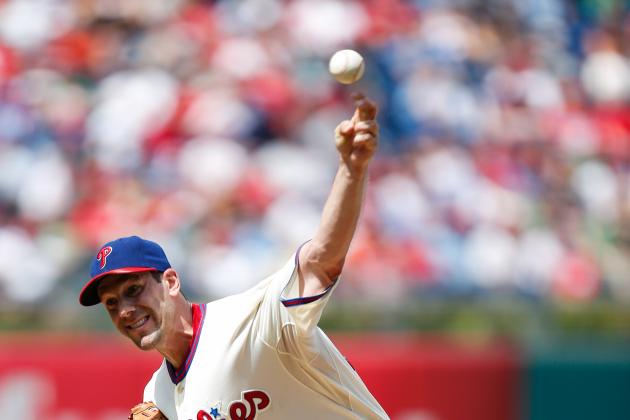 Brian Garfinkel/Getty Images

- Ignore the trade rumors. You're not going anywhere.
- Cut back on the home runs, just a bit.
- Aim to repeat the 2012 season, with better support.
Cliff Lee was a "hard-luck loser" in '12. Across the board, he put up elite pitching numbers and still somehow finished with just six wins and was perpetually stuck in trade rumors. First up on the to-do list this offseason is to push those rumors out of his mind. He's not going anywhere.
Once he's come to that realization, Lee's focus should be to recreate his previous season, albeit with a few tweaks that should help him in the long run, like cutting back on the home run ball, which he saw a slight rise in during the '12 season.
For Lee, however, aiming to repeat his success from last season is a priority. With a little help from the offense and bullpen last year, he probably would have won 20 games. That's the kind of productivity that the Phillies are going to need out of him to upstage the Washington Nationals.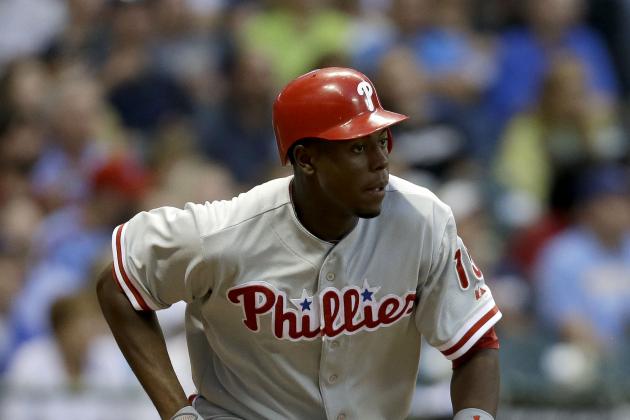 Mike McGinnis/Getty Images

- Improve plate discipline. It's going in the wrong direction.
- Hit for more power!
- Play solid defense and mash left-handed pitching.
Baseball is a swing-and-miss kind of game, and the Phillies swung and missed on John Mayberry Jr. There's nothing wrong with gambling on some talent, but it's time to accept the fact that it's just not going to work out. Mayberry is a bench player, at best.
And that's perfectly fine. Every club needs a good bench and the Phillies have the players to accomplish that goal in 2013, starting with Mayberry. In order to be a productive bench player, he'll need to work on a few things.
First, he needs to refine his plate discipline, which could come with fewer at-bats against right-handed pitching. Any time that the strikeouts go up and the walks go down, however, there is cause for concern.
On a similar note, he needs to hit left-handed pitching with frequency and do so with a bit more power. His isolated power dropped from .240 in 2011 to .150 in 2012.
If Mayberry can put all of those things together, the Phillies will have a solid role player.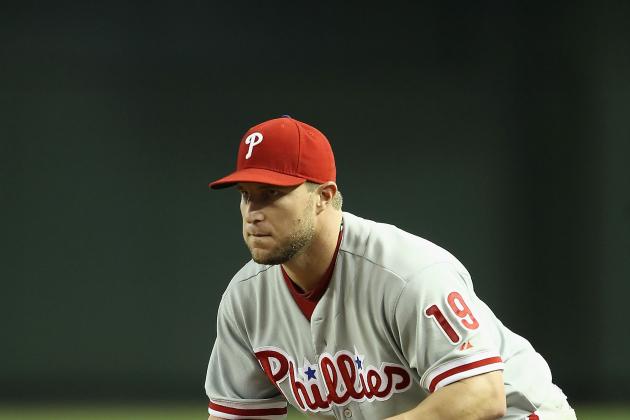 Christian Petersen/Getty Images

- Don't assume you'll be on the roster. Come to spring training ready for a fight.
- Cut back on the strikeouts in a big way.
- Hit for more power, particularly against right-handed pitching.
By signing Laynce Nix to a two-year deal, the Phillies had hoped that they were getting a quality bench player at a fair price. Now, they may be forced to cut him during spring training. That's the volatile nature of baseball in a nutshell.
Nix, who was helping to replace the injured Ryan Howard last season, got off to a hot start before suffering a severe calf strain that forced him to miss more than 50 games. Upon his return, he never looked comfortable at the plate and never hit for the power that the Phillies thought he would.
That's why he needs to come into spring training ready for a position battle. The Phillies aren't going to carry a mediocre defensive bench player like Nix if he has no power. He needs to cut back on that 33.1 strikeout percent from last season and increase his isolated power mark of .167.
Personally, I think Nix could be in a bit of hot water.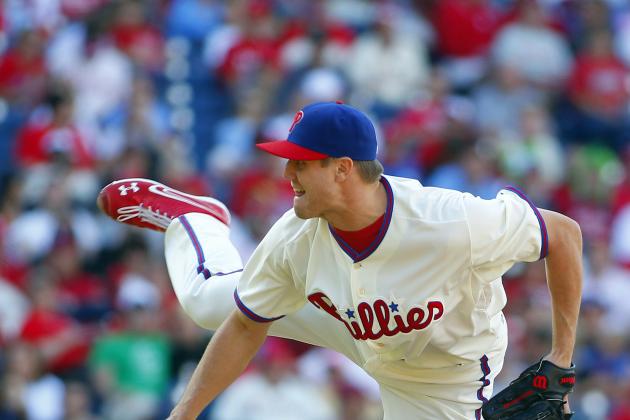 Rich Schultz/Getty Images

- Cut back on the home run ball.
- Throw more secondary pitches?
- Build on success from 2012.
In a year where the Phillies' bullpen all but fell apart, Jonathan Papelbon was rock solid. He was brought aboard to bring stability to the ninth inning and quickly became one of the National League's best closers, so where does he go from here?
One of the first things that you'll notice about Papelbon is that he throws a lot of fastballs—71.3 percent, according to FanGraphs. You have to wonder that, with good secondary pitches including a slider and split-finger fastball, if mixing them in a little more frequently could be beneficial, and help cut back on the long ball in the process.
Otherwise, the 2013 season is going to be all about building upon his first, successful season in the National League for Papelbon, and if he can do that, the Phillies bullpen will be in a good place.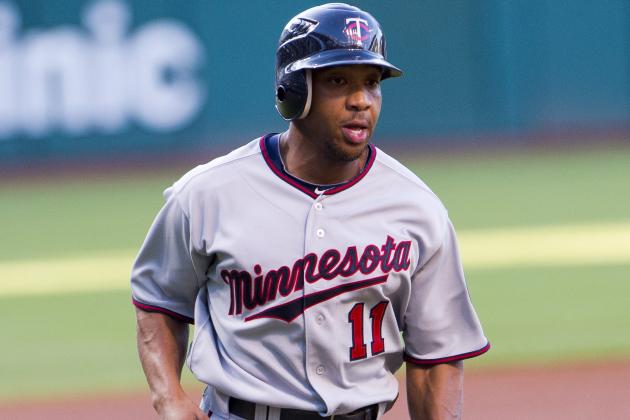 Jason Miller/Getty Images

- Set the tempo!
- Use a more patient plate approach this season.
- Improve against offspeed pitches.
In my mind, the one thing keeping Ben Revere from becoming the obvious choice as this club's leadoff hitter is his aggressive approach—something that the Phillies have seen for years in Jimmy Rollins.
Revere should take some time in spring training and learn to work deeper counts. That, of course, will require him to improve against tough offspeed pitching and resist hacking at every first fastball of an at-bat.
That patient approach could do wonders for the Phillies, especially considering that Revere has been an excellent contact hitter throughout his brief MLB career—92.2 percent.
If he can use that approach to create a good tempo for the Phillies' lineup at the top of the order, it gives Charlie Manuel options later on.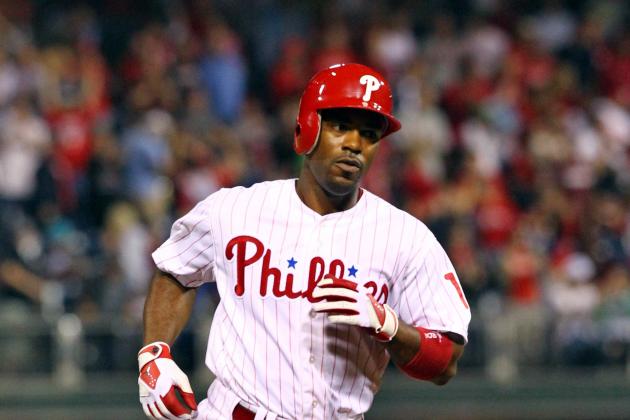 Hunter Martin/Getty Images

- Cut back on the strikeouts.
- Improve approach against left-handed pitching, as right-handed hitter.
- Swing at more strikes!
The Phillies will have their fingers crossed for a couple of weeks in March as Jimmy Rollins participates in the World Baseball Classic for Team USA. Getting a head start in competitive play may be a good thing for Rollins, but it could also take away some crucial refinement in spring training.
When you look back at Rollins' 2012 season, most of his issues were on the offensive side of the ball. His strikeout percent jumped from 9.4 percent in 2011 to 13.7 percent. He posted a slash line of .218 / .281 / .332 against left-handed pitching.
If the Phillies have any hope of Rollins providing power in the middle of the order (or at the top of the lineup, for that matter), those are two improvements he'll need to make. I personally would like to see him swing at more pitches inside of the strike zone.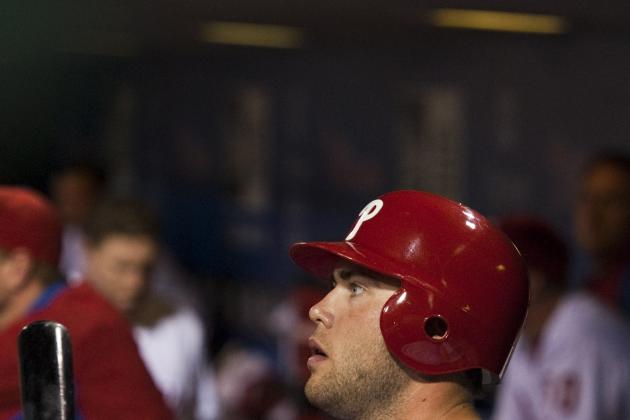 Howard Smith-USA TODAY Sports

- Win the left field job in spring training.
- Play, at the very least, an average defensive left field.
- Give the Phillies a legitimate power threat.
In a perfect world for the Phillies, both Darin Ruf and Domonic Brown will have an exceptional spring training so that Charlie Manuel has no problem naming them his left and right fielders, respectively.
Outside of that, however, it's tough to create a to-do list for a guy like Ruf because his MLB sample size from 2012 was so small.
Just from watching him at the end of the season, however, I did not see the slow hands that some scouts talk about and I do not think that he is the big-bodied, gaudy defender that some people make him out to be.
When you look at the Phillies' lineup right now, however, one of the big voids is in the right-handed power department, and Ruf could certainly provide that. But to do so, he would have to play a solid defensive left field and prove that he can hit MLB pitching consistently.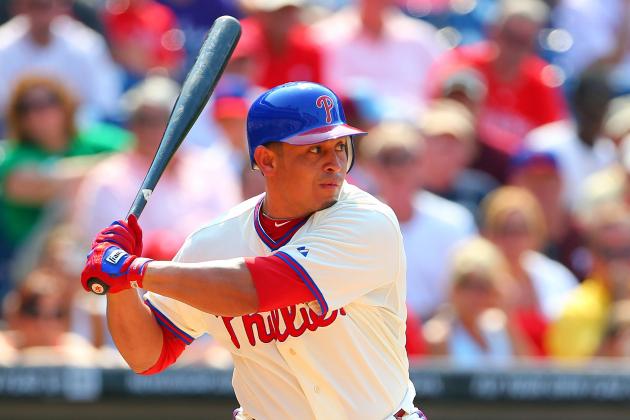 Rich Schultz/Getty Images

- Prove that 2012 was not a fluke.
- Refine approach?
- Get back to basics.
In a year where the Phillies' offense was injured, inefficient and miserable, Carlos Ruiz was one of the few bright spots. So you can imagine the morale of this city when news broke that the catcher had failed a drug test not once, but twice for a banned substance—the amphetamine Adderall.
Coupled with an extremely high .339 BABip, a foot injury and a poor month of September, the last few months have not been kind to Ruiz. Step one is pushing those thoughts out of his memory and starting over in 2013.
That means getting back to basics. The Phillies need Ruiz to be an elite catcher first and foremost. The offense, while greatly appreciated (and needed in '12), is secondary. It's Ruben Amaro Jr.'s job to put the right pieces in place. Ruiz needs to be a catcher first.
One of the obvious changes in his game from '12 was that Ruiz became much more "swing happy." His walk rate declined but his swing rate increased. Is that part of what led to his success? I believe so, but he also has to refine that approach to maximize the outcome.
Rich Schultz/Getty Images

- Prove that you're healthy in spring training.
- Locate the fastball.
- Keep runners off of the base paths!
Mike Stutes gets the usual disclaimer: The Phillies have a lot of relievers coming into spring training this season and there is no guarantee that Stutes is the man for the job, however, I do believe that he has the inside track for this final bullpen spot.
So what does his to-do list look like? For Stutes, it's all about health and consistency. He missed nearly an entire season in 2012 thanks to a bum shoulder that would eventually require surgery. He has progressed throughout the offseason and should be ready for spring training, which will be kind of like a "proving ground" for the right-handed reliever.
In order to make the bullpen and avoid going back to Triple-A, I think that Stutes needs to show that he can locate his fastball, which will set up his good slider, and avoid issuing the free pass. Those are the keys to his success.
Brian Garfinkel/Getty Images

- Come into camp ready to play with a grasp on how to handle knee condition.
- Take scheduled days off throughout the regular season to stay fresh.
- Improve approach against left-handed pitching.
Anyone who has even heard about the Philadelphia Phillies in recent years knows that this is a better club when Chase Utley is on the field and playing second base. That much is obvious. So with that in mind, first up on Utley's to-do list is conditioning his chronically degenerating knees to the point where he can play a full season.
Part of that is accepting that he's not a spring chicken any longer. Utley is a veteran player with a bad knee condition. Both he and the Phillies, particularly Charlie Manuel, need to sit down and plan scheduled off days to keep him fresh.
Taking a seat against tough left-handed pitchers may be the answer. Utley looked particularly lost against lefties in 2012, posting a slash line of .215 / .324 / .355. If the Phillies decide that the middle of their order is Utley, Ryan Howard and Jimmy Rollins, they could be in trouble against tough lefties.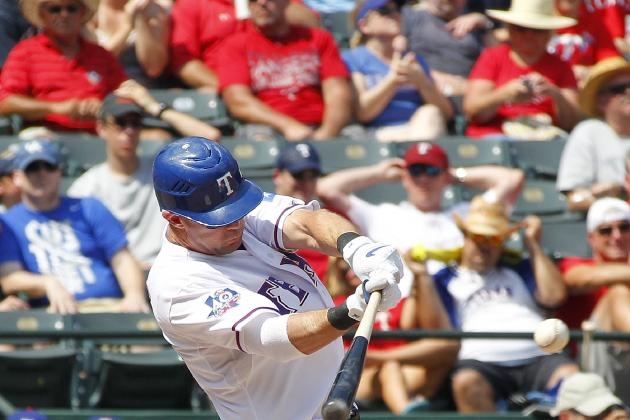 Rick Yeatts/Getty Images

- Use spring training to become a full-time third baseman. Leave the super utility role in Texas.
- Take a look at more pitches. Use a more patient approach.
- Try and tap into that lost power.
Michael Young just had a bad year in 2012. It happens to professional athletes and there isn't always a reason why. When you look at Young, however, you have to think that asking an older player to play multiple positions in a "super utility" role is asking a bit much.
With the Phillies, Young's first order of business is going to be becoming a full-time third baseman. That means taking the necessary amount of repetitions at the hot corner and focusing on rebounding offensively, which may be as much mental as physical.
To me, having not watched him play every day, the biggest change for Young in '12 was his approach. His walk rate has dipped over the last three seasons from 7 percent in 2010 to 6.8 percent in 2011 and finally to just 5.1 percent in 2012.
Young is a good contact hitter that needs to find his comfort zone at the plate again. The Phillies are hoping that he can do that and provide some power from the right side of the plate, recovering from a career worst .093 ISO last season.