LA Kings: 5 Biggest Questions in 2013 Training Camp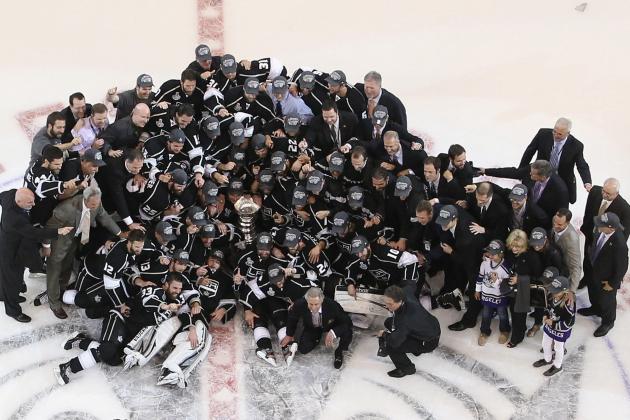 Bruce Bennett/Getty Images

The Los Angeles Kings were back out on the ice this week to begin training camp for the shortened 48-game 2013 season.
There is a buzz around the team, the sport, and the fans as Saturday the franchise will begin its first title defense, one that has been prolonged due to the lockout.
All hands were on deck Monday, save a few faces, as the Kings practiced in front of a crowd at Staples Center instead of their usual practice rink in El Segundo, California. Although the Kings retained every player who appeared in the 2012 playoffs, there are still a few burning questions for training camp and the beginning of the season that are on the minds of many.
Begin Slideshow

»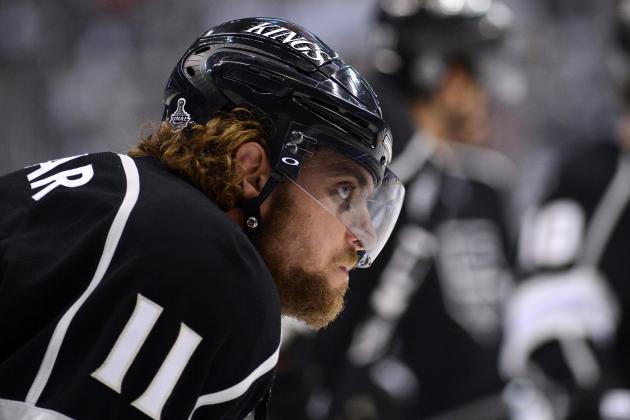 Harry How/Getty Images

In a regular 82-game season this wouldn't really be of too much concern honestly. However, when it was reported last week that Kopitar would likely miss 2-3 weeks with a knee injury fans got a little nervy.
In the compressed schedule, if the Kings are without Kopitar for any length of ten or more games it could be a real blow. Any stumble or significant slide in this season could mean a playoff spot.
Fortunately for the Kings, when they acquired Jeff Carter they were acquiring a natural centerman and asking him to play wing. The former Blue Jacket will likely slot in at the No. 1 center position until Kopitar is back.
Even with Carter filling in for that role, the team will be without one of its big leaders and big performers for at least a few games. How they perform for those few games could be vital in kicking off the season on the right foot.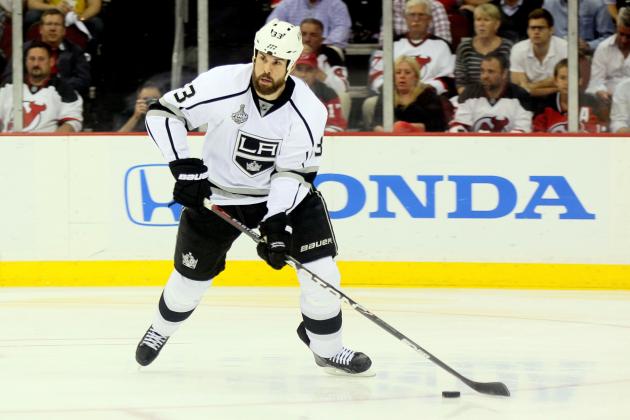 Elsa/Getty Images

The Kings managed to play this one pretty tight to the chest. It was revealed just yesterday per the L.A. Times that Willie Mitchell had knee surgery a few months back.
According to the report, Mitchell was on the road to recovery but suffered a setback by pushing too hard too soon.
What seemed to be a routine surgery to remove some cartilage in Mitchell's knee has turned into a seven week (and counting) recovery. Given Mitchell's ripe age of 35, it's tough to know when the stalwart defenseman will be back and up to speed.
How serious is Mitchell's injury? Time will tell. It also leads us to our next question...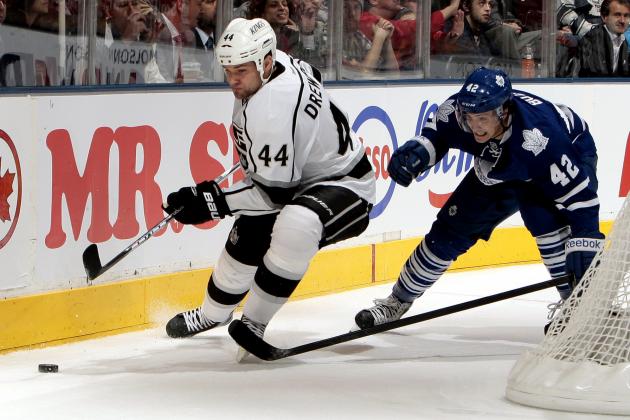 Abelimages/Getty Images

With Willie Mitchell out on the mend, the team will have to dig into their prospect pool to try and fill the void left by the veteran defenseman. It won't be easy, but the Kings have some personnel to work with.
The Kings lost a little defensive depth today as Thomas Hickey was claimed off waivers by the New York Islanders. However, they still have consistent seventh defenseman Davis Drewiske and youngster Jake Muzzin to look at for the time being.
It's also possible that the team isn't done in acquiring players via trade. Just a few days ago, the team parted ways with enforcer Kevin Westgarth and in return received forward Anthony Stewart and a few draft picks. They very well might be looking at a defenseman for the long term if the news on Mitchell doesn't improve soon or the youngsters don't look up to the task.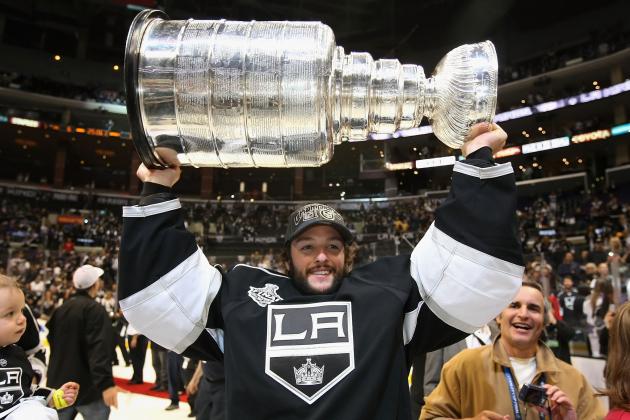 Christian Petersen/Getty Images

Probably the biggest news after the Kings' historic cup run was that Jonathan Bernier had asked to be traded.
Well, the lockout came and went, the offseason came and went, and Jonathan Bernier is still in Los Angeles. Is he happier now? Has he had a change of heart?
While a decision to stay the course til at least the trade deadline might have been dictated by Jonathan Quick's recovery from back surgery, there is no concern of that now as Quick stated in an interview with the LA Times, "This is the best he's felt since February."
With a 100-percent healthy Quick and a shortened season, what's going to happen to Jonathan Bernier? Does he stay or does he go? (Insert The Clash reference here)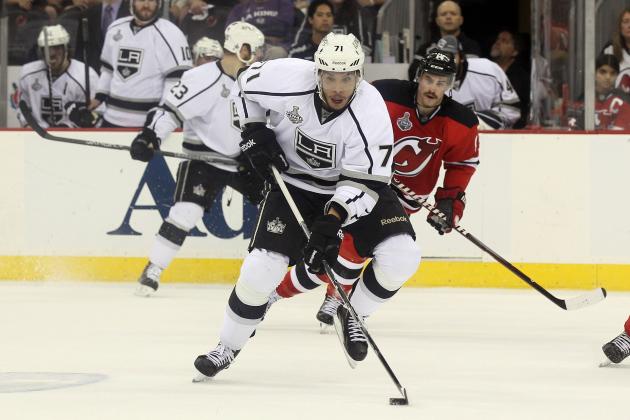 Elsa/Getty Images

It seems like every year for the last three seasons or so, the Kings have been blessed with a surprise player or two coming out of training camp or a mid-season call up that has made a significant impact.
In 2008 it was Wayne Simmonds, in 2010-11 it was Alec Martinez, last season it was the trio of Slava Voynov, Dwight King, and Jordan Nolan. So who is it this year?
With the injury to Mitchell, will it be the year we see Jake Muzzin make a charge? Is Kyle Clifford ready to turn a corner? Are we going to see Tyler Toffoli or Linden Vey this season? Maybe newcomer Anthony Stewart will find his form in Los Angeles.
There are a lot of possibilities, but there is also a very small window on a very deep squad. Whoever it is this year, if there is any surprise player at all, they're going to have to be really impressive to earn a spot.