5 Young Players Who Left Manchester United Too Early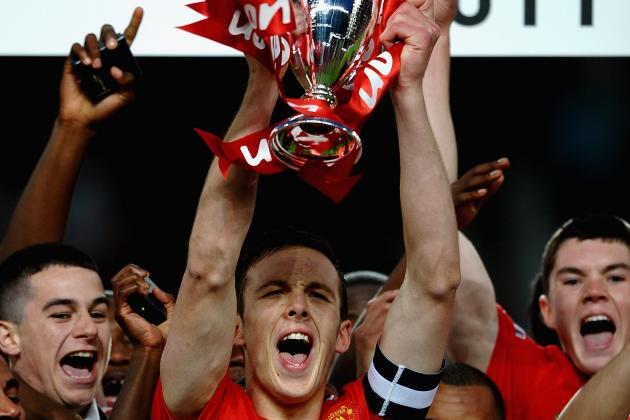 Laurence Griffiths/Getty Images
FA Youth Cup Winners 2011
Nobody needs telling about Manchester United's successful tradition with developing young players, like Bobby Charlton, Duncan Edwards, David Beckham, Ryan Giggs, Paul Scholes, Nicky Butt and the Neville brothers.
Starting with the "Busby Babes," they also have a tradition of winning the FA Youth Cup, as "Fergie's Fledglings did in 1992.
The prospects of the "Class of 2011" are now a hot topic, however, after three high-profile departures in the last year alone: Ravel Morrison, Paul Pogba and Zeki Fryers.
Sir Alex Ferguson insists that home-produced young players will always feed United's First Team, and indeed they are not far behind the likes of Barcelona and Real Madrid in producing young talent in the past.
As Sir Alex said in the Mirror, reported in the Mail in 2011:
We're always going to put an emphasis on young players coming through from the youth team. That will always be the case.
But with those recent high-profile departures, the question is increasingly being asked in the media whether he is giving young players their chance early enough.
After all, if you are Ryan Tunnicliffe, Davide Petrucci or Jesse Lingard, what message does it give if United consistently play 39-year-old Ryan Giggs and 36-year-old Paul Scholes? Indeed, what must Nick Powell, Angelo Henriquez and especially Alex Buttner think when they may have to go on loan to get games?
And earlier in the season, Michael Carrick was drafted in as an emergency centre-back yet again, despite the obvious promise of Scott Wootton and Michael Keane.
Both players are now on loan. Robbie Brady and Josh King went on loan to Hull City and Blackburn Rovers respectively. They have now signed permanent contracts.
Did they see the writing on the wall, like some of their more illustrious counterparts in the past?
Obviously the tenor of this article is about players who left before Manchester United could derive full benefit from their investment. In at least a couple of the five cases we discuss, they may have limited their own prospects in doing so.
Begin Slideshow

»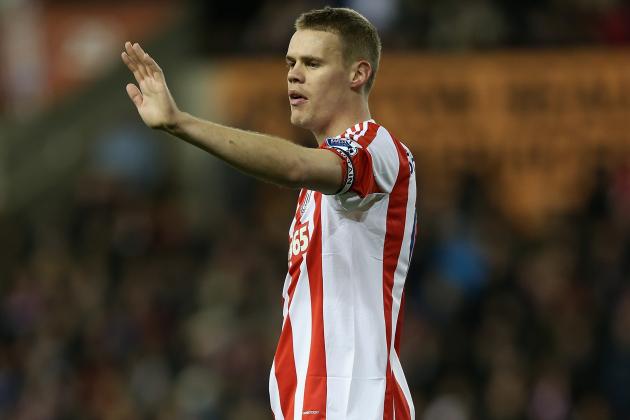 Bryn Lennon/Getty Images
Ryan Shawcross
There is no doubt that Ryan Shawcross has done outstandingly well at Stoke City, to the extent that top clubs, including Manchester United, are casting their eyes over him.
Mind you, United paying £10 million for their ex youth player is about as nuts as Liverpool buying back Tom Ince for £8.5 million having only released him for £500,000 18 months ago.
Why would United even consider buying Shawcross back when they have a conveyor belt of talented centre backs coming through at home: Wootton, Keane, Thorpe, Fornasier, McGinty to name just five out of potentially a dozen.
Ryan had been a member of the all-conquering 2005/6 United Reserve team despite being only 18, but the following season, he had only had two brief League Cup appearances before he was sent on loan to Royal Antwerp.
He did well there in a successful side, and after returning to Old Trafford, he must surely have hoped for his career to move forward.
Realistically, he had Rio Ferdinand and Nemanja Vidic ahead of him, but surely he would have expected to edge ahead of Wes Brown and John O'Shea in due course, based on the promise he had already shown.
It didn't help of course that Vidic had arrived while Ryan was in Belgium. Comfortably into his 20th year, however, he found himself shipped out on loan again, this time to Stoke City.
The marriage worked straight away. He scored in each of his first two matches and was voted Championship Player of the Year in October 2007. In January 2008 Stoke were allowed to make the move permanent for a £1 million fee.
The rest, as they say, is history and Ryan is one of the hottest young centre-backs in the Premier League.
There is another one ahead of him, however. Jonny Evans was a few months behind Shawcross in his age and development. He decided to stay, despite three successive loan spells and potential competition from Gerard Pique.
Evans is arguably now one of the top centre-backs in the division and will no doubt be first choice at United when Ferdinand and Vidic move on.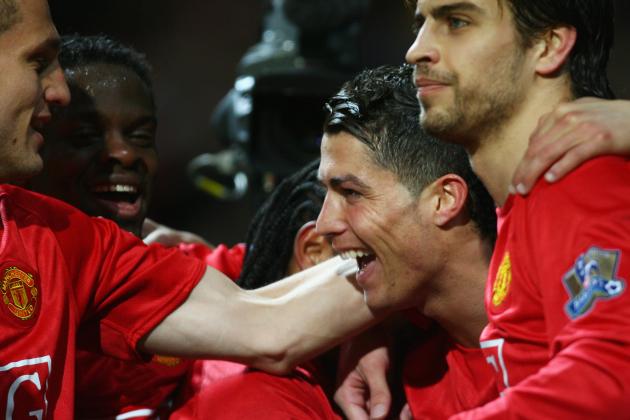 Alex Livesey/Getty Images
Gerard Pique, Nemanja Vidic and Cristiano Ronaldo
Shawcross isn't the best of United's centre backs to leave during that period.
Sir Alex may well have been looking at Ryan, Jonny Evans and Gerard Pique as the future central defence for years to come, but they did have arguably the best pairing in the world standing in their way.
Gerard Pique had come from Barcelona in the first place, signing his first professional contract when he joined United.
He made his first team debut almost immediately in October 2004, but it was almost 18 months before his full match debut in March 2006.
We'll probably never know what promises or incentives Sir Alex hints at when wooing a bright young talent to Old Trafford. He certainly won't be making commitments for when a player will be a fixture in the first team.
There are simple, but obvious philosophies, including: You have to want to play for United, ideally having idolised them as a kid; and if you're not prepared to wait to get your chance, then you can't be that committed.
The great United players and those that have been successful over an extended period have had United blood flooding through their veins.
Robin van Persie had the "little boy" screaming Manchester United. But then he walked straight into the first team.
But it costs a few bob to develop a player of talent, and even under the revised compensation rules, you may be lucky to get more than £1 million if they leave.
After all, Spurs baulked at £5 million for Zeki Fryers who claims he was offered £1500 a week by United and ended up getting him for much less via Standard Liege.
Nevertheless, it must have been disappointing for Gerard Pique to have only made 12 appearances in four years before Barcelona came calling.
At 22 years old, waiting in line behind Vidic and Ferdinand and homesick, he was delighted to return to Barcelona for a fee of £5 million.
Right now, as one of the best young centre-backs in the world, that looks to have been the right move.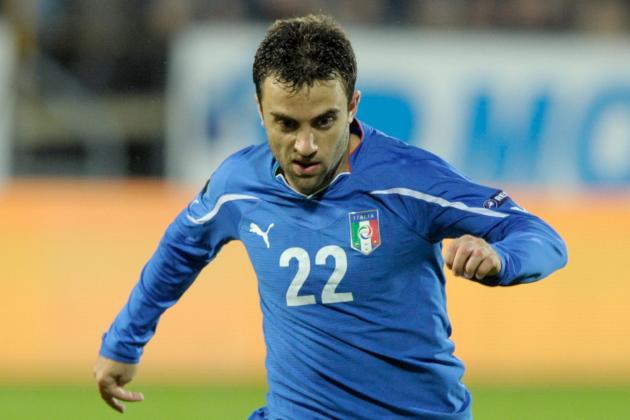 Claudio Villa/Getty Images
Giuseppe Rossi
There may well be the makings of a pattern here.
Young man, more than a thousand miles from "home," living in a flat or lodgings, with an alien culture, a new language and an inclement climate.
Could even be David de Gea, for that matter...
Giuseppe Rossi has two fellow countrymen kicking their heels in the Reserves right now: Federicho Macheda and Davide Petrucci.
At least De Gea is now first choice keeper, despite being barely 22.
Rossi arrived from Italy when Manchester United bought his contract from Parma in 2004 as a 17-year-old. A year later, he scored his first goal for United in the Premier League against Sunderland.
Once again the same pattern emerges. He only made a total of four starts and 14 appearances in total, which is in fact better than most at a similar age.
Once again, he was loaned out to get first-team experience, first to Newcastle but then back to Parma where he scored nine goals in 19 appearances.
Villareal placed more store on his precocious talent than Sir Alex did and the 20-year-old Italian moved to them for £6.6 million. He was an instant hit and less than a year later earned his first full cap for Italy.
While it is very likely that United will have inserted a buy-back clause in some of these players' exit contracts, they have never been exercised.
If Rossi had stayed, he would surely have been second-choice striker after Wayne Rooney two years ago and obviated the need for Chicharito. It is a moot point, however, as to who is the better.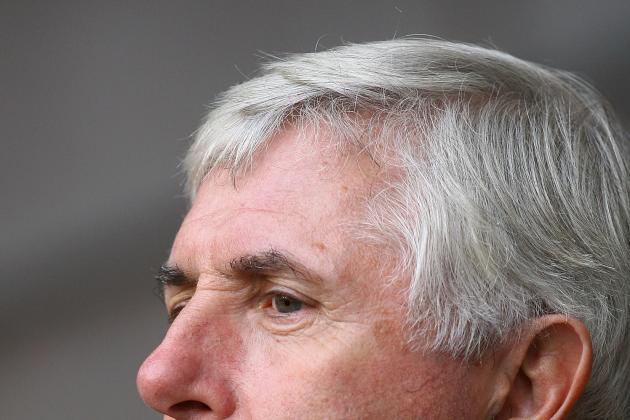 Julian Finney/Getty Images
Don Givens, Irish Manager 2007
By any stretch of the imagination, Don Givens had a successful career despite leaving Manchester United as a 21-year-old.
Again he had come up through the youth ranks before making his scoring first-team debut in May 1969. He only played another eight games before joining Luton Town, newly promoted to the old English Second Division.
From there he joined QPR, helping them to promotion into the First Division. Two years later they were runners-up in the top tier.
Givens scored a total of 76 goals in 242 appearances for Rangers before moving on to Birmingham City.
In the meantime he had earned his first cap for Ireland in the same month as he made his debut for Manchester United and went on to win a total of 56 caps in an illustrious international career spanning 12 years and with 19 goals.
The question is how much more could he have achieved had he stayed at United.
Sir Matt Busby had been manager while Givens was developing, so maybe it was his retirement that prompted the young Irishman to look elsewhere.
Like the youngsters now, he may have looked at the first team and seen Best, Law and Charlton. But they were at the very end of their careers. It was still little more than a year since United had won the European Cup.
His nearest competition of a similar age was Brian Kidd, who was never a stellar player but played 266 times for United with 70 goals. Comparing Givens figures for QPR alone suggest he might have been better remaining at Old Trafford.
He has become, however, one of Ireland's much loved footballers and from 2007 to 2008 was their caretaker manager.
Given what happened after Sir Matt retired, if Don had stayed and finished his career at United instead of Neuchatel Xamax (who he went on to manage), we might have been talking about him now rather than Sir Alex.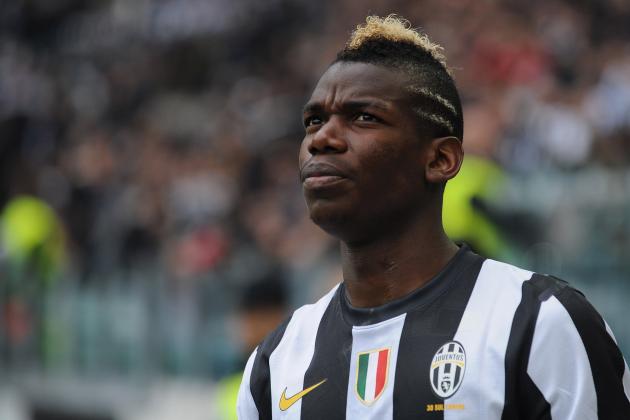 Valerio Pennicino/Getty Images
Paul Pogba
This is the one that will surely come back to bite Sir Alex.
If you're good enough, you're old enough. In August 2004 at the age of 18 Manchester United paid £25 million for Wayne Rooney.
On 3 July 2009, 19-year-old Paul Pogba joined Juventus for little or no fee. He was already France's U20 captain, but he had only started three games for Manchester United, with seven appearances in total.
Even those were accelerated once Sir Alex got wind of the possibility Pogba might be moving.
If there has been one consistent beef by United fans in recent years, it is the lack of a combative creative midfield player like Roy Keane. Paul Pogba has been likened to Patrick Vieira.
He already has 16 appearances for Juventus with two goals. Whatever gloss Sir Alex puts on it, this was a disastrous loss. Let's hope it doesn't presage a host of departures by disgruntled young players.
They can see rumours of United spending up to £15 million for 19-year-old Wilfried Zaha, and young players like Powell and Henriquez being signed from outside.
Meanwhile they can see players in their late 30s still prospering in the first team.
So maybe it comes down to interpretation. If these young players are leaving for more money, they are not right for United. If they are leaving for more opportunity, that is more understandable.
Macheda is 21 and still hasn't made it as a first-team regular four years after his debut. His boyhood friend Davide Petrucci captains the Reserves, but also at 21, he hasn't even had a start and is now at Peterborough.
Yes, there is a tradition of developing young players at Old Trafford and maybe there have been too many in recent years. If they continue to be denied chances, United might end up like City, with virtually no homegrown players in the team and having to regularly raid a price-inflated transfer market.
They might even end up buying one of their own for far more than he left for.
On the other hand, if they have the talent and are prepared to wait like Jonny Evans did, young players like Powell, Adnan Januzaj, Mats Daehli and Andreas Perreira may end up being household names and young stars themselves, like Rafael da Silva.