10 Reasons Ryback Will Not Be WWE Champion in 2013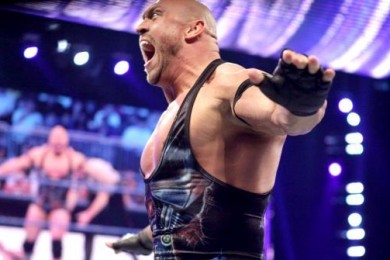 Photo courtesy of WWE.com
In 2012, Ryback had two opportunities to win the WWE Championship but failed to win the title on both occasions.
He won't win it in 2013, either.
While Ryback came about as close anyone to ending CM Punk's historic title reign last year (and earlier this month), it seems like he's going to come up a bit short of his main goal of winning the WWE title once again this year.
This certainly isn't a knock on Ryback, who looks poised to have a great 2013.
Rather, it's just that the way things are currently shaping up in the WWE's main event scene means that Ryback is going to have his work cut out for him to capture the WWE title.
And odds are, he probably won't do it.
Here are 10 reasons Ryback will not be WWE champion in 2013.
Begin Slideshow

»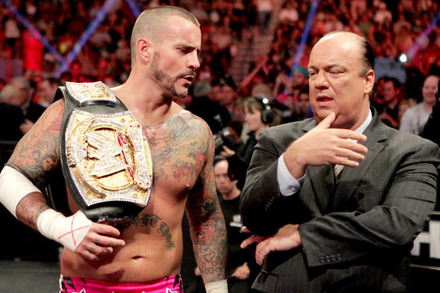 Photo courtesy of WWE.com
For all this talk that the WWE roster is "thin" and "weak," the company's main event scene sure seems to be pretty crowded all of a sudden.
There are plenty of established veterans and former World champions in the main event and upper midcard, including CM Punk, John Cena, Randy Orton, Alberto Del Rio, Big Show, Sheamus and even part-timers like The Rock.
Plus, the WWE has a boatload of guys who are right on the cusp of the main event picture or even currently working in it: Daniel Bryan, Dolph Ziggler, Damien Sandow, Cody Rhodes, The Shield, Wade Barrett, Antonio Cesaro, etc.
That tough competition is going to make it pretty difficult for Ryback to carry the WWE Championship at any point this year.
With a dozen or more rising stars and veterans who may end up in the WWE title picture this year, Ryback's going to have his work cut out for him to win the company's most prestigious title.
While certainly not impossible, a suddenly packed main event and upper midcard picture makes a Ryback WWE title win less of a lock than some seem to think.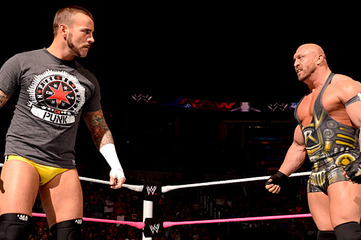 Photo courtesy of WWE.com
Aside from a Hell in a Cell match that was only OK, Ryback actually delivered the goods in all of the big matches he's competed in so far.
His performances at Survivor Series, WWE TLC (this one especially) and in the TLC match against CM punk were all better than most fans probably expected.
At the same time, none of those matches were traditional singles matches, which makes you wonder if that's because Ryback is not ready to main event PPVs in regular singles bouts.
His aggressive style obviously makes him more suited for gimmick matches, but he can't be a WWE champion who only competes in gimmick matches on PPV.
If you look at all the men who held World titles in 2012 (Punk, Daniel Bryan, Sheamus and Big Show), the common link between those four is that they performed very well in all kinds of different match types as champion.
Is Ryback ready to do that? We can't be sure just yet.
Ryback has had very few traditional singles matches (that weren't squashes) since debuting, and that may be the biggest reason why he's yet to win a World title.
He just might not be ready to tear the house down on a consistent basis.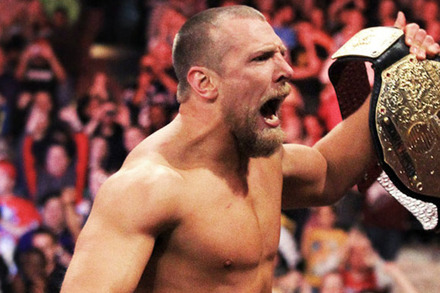 Photo courtesy of WWE.com
Speaking of the main event picture, Ryback now seems to have a lot of competition on the babyface side of the roster.
The WWE suddenly has more top babyfaces than it usually does, thanks to the recent turns of Alberto Del Rio and The Miz.
On the face side of the upper midcard and main event picture, you have John Cena, Daniel Bryan, Kane, Randy Orton (for now, at least), Del Rio, The Miz, Sheamus and perhaps another couple of stars depending on who turns later this year.
Ryback is near the very top of the WWE's babyface pecking order, but he's certainly not No. 1 and isn't even the clear-cut No. 2 or 3 good guy at this point.
With ADR's new-found push, Bryan's likely upcoming singles run and Sheamus still hanging around, Ryback may not get as many opportunities to challenge for the WWE title as he did in 2012.
And if that's the case, it's going to be awfully difficult for him to win the gold this year.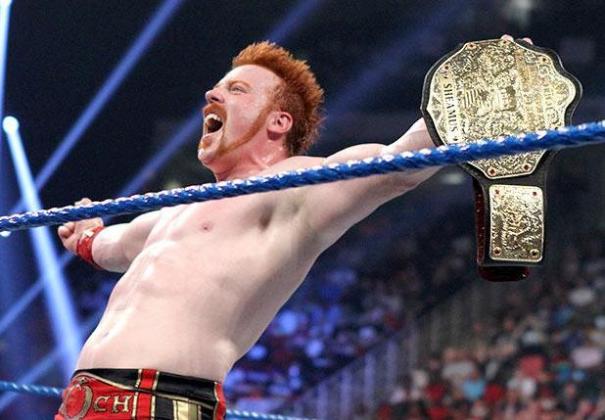 Photo courtesy of WWE.com
After years of consistently flip-flopping its titles, the WWE has started a new promising trend: giving its titleholders lengthy runs with the belts.
As we all know, CM Punk has held the WWE Championship for more than 420 days now, but he isn't the only recent champion to have a lengthy title run.
Dolph Ziggler held the United States Championship for 182 days in 2011, Santino Marella held it for 167 days in 2012 (albeit with a lackluster reign) and Antonio Cesaro has held the same title for more than 150 days now.
Also, Team Hell No has held the Tag Team titles for more than 120 days after R-Truth and Kofi Kingston's 139-day reign, while Sheamus held the World Heavyweight title for 210 days in 2012.
Of all the things the WWE has done wrong in recent years, giving its superstars lengthy title reigns is one of the best things its done.
But you have to wonder if this recent trend will continue and if it means that someone like Ryback may have only a small chance of holding the WWE title this year.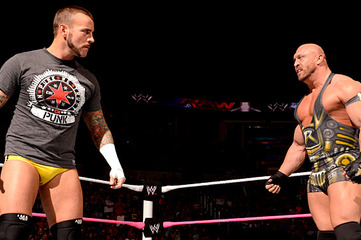 Photo courtesy of WWE.com
Ryback can do everything right, continue to stay over with the crowd and emerge as a clear-cut top star this year.
But that doesn't mean that the creative team won't screw things up for him.
In fact, you could certainly make a case that it was the creative team that ultimately ruined Ryback's momentum at the end of 2012 by putting him into such awkward booking situations.
Although the way Ryback was built up last year suggests that he has a WWE title run in his future (likely at some point this year), the creative team's often illogical booking makes that far from a guarantee.
The next time creative puts Ryback in a WWE Championship feud, let's hope it knows what it's doing.
After all, it was pretty clear last year that it wasn't sure what to do with Ryback once he got to the main event picture, and his push has stalled a bit as a result.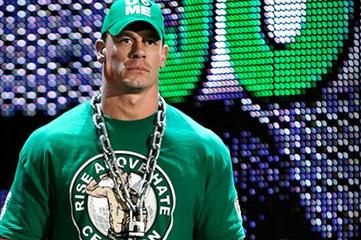 Photo courtesy of WWE.com
It's looking more and more likely that John Cena will rebound from a rough 2012 and have a great 2013.
He's already the runaway favorite to win the Royal Rumble, he's likely going to challenge for and win the WWE Championship at WrestleMania 29, and after not winning the title at all last year, he figures to have a lengthy title reign if he does win it.
That will make Cena perhaps the biggest obstacle in Ryback's path in 2013.
With the way things are currently shaping up, it appears as if Cena is going to dominate the WWE Championship picture for a good portion of the year, which would probably leave Ryback out in the cold.
Unless the WWE decides to do Ryback vs. Cena for the WWE title down the road, it may be Cena who spends the majority of 2013 working WWE title feuds in Raw's main event.
Meanwhile, Ryback will have to find something else to do to keep himself in the main event picture.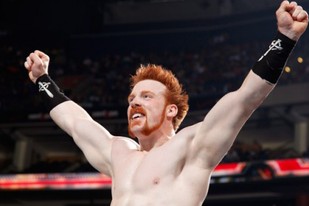 Photo courtesy of WWE.com
Ryback appears to be in line for a sustained main event run this year, but appearances can often be deceptive.
Guys like Sheamus, Wade Barrett, Jack Swagger and The Miz all rose to the main event scene and it appeared as if they would immediately stay there for the long haul.
But that didn't happen in most cases.
Sheamus dropped down to the midcard for about a year after winning his second WWE title, and Barrett hasn't worked a legitimate main event angle since late 2010.
Meanwhile, Swagger has never gotten anywhere close to the level he was at when he was World Heavyweight champion in 2010, while The Miz has struggled to get back to the main event picture since dropping the WWE title shortly after WrestleMania 27.
The bottom line is that we just don't know if the same fate awaits Ryback.
The WWE's recent history suggests that he may take a significant drop down the card (back to the midcard) now that his first main event run is dying down a bit.
It's certainly not a lock, but you have to wonder if Ryback goes the same route that most of these guys did.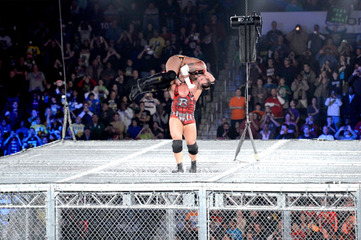 Photo courtesy of WWE.com
Over the last four months, Ryback has had three opportunities to win the WWE Championship.
He lost them all.
That happened in large part because the WWE didn't want to blow up plans for The Rock vs. CM Punk at The Royal Rumble. Still, you have to wonder if there's more to those losses.
In a way, the WWE's failure to have Ryback win the WWE title, despite giving him multiple opportunities to do so, shows a lack of confidence in him.
It's almost as if the WWE wanted to push him as far as he could go, but once he got close to the WWE title, the company started feeling a little iffy.
Here's the thing, though: you want to push a guy, you push him. You don't waffle on it from month to month.
With the way that the WWE has handled Ryback in his three WWE title matches he's gotten so far, though, it doesn't seem like the company has plans to put that belt on him anytime soon.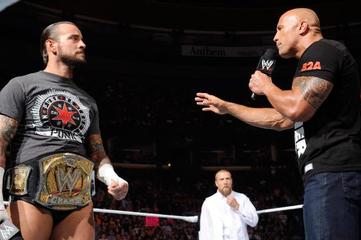 Photo courtesy of WWE.com
The road to WrestleMania is here, and in all likelihood, Ryback is not going to be involved in the WWE Championship picture between now and then.
It's almost a lock that the WWE title picture will be dominated by CM Punk, The Rock and John Cena through the pay-per-view and probably even beyond it.
The WWE title picture and the WrestleMania fallout from whatever WWE Championship match takes place at WrestleMania will likely extend to Extreme Rules and perhaps past that.
That means that Ryback isn't going to have a chance to even compete for the WWE Championship until maybe May or June, and after all the lengthy World title feuds we saw in 2012, he may have to wait even longer.
Heck, he may not even get a chance to challenge for the belt at all.
Once the build to WrestleMania rolls around, we should get a better idea of what the WWE plans to do with Ryback post-Mania and throughout the rest of the year.
Just don't be shocked if creative's plans largely keep him away from the WWE title in 2013.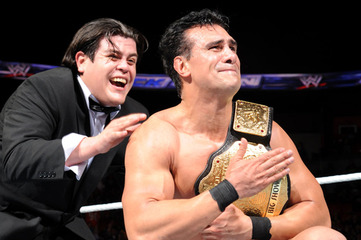 Photo courtesy of WWE.com
If Ryback wins a World title in 2013, it won't be the WWE Championship.
It will be the World Heavyweight Championship.
Especially recently, when a WWE superstar wins his first World title, it's usually the World Heavyweight title rather than the WWE title.
Jack Swagger, Dolph Ziggler (if you count that one), Christian, Daniel Bryan and Mark Henry have all won their first World title at some point over the last three years, and each time, it was the World Heavyweight Championship that they captured.
It seems as if the World Heavyweight title is used as more of a stepping stone or testing grounds for unproven World champions while the WWE title is used more for stars who have already been established.
While certainly not always the case, it appears as if Ryback's best bet for a World title win is to go after the World Heavyweight Championship.
And if he's actually going to win a World title soon, it will be that one.
Drake Oz is a WWE Featured Columnist for Bleacher Report. Follow him on Twitter!