Making the Call on Cowboys' 7 Toughest Offseason Decisions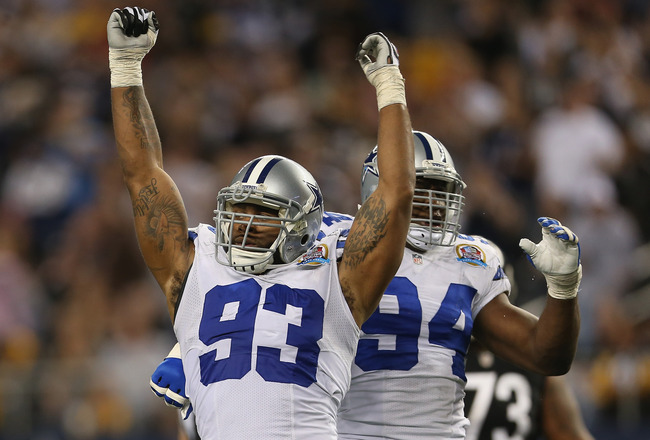 Ronald Martinez/Getty Images
As soon as the Dallas Cowboys decided to hire former Tampa Bay Buccaneers defensive coordinator Monte Kiffen as defensive coordinator, they pushed their chips to the middle of the table on Anthony Spencer.
Being that I'm not a card player, I could be a little off on the terminology, but you get my drift.
At any rate, Spencer is the Cowboys largest offseason re-signing target. He played hard for Dallas this past season and did more than enough to earn the long-term contract he's been wanting.
Spencer ended the season with a career high in sacks and tackles, so he has basically forced the Cowboys to either pay up or use the franchise tag on him again in 2013.
That's just one tough decision team owner Jerry Jones must make before next season begins.
Here are six additional choices Dallas must take care off during the spring and summer.
Anthony Spencer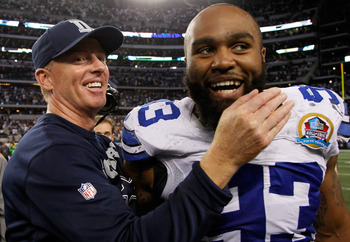 Tom Pennington/Getty Images
This one is pretty simple: Should the Cowboys re-sign linebacker Anthony Spencer to a long-term contract?
Spencer's year, as mentioned in the opening, was one for his own history books. He had 11 quarterback sacks, best for second on the team. He finally turned into the pass-rushing threat the team needed.
But now that Monte Kiffin and his Tampa 2 defense are coming to town, Spencer will have to play defensive end, his college position.
According to Spencer's agent (via ESPNDallas), he's willing to play switch back to DE: "He can play either. They played a 4-3 for some of the snaps this past season."
If Dallas really wants to keep him but can't work out a long-term deal, Spencer will cost the Cowboys $10.6 million if they choose to franchise him again.
But on the bright side for Dallas—at least according to former scout to former scout Larry Lacewell—the Cowboys would be ok moving ahead without the increasingly expensive Spencer.
I think I could find another guy that was a pretty good player. In my opinion, I'd rather look for a 4-3 guy. I think a rookie can come in...(via ESPNDallas)
So, should the Cowboys keep Spencer, or let him go? There is an up-and-down side to everything, and the Cowboys have been burned lately by players who they have signed when the bidding was at its highest.
I say let him go.
Should Jason Garrett Continue to Call Plays?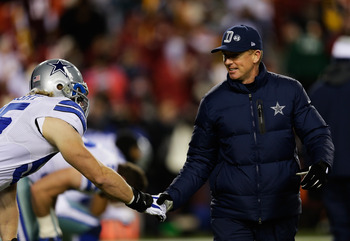 Rob Carr/Getty Images
Jason Garrett has called plays for the Dallas Cowboys since 2007. That's a long time in NFL years—dog years for that matter.
During that period, the Cowboys have had one playoff win and years of disappointing finishes. As a head coach, Garrett has some clock management issues and his play-calling in key spots has been questioned, as well.
Garrett was billed as one of the best offensive minds in the NFL by Jerry Jones when he was hired. Now Jones is thinking of taking play-calling responsibilities away from him.
In 2012, the Cowboys ranked fifth in total offense. That's not to shabby of a ranking, but considering Dallas went 8-8 this year, one can see why Jones is looking to make changes.
Since Jones is sticking with Garrett as head coach, should he continue to trust him with running the offense or make a change?
Is Doug Free a Keeper?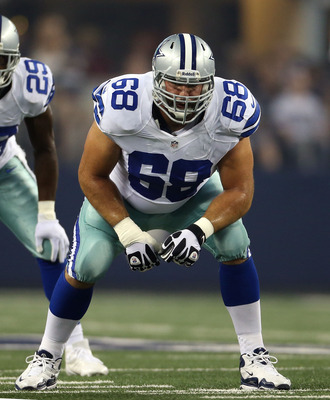 Ronald Martinez/Getty Images
Find a fan of the Cowboys who enjoyed watching Doug Free last season, and I have a free bridge in Michigan I want to sell you.
Nobody watches The Daily Show? Ok, moving on.
According to Rick Gosselin of The Dallas Morning News, the Cowboys will hold on to Free. Considering his contract was graded as one of the league's worst (via ESPN), the Cowboys have to stick with him a little while longer to see if he pans out.
No, not because ESPN thinks so, but because the numbers say they should. Free signed a $48 million deal a couple of seasons ago, and now they are paying for it.
Like Gosselin suggests, moving Free to guard may just pay off for Dallas. He's obviously not a strong tackle, and the Cowboys are weak inside.
So, should the Cowboys let Free go or try him inside at guard?
Who to Draft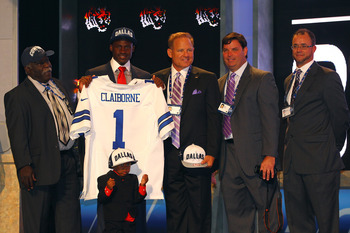 Al Bello/Getty Images
Former Tampa Bay Bucs head coach Tony Dungy said that the Cowboys need three hard-to-find players if Kiffin's system is to work properly.
Dallas will have to have a Warren Sapp-type of defensive tackle, a linebacker along the lines of Derrick Brooks and a safety like John Lynch.
Dallas has no one on the roster who yet fits that mold, and Dungy says that it will take the Cowboys a few years to pick the right players.
I think that Sean Lee has Brooks-like potential, but how he adjusts to the 4-3 scheme will determine that.
Jones usually likes to go for the home run in the first round, and he may pass up the right player for his team in doing so.
Instead of going after the most popular player, should the Cowboys search for the hard-to-find guys Dungy alluded to?
Keeping Mike Jenkins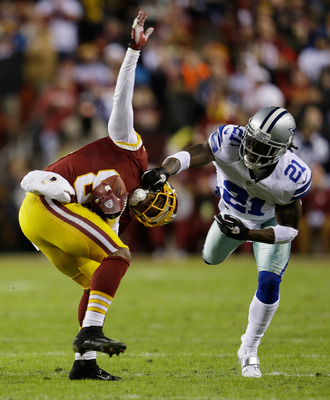 Rob Carr/Getty Images
I've always been a Mike Jenkins guy because of what I saw from him in 2009. I also think he's one of the better Cowboys cornerbacks, and letting him go would only deplete an already weak defensive backfield.
This offseason, the Cowboys will have to decide if they want to keep Jenkins or let him walk.
From the looks of things, Jerry Jones will be ok with letting Jenkins walk. He's injury prone, had a rough offseason before the 2012 campaign started and refused to rehab in Dallas after his shoulder surgery.
If Jenkins goes, signing a veteran would probably be a downgrade and drafting a player may end up creating another problem.
With the injury bug taking up shop in Valley Ranch in 2012, the Cowboys may be better off keeping Jenkins around.
Should Dallas hang on to Mike Jenkins?
Signing Tony Romo to a Long-Term Extension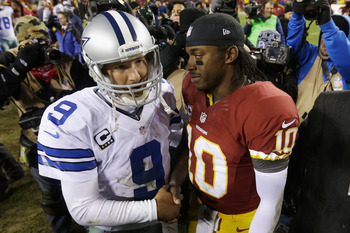 Rob Carr/Getty Images
Despite what so many may think or believe about Romo, he is truly the Cowboys best quarterback option for the moment.
Let's say for the sake of argument that the Cowboys release Romo. Who would replace him? Don't say Kyle Orton because most fans would be asking for Romo back as soon as Orton throws his first interception.
So, the question isn't whether the Cowboys should keep Romo, that question has already been answered.
Now the question turns to whether Dallas should extend Romo.
Will stalling him out of a new deal force Romo to play better in 2013 knowing his life with the Cowboys depends on it? Would that be enough to stop Romo from making the ill-advised throw or volcanic eruptions at his team when he gets sacked?
Is it time to sign him now or wait until the results of his 2013 are in?
Re-Signing Felix Jones or Drafting Another Running Back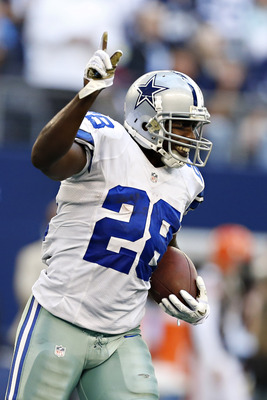 Wesley Hitt/Getty Images
Jones is a free agent, and if I made the decisions, I would let Jones get in the wind.
But DeMarco Murray's injury history means letting Jones walk could a gamble. Jones isn't necessarily the most reliable running back in the stable for Dallas, but having a solid veteran to play behind Murray isn't bad.
Jones won't cost the Cowboys much, but is he worth the contract? Should the Cowboys trust the backup duties to Phillip Tanner and maybe Lance Dunbar?
Keep Reading

Dallas Cowboys: Like this team?