Chicago Bears 2009 Schedule and Prediction
This is a pre-draft breakdown of the Chicago Bears 2009 opponents. The slides are in order with the schedule.
Sun 9/13 -@ Packers (Night)
Sun 9/20 - Steelers
Sun 9/27- @ Seahawks
Sun 10/4 - Lions
Sun 10/11 - BYE
Sun 10/18 - @ Falcons (Night)
Sun 10/25 - @ Bengals
Sun 11/1 - Browns
Sun 11/8 - Cardinals
Thurs 11/12 - @ 49ers (Thursday)
Sun 11/22 - Eagles (Night)
Sun 11/29 - @ Vikings
Sun 12/6 - Rams
Sun 12/13 - Packers
Sun 12/20 - @ Ravens
Mon 12/28 - Vikings (MNF)
Sun 1/3 - @ Lions
Each slide holds a breakdown of a different team's offense, defense, draft pick number, major signings, and my personal expectation of the team (Not biased at all... I swear...)
@ Green Bay Packers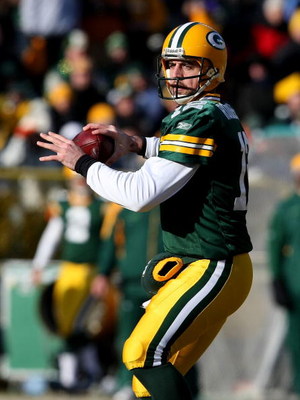 The Green Bay Packers and new starting QB Aaron Rodgers are coming off a disappointing 6-10 season in 2008. Which is confusing because if you watched any games of Green Bay last year, they looked pretty good.
OFFENSE
In his first year as a starter, Aaron Rodgers showed Packer fans that, while they may have missed Brett Favre, he looks to be a completely competent and able quarterback who should be under center for quite some time.
Rodgers threw for over 4000 yards last season and tossed 28 TD's (and 13 INTs). Under Rodgers control, the Pack ranked 5th in the NFL in terms of average points per game.
Ryan Grant had another interesting year. The first half the season, Grant was hardly there, then after an impressive showing against the Colts in Week Seven, he had a roller-coaster pattern; 145 yards vs the Bears, next week - 67 yards vs the Saints. 39 yards vs the Panthers and the following week 104 vs the Texans.
Grant is a good running back when he gets it going, he just needs to be a little more consistent.
The receiving corps is still exceptional. Greg Jennings and Donald Driver are a very good one-two punch. Jennings had almost 1300 yards and Driver had just over 1000.
DEFENSE
The Packers in 2008 are what some would call "Ballhawks". They had 22 interceptions last year, seven by BOTH Charles Woodson and Nick Collins. And not only that, but of those 22 INTs, six of them were returned for scores.
They also forced 14 fumbles and got sacked the quarterback 27 times, 10 of those were from Aaron Kampman.
On the flip side, the Packers D was ranked 22nd in terms of points allowed per game and 20th in yards per game.
This year, they have a new defensive coordinator, Dom Capers, who will be implementing a 3-4 defense at times to try and slow down some of their opponents.
That could work to the Bears advantage as the face the Packers in Green Bay in week one. Hopefully, the players are still trying and work out the kinks in the system at that time.
2009 DRAFT
The Packers used their first draft pick on B.J. Raji and their later first round pick on linebacker Clay Matthews. Both should help support the new 3-4 defense.
Free Agent signings: S Anthony Smith from PITT.
Prediction: Better than last year. I expect the Packers to be in the running for the NFC North title this year. The Vikings are still having some QB troubles, the Bears are having some defensive troubles and the Lions are the Lions.
vs the Bears this year: 1-1
vs the Pittsburgh Steelers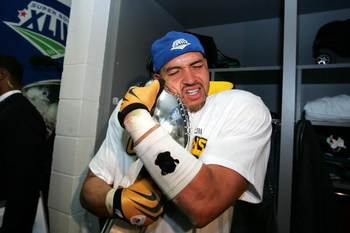 Super Bowl Champs... that's all the intro you need.
OFFENSE
Surprisingly, the Steelers were ranked in the lower half a lot of offensive categories including in points per game (21.7) and yards per game (311.9).
That said, the QB position is solid. Ben Roethlisberger is a big, mobile with a lot of arm strength. He can extend a play with his feet but is not a "run first" QB.
Willie Parker is a good running back when healthy and their backups aren't to shabby either with Mewelde Moore and second year player Rashard Mendenhall.
Receivers are again, solid but not exceptional. Santonio Holmes had a bit of a coming out party during the playoffs and Hines Ward is as reliable as they come but Nate Washington has moved on to AFC rival Tennessee meaning Limas Sweed is going to have to step up and play a bigger role in the offense.
The main weakness might be protection. Roethlisberger was sacked a total of 46 times last season, including an embarrassing game against the Eagles in which he was sacked by six different players for a total of ninth sacks in a 15-6 loss.
DEFENSE
Well, Pittsburgh proved that if you have a mediocre offense, you can still win the big one if you have an INSANE defense.
Ranked first in the NFL, the Steelers defense was made up of the Defensive player of the year (James Harrison) and arguably the best safety from the past five years (Troy Polamalu).
The only defense statistic they were not number one in was rushing yards allowed per game (they were second, giving up about four yards more a game than the Vikings).
They sacked the quarterback 51 times, Harrison having 16 of those, forced 12 fumbles, and intercepted the opposing QB 20 times, taking 2 of those back for scores.
They lost Anthony Smith to the Packers and Bryant McFadden to the Cardinals, but they still have Dick Lebeau as the D-Coordinator, they are going to cause havoc on the rest of the NFL.
2009 DRAFT
The Steelers selected defensive tackle Ziggy Hood from the University of Missouri. Hood will benefit from playing for the best defense in the league and will be given time to develop.
Free Agency: N/A.
Prediction: Winning the division again. The Steelers rarely have years where they are not in the mix and this season will not be any different.
@ Soldier Field: 1-0. It had to be done at some point. I love the Bears, but the Steelers defense could feast on JAY CUTLER if we fall behind. What can I say? I could make a case for why the Bears could win, but I am not sure even I would fully believe it.
@ Seattle Seahawks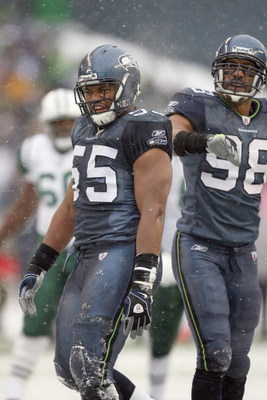 No team improved themselves more in the off season so far than the Seattle Seahawks. And the funny thing is, all they did was sign T.J. Houshmanzadeh.
Despite coming off a 4-12 year and the loss of head coach Mike Holmgren, look for them to push the Cardinals in a weak NFC West division.
OFFENSE
QB Matt Hasselbeck is coming off an injury plagued year but should be 100 percent come week one. If he can return to his old form, look for T.J. to top 100 receptions this year. Especially with the loss of Bobby Engram and Koren Robinson, there will not be a lot of options to look for on the outsides.
Running back position is one that could turn out to be not as productive as last year despite Julius Jones and T.J. Duckett returning.
The Seahawks lost fullback Leonard Weaver and back up running back Maurice Morris. They also lost guard Floyd Womack who was a career back up but filled in nicely this past year to start 14 games for Seattle.
DEFENSE
The overall defense was not as impressive as one would think considering some of the big name players on the squad. Ranked 24th in points allowed, the Seahawks gave up a lot of yards through the air.
Now with the departure of linebacker Julian Peterson to the Lions, there could be an even larger hole to fill.
They did receive Cory Redding in the Peterson trade and are trying to move him to defensive end.
That, coupled with Pro Bowler Lofa Tatupu and franchised OLB Leroy Hill, could provide the Seahawks with a solid core to build upon.
Marcus Trufant will have to step up in a big way though as the Seahawks only had nine interceptions all of last year (with four of those coming from Josh Smith). If the defense can make more stops, and give Hasselbeck and T.J. more possessions, good things will follow.
2009 NFL DRAFT
The Seahawks lucked into the best overall player in the draft, LB Aaron Curry from Wake Forest. Curry has the size and speed to be an impact player in the league for a long time. He should help fill the void left by the departure of Julian Peterson.
Free Agency: Already touched upon. Only other noteworthy moves was the loss of Rocky Bernard on the defensive line and the addition of Colin Cole from the Packers at defensive tackle.
Prediction: Will be better if everyone can stay healthy. They benefit from playing the Rams twice but still might be a year or so away but if Jim Mora can get them fired up and they pull out a couple close games, they could be in the playoff hunt.
vs the Bears: 0-1. Not against the Bears. Chicago will have trouble with T.J. but the running game for Seattle will be non existent and Jay Cutler should have enough time to pick them apart.
Detroit Lions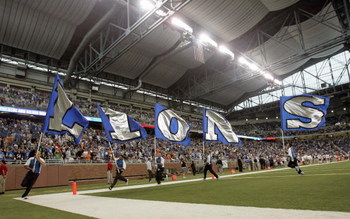 The Detroit Lions finished with a record season...0-16. I cannot even imagine what it feels like to have your team go winless. I am sorry.
That said, Lions made necessary moves and I guarantee they will not go winless this year (I know, bold prediction right).
The Lions got rid (finally) of GM Matt Millen. They fired Head Coach Rod Miranelli and brought in defensive specialist Jim Schwartz to try and right the ship.
They also went out and pursued a multitude of free agents including, but not limited to: CB Phillip Buchanon, TE Will Heller, DT Grady Jackson, WR Bryant Johnson, RB Maurice Morris and CB Cody Spencer. They also traded for disgruntled Seahawks LB Julian Peterson.
OFFENSE
They needed a QB and got one in the draft. Matthew Stafford was selected with the first overall pick and is in competition with Daunte Culpepper. (Drew Stanton is still on the squad but will not factor in the contest). So the logical argument is, do the Lions start Stafford and let him learn because odds are the Culpepper will only be able to pull out five wins maximum.
So do you take a 5-11 record and let Stafford adjust, or do you through him in from the get go, let him take his lumps and make him learn on the fly?
Time will tell on that one.
In terms of running back, they might have actually found someone that might actually work out in Kevin Smith. He rushed for 976 yards and eight touchdowns in his rookie year.
If they can keep Rudi Johnson, he should provide some support so not to wear out Smith to quickly.
The other bright spot in the Lions season was Calvin Johnson, who was simply unreal. After so many tries, it looks like the Lions finally got that number one receiver that will be a consistent Pro Bowler for the next 10 years.
Shaun McDonald and Mike Furrey are decent players behind Johnson, as long as they have someone to throw them the ball.
DEFENSE
The one team the Lions offense wished they could have faced last year to bolster their stats was the Lions defense. They ranked dead last in points allowed per game (32.3) total yards per game (404.4) and rushing yards per game (172.1) but their pass defense manned up and was only ranked 27th (giving up 232.2 ypg)
But lets try and focus on the positives...they can't get much worse!
No seriously though, the Lions made a lot moves through free agency to shore up some weak points and the trade that landed them Julian Peterson was a double bonus because it added an all pro quality player to a linebacker squad that wasn't to shabby with Ernie Sims and Paris Lenon and got rid of Corey Redding, who was unhappy with his current situation.
Hopefully this will shore up the run defense somewhat but the Lions also ranked near the bottom in turnovers which is a major issue that Jim Schwartz will want to press. The Lions only had four...count them four interceptions all of last year. That cannot continue.
2009 DRAFT
Like I said, the Lions used the first pick on Stafford. The No. 20 (which they received thanks to the Roy Williams deal) they used on TE Brandon Pettigrew from Oklahoma St. which I guess was a need, but they could have used some defensive help.
Free Agency: Already addressed
Prediction: Better than last year...ok ok ok, I realize that isn't saying much but I would say the Lions could be better than a lot of people think. If I were predicting their final record, I would say 6-10 easy.
But since I am not...
vs the Bears this year: 0-2
BYE WEEK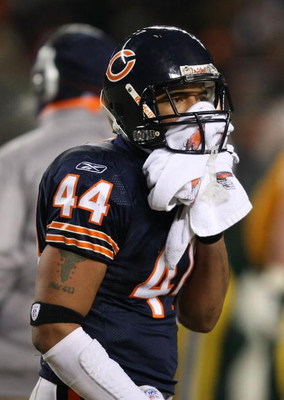 @ Atlanta Falcons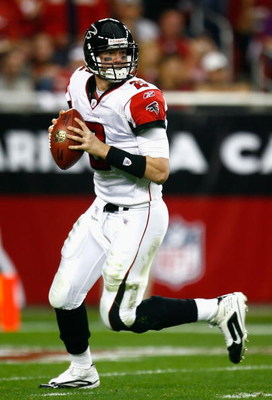 Stupid Stupid Stupid Falcons. They had an amazing year last season led by rookie Matt Ryan and first year starting running back Michael "the Burner" Turner.
A complete turnaround for a franchise torn apart by one player. However they will be facing the Saints, Bucs, and Panthers twice.
I am just bitter cause the way the beat the Bears... But I will discuss this later, first...
OFFENSE
Matt Ryan is good. Seriously. The only question is if he will suffer through a sophomore slump? To answer that, no. He has Turner behind him and two receivers who can catch the ball on the outside in Roddy White and Michael Jenkins.
Ryan also has a very good offensive line in front of him that only allowed him to be sacked 17 times all year.
What more can I say. They scored 24.4 points per game, 361.2 yards a game, and were second in the league in rushing with 152.7 yards per game. The offense is special and will be good again this year providing Ryan doesn't forget how to throw.
DEFENSE
This is where the Falcons could get hurt. John Abraham is still there and he was a monster last year recording 16 sacks.
But while the defense only allowed 20.3 points a game, they ranked in the 20s in yards per game, passing yards a game and rushing yards per game.
They lost linebacker Keith Brooking to the Cowboys, Domonique Foxworth to the Ravens, Grady Jackson to Detroit, and Lawyer Milloy is an unrestricted free agent.
The only addition they made was linebacker Mike Peterson from Jacksonville who is good, but thats only one spot.
If the Falcons want to go further in the playoffs, or even compete for a playoff spot in the insanely competitive and arguably the best division in the NFL, they are going to need help from first round pick Peria Jerry.
2009 DRAFT
DT Peria Jerry.
Free Agency: They added Peterson and C Brett Romberg from the Rams. I already went over who they lost.
Prediction: With the Bucs coaching change and the Saints inability to stop teams, the playoffs are there for the taking as long as they can shore up the defensive side of the ball.
As long as they have Ryan and Turner, they should be in every game.
vs the Bears: 0-1. THAT'S RIGHT, I SAID IT. The Bears will still be pissed about the last time these two teams met (with the Falcons winning on a last second field goal after a blown coverage) and will extract revenge.
The Bears offense has improved with Cutler and Lovie Smith will make sure they get to Ryan at least once or twice...which would be one or two more times more than they did last game.
@ Cincinnatti Bengals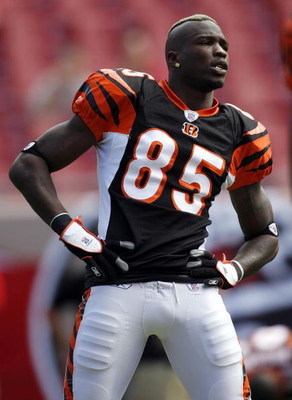 Oh how the mighty have fallen. Chad Johnson, because the man's names is Chad Johnson, has yet to live up to the Ocho Cinco billing. Since his name change, the man has been a ghost on the field. The only way he might make a comeback is if Carson Palmer can return to form.
What is more impressive is that with coaches like Eric Mangini and Jon Gruden in Tampa lost their jobs, Marvin Lewis kept his. I thought maybe I had just missed SportsCenter when he was fired, but nope, he is still there and I can not believe it.
OFFENSE
Bengal fans everywhere are praying that Carson Palmer returns to pre-knee-injury form. If he does that and free agent acquisition Laveranues Coles plays as well as hoped, then the Cinci offense could be right back up there as one of the more explosive ones in the NFL.
Let's be honest though, any improvement would be a good thing. The Bengals ranked dead last in points per game (12.1) and total yards per game (245.4). 12.1 points per game!!! That is insane.
I mean the Bears have suffered through some poor years, but DANG.
The Bengals received a surprise when they picked up Cedric Benson last year and he actually performed fairly well (I know it surprised the hell out of all the Bear fans out there).
That being said, the Bengals should not be counting to heavily on Benson keeping that performance up. Chris Perry is a decent back up but will not be able to carry the full burden should Benson bust...
The Bengals did pick up J.T. O'Sullivan from the 49ers to back up Palmer but everyone knows if O'Sullivan is in for any significant time, then the Bengals season is shot.
DEFENSE
Marvin Lewis' specialty when he came to Cinci was actually a lot better than the offense, although still middle of the pack compared to the rest of the league and unless your defense is in the top three, it doesn't matter how well you play if your offense is only scoring 12.1 POINTS PER GAME (sorry I can't get over that stat).
A telling stat that helps explain the Bengals futility: the Bengals defense recorded 17 sacks all year compared to the 51 sacks the Bengals offense gave up. OUCH.
And then they let tackle Stacey Andrews go to Philly. Now while I admit, if they gave up 51 sacks, it makes you wonder about the effectiveness of Andrews, but Andrews was the starter so that makes you wonder about the quality of the player backing him up.
2009 DRAFT
Well, they took that Offensive tackle, but Andre Smith, after holding out through most of training camp, broke a bone in his foot and is now going to miss even more time.... It just keeps piling on doesn't it?
Free Agency: The Bengals signed Laveranues Coles and let T.J. Houshmanzadeh go. Those were the major moves.
Prediction: Another year of frustration. Maybe a little better than last year. Look for 6-10 maybe 7-9, but it should be Lewis' last year as coach.
vs the Bears: 0-1. Bears defense doesn't like Cedric Benson. They broke his shoulder in training camp one year, they very well could break his neck in a real game. End of story.
vs the Cleveland Browns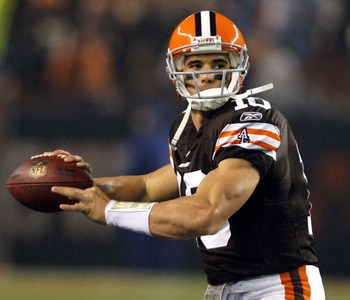 Yes the Cleveland Browns are coming over to Chi Town in what will no doubt be billed as an old-school black-and-blue matchup.
The Browns are coming off a very disappointing season. After showing that the offense could pull it together the year before, expectations in Cleveland were high and then Derek Anderson couldn't get back to form, and Brady Quinn got hurt which left them with...Ken Doresy? Ouch.
The Browns ranked in he lower part of most significant categories, both offensive and defensive.
OFFENSE
The Browns' QBs threw for a total of 11 touchdowns last year (and 20 INTs). At one point, they had Josh Cribbs, KR Specialist and back up wide receiver come in and play QB in the Wildcat Formation.
He was their fifth QB used. Look for Brady Quinn to be the starter this year. He looked a little shaky at times in his brief stint last year, but he is the future of the Browns so what better time to start him than now.
Jamal Lewis was the leading rusher for the Browns last season, eclipsing the 1000 yard marker. After him, the next rusher is Jerome Harrison with 246 yards... Exactly
The receiving corp is depleted also. The Browns have Braylon Edwards, a legit number one receiver, despite an off year in 2008, but little else.
After him Cribbs only had two catches all last year, the Browns traded controversial tight end Kellen Winsolw, The next best receiver on the roster is second year player Syndric Steptoe. Not good.
DEFENSE
Despite some difficulties, the Browns weren't horrific on defense. Don't get me wrong, they were by no means good, but the pass defense was in the upper half and they gave up 21.9 points per game. It was just the rush defense that didnt show up.
The Browns had 23 interceptions including from from Brandon McDonald, but only managed 17 sacks, three of those coming from disgruntled DT Shaun Rodgers.
Middle linebacker D'Qwell Jackson led the team in tackles with a staggering 154 total tackles. (Around 75 more than the next highest total). They lost Andra Davis to the Broncos but managed to pick up Eric Barton and David Bowens from the Jets.
2009 DRAFT
The Browns traded down several times and ended with C Alex Mack, arguably the best center to come out of the draft in several years. It shores up the offensive line for the future, which is what the Browns need to be focused on.
Free Agency: They lost Davis (and Stallworth technically) but picked up John St. Clair for the tackle position opposite Joe Thomas. They also lost veteran D-lineman Willie McGinest.
Prediction: Browns are rebuilding much like the Rams and Lions. Look for them to be near the bottom of the AFC but look for them to play better and better as the season progresses.
@ Soldier Field: 0-1. Bears win with a combo of defense and a continual dose of Matt Forte
vs the Arizona Cardinals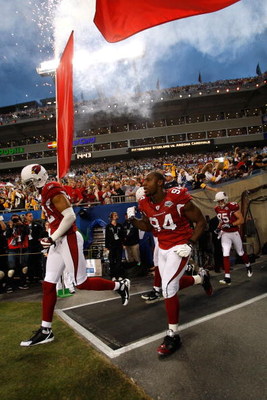 The 2009 NFC Champions make the trip up to Soldier Field this year.
This will be the first meeting between the Bears and Cardinals since the infamous comeback (or meltdown depending on who your a fan of) when the Bears won in Arizona 24-23 despite a six turnover game from Bears QB Rex Grossman.
This is actually one of the oldest rivalries in the NFL. Its not as big as Bears vs Packers or Bears vs Vikings or Cowboys vs Packers but the Arizona Cardinals used to be the Chicago Cardinals created in the late 1800s and was in Chicago until the 1960s. But enough backstory...
OFFENSE
The Cardinals brought back Kurt Warner which they had to do. You can argue about letting Matt Leinart get some quality time but the simple fact-of-the-matter is that you were maybe an extra 30 seconds away from winning the Super Bowl.
You have to make another effort.
In terms of passing, the Cardinals are one of the best. Ranked second in passing yards per game (292.1) and fourth in points per game (26.7) its hard to find a defense that can shoot it out with them and win.
Larry Fitzgerald is one of the top three receivers in the league right now, if not the best.
Anquan Boldin is also a phenomenal player too, although it will be interesting to see how he reacts to not getting a new contract.
He wants out of Arizona and has not been shy about saying so. If he were to leave, the Cardinals have Steve Breaston waiting in the wings.
Breaston was the third Cardinal receiver to have over 1000 yards receiving this year.
The run game is where questions are raised about performance. Tim Hightower received most of the carries near the goal line but still they were ranked last in rushing yards per game last year at a minuscule 73.6 ypg.
Their leading rusher was Edgerrin James who averaged 3.9 ypc. but "Edge" got the boot and they also lost reserve J.J. Arrington to the Denver Broncos but picked up Cleveland Brown castoff Jason Wright.
The major addition was Chris "Beanie" Wells who they selected out of Ohio St in the first round.
DEFENSE
The supposed weak point to the Cardinals heading into the playoffs was their inability to keep opponents from scoring.
This changed as the Cards beat upstart Atlanta and rookie phenom Matt Ryan, then just demolished the Panthers at Carolina, forcing Jake Delhomme into five interceptions (on his birthday no less) and out lasted the Eagles in the NFC title game.
Even in the Super Bowl, while they did give up that final drive, they played pretty stout (one of the Steelers TDs came from James Harrison's 99-yard fumble return).
That said, they still ranked 16th or below in the four major defensive categories in the NFL, including giving up 26.6 points a game.
The best aspect of their defense is the defensive backfield. Led by long time Cardinal Adrian Wilson, who had 75 tackles, 2 INT, 2.5 sacks, and two fumbles, Arizona has some hope for the next few years.
Youngster Dominique Rodgers-Cromartie showed a lot of poise, and more importantly, speed during the season and then playoffs.
Leading tackler was LB Karlos Dansby who has been improving steadily over the past five seasons. The defensive line was held down by Darnell Dockett and aided in the playoffs by Bertrand Berry.
2009 NFL DRAFT
Beanie Wells has been discussed.
Free Agency: The biggest boost the Cardinals was the signing of DB Bryant McFadden from the Steelers. He adds on to an already decent backfield and he brings with him Super Bowl CHAMPION experience.
Prediction: The Cardinals did not wow anyone during the regular season last year, finishing 9-7. Look for double digit wins from the Cardinals this year, especially since they still play in a weak NFC West division.
@ Soldier Field: 0-1. Why you might ask...Because I am banking on bad weather in November. Plus I have them beating the Cards or the Eagles.

Wishful thinking I realize but the Cardinals still do not have a run game... and I am a Bears optimist... sometimes.
@ San Fransisco 49ers
The San Fransisco 49ers and head coach Mike Singletary...Only a so-so 2008 season for the 49ers but played noticeably better once Singletary took over (everyone takes notice when reports are that the head coach dropped his pants in the locker room at halftime to demonstrate how the team was playing. Only Mike could get away with that).
OFFENSE
The 49ers were the middle of the pack team last year in the NFC. They finished the season at 7-9 and second in the NFC West. They had several issues including QB.
Journeyman J.T. O'Sullivan started the season for them, but Shaun Hill came in just after the coaching change in Week Eight and finished the season as the starter with some OK numbers: 2046 yards 13 TDs and 8 INTs.
The 49ers picked up former KC signal caller Damon Huard and let O'Sullivan go.
With Frank Gore continuing to be in the backfield to provide a decent running option, the question is who does Hill throw to other than second year receiver Josh Morgan?
Isaac Bruce is dependable but he is getting old, the lost Bryant Johnson to the Lions, Vernon Davis got into a spat with Singletary on the sidelines last year, Arnaz Battle has not done much to warrant consideration and the only receiver brought in was Brandon Jones from the high powered Tennessee offense...OK that was low, but still, they have little options at the moment...Like the Bears
DEFENSE
The 49ers D was just so-so last year, also ranked middle of the road. They have a pretty good core in the linebacker positions and the defensive backfield. Patrick Willis is very good and Takeo Spikes can really hit.
Nate Clements and Walt Harris are decent options at corners but the 49ers only had 12 interceptions last year. Look for that to chance with Singletary in there.
The defensive line is solidified on both ends by Justin Smith and Parys Haralson. They combined for one half of the sacks registered by the entire team (15/30).
The 49ers line, and their whole team for that matter, just seem stuck in mediocrity. They played better once the coaching change happened so look for them to play with more intensity in the upcoming year.
2009 DRAFT
The 49ers really fell into a what they thought was a great deal. Michael Crabtree, the best wide receiver in the class, dropped all the way to the No 10 spot. However, it doesn't appear Crabtree will be that helpful to the 49ers this year as he is continuing to hold out on his contract.
Great... Another prima dona wide receiver. Awesome.
Free Agency: Other than Huard and Jones, the 49ers really haven't brought in big name players. They signed on Demetric Evans from the Redskins and Moran Norris (FB) from the Detroit.
Prediction: Better than last year. I think very highly of Singletary (biased I realize) but I think he showed that the team is better than their record last year. It still might take another year, but look for the 49ers to surprise some teams.
@ San Fransisco: 0-1. Except the Bears won't be that team cause we will know were facing a former Bear. I think our offense is a little further along and our defense (hopefully) is better than last years.
vs the Philadelphia Eagles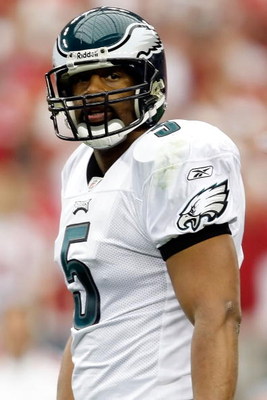 After making it to another NFC Championship game and failing yet again, the Eagles management stood up and promised to put great players around QB Donovan McNabb this offseason...They kinda went the other way with that one.
OFFENSE
When McNabb is good, he is great. He can win games almost single handedly. And when RB Brian Westbrook is in, they are a killer one-two combo.
What has killed the Eagles in past years (with the exception of the Super Bowl year) has been the lack of a No. 1 receiver. They may have found such a player in Desean Jackson, who had a great rookie campaign.
That said, the Eagles lost often used back up running back Correll Buckhalter, both starting offensive tackles John Runyan and Tra Thomas, starting tight end L.J. Smith and seem to be parting ways with either Hank Baskett or Reggie Brown.
The only offensive players they added worth mentioning is tackle Stacey Andrews who will fill in nicely on the offensive line, and rookie wide receiver Jeremey Maclin.
But talk about not surrounding McNabb with winners. They didn't even pursue free agent T.J. Houshmanzadeh, who openly admitted being interested playing in Philly, with McNabb.
Almost inexcusable. And it even could have been if it wasn't for what they did on the defensive side of the ball.
DEFENSE
The Eagles said good bye to two of their longest tenured players. Corner Lito Shepherd and safety Brian Dawkins. I guess if they had just let Shepherd go, I would have been ok with it.
But Dawkins is a 14-year veteran who has played every season with the Eagles. To just let him walk away for a scant $17 million over five years is simply embarrassing. If I was an Eagles fan, I would be enraged over what my front office has just done to this team.
Shoot, I am not an Eagles fan and I am still honked off.
I mean who just lets a long time player like that who bleeds your team's colors go like that? OH WAIT THE BEARS DO! I won't get into the Mike Brown discussion, but what the Eagles did was worse because at least you could argue Brown had injury problems.
Dawkins was the unquestioned leader on that defense and his presence will be missed this year.
They still have a good young linebacking corps (although MLB Stewart Bradley has been lost for the year) and their defensive line will still make every QB worry, but that defensive backfield is going to miss the leadership and dependability of Brian Dawkins.
2009 DRAFT
Were gift wrapped Jeremy Maclin at the No 20 selection and in my opinion, a solid backup and future replacement to Brian Westbrook in RB LeSean McCoy in the second round.
Free Agency: I already discussed. Only extra worth mentioning is fullback Leonard Weaver who should provide some bigger holes for Westbrook or his back up to run through. Also catches the ball out of the backfield well.
Prediction: The Eagles will always be in it if they have McNabb and Westbrook. Look for them to make the playoffs again this year despite heavy competition in the NFC East.
vs the Bears: 1-0. They will remember the loss last year where Alex Brown and the Bears defense stuffed the Eagles four times at the goal line. They will be playing with a chip on their shoulder. That is if Westbrook plays, if Westbrook is hurt for the game, then the Bears win hands down.
@ Minnesota Vikings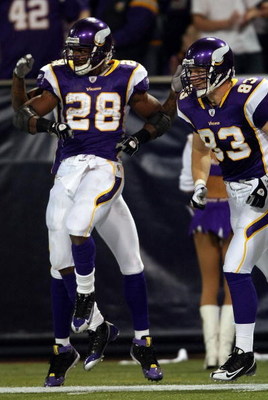 The Minnesota Vikings are the reigning NFC North Champions after finishing the year with a 10-6 record, including a 4-1 mark down the stretch to clinch a playoff spot.
Unfortunately, the Vikings ran into the red-hot Eagles in the first round of the playoffs and were bounced 26-14.
OFFENSE
Well, well, well, here is a familiar face, Brett Favre makes his return after taking... what was it five months ago? Whatever, he is a year older and not necessarily a year wiser.
If Brett can quit being a gunslinger, then the Vikings could be very scary. Adrian Peterson is hands down the best overall running back in the NFL. This past season he racked up 1760 yards rushing and 10 touchdowns.
The only knock on him is he puts the ball on the ground far more times than a coach would like, nine fumbles in fact during the 2008 season.
When looking at the receivers, Bernard Berrian is a constant deep threat, although may not be suited to be a No. 1 type receiver.
Sidney Rice didn't make a lot of catches last year, but showed flashes, and tight end Visanthe Shiancoe who was the biggest surprise of the Vikings last year catching 42 passes for nearly 600 yards, seven touchdowns with a 14.2 ypc.
Add in rookie receiver and habitual pot user Percy Harvin and then the Vikings could be SMOKING hot.... ok bad joke.
DEFENSE
A monster. The best defense against the rush in the NFL allowing a scant 76.9 yards a game. Jared Allen on the end was a great pick up and an absolute beast at rushing the passer, racking up 14 sacks in the 2008 year.
The defensive backfield may have taken a hit with the departure of safety Darren Sharper to the Saints. Sharper is a seasoned pro but clearly, his best days are behind him.
They resigned corner Antoine Winfield so they still have veteran leadership back there and with Chad Greenway coming off a monster year at linebacker, they are solid there.
The only negative stat against the defense last year was the pass defense, and even that was still 18th in the league.
2009 DRAFT
Percy Harvin
Free agency: This is not so much about who they added to help themselves, it is more about who they lost: Matt Birk. One of the better centers in the NFL left and signed with the Baltimore Ravens.
This is huge no matter who steps in for them just due to the fact that there will be a drop-off from Birk to whoever starts in week one.
Prediction: Not THAT much better than last year. I know, they brought in a real QB and all, but who honestly thinks that Favre is going to tone down his gunslinger ways? If you answered yes to that, then you are obviously a delusional Viking fan.
vs the Bears this year: 1-1. They each take their home game. Why? Because Favre can't stand playing in the cold anymore.
vs the St. Louis Rams
Ah yes, The interstate 55 rivalry. In 2008, if it had not been for the Detroit Lions, the Rams would have gotten more attention for their awful play. Ranked 19th or lower in every major offensive AND defensive category, the Rams truly sucked.
But with bad play comes change and the Rams welcomed in new coach, Steve Spagnuolo. Spagnuolo was the defensive guru for the Giants for the past few years and landed a well deserved head coaching job. Now the work begins.
OFFENSE
Atrocious. Which is saying something when you think about who they have.
Bulger has played at a very high level at times. Stephen Jackson was picked in the top-five running backs in fantasy football drafts all over the U.S. and Torry Holt has been to the Rams what Marvin Harrison was to the Colts (maybe Holt is the Reggie Wayne of the Rams cause Issac Bruce might have been the Marvin Harrison... I don't know, my analogies suck sometimes).
Regardless, they only averaged 14.5 ppg which is not going to win you a lot of games in the NFL. And ranked 25th in rushing yards per game thanks somewhat to an inconsistent production from Jackson, who did miss three or four games to injury.
The only, ONLY highlight on the offensive side was rookie wide receiver Donnie Avery. Avery had 53 catches for 674 yards and three scores. He also made several ridiculous catches and provided a boost to an otherwise vanilla offense.
Still though, the Rams seem to be locked in on full rebuilding mode after releasing both Holt and long time pro bowl tackle Orlando Pace. The only major additions the Rams made to the offense was C Jason Brown and FB Mike Karney.
DEFENSE
Not much to cheer for on this side of the ball either. Oshiomogho Atogwe played pretty well back in the safety spot and rookie Chris Long had a decent season with 40 tackles, four sacks and a forced fumble.
Their leading tackler was LB Pisa Tinoisamoa who topped the 100 tackle marker and added three sacks and two forced fumbles... But wait, Pisa is will actually be on the other side of the field for this game as the Rams let him go (wtf?) and the Bears wisely picked him up.
This is where Spagnuolo will focus on first. If the defense can get going and give the offense more possessions, the Rams just might be able to right the ship quicker than one would think.
That said, it is still going to be a long year for Ram's fans everywhere.
2009 DRAFT
The Rams replaced a staple in their offensive line by selecting OT Jason Smith to take the place of Orlando Pace (also now a Bear).
Free Agency: Like I said, C Jason Brown from the Ravens and Mike Karney from the Saints were the two big name pick ups for the Rams. And losing Holt and Pace were the two big losses.
Not as significant but still interesting was the release of back up QB Trent Green. It will be a rebuilding year in St. Louis, lets hope they have reason to be positive.
Prediction: Bad year. Lots of mistakes due to a lot of change...of course, I could be wrong, last year most of first year coaches made out like bandits, so who am I to say Spagnuolo can't do the same?
@ Soldier Field: 0-1. They are the Rams. End of story.
vs the Green Bay Packers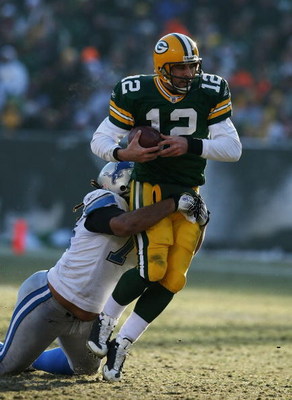 Already discussed in above slide...
@ Baltimore Ravens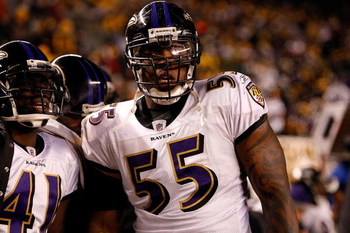 Could this be the year the Ravens Defense finally falls off a little bit? With the departure of defensive coordinator Buddy Ryan and the loss of Bart Scott, the Raven's defense could be facing one of their hardest challenges in quite some times.
OFFENSE
That said, the Ravens offense looks to be on the rise. With QB Joe Flacco continuing to learn and improve and the running back trio of Willis McGahee, Le'Ron McClain, and Ray Rice the offensive backfield is looking strong.
Add in veterans Derrick Mason and Mark Clayton, current tight end Todd Heap and new tight end L.J. Smith and all of the sudden the Ravens offense looks potent... Well, maybe not potent, but better than the Ravens offense of old.
In fact, the biggest move in free agency on the offensive side might have been on the line. They lost Jason Brown to St. Louis but added perennial pro bowl center Matt Birk from the Minnesota Vikings.
Oh and did you realize that the Ravens offense was ranked 11th in the NFL in terms of points per game with 24.1?!?! I sure didn't.
DEFENSE
OK, they still have Ray Lewis and Terrell Suggs, and they still have Ed Reed and Haloti Ngata but they lost Bart Scott, Jim Leonhard, Corey Ivy and Chris McAlister. AND THEY LOST BUDDY RYAN.
The Ravens again where one of the top defenses in the league and you can still bet that they will bring the attitude and the moxie to every game because they believe they are the best defense no matter what, but the question becomes, with Ray Lewis getting older and Buddy Ryan leaving how long can the Ravens continue to play at such a high level.
They will have players in the wings ready to take over the spots left open and with Ed Reed patrolling back there, QBs will still be hesitant to test him, but at some point they will not be able to sustain the high level of play we have grown accustomed to watching for the past decade.
I think this is the year.
2009 DRAFT
OT Michael Oher. He solidifies the line and is a nice longer term solution at the spot.
Free Agency: Already mentioned anyone worth mentioning except that they lost fullback Lorenzo Neal. Look for McClain to fill that role.
Prediction: Like I said, I think the Ravens defense will falter a bit this year, but the offense will continue to improve which means they will still be in the playoff race to the end.
vs the Bears: 1-0. I think they still have enough to beat us. Again, I could probably make a case for the Bears, but I just feel we can not get to Flacco enough to cause a mistake and that in the end, that plus Ed Reed vs Jay Cutler will be what drops us.
vs the Minnesota Vikings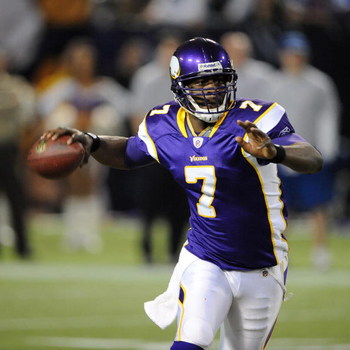 Already discussed in above slide
@ the Detroit Lions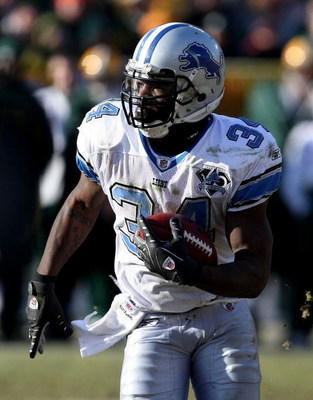 Already discussed in above slide
So, your 2009 Chicago Bears...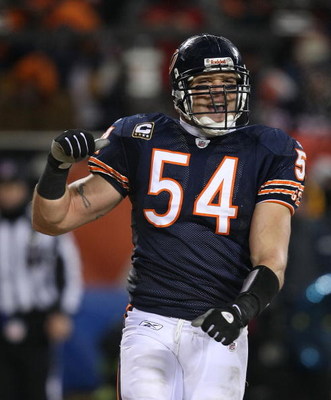 ... will finish with an 11-5 record. Is it biased? Yes. Do I care? Not one bit. Could they finish at 8-8? Sure, but if i believed that, then writing this would be way to depressing.
What do you think? I realize that it depends when we face some teams. If we face the Cards in early September, I think we will probably lose.
If we face the Ravens early before their defense is set, we might have a better chance than if we face them in late November.
Keep Reading

Chicago Bears: Like this team?