Why the San Francisco Giants Will Be Even Better in 2013 Than They Were in 2012
Christian Petersen/Getty Images

It's hard to believe that, after winning their second World Series in two years, the Giants would have much room for improvement heading into 2013.
But it could be argued that they won last season despite some of their best players struggling through the regular season. And how could anyone have predicted that the team that finished dead last in the major leagues in home runs would win it all?
But that is exactly what the Giants did, and now they're entering the new season with just about the same roster as last season, and with the potential to improve in several areas.
Here are four reasons why the Giants will be better than ever in 2013.
Begin Slideshow

»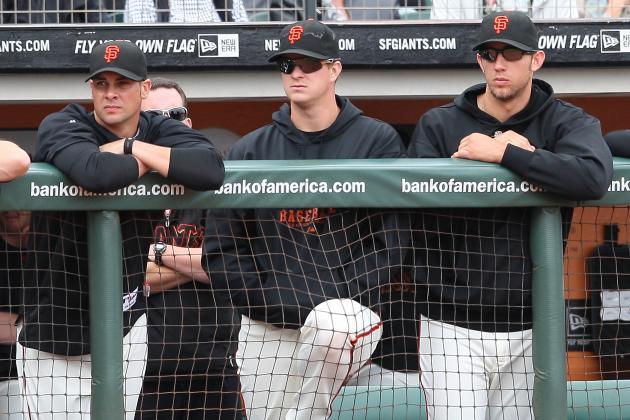 Tony Medina/Getty Images

When it comes to winning year after year in professional sports, few things are more important than keeping the team's nucleus intact.
When you think of the Yankees of the late 1990s and early 2000s, names such as Joe Torre, Derek Jeter, Jorge Posada and Mariano Rivera come to mind. In football, Bill Belichick and Tom Brady have been leading the New England Patriots for more than a decade.
The 2013 San Francisco Giants' roster is practically a carbon copy of the 2012 edition. The starting lineup and the rotation are projected to be the same as they were in October, when the Giants tore through the postseason.
And the one free-agent addition of any consequence, Andres Torres, was part of San Francisco's 2010 World Series squad. At most, Torres is expected to platoon in left field with Gregor Blanco.
Keeping this team almost entirely intact bodes well for San Francisco's chances of competing for a third title in four years, while being even more dominating in the process.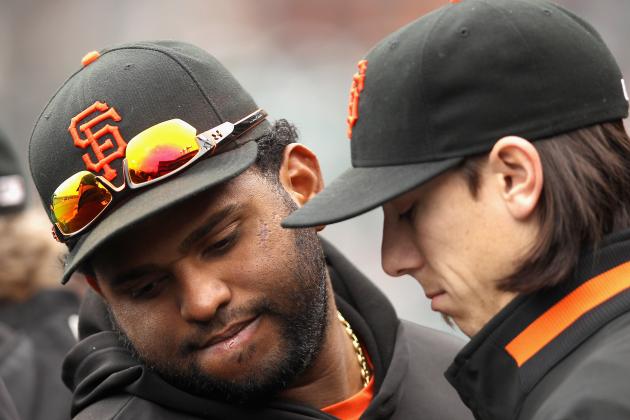 Ezra Shaw/Getty Images

Tim Lincecum was awful. Pablo Sandoval was plagued by injury. Hunter Pence was better as an inspirational speaker than as a power bat.
And the Giants still won the World Series last season.
Lincecum has a lot on the line heading into the 2013 season, with his first crack at free agency next offseason and a reputation to repair as one of the game's premier pitchers. So if he doesn't return to his Cy Young form, it would be more surprising than the abysmal 5.18 ERA he posted last season.
Sandoval keeps teasing the baseball world with his immense potential, but he has only delivered over a full season once—in 2009, his first full season in the league.
With two hamate-bone surgeries behind him, a seemingly increased awareness of the importance of waistline control and general maturity working in his favor, Sandoval could be poised to emerge as the Giants' best hitter.
While Pence has never been a superstar, he has been one of the better all-around offensive players over the last five years.
He wasn't quite so spectacular in 2012, at least after the Giants acquired him midseason from Philadelphia.
Skeptics will point to his .671 OPS and 7 home runs in 59 games with San Francisco. However, he did have 24 home runs and 105 RBI for the whole season. That is exactly the kind of production the Giants should get now that they have Pence for an entire season.
Between improved production of two of their top three hitters and a return to form of their former ace, the Giants will be greater forces at the plate and on the mound in 2013.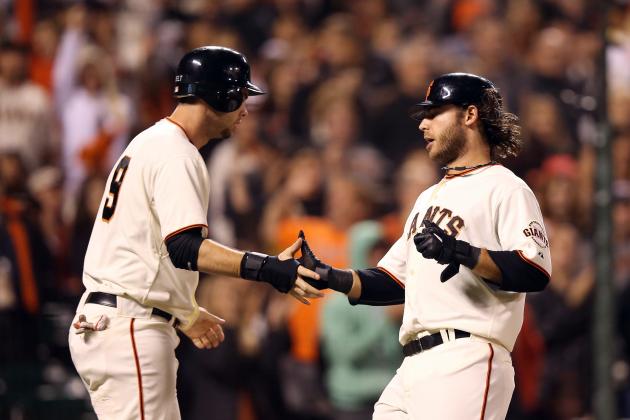 Ezra Shaw/Getty Images

The two young Brandons—Belt and Crawford—have been okay for the Giants. Certainly they have been welcome additions to the defense, but neither one has proven to be much of a difference-maker on offense.
Crawford likely will never be an offensive star, but as he gains more experience, it wouldn't be surprising to see him become a .280 hitter. It also wouldn't be surprising to see his average climb this year from .248 to around .265. That, along with a few more doubles—a strong possibility considering Crawford's gap power—would help strengthen the bottom of San Francisco's batting order.
Belt, on the other hand, has higher expectations with the bat. While he won't ever make Giants fans forget about Will Clark, he has the talent to bat .290 or better and knock 18 to 20 home runs.
Since Belt and Crawford both have had significant playing time in two major league seasons, they're past sophomore slump territory. Both can be expected to show continued improvement this season.
And if prospect Gary Brown shows he is ready to take over left field at some point this season, that will be another boon to the Giants' offense.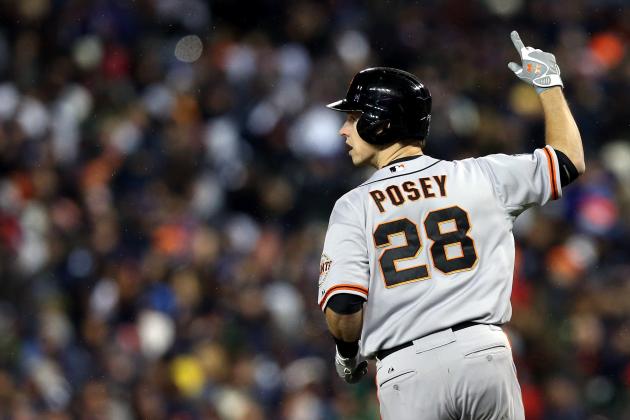 Ezra Shaw/Getty Images

In addition to roster consistency, another key component of staying competitive is confidence.
With two World Series wins in three years, and the same core of young stars leading the way now as they did then, this team has much reason to believe in itself.
Buster Posey has been Rookie of the Year and MVP, Tim Lincecum has two Cy Young awards, Matt Cain has thrown a perfect game, Madison Bumgarner is still practically a baby and Pablo Sandoval may have hinted at great things to come with his impressive 2012 postseason.
Plus, veteran additions of the last couple of years—Ryan Vogelsong, Angel Pagan, Hunter Pence and Marco Scutaro—have all fit in quite nicely.
With so many talented players sticking together and building on recent success, the 2013 Giants should be better than ever.