IRB Women's Sevens World Series: Houston 7s Preview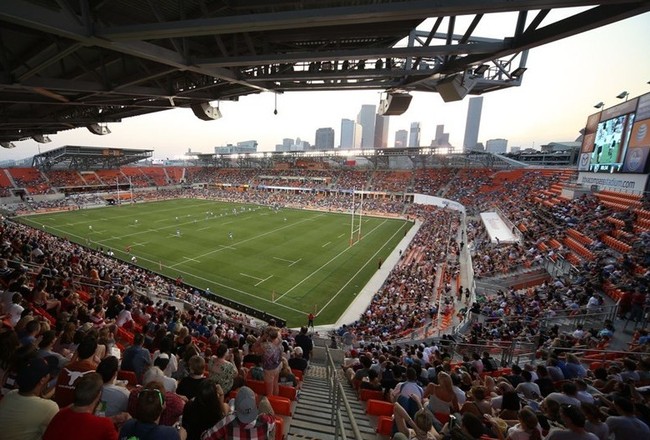 The 22,000-seat Compass Stadium will host this leg of the IRB Women's World Series in Houston, Texas.

In 2012, the International Rugby Board (IRB) inaugurated its first ever Women's Sevens World Series, with events in Dubai, Houston, Guangzhou and Amsterdam.
On February 1, the series will arrive in the USA for the second of its four events—and the first of its kind to be held in Texas.
The new Women's World Series is seen as a crucial platform for the development of the sport, which was recently admitted into the Summer Olympics, beginning with the 2016 Games in Rio de Janeiro.
The series had been a long time in coming.
For years, international women's tournaments had run alongside major televised IRB men's tournaments at locations around the globe. However, with the close of the London Olympics in 2012, all international sporting organizations began their four-year development cycle towards Rio.
The decision by the IRB to award its women athletes their own international series assures an annual high-standard competition prior to the sport making its Olympic debit in four years' time.
Twelve teams in three round robin pools, including the six core series squads from England, Canada, the USA, the Netherlands, New Zealand and Australia, will compete in Houston.
And we are here to breakdown the action for you in this Bleacher Report tournament preview.
We begin will Pool A, which, most observers will agree, is the pool of death!
Pool A: The Pool of Death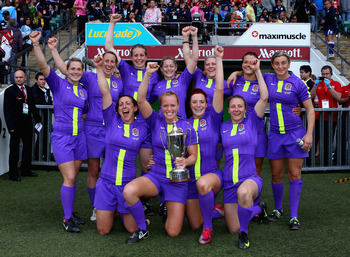 England topped the rankings in last year's IRB Challenge Cup.
Warren Little/Getty Images
One really has to feel for poor Trinidad and Tobago.
While the Caribbean Islanders show extremely well in regional competition, they will feel hard done by having been drawn into the same pool with three core series teams.
The reigning IRB Women's Sevens Challenge Cup holders from England head into Pool A action against the champions of the 2012 Dubai Sevens: New Zealand.
When the two meet, it should be a mouthwatering encounter for fans of attacking rugby.
England were shorthanded at the Dubai tournament in December, as their program prioritized their 15s series against the visiting New Zealand Black Ferns.
No longer hampered by a lack of access to their stars, the English have vowed to come to Houston with one of their strongest teams and are already in training with an experienced group, including their superstar Maggie "The Machine" Alphonsi.
The New Zealand women are making a return to international competition this year and showed impressively in Dubai.
However, having already been fought to a draw by both Canada and Russia in December, New Zealand are far from untouchable and will arrive in Houston knowing they have been drawn into the tournament's toughest pool, despite their current status as series leaders.
And then there are the Dutch.
The women from the Netherlands have long been among the most accomplished on tour. They will have been disappointed with their showing in Dubai and will certainly be fancying their chances in a pool where anything can happen.
Unlike the men's IRB Sevens tournaments, it is possible for a team to finish third in a women's pool and still have a shot at advancing.
Whoever finishes third from Pool A, therefore, could still threaten.
Pool B: Can Canada Rebound?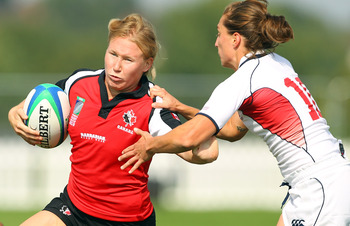 Mandy Marchak is likely to feature for Canada in Pool B
Clive Rose/Getty Images
A year ago one would have thought Pool B was Canada's for the taking.
This, after all, was a team that spent 2011 undefeated and narrowly missed out on claiming the 2012 IRB Women's Challenge Cup to England. Canada are the two-time defending champions at Amsterdam, where the series finale will take place this year, and are full of a strong mix of skill and experience.
With threats like Mandy Marchak and the dynamic Jennifer Kish, Canada have weapons all over the field.
But December's sixth-place finish in Dubai will have stung the Canadian women, who have been training hard at their national Centre of Excellence in British Columbia ever since.
Coach John Tait and his team will no doubt be looking to make an statement with their performances in Texas.
Confronting the Canadians will be their arch rivals from the United States, who are busy producing exciting talent of their own.
Coach Ric Suggitt has developed a strong centralized training regiment for his players, many of whom are now emerging from the incredible production line of NCAA college programs across the country.
The outstanding Vanesha McGee will headline a USA squad that will expect big things from itself on its home ground in Houston.
Not to be outdone, the South African women may be one of the biggest surprises in women's world rugby this year.
Having made the Grand Final in Dubai as a non-core team, the Lady Springboks currently sit second in the IRB rankings. Only time will tell if they will prove capable of maintaining that standard, and Pool B in Houston will certainly offer them plenty of tests.
Rounding out this pool will be Argentines who, although able and skilled, will be relative newcomers to this standard of competition and will be in tough straits against their more experienced opponents.
There exists only one pool in this tournament where the top two finishers can be predicted with relative comfort.
On to Pool C.
Pool C: Advance Australia Fair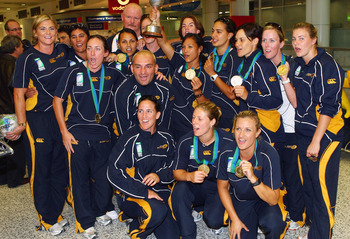 The Australian women are defending World Cup Champions.
Mark Kolbe/Getty Images
The reigning and defending World Cup Champions from Australia will headline Pool C, accompanied by a pair of ambitious, but less dangerous, challengers from Japan and Brazil.
However, the Wallaroos will be guaranteed at least one brutally difficult pool match: against the surprising side from Russia.
The Russian team that competed on the 2011/12 women's 7s circuit impressed everyone with its size, and to this they have since added a shocking amount of fitness and skill.
Two victories over Canada and a draw against the eventual Dubai winners New Zealand will have the Russians believing they will be able to take on the world in Houston.
And they may well be right.
The importance of Pool C will be that only two of its four teams are likely to advance to the eight-team cup competition on the tournament's second day. Given the fierceness of the competition in the other two pools, Russia and Australia may well enjoy the ability to a rest a few of their stars before gearing up for the knockout stages.
Conclusion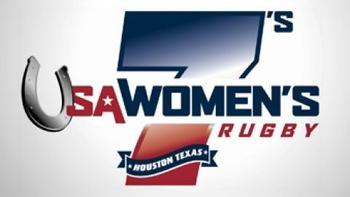 This will be the first ever IRB women's rugby event in Houston.
Earlier in December, the IRB made it known that the rankings of women's world series following the first two tournaments would be the criteria used to determine pool allocations for the 2013 Rugby World Cup of Sevens, which will be held in Moscow in late June.
What this means is that, in addition to all of the other challenges facing the competitors in Houston, the teams will know that this stage of the tournament will be their last opportunity to affect their status in the draw for the biggest competition of the year.
Whatever the outcome in Houston, it is sure to be a fantastic display of running rugby and a great opportunity for fans in the American South to witness future Olympians putting their skills on display.
Fans call follow the action on Twitter by using the hashtag #Houston7s
Follow Jeff Hull on Twitter by clicking on the link below.
Keep Reading