10 Most Intimidating Golfers to Be Paired with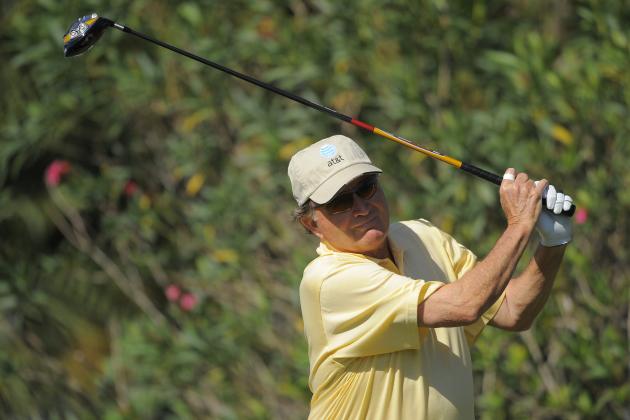 Scott A. Miller/Getty Images
Raymond Floyd was one of the great intimidators in golf.
Intimidation can manifest itself in a number of ways, whether it's a look or an action or an attitude.
Because of that, a list of the most intimidating golfers to be paired with might contain quite a variety of names.The intimidation of Tiger Woods is not necessarily the same sort that Hale Irwin used to have.
Check out my list and the reasons I think each player deserves to be there.
Begin Slideshow

»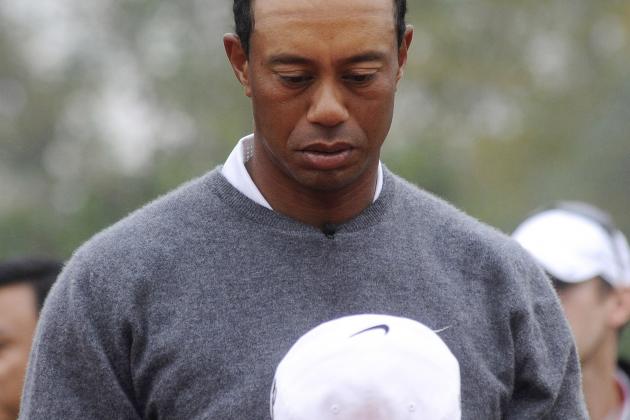 Hong Wu/Getty Images
Alone with his thoughts, Tiger Woods has never been warm and fuzzy.
The man who once was king on the PGA Tour was never known as a great guy to be around even when he was at the top of his game.
At that time, there was a definite air of invincibility about him, and Woods played that to the highest degree.
That, combined with the manner in which Woods was raised—with supreme focus being the keystone to his existence—made Woods a difficult person to warm up to.
There's no doubt intimidation was a big part of the Woods arsenal.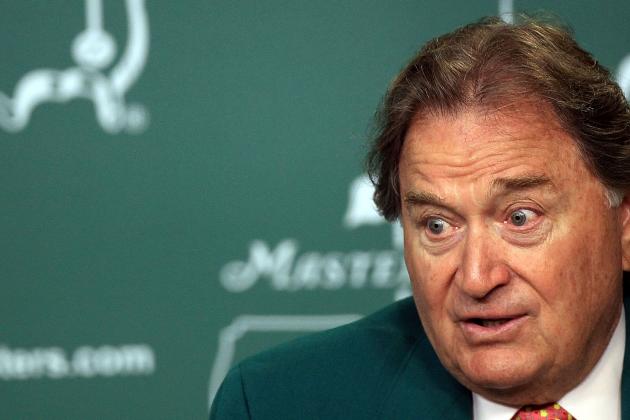 David Cannon/Getty Images
Raymond Floyd had plenty of opportunities to intimidate, even on the biggest stages.
Few athletes in history have ever had one of their mannerisms named, but Raymond Floyd did.
During his playing days, Floyd was one of the fiercest competitors to ever tee it up.
His trademark stare—at opponents, holes, spectators, whatever—was named "the glare," and nobody wanted it directed at them.
He was a tough guy with a tough disposition and was very capable of intimidating playing partners.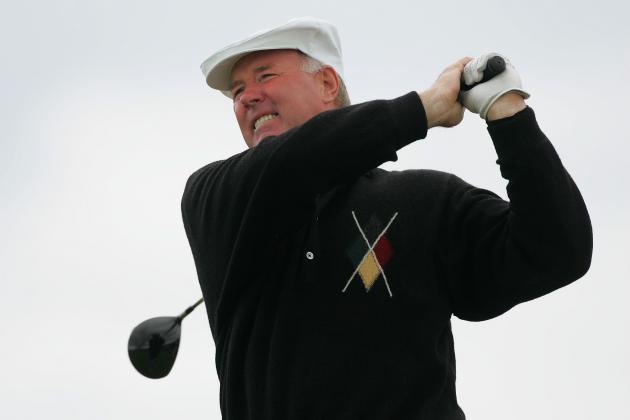 Stuart Franklin/Getty Images
Tom Weiskopf won the 1973 Open Championship.
Tom Weiskopf was a talented player, good enough to win 16 times on the PGA Tour, including the 1973 Open Championship.
He was fiery-tempered at best and downright miserable at worst.
In a Senior U.S. Open several years ago, Weiskopf embarrassed his amateur playing partner by calling him out because his ball marker was too big and shiny.
He's the kind of guy who would make a playing partner very nervous very quickly.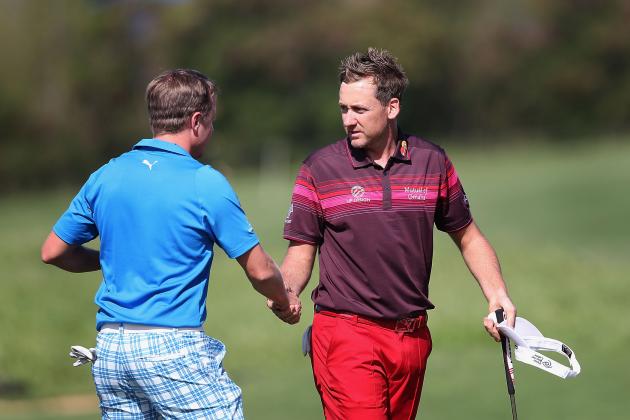 Christian Petersen/Getty Images
Ian Poulter is never short on opinions.
Ian Poulter, the Englishman with a flashy wardrobe, has become known as a passionate, abrasive player, especially as his career has gone along.
All of that fire boils over every two years in the Ryder Cup, when he suddenly turns into Superman.
He also has become the tweetmaster of the PGA Tour and rarely holds back in that media.
Poulter is outspoken on the course and is a prime candidate to easily get on the nerves and into the heads of competitors and playing partners.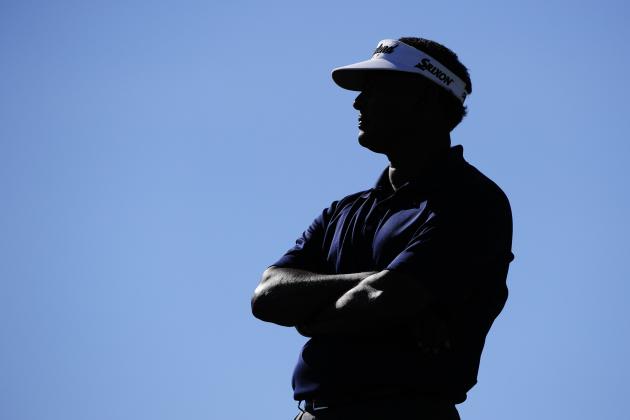 Robert Laberge/Getty Images
Vijay Singh has never been about making friends. He's about winning.
He's not won Miss Congeniality once and won't ever, but Vijay Singh sure has won a bunch of golf tournaments on the PGA Tour.
He is the most successful player in his 40s ever.
His dour personality and defensive and standoffish demeanor have not exactly enamored him to fans, media or tournament officials.
Get one of those icy looks, and consider yourself intimidated.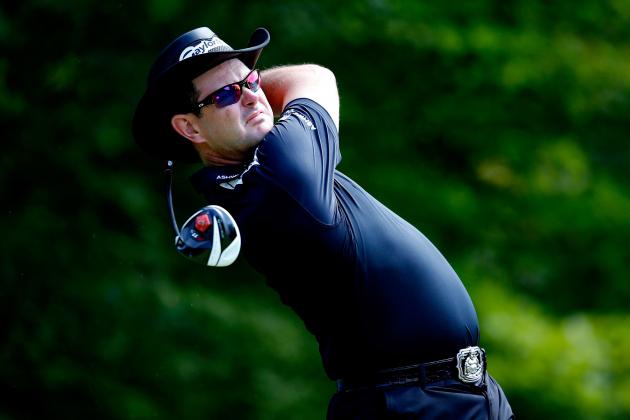 Jim Rogash/Getty Images
There's never any doubt what is on Rory Sabbatini's mind.
He's got the big cowboy hat, the dark sunglasses and the big-time attitude.
Rory Sabbatini is the guy who became so unhappy at the slow play of partner Ben Crane that he left Crane on a green and walked ahead to the next tee.
He also got into a not-very-secret, on-course tiff with Sean O'Hair. He has a reputation as a tough guy to deal with and seems to be a perfect choice to be intimidated by.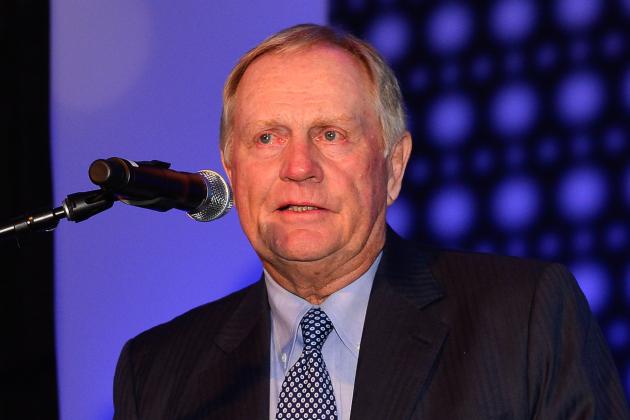 Steve Jennings/Getty Images
It would be intimidating, but thrilling, to be partnered with Jack Nicklaus.
The Golden Bear was an intimidating force in the mold of Tiger Woods, with a much more personable twist.
There was never a more focused player than Jack Nicklaus, and when you combine that with the superior talent he possessed, well, what you get is the greatest golfer of all time.
Nicklaus' form of intimidation had nothing negative associated with it. It would be intimidating just to be in his presence.
Christian Petersen/Getty Images
Bubba Watson watches another monster drive disappear.
The PGA Tour's longest driver and executor of the best shot of the year in 2012 is a quiet, laid-back guy. Bubba Watson is emotional, as shown by his reaction to winning the playoff at the Masters in 2012.
He can also be sullen and pouty when things don't go well on the course. That could make him an unpredictable and unpleasant playing partner.
Watson also hits the ball a mile and shapes shots that others only dream of. And that makes him as intimidating as anything else.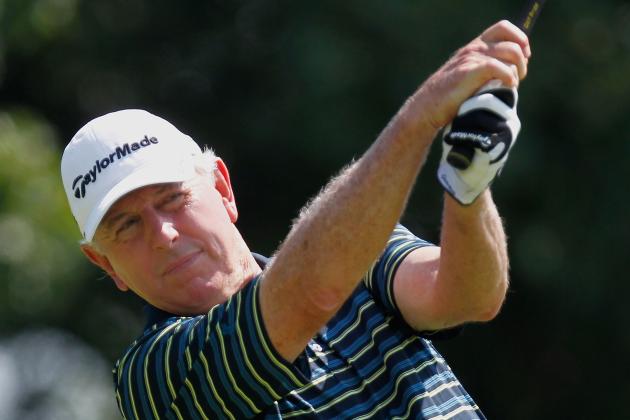 Gregory Shamus/Getty Images
Even as he approaches 70 years of age, Hale Irwin is still a grinder.
Another of the great competitors in the history of the game.
Leading up to the 2005 Senior PGA Championship at Laurel Valley Golf Club, located southeast of Pittsburgh, I was fortunate enough to be included in a media event in which a team of media guys, led by Arnold Palmer, took on a team led by Hale Irwin.
It was great fun, and Irwin needled both his team and Palmer's, and I sat down with him after for wonderful one-on-one interview.
A month later, when the event started, I went up to him, and he acted like he had never seen me before.
He's one tough cookie.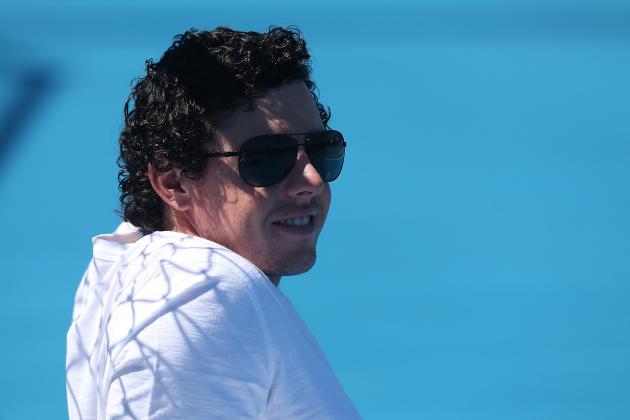 Chris Hyde/Getty Images
The best player in the game needs his down time, too.
Quite simply, the best player in the game is on this list for that reason. He's the best player in the game.
He'd be an intimidating playing partner because inevitably you'd get sucked into the mindset of trying to do the kinds of things he does.
You know that's not possible, and for that reason, it would be intimidating (and amazing) to be partnered with him.