Kentucky vs. Vanderbilt: Why Do 'Cats Lack a Killer Instinct?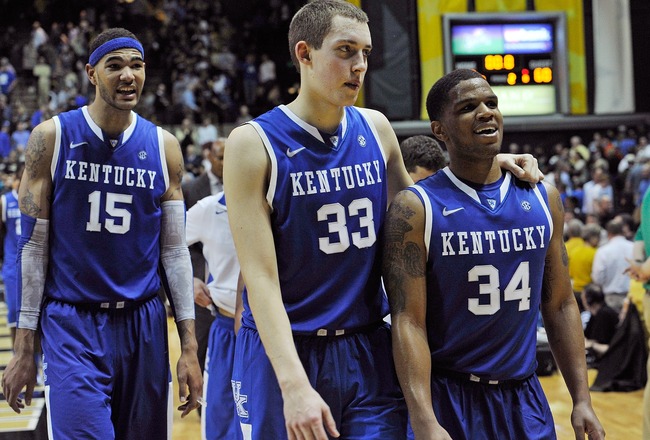 Frederick Breedon/Getty Images
It was a tale of two halves for Kentucky against Vanderbilt. The Kentucky Wildcats struggled to shoot all night, but in the second half, a lack of poise and experience kept Vanderbilt in the game until the very end.
In the first half, Kentucky was relatively unflappable in the half court. Despite missing shots, they stayed active on defense and challenged every Vanderbilt shot.
But when Vanderbilt went zone in the early part of the second half, the Kentucky offense stalled. In ESPN commentator Rece Davis' words, the Wildcats were "flummoxed."
Baffled. Bewildered. Puzzled. Shocked.
And just like that, Kentucky lost their double-digit halftime cushion and let Vanderbilt back into the game.
If it weren't for a missed shot clock violation, the Wildcats may be 0-1 in SEC play.
The problem does not lie in shooting. Even though Kentucky shot a sub-standard 45.3 percent from the field (and an ugly 3-of-17 from beyond the arc), cold shooting was prevalent on both sides.
Kentucky lacks a killer instinct. Vanderbilt was down in the first half. The Wildcats had chances to separate, but failed. That failing will lead to losses down the road.
Here's my take on why Kentucky couldn't put Vanderbilt out of reach.
All stats via ESPN.com.
No Toughness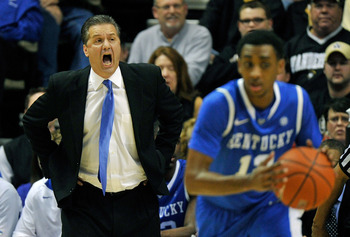 Frederick Breedon/Getty Images
It's pretty clear, now more than ever, that John Calipari has no dominant personalities on his roster.
The most important shot of the game came from Kyle Wiltjer (which is, in itself, a surprise) with 1:59 remaining in the game. Before that, a Ryan Harrow three ended a near-nine minute scoring drought from the field.
There was no leader for the Kentucky Wildcats. No player could silence the Memorial Gym crowd.
Kentucky escaped, thanks to some Vanderbilt missed shots and a bit of good fortune. The Wildcats were beaten on the boards by a team ranked 297th in the nation in rebounding.
Calipari was quick to note that Vanderbilt out-worked his team. From Kyle Tucker of the Louisville Courier-Journal:
Cauley-Stein disappointed, said Vandy got "smash-mouth" with UK in second half, pushed Cats around, outworked them. Had been Camp Cal focus.

— Kyle Tucker (@KyleTucker_CJ) January 11, 2013

No Go-to Scorer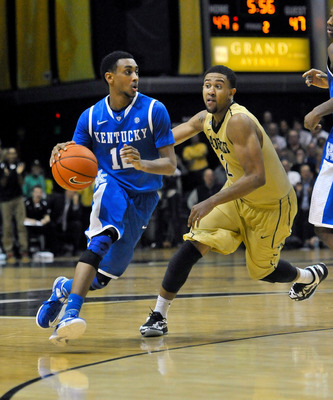 USA TODAY Sports
Evident in the last slide, Kentucky desperately needs scoring—particularly against a zone.
Their struggles against zone are, in part, due to poor outside shooting (3-of-17).
But, more importantly, Kentucky lacks a quality high post scorer. That spot should belong to Kyle Wiltjer and Kyle Wiltjer alone, but his susceptibility on defense does not merit playing time, regardless of what he could bring on offense.
John Calipari was quick to call out Wiltjer in the post-game press conference. Again from Kyle Tucker:
Cal to Wiltjer: "You don't think anybody was watching the tape, right? Don't think every team now is going to go right at you? Good luck."
— Kyle Tucker (@KyleTucker_CJ) January 11, 2013


Read through Tucker's Twitter feed and you will find that Wiltjer was a major talking point for Calipari.
Unfortunately, Wiltjer wasn't the only Kentucky Wildcat struggling on offense. Archie Goodwin and Ryan Harrow, two score-first guards, could not buy a bucket.
As point guard, Harrow needs to be the one to set an offense and create a quality look. He needs to step up (even more than he already has) if Kentucky expects to overcome their zone woes.
Inexperience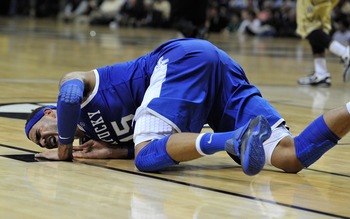 Frederick Breedon/Getty Images
You've heard it before, you'll hear it again.
Kentucky is young.
And, once again, inexperience hurt the Kentucky Wildcats on the road. Willie Cauley-Stein confirms this notion (via Kyle Tucker):
Cauley-Stein said Cal warned them "the SEC is no joke" but when UK was up 16, he thought "this isn't what coach was saying," loosened up.
— Kyle Tucker (@KyleTucker_CJ) January 11, 2013
"Loosening up" isn't what you would expect from any team coached by John Calipari. Is it arrogance that makes these Wildcats different from previous years? Are they expecting teams to roll over?
Neither.
These Kentucky Wildcats have no SEC experience, and this is just their third true road test.
But against a (now) 6-7 Vanderbilt team, we should expect different.
At some point, one has to wonder if, not when, the 2012-13 Wildcats will put it together. Wins are wins, but there are few positives to take away from the Wildcats' first road win of the year.
Keep Reading

Kentucky Wildcats Basketball: Like this team?