Best and Worst-Case Scenarios for Every Philadelphia Phillies Player in 2013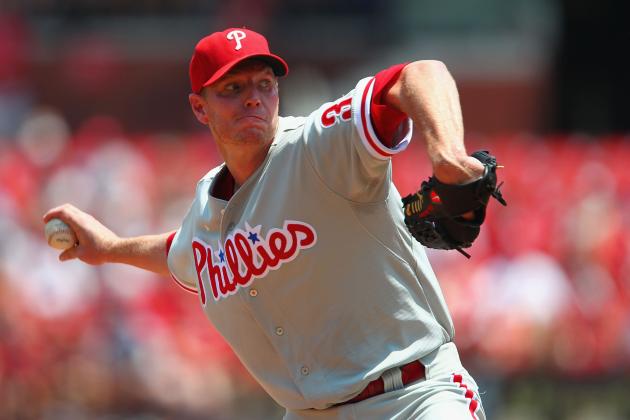 Dilip Vishwanat/Getty Images

The Philadelphia Phillies approach each and every season as though anything short of a World Series title will be a bust. Given the high pressure environment that Philadelphia sports fans bring to the table, that isn't a bad philosophy to have.
Over the last couple of seasons, that seemed like a realistic goal. The Phillies had one of the best starting rotations in baseball, a solid bullpen and an offense that could score some runs—if they could stay healthy. The best and worst case scenarios were fairly easy to determine.
Moving into the 2013 season, those scenarios have become a bit more clouded. Given all of the variables that stand between this club and a potential parade at the end of October, calling the '13 campaign "World Series or bust" may not be fair to any party involved.
But the one thing that remains constant through all of those variables—this season more than ever for the Phillies—is that this club is going to have to stave off some of their worst case scenarios if they want to be successful.
This slideshow will serve as a primer for the upcoming season, outlining each player's best and worst case scenarios in an attempt to determine what needs to go right and what can't go wrong if the Phillies want to contend—and win—a World Series title this year.
Begin Slideshow

»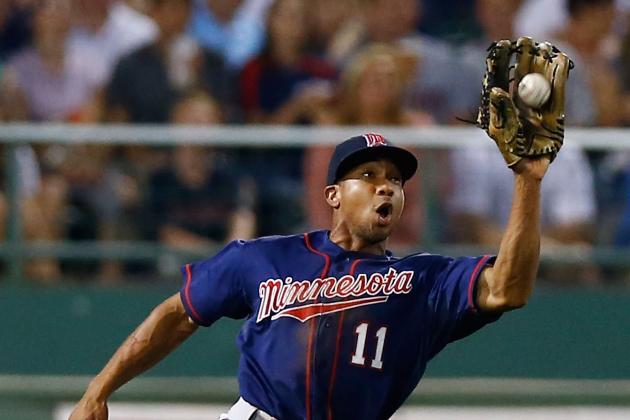 Jared Wickerham/Getty Images

Best-Case Scenario: Ben Revere hits leadoff, posts a strong on-base percentage and plays above average defense.
The Phillies set the bar high for Revere when they sent Vance Worley—a fan-favorite—and Trevor May—the club's former top prospect—to the Minnesota Twins for his services. Whether or not he can live up to those lofty expectations is irrelevant.
What the Phillies really need from Revere is a fresh face at the top of the lineup, and that onus falls on manager Charlie Manuel.
Assuming that Manuel is open to dropping Jimmy Rollins further in the order to better utilize his power, he'll look to Revere to provide speed and an on-base presence at the top of the lineup. He'll also have to play above average defense between a pair of weak defenders.
Worst-Case Scenario: Revere's offensive impact is lost at the back end of the lineup.
When you look at a lot of lineup projections for the 2013 Phillies, you'll find Revere's name in one of two places. He'll either be at the top of the lineup hitting leadoff or stuck in Manuel's old ways, with Rollins hitting first and Revere hitting eighth.
Now, is this the worst thing that can happen? No. It's always nice to have some speed at the back end of the order, but Revere's bat can easily get lost in the shuffle down there, and the related effect is that Rollins is still batting leadoff.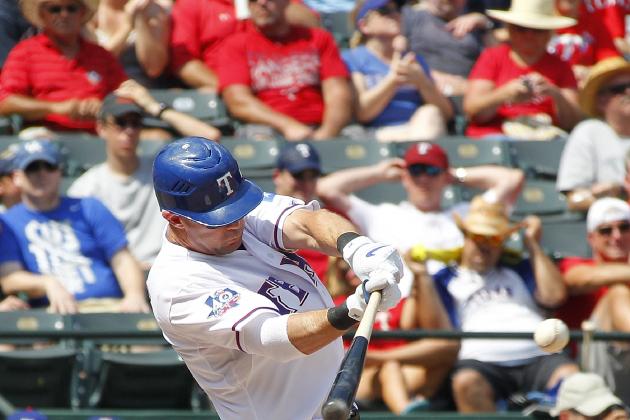 Rick Yeatts/Getty Images

Best-Case Scenario: Michael Young can play close to an average defensive third base and the consistency helps him rebound at the plate.
People seem to assume that playing a "super utility" role is an easy thing to do at the Major League level, but it's not. Michael Young was tasked with taking defensive repetitions at four different positions with the Texas Rangers in 2012.
How is he supposed to play any one of those positions with any success? Where is the spare time for him to take some swings in the batting cage?
The Phillies are banking on being able to address both of those major questions. They'll give him the opportunity to come to the ballpark everyday knowing that he'll be in the lineup and playing third base. On a related note, he'll be able to work on revitalizing his swing.
The best-case scenario here is obvious that Young returns to being a high-average hitter who can hit for some right-handed power and not look dreadful defensively.
Worst-Case Scenario: Young repeats his 2012 season.
I don't see this being a realistic possibility because of all of the variables involved with the Rangers, but the worst-case scenario for both Young and the Phillies is that he repeats his '12 season.
He hit .277 / .312 / .370, with eight home runs, and I know what you're thinking—that's better than any Phillies' third baseman from 2012. But that's an empty slash line, given Young's defense and inability to draw a walk.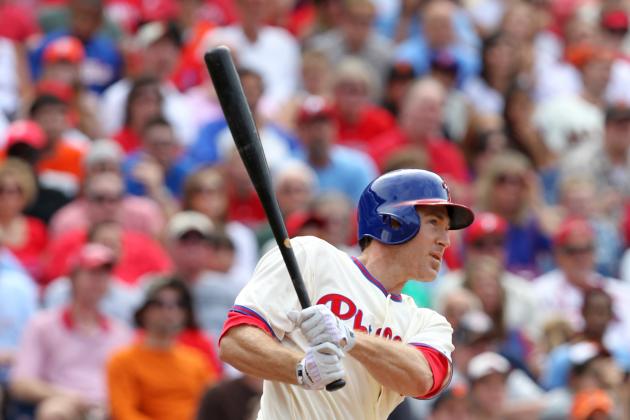 Hunter Martin/Getty Images

Best-Case Scenario: Chase Utley's knees are healthy and he is able to play a "full season."
When Utley is on the field, he makes the Phillies a better team. I don't think that there is anyone who is going to argue that point, so the best-case scenario for both the Phillies' and Utley is to have the second baseman play what constitutes as a "full season."
Now, does that mean that Utley needs to play in all 162 games? No, that's not a realistic possibility. But if Utley manages to miss a major amount of time, that obviously means that he is healthy enough to play, and a healthy Utley changes the dynamic of this ball club.
Worst-Case Scenario: Utley misses major time because of the poor health of his knees.
Sure, it seems pretty black and white with Chase Utley's situation this season, but that's because it is. It's all about his health.
If Utley is forced to miss a major amount of time because of an injury yet again in 2013, the Phillies are in trouble. For a second consecutive season, they would be looking at replacing Utley with the likes of Kevin Frandsen, Freddy Galvis or Cesar Hernandez.
No disrespect to any of those three men, but the real problem with that statement is that none of them are Utley. If he's out of the lineup for a significant amount of time, the Phils are looking at one of their darker "worst-case scenarios."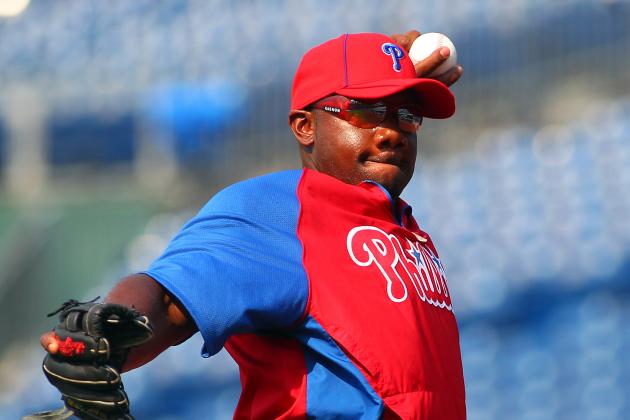 Rich Schultz/Getty Images

Best-Case Scenario: Ryan Howard is completely healthy, which in turn helps him to be better suited to hit for power and handle left-handed pitching.
Howard's issues in 2012 were pretty clear. While some people were willing to give him the benefit of the doubt, coming back from a partially torn Achilles tendon and the long rehabilitation that requires, it was fairly obvious that, early in his return, he was uncomfortable hitting.
The power returned as the season progressed and the heel continued to heal, but Howard looked miserable against left-handed pitching all season long, finishing the year with an abysmal .604 OPS against lefties.
The best-case scenario here is that Howard is completely healthy and hitting for power in the middle of the Phillies' order. He's never going to obliterate left-handed pitching, but the Phils really need him to be average against them, which may be asking too much.
Worst-Case Scenario: Howard can't stay healthy or hit left-handed pitching.
I don't think that Howard's worst-case scenarios are all that dramatic, because you know what you're going to get out of Howard, especially when he's healthy.
You're going to get a big, powerful first baseman who hits right-handed pitching well. The real question is whether or not he can hit left-handed pitchers, and that's where the Phillies could be in trouble, particularly with Chase Utley and Howard hitting back-to-back.
The Phillies need Howard to put up a good fight against lefties.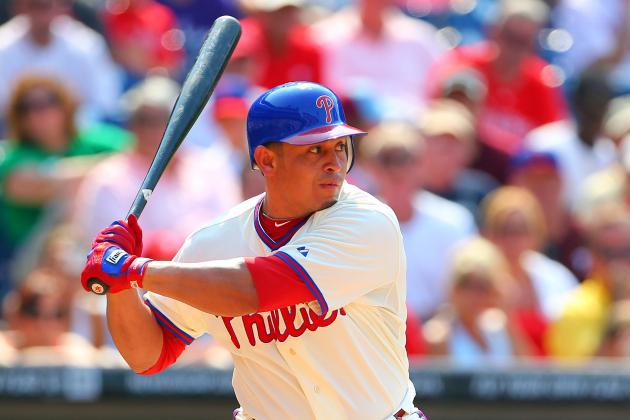 Rich Schultz/Getty Images

Best-Case Scenario: Carlos Ruiz returns at the end of April and picks up where he left off in 2012.
Before last season, I often found myself writing something along the lines of, "As long as he's playing top notch defense, any offense that he provides is gravy," about Ruiz. Then he 2012 happened and he became one of the Phillies' best hitters too.
Do the Phillies really need Ruiz to repeat his '12 season? I don't think so. The big difference here is that the Phillies added a pair of quality contact hitters in Ben Revere and Michael Young and Chase Utley and Ryan Howard are both expected to be healthy.
So for right now, the big thing for Ruiz is going to be getting back on the field. He'll open the season with a 25-game suspension and rejoin the Phillies around the end of April. Given the way he ended last season, expectations are going to be sky-high.
What the Phillies really need from Ruiz is to continue to play top notch defense and attack opposing pitchers in the same manner. That should put him in a good place.
Worst-Case Scenario: Ruiz's 2012 season was a product of a banned substance and luck.
The obvious worst-case scenario for Ruiz is that his 2012 season was synthetic. Following a year where he posted a .339 BABip and was suspended for testing positive for Adderall, that is entirely possible.
If removing those two variables from the equation results in Ruiz taking a major step backwards in 2013, the Phillies' catching depth could be in some serious trouble, but even in a worst-case scenario, there is nothing stopping Ruiz from being an elite defensive catcher, at bare minimum.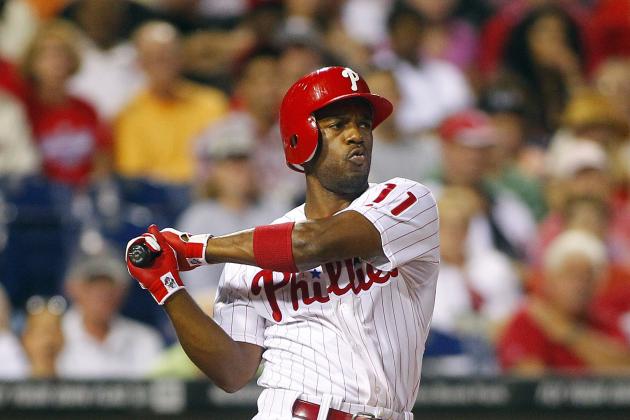 Rich Schultz/Getty Images

Best-Case Scenario: Jimmy Rollins continues to play elite defense and can give the Phillies an under the radar power threat in the middle of the order.
Charlie Manuel has always maintained that he would move Rollins out of the leadoff position if there was ever a better option. Well, now he has the ability to take that risk, with Ben Revere aboard.
Dropping Rollins lower in the order could do wonders for the shortstop. Rollins has not provided an on-base percentage north of .340 since 2008 and his power production has been very solid ever since. He's not going to hit for a high average, so sticking him in the middle of the order could be an excellent idea.
But the base for Rollins' value has been and probably always will be his elite defense at a premium position. As long as he continues that trend in 2013, he and the Phillies are off to a good start.
Worst-Case Scenario: Manuel is stuck in his stubborn ways and insists on batting Rollins in the leadoff position, regardless of the results.
I think I've made it fairly clear that I'm an advocate of Rollins hitting lower in the order, but just in case I haven't been, I'm just going to come out and say it: Rollins should be hitting in the middle of the order. That's not a knock against him, so much as that it just doesn't suit his skill-set to hit leadoff at this stage in his career.
With Revere aboard, the Phillies have the luxury to experiment with dropping Rollins into the middle of the order in an attempt to harness his power. If worst comes to worst, they could always drop Revere and move Rollins back up.
On a related note, the worst case scenario here is hitting Rollins leadoff just because Manuel is too stubborn to change.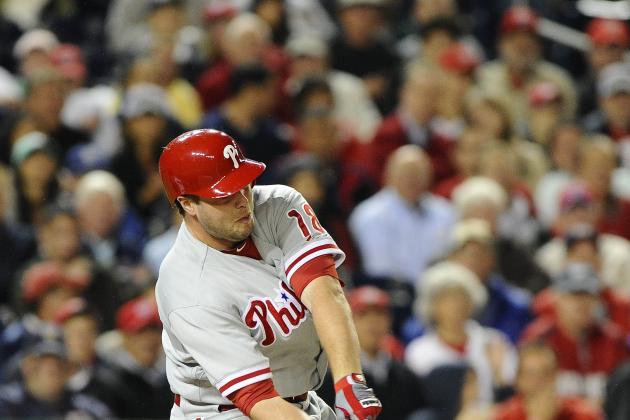 Brad Mills-USA TODAY Sports

Best-Case Scenario: Darin Ruf plays left-field everyday, giving the Phillies a right-handed power threat.
This one is fairly obvious. It's time to see what Ruf can do at the MLB level with more at-bats. The Phillies had the opportunity to add a corner outfielder this winter and haven't done so, suggesting that they'd like to see what Ruf can do, which isn't a terrible idea.
At the very least, he is going to be a solid platoon player who mashes left-handed pitching and plays a below average left field. If that's what it takes to inject some power into this lineup, then so be it.
But the best-case scenario here is that Ruf can play everyday. He hit right-handed pitching well in the minor leagues and during his very brief stint in the MLB. If he continue that trend, the Phillies could find themselves with a late-blooming slugger who is earning the league minimum.
Worst-Case Scenario: Ruf's 2012 season was a fluke.
Just to be transparent, I don't believe that this is the case, but there are some scouts out there who are dead-set on Ruf being nothing more than a below average defensive first baseman who is best suited to be the right-handed portion of a designated hitter platoon.
The Phillies would obviously be in some trouble with their current outfield situation if this turned out to be the case, but the possibility exists.
But again, this is the absolute worst-case scenario.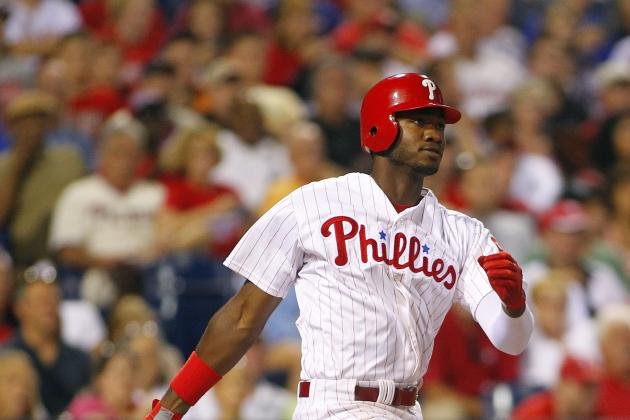 Rich Schultz/Getty Images

Best-Case Scenario: This is the year in which Domonic Brown finally lives up to his potential as an everyday player.
There is no doubt, given the current roster construction, that in an ideal world, both Domonic Brown and Darin Ruf are playing everyday for the Phillies at their full potential as the regular right and left fielders, respectively.
Brown, however, is the man who really needs to step up in 2013. The last few seasons have been riddled with injuries and inconsistent performances, and now is the time to put those things where they belong: In the past.
Now that he's healthy, we should see the outstanding tools return. A healthy hand means more power. A healthy knee means more athleticism. What the Phillies really need Brown to do is carry over his approach at the plate from last season, which was one of the club's best, in my opinion.
Worst-Case Scenario: Brown is a bust.
This one seems kind of dramatic, and I do not believe that this is the case, but there are certainly whispers around the game that Domonic Brown is a "bust."
Like I said, I don't believe this to be true. Look at the first few seasons of some of the game's all-time greats. Young players don't always hit the ground running like Bryce Harper and Mike Trout. In Brown's case, it is obviously taking him a long while to adjust to the MLB level.
2013 could finally be the year that Brown reaches some of that potential, but it could realistically also be the year that the Phillies give up on him.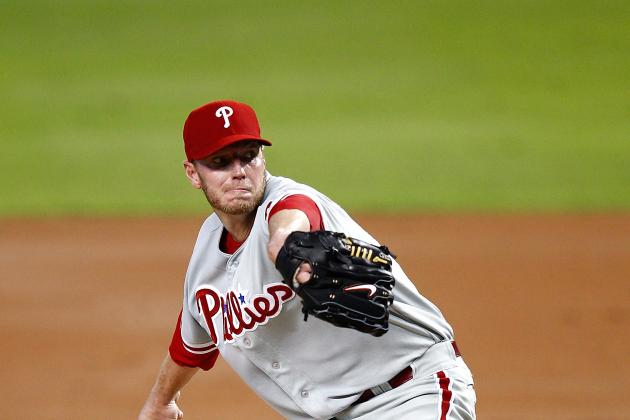 Sarah Glenn/Getty Images

Best-Case Scenario: Roy Halladay is healthy and returns to pre-2012 form.
When it comes to a pitcher like Halladay, there is little doubt that, even later in his career when his body is failing to keep pace with his mind and will, he can learn to evolve. Does Halladay need a top notch cutter to compete? I don't think that's the case.
The biggest concern with Halladay from last season, at least in my mind, wasn't his lack in velocity, but his strange pitch selection that included more offspeed pitches than normal and a lack in command. If those two things return in 2013, he can pitch without that extra zip on his fastball.
Will he return to the form that saw him win a Cy Young and toss two no-hitters (one being a perfect game) in his first season as a Phillie? I wouldn't take that bet, but that's certainly the best-case scenario.
More likely, Halladay will be a very solid top of the rotation starter. What more can you ask for?
Worst-Case Scenario: Halladay can't stay healthy.
The worst-case scenario for the Phillies and Roy Halladay isn't something that happens on the field. It's if his body fails him yet again this season and he can't make it to the mound, because a Halladay operating at less than 100 percent is still an excellent pitcher.
Halladay experienced a strain in his right latissimus dorsi last season that many believe was the root of his injury woes. The long offseason should go a long way in helping that.
But there is no doubt that the worst-case scenario for Halladay this season is that, at age 36, his body just can't handle the strain of being a workhorse any longer. The onus is on the Phillies to keep him healthy.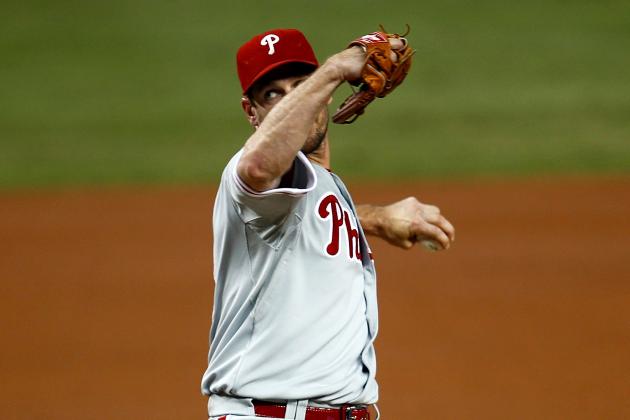 Sarah Glenn/Getty Images

Best-Case Scenario: Cliff Lee repeats his 2012 season with run support and a strong bullpen.
In a sport where there are enough statistics to make your eyes spin, it's easy to nitpick, so I'm not going to do that. Although the 6-9 record makes the following comment look suspect, any team in the game would love to have Lee's production from the '12 season.
A lot of Lee's "struggles"—if you can even call them that—from last season are centered around a slow start, poor run support and a weak bullpen that had problems making leads stick.
Lee, who posted the best strikeout to walk ratio in the game by a wide margin, can't get much better than he was last season. The best-case scenario is that he is able to repeat his season, but this time, with the aid of some run support and a much improved bullpen.
Those little tweaks could lead to a 20-win season for a guy like Lee.
Worst-Case Scenario: The Phillies trade Lee in a knee-jerk move to add offense.
A quick glance at the Phillies' depth chart shows that they're set to open the season with Darin Ruf and Domonic Brown as their corner outfielders, which could possibly result in a double platoon. There should be little doubt that this club would like to "upgrade" on the corners.
The problem is that there aren't many trade chips available to make a deal to add a legitimate upgrade possible, hence the reason that Lee keeps coming up in trade rumors and speculation.
The worst thing that the Phillies could do this offseason is move Lee in a deal that doesn't necessarily make them a better team, but a better offense. With Roy Halladay's health in question, keeping Lee should be a no-brainer.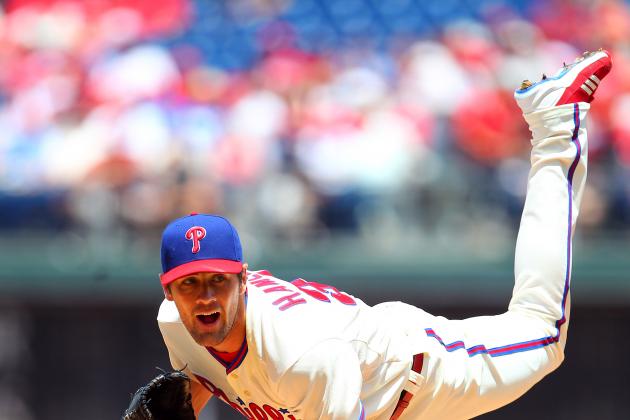 Rich Schultz/Getty Images

Best-Case Scenario: Cole Hamels, moving into the prime of his career, wins 20-plus games as one of the best left-handed starters in baseball.
Like Cliff Lee, picking out a best-case scenario for Hamels isn't necessarily easy because these are two guys who were pitching at the top of their games in 2012. Hamels repeating his '12 season would be a perfectly acceptable "best-case scenario" for the Phillies.
But this is the year where Hamels needs to challenge himself. This is the year where he needs to take that next step and solidify himself as one of the game's elite left-handed starting pitchers. As is the case with Lee, an improved bullpen and healthy lineup could help Hamels win 20 games this season, which would be the ideal scenario in my mind.
Worst-Case Scenario: Hamels isn't 100 percent healthy.
For the Phillies to fire on all cylinders this season, there is little doubt that they need Roy Halladay, Lee and Hamels making all of their starts. Halladay's health is the biggest concern at the moment, but Jim Salisbury of CSN Philly is reporting that Hamels had his own health scare this offseason.
According to Amaro, Hamels "got aggressive" with his throwing program sometime in October. The pitcher, according to Amaro, "had some soreness" and contacted [head athletic trainer] Scott Sheridan.
The obvious worst-case scenario here is that Hamels' shoulder soreness is a little more severe than either he or the Phillies are letting on.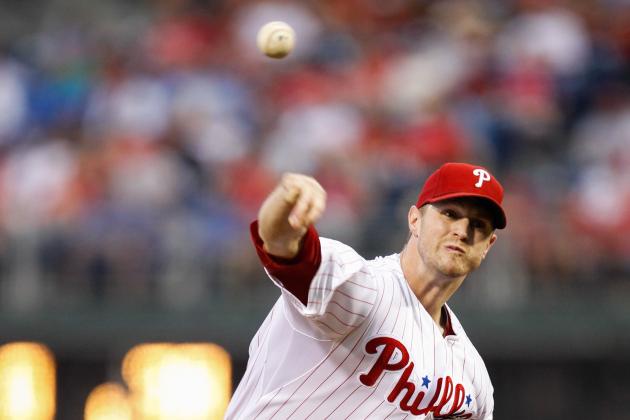 Brian Garfinkel/Getty Images

Best-Case Scenario: Kyle Kendrick picks up right where he left off in 2012.
With health issues abound for the Phillies last season, Kendrick was a pleasant surprise. He got off to a slow start to open the year in the bullpen, but as members of the starting rotation started dropping like flies, the Phils asked him to step in.
After a few starts, Kendrick really hit his stride. Following the All-Star break, he posted a record of 9-4 with a 2.87 ERA. Needless to say, the Phillies would take those kind of numbers out of their fourth starter any day of the week.
But that's unrealistic. What the Phillies really need Kendrick to do is attack hitters with the same approach; pound the strike zone with his pitches and don't try and nibble at the corners for six innings. That's when Kendrick was at his best.
Worst-Case Scenario: The return of bad Kyle Kendrick.
2012 was really a tale of two half-seasons for Kendrick. The second half is the one that fans will remember because it was Kendrick at his best, but that wasn't the way that the year started.
Of course, some of the first half of his season was spent in the bullpen, but it saw Kendrick go 2-8 with a 4.89 ERA. With John Lannan anchoring the fifth spot in the rotation, that kind of production is not going to cut it for Kendrick.
More likely, he'll find some kind of balance between his extremely good and bad halves.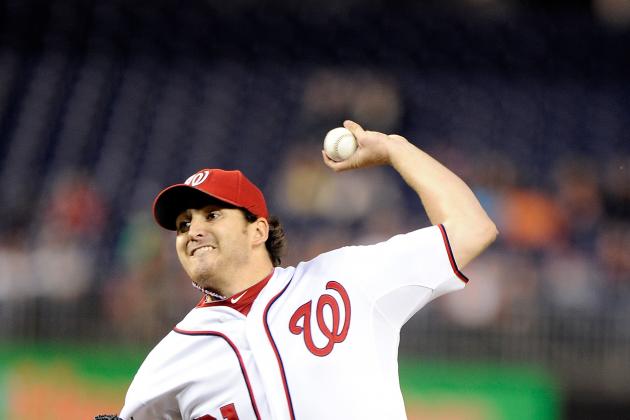 Greg Fiume/Getty Images

Best-Case Scenario: The Phillies really were John Lannan's worst nightmare.
Hey, if you can't beat 'em, join 'em.
As a member of the Washington Nationals starting rotation, Lannan had to wake up miserable on days where he had to come to the ballpark to pitch against the Phillies, a team that more than handled him throughout his career. He posted a record of 3-13 with a 5.53 ERA before joining them this offseason.
But if you remove the Phillies from the equation, he suddenly becomes a starting pitcher with a 39-39 career record and a sub-four ERA. The Phillies will take that kind of production out of a fifth starter any day of the week.
Worst-Case Scenario: The Phillies are signing the Lannan that was shelled in Triple-A.
I don't have any magical statistics for this one.
The Nationals found their starting rotation crowded last season and Lannan wound up being the odd man out, so they optioned him to Triple-A where he struggled, posting a record of 9-11 with a 4.30 ERA.
If those were Major League numbers, the Phillies would happily take that production out of their fifth starter, but they're not. That's Lannan struggling against minor league hitters for nearly an entire season.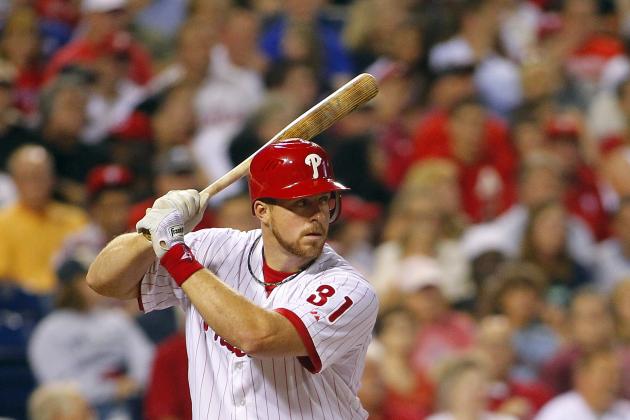 Rich Schultz/Getty Images

Best-Case Scenario: Erik Kratz plays well during the first month of the season as the starting catcher and transitions into a quality backup.
I know, it's not the most creative best-case scenario, but what more can a backup catcher do? With Carlos Ruiz suspended for the first 25 games of the season, it will be Kratz that fills in. As long as he plays quality defense and isn't a black hole in the lineup, what better situation can the Phillies hope for?
Worst-Case Scenario: Kratz's late season slump transitions into 2013.
Having watched him play last season, I think that at the very least, what you have in Kratz is a solid defensive catcher who calls a strong game. At the plate, he's a below average contact hitter with some power from the right side.
And the Phillies would be perfectly happy with that. The one thing that Kratz absolutely has to adjust to doing is playing with scarce at-bats. He was bad down the stretch last season, posting a .167 / .231 / .271 line in the month of September.
The Phillies could probably survive with that as long as Ruiz misses the bare minimum amount of time, but it is certainly far from ideal.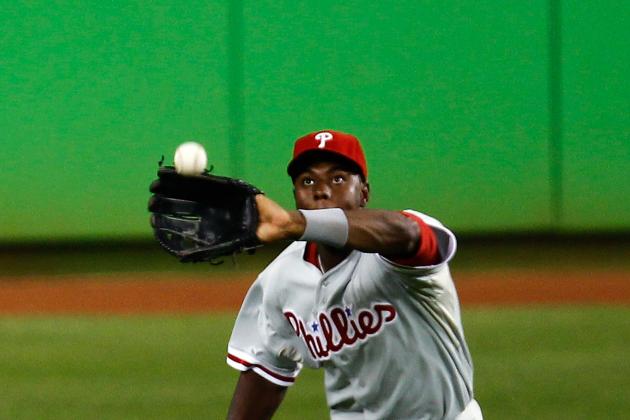 Sarah Glenn/Getty Images

Best-Case Scenario: John Mayberry Jr. emerges as an everyday outfielder.
This definitely sounds like a thing of the past, but the ideal situation for any platoon player is to mash the pitching that they'll see (left-handed pitchers, in this case) and use that to build on their approach against pitchers of the same handedness.
But the Phillies have given Mayberry every chance possible to do just this and it seems as though he comes up short each time. The final nail in the coffin may have come in 2012, when the Phillies gave him the chance to play everyday following the trade of Shane Victorino and he hit .229 / .319 / .314 in the season's final month.
With that being said, this is definitely the ideal scenario for a guy like Mayberry, who has all of the tools to be a solid outfielder and just can't seem to come close to putting them together.
Worst-Case Scenario: Mayberry struggles against left-handed pitching.
This would be Mayberry's demise.
Right now, it seems as though the Phillies are determined to give both Darin Ruf and Domonic Brown an opportunity to win regular roles. What that means for Mayberry is that he's going to wind up in a platoon and pinch-hitting.
The Phillies will be relying on him to hit left-handed pitching well—one of the few things he has done with consistency in his career. If he can't do that, the Phillies will move on.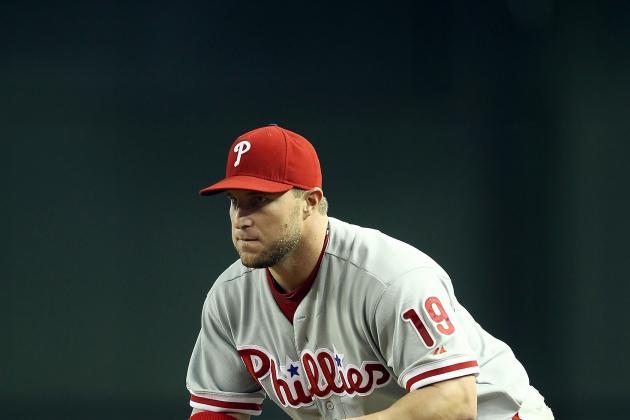 Christian Petersen/Getty Images

Best-Case Scenario: Laynce Nix becomes the left-handed power threat the Phillies have been waiting for.
Signing a guy like Nix to a two-year contract tends to raise a few eyebrows and the season that the outfielder had in 2012 kind of justifies that. The Phillies were looking for a bench player with left-handed power. What they got was a player who barely hit for any power and missed more than 50 games with a severe calf strain.
Instead of being able to walk away after a down year, the Phillies will bring Nix back to camp in 2013 in an attempt to figure out if he can be that left-handed power threat they were originally targeting. He'll get a chance to play in a platoon and see some late-innings at-bats as a pinch hitter.
Worst-Case Scenario: Nix struggles in spring training and the Phillies cut him.
The Phillies have a lot of outfielders on their roster. If you're going with two platoons, that's a necessity, but there is no guarantee that the Phillies will actually do that. It is just as likely that Darin Ruf and Domonic Brown wind up playing everyday.
So what does that mean for a guy like Nix? He isn't making a ton of money and with just one year remaining on his deal, the Phillies wouldn't think twice about cutting ties with him if it came to that.
He'll need to have a strong showing in spring training, where Ender Inciarte, the Phillies' Rule 5 pick, could give him a run for his money for a bench role.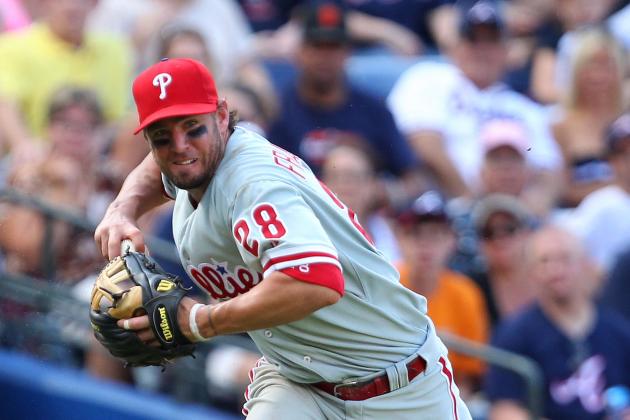 Mike Zarrilli/Getty Images

Best-Case Scenario: Kevin Frandsen plays average defense at three different positions and gives the Phillies quality at-bats.
As we already discussed on the Michael Young slide, transitioning into a "super utility" role ins't as easy as some people seem to think that it is. You're required to take a lot of repetitions defensively at a lot of positions, sapping time from the batting cage.
For a guy like Frandsen, however, it won't be that big of an adjustment. Unlike Young, this is something that he has done before, with experience at second base, third base and shortstop.
As long as he can play those three positions and give a quality at-bat when he gets the opportunity to do so, the Phillies would be happy with that. They shouldn't be expecting much more, let alone the kind of production Frandsen was giving them in 2012.
Worst-Case Scenario: Frandsen is designated for assignment.
I'm struggling to think of a legitimate "worst-case scenario" here because Frandsen's role is going to be so low key. With Freddy Galvis on the roster and capable of filling the same role, the worst that can happen to Frandsen is that he doesn't make the team out of spring training, which wouldn't be ideal for either side, in my opinion.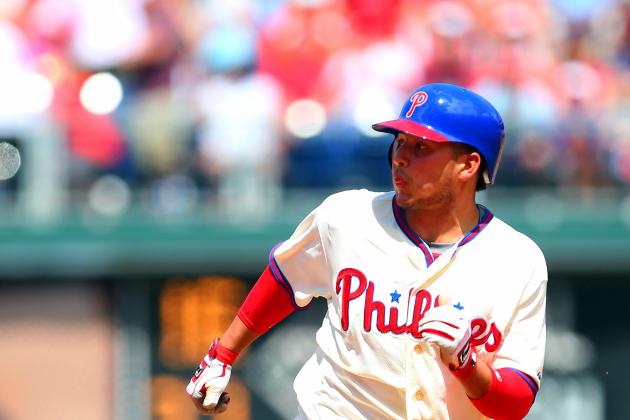 Rich Schultz/Getty Images

Best-Case Scenario: The Phillies put Freddy Galvis in a position to receive plenty of at-bats.
I'm going to take the less popular approach to Galvis: I'd be an advocate of sending him to Triple-A if it meant that he could have a full season's worth of at-bats.
Is he a valuable defender? Of course he is. In his brief stint with the Phillies last season, he was one of the most impressive defensive second basemen in recent memory. But in that same brief stint, he showed that he wasn't ready to hit MLB pitching.
If I were running the Phillies, would I like to have a defender of Galvis' caliber on my bench for late-game situations? Absolutely. But does that outweigh the rewards of having him log a full season's worth of at-bats? I'm not so sure.
Worst-Case Scenario: The Phillies make a near-sighted decision regarding Galvis.
The Phillies are eventually going to have to turn over their roster a bit. Chase Utley and Michael Young are free agents at the end of the season. Jimmy Rollins isn't getting any younger.
What they're eventually going to have to decide is if Galvis is a big part of their future plans. If that's the case, sending him to Triple-A to develop the bat a bit more is probably a good idea. If not, he's a utility player.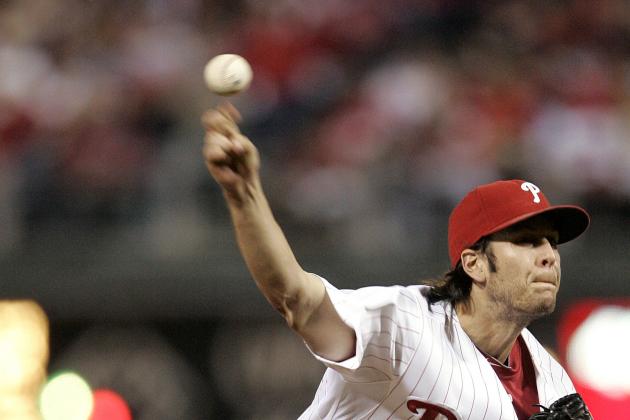 Rich Schultz/Getty Images

Best-Case Scenario: Mike Stutes' shoulder is completely healthy, allowing him to locate and command his fastball better.
Stutes has the talent to be one of the Phillies' better relief pitchers. He has a good fastball and a decent secondary offering that will give him the chance to become a solid middle reliever in 2013. The real question here is whether or not he's healthy.
Stutes missed almost all of the 2012 season with shoulder soreness that would eventually lead to exploratory surgery. If Stutes' shoulder is healthy, he'll be able to command his pitches easier and that will go a long way in helping him to be successful.
Worst-Case Scenario: Stutes' shoulder isn't healthy and he gets lost in the Phillies' bullpen shuffle.
If the Phillies have depth in any one area, it is definitely the bullpen. Right off the bat, players that won't appear on this slide show, but have a chance to win a job out of spring training include Jake Diekman, Raul Valdes, Joe Savery, Michael Schwimer and B.J. Rosenberg, just to name a few.
I think that the worst case scenario for Stutes is that his shoulder isn't at 100 percent during spring training and the Phillies wind up optioning him to Triple-A. Barring any injuries, it could be tough for him to get back.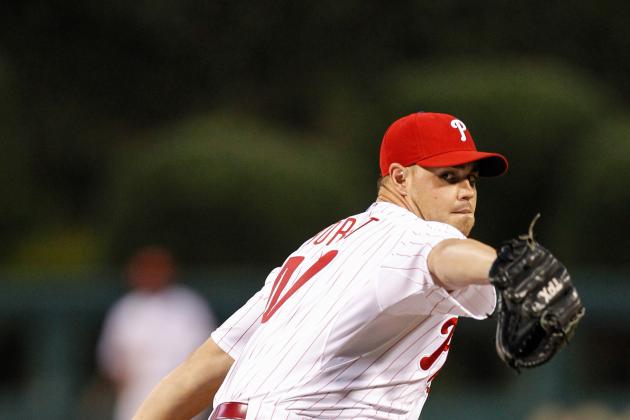 Brian Garfinkel/Getty Images

Best-Case Scenario: Jeremy Horst repeats his 2012 season.
For a guy that didn't even make the club out of spring training, Horst had one hell of a season in '12. Acquired from the Cincinnati Reds, Horst opened the season in Triple-A and was recalled to the MLB when the club decided to shake up their bullpen.
In 32 appearances, Horst went 2-0 with a 1.15 ERA, striking out 11.49 batters per nine innings. What more can he do?
Worst-Case Scenario: Horst tanks in spring training and doesn't make the club.
This one is a bit of a long shot because Charlie Manuel seemed to like having Horst in his bullpen last season, but the Phillies have so many left-handed relievers coming into spring training that I could see a poor performance hurting a guy like Horst.
If he wants to make the club, he'll have to contend with guys like Jake Diekman, Raul Valdes and Joe Savery. I think he has the inside track, but wouldn't say that he is "guaranteed" a spot on the roster.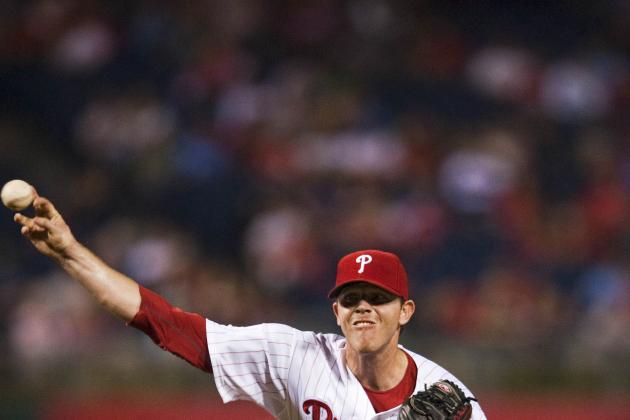 Howard Smith-USA TODAY Sports

Best-Case Scenario: Justin De Fratus becomes one of the Phillies' top relievers in 2013.
In my opinion, one of the biggest disappointments of the 2012 season was De Fratus' injury. This is a guy that had a chance to break camp with the club and could have become the team's setup man by season's end.
Instead, he missed the first half of the season before joining the Phillies in September. Once again, he was impressive, showing good command over his fastball and a solid slider, both of which will make him a very good reliever.
The best-case scenario for both the Phillies and De Fratus is that he lives up to his potential this season, assuming he can stay healthy. With Jonathan Papelbon and Mike Adams already in place, guys like De Fratus and Phillippe Aumont can put this bullpen over the top.
Worst-Case Scenario: The Phillies option De Fratus to Triple-A.
Because he looked healthy at the end of the season and there have been no reports of an injury this offseason, I'm just going to assume that De Fratus is healthy. That makes the worst-case scenario the off chance that the Phillies send him to Triple-A.
Sure, it could happen as part of a numbers crunch, but let's be honest for a moment. If you're drawing up a potential Phillies' bullpen, the best proposals include both De Fratus and Aumont.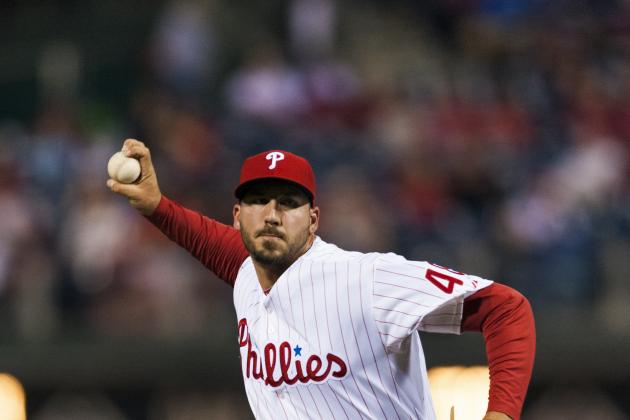 Howard Smith-USA TODAY Sports

Best-Case Scenario: Phillippe Aumont controls and commands his repertoire.
If Aumont can learn to command all of his pitches, he is going to be one of the better relievers in this league for a long time, because when those pitches go where he wants them to, this man can be nearly un-hittable.
The Phillies gave Aumont his first taste of the MLB last season and he'll undoubtedly be in the mix for a job once again this spring, and he should have the inside track.
If Aumont is going to be successful, he is going to have to repeat his mechanics, establish his fastball and make hitters look silly with his secondary offerings, all three of which are entirely possible.
Worst-Case Scenario: Aumont struggles in spring training and is sent to Triple-A.
As is the case with Justin De Fratus, the worst thing that could realistically happen to Aumont, barring an injury, is that the Phillies send him back to Triple-A. Again, I don't see that being a realistic possibility, as their best bullpen includes him.
Aumont will play for Team Canada in the World Baseball Classic this March, and a good showing there, combined with a solid spring, should lead him to the MLB this April.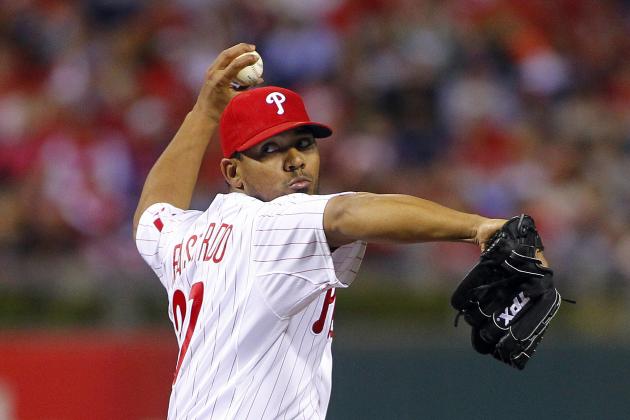 Rich Schultz/Getty Images

Best-Case Scenario: Antonio Bastardo pitches like he did in the second half of 2012 or an entire season.
When Bastardo is at his best, he can be very difficult to hit. For that to happen, however, a lot of variables need to fall into place. He needs to be 100 percent healthy and throwing his fastball with ease, which means locating it, in particular.
Off of that, he has the ability to throw his slider to hitters of either handedness and use it as an effective out-pitch, racking up the strikeouts in the process.
And that's the basis of Bastardo's success: Repeating his mechanics, establishing the fastball and ringing batters up with the good slider, controlling all of his pitches in the process. That helped him to a 3.09 ERA and 16.20 K/9 in the second half of the season.
Worst-Case Scenario: Bastardo pitches like he did in the first of the 2012 for an entire season.
But when Bastardo isn't able to bring all of those different variables under control, he struggles. He's vulnerable to the walk and the long ball, two of a relief pitcher's worst nightmares.
That showed in the first half of the '12 season, when Bastardo may have been dealing with a minor injury. While the strikeout rate was still very high (12.24 K/9), his walk rate was much higher than it should be (5.65 BB/9), as were the home runs (1.57 HR/9) and ERA (5.34).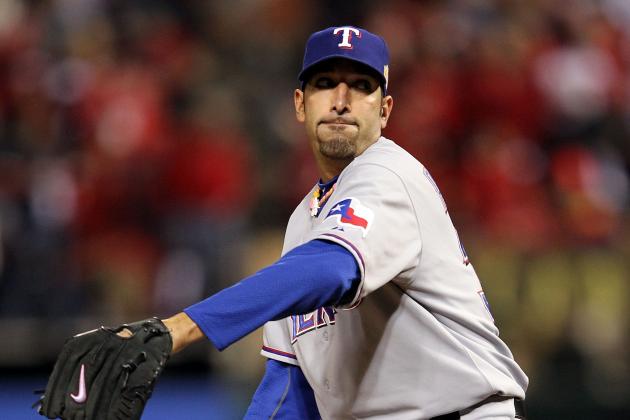 Jamie Squire/Getty Images

Best-Case Scenario: Offseason surgery and a return to the National League makes Mike Adams the best setup man in baseball once again.
When you talk about the best setup men in the game over the last half-decade or so, Adams is a guy whose name is right near the top of the list, if it isn't number one. The trade to Texas moved him into one of the more hitter-friendly ballparks in the game and symptoms from his Thoracic Outlet Syndrome forced him to take a turn for the worse in 2012.
Over the offseason, Adams had a rib removed as part of the treatment for Thoracic Outlet Syndrome and by signing with the Phillies, will move back into the more pitcher-friendly National League. If he is healthy, the tandem of Adams and Jonathan Papelbon should be one of the best in baseball.
Worst-Case Scenario: Adams is not completely healthy to start the season, and health remains a lingering question mark over the course of 2013.
If Adams is healthy, he is going to be a quality reliever. Even if he is not the sub-two ERA pitcher that he was with the San Diego Padres, he brings the veteran experience quality to the eighth inning that the Phillies have been looking for.
The real problem arises if Adams' health becomes a lingering issue. He has already begun his offseason throwing program and is on pace to open the 2013 season with the Phillies, but if he is unable to handle the demanding workload of a setup man, the Phils could be in some trouble again in the eighth inning.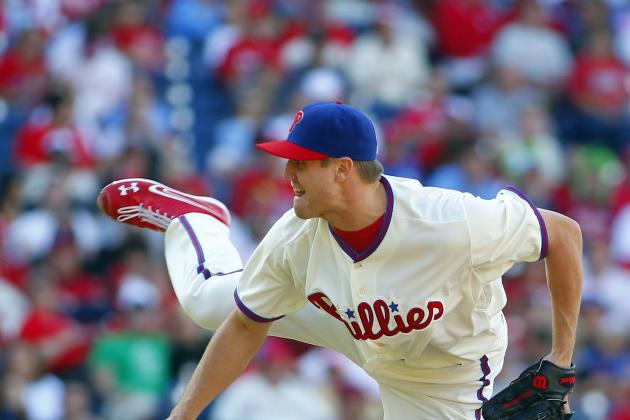 Rich Schultz/Getty Images

Best-Case Scenario: Jonathan Papelbon repeats his 2012 season.
Again, not the most creative of scenarios, but when you were as good as Papelbon was in 2012, why do anything different?
The Phillies are paying Papelbon to bring some stability to the ninth inning and he did just that in '12. He managed to stay healthy, stave off the pressure of pitching with a large contract in a big media market and throw up some quality numbers.
If he was going to post an ERA of 2.44 and strike out 11.83 batters per every nine innings in 2013, I believe that the Phillies would be very satisfied.
Worst-Case Scenario: Papelbon completely implodes in 2013.
This is an unlikely scenario given how successful he was in 2012, but how often have we seen relievers have a stellar season in Philadelphia only to make a complete 180 the following season? Far too often.
Papelbon was the Phillies most consistent reliever last year and with young arms in the bullpen once again in 2013, they'll need him to be a rock. They can't afford to be paying a reliever $50 million to blow games in the ninth inning.
An erratic Papelbon would be a huge headache.