5 Courses the USGA Should Add to the US Open Rotation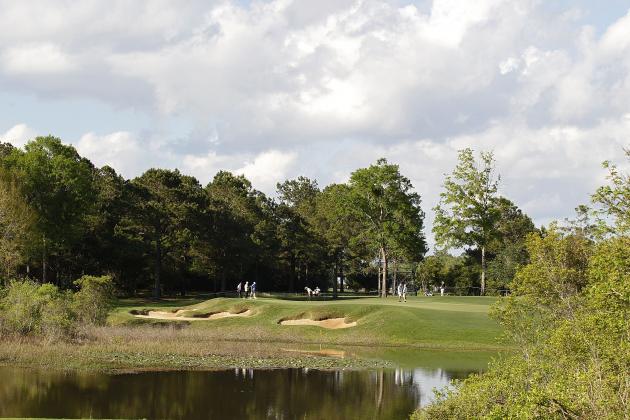 Michael Cohen/Getty Images
The Fallen Oak Golf Club is equipped to handle a U.S. Open.
The United States Golf Association has never had trouble finding sites for its annual national championship, the men's U.S. Open.
The USGA has conducted the U.S. Open all around the country at public, private, new, old, big and not-so-big courses.
In addition to old standbys like Oakmont, Winged Foot, Baltusrol and Pebble Beach, the tournament has been played at municipal layouts like Bethpage Black, new places like Chambers Bay and old traditional places such as Merion Golf Club.
So in an effort to help out, I've come up with five courses that the USGA should add to its rotation.
Begin Slideshow

»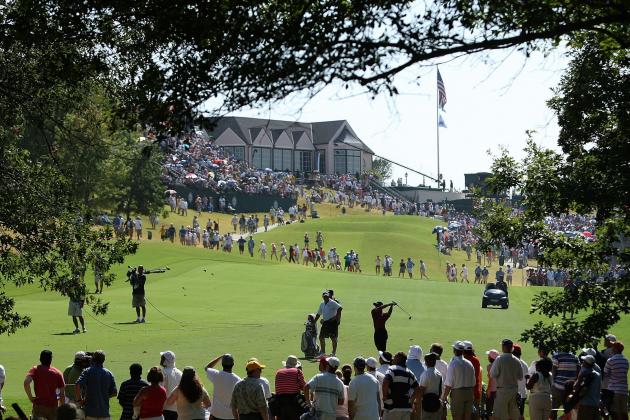 Jamie Squire/Getty Images
Southern Hills Country Club's clubhuse looks out over a big-time golf course.
The Championship Course at Southern Hills Country Club has hosted seven major championships, including three U.S. Opens.
The last of those was in 2001, when a wild finish to regulation forced an 18-hole playoff the next day between Retief Goosen and Mark Brooks.
Goosen won his first major title, beating Brooks by two shots. Southern Hills is a Perry Maxwell design that played to a par of 70 and a yardage of 6,973.
The 2001 U.S. Open was the first at Southern Hills since 1977. It is a true classic design that's not on the future official U.S. Open schedule through 2019.
And it should be.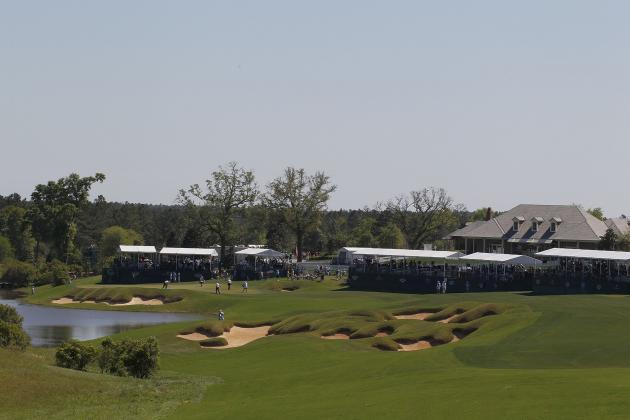 Michael Cohen/Getty Images
Bunkers everywhere at Fallen Oak make it a tough test.
The name may not be wildly familiar yet, it's only been in operation since 2006, but this is a really, really good golf course in Biloxi, Mississippi.
It's a Tom Fazio design that can play to a yardage of 7,487, but has mostly played at just over 7,000 yards (7,054) in the Champions Tour's Mississippi Golf Resort Classic.
Regardless of the yardage, it's a big-boy golf course that winds through century-old oak trees, streams, lakes and marshland.
Pecan and magnolia groves are all over the property and have all the challenges necessary to make for an awesome U.S. Open setup.
Fazio's courses are generally very demanding, especially when it comes to bunkers and the ones at Fallen Oak are some of his most difficult.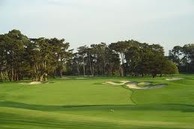 The San Francisco Golf Club
Opened in 1915, this A. W. Tillinghast masterpiece is private. Very private. Extremely private. It is recognized as one of the first 100 golf clubs established in the United States.
The club not only disdains publicity, but discourages it. But that doesn't change the fact that it would be a great spot for today's players to experience some classic design on a course that few people outside members and their guests have seen.
The course plays 6,828 yards from the back tees, certainly short by today's standards, but very similar to the yardage that Merion Golf Club will play to this June.
The course's meandering across the property is dictated by the rolls and hills as well as an abundance of fairway bunkers that would test the mental skills of players in the hunt for a major title.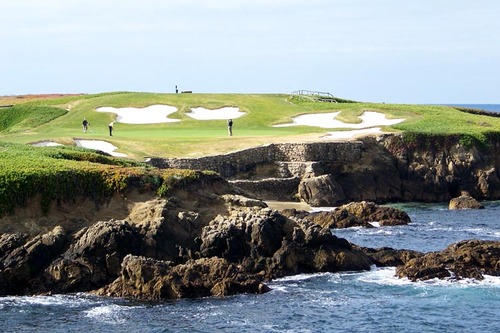 Scenery like this is special at Cypress Point.
If the 16th hole at Cypress Point Golf Club isn't the most photographed golf hole ever, it's on the very short list.
That hole, a 219-yard par 3 that requires a shot over the Pacific Ocean to a green that sits on a tiny bit of land on the Monterrey coast.
Cypress was in the rotation of courses for the Pebble Beach AT&T event and held its own against some of the best players in the world, even though the scorecard shows the championship distance to be 6,524 yards.
The first 14 holes of this Alistair Mackenzie classic wind around the white sand dunes before coming to the stretch of 15-17, all of which play along the ocean.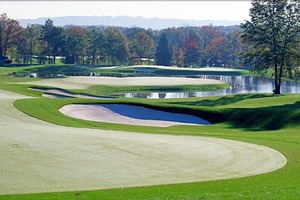 It's a visual bonanza at Trump National Golf Club, Bedminster.
One of the great new courses in the United States.
Opened in 2004, this Tom Fazio beauty is definitely a big-boy layout. Did I mention it's a Donald Trump creation and it says money and prestige from the moment you step on the property?
It has all the visual intimidation that Fazio gives you with his designs: eye-popping bunkers, creative routing and very welcoming landing areas from the tees.
A U.S. Open field would be looking at a minimum of 7,400 yards, although the course can be stretched to 7,560.
The Donald has been quite vocal about wanting to get an Open at this course and, to some degree, he'll be getting the 2017 U.S. Women's Open.
Based on the stunning golf course, located not all that far from New York City, Bedminster appears to be the perfect spot for the nation's oldest championship.