The Worst Sports Movies You Forgot Even Existed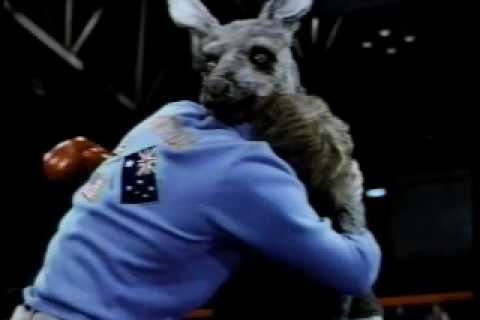 Image via popscreen.com
Over the years, Hollywood has blessed us with some great sports movies like The Mighty Ducks series, Rudy and Hoosiers.
So you'd think that with the success of those flicks, other writers and directors would consider trying to duplicate some of the storylines so to connect with sports fans everywhere.
Unfortunately, these movies didn't get the script, and fell way short of what fans were expecting...considering you've ever even heard of them!
Begin Slideshow

»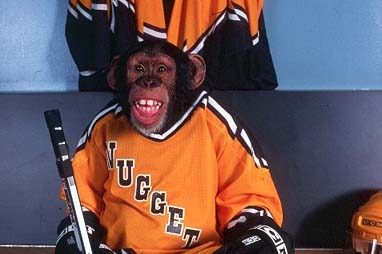 Image via dirtydangle.com
Typically, the letters MVP stand for "Most Valuable Player," but thanks to this skilled hockey-playing chimpanzee, it actually stands for "Most Valuable Primate."
Thank God the NHL lockout got resolved, otherwise Gary Bettman may have actually entertained this idea.
Is it any shock that the producers who did the movie Air Bud also did this one too?
Image via Imdb.com
Not to be outdone by its hockey-playing counterpart, the same people who gained "rave reviews" for their first rendition of a chimp doing human things decided to put him on a skateboard with this miserable sequel just a year later.
Wonder if they went back to the same chimp to play both roles, or if they had to train some other poor chimpanzee to embarrass itself in front of thousands of moviegoers?
Thomas Ian Nicholas, the kid actor, starred in one of our favorite sports movies ever when he played Henry Rowengartner in Rookie of the Year.
But when he signed on to take the lead role as the nerdy Calvin Fuller, whose terrible sports luck changes when he's sent back to the sixth century, we don't know what he was smoking.
Hard to believe that the same guy who directed movies like Die Hard and Predator would lower himself to doing a movie starring Chris Klein and LL Cool J, but that's what happened to John McTiernan when he did the remake of the 1975 flick.
We'd typically tell you more about the plot, but honestly, we don't even want to think about this movie again.
Like Ever.
When searching for this movie's trailer, we were actually pissed off to see that the video had already been viewed on our computer.
If we're that upset over just viewing the modernized Twelfth Night, do you need any other reasons why this movie's ratched
We didn't think so.
Everyone's used to Sylvester Stallone training his ass off to fight some bigger, stronger and faster guy inside the ring as Rocky Balboa.
When he tried to recreate a new sports franchise for himself by starring in this movie about a legendary CART driver who mentors an up-and-coming young driver, his hopes got knocked out pretty quickly.
The intense trailer might be the most appealing part of the entire movie.
What do you get when you team Chuck Norris up with the kid from Ladybugs, Jonathan Brandis?
Anything but movie gold, as evidenced by this martial arts movie.
We highly doubt this movie had anything to do with the growing popularity of MMA.
No one loves to do everything they're told, so why not make a movie where a rebellious girl tries to take down the sport of gymnastics by trying to take down the way it's judged?
Sounds awful.
Want to know what sucks even more than this movie? The fact that Jeff Bridges is the head gymnastics coach.
That's something "The Dude" would never abide to.
Who wouldn't want to see former Beverly Hills 90210 star Luke Perry try and achieve the "biggest dream of his life" by staying on a bull that's bucked off over 300 riders?
If you answered you would then we're really concerned with how you spend your weekends.
When people think about boxing movies, they probably don't envision funnyman James Franco snagging a lead role.
But that's what happened in this movie about a former boxer who tries fulfilling his dream of getting accepted into the Naval Academy.
How bad was this movie? Inaccurate enough that the Navy didn't want to be associated with it.
There are certain things in life that really suck to find out aren't real.
Santa Claus.
The Easter Bunny.
The Tooth Fairy.
And of course, wrestling.
But finding out that Hulk Hogan isn't really an actor is not one of those life-changing events, and thus, this movie is a total flop for even trying to convince us otherwise.
We're really not doubting you've heard of or have forgotten about this Kevin Bacon movie from the mid-'90s. It's just that it's so poor, we couldn't help but mention it.
A college basketball assistant coach, Bacon (Jimmy Dolan), thinks that his best bet at earning a head gig is by recruiting a new star to his current team, who he finds in Africa.
We'll let you piece it together on how the story plays out.
The only positive thing that comes from this movie is the "Jimmy Dolan Shake and Bake," which even has its own Facebook group.
What would you do if you discovered a kangaroo who could box humans?
Probably the exact same thing that small-time talent agent Bernie Bonnelli (Elliott Gould) did in this movie: exploit it to try and further your career.
The movie sucks, but it could have been more entertaining had they used a real kangaroo instead of an actor in costume, as the producers actually debated before filming.
Oh, what could have been...
Limp Bizkit's Fred Durst directed it, and it stars Ice Cube as an inspiring coach, so that should be enough for you not to ever see it.
It was based off a true story about a girl who plays in the Pop Warner football tournament for the first time in its history, but sadly, Durst was unable to make it somewhat bearable to watch.
Why couldn't they just stick with the original?
After seeing Michael J. Fox kill it as teenager Scott Howard in Teen Wolf, writer Jeph Loeb thought he'd try and bring back an identical plot, but this time have Jason Bateman star as Scott Howard's cousin Todd Howard.
It sounds awesome, right?
During the mid-'90s, Matt LeBlanc gained mega fame by playing the goofy bro on the show "Friends."
But while most of his cast mates were able to catapult their careers with A-level films, he found himself playing baseball with a monkey.
We pity anyone who has ever wasted money or time on this awful flick.
Most guys love Martin Lawrence for his comedy series and roles in the Bad Boys movies, so why he belittled himself to sign-up for this terrible movie is besides us.
Lawrence plays a college basketball coach who let the success go to his head, so he found himself having to accept a position at his high school Alma mater.
He brings the team together to start winning, while he finds what was missing all along...his love for the game.
Oh damn. Did we spoil it for you? Consider it a favor.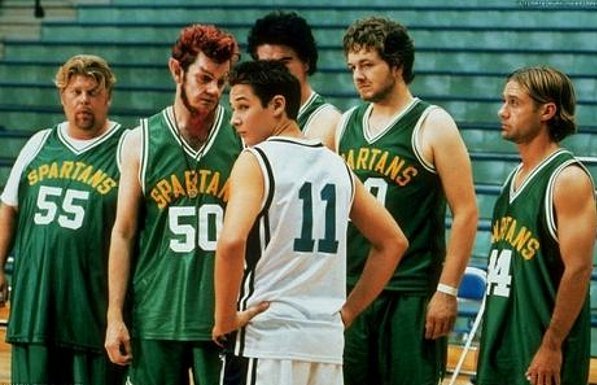 Image via community.flixster.com
We've all been around long enough to know that if a film is either made for TV or goes straight to DVD than it probably didn't get the coveted "Two Thumbs Up!"
When you have a teenager battle an evil leprechaun to keep his family from being controlled by it, the movie typically flops.
Great soundtrack, awful movie.
Clearly made while someone was still either hungover or experimenting with something else during the disco era, this basketball movie will literally blow your mind at how awful a movie can be.
Somehow, they were able to convince Dr. J he play the main role. Brutal move bro.
Yes, they actually made more than just one of these movies.
Everyone knows the original Air Bud flick—though most of us can hopefully admit to never having seen it.
The fact that they made at least three more of these things makes us worry for the future of our country, considering kids are actually eating up the same plot.