Notre Dame vs. Alabama: 5 Biggest Disappointments in 2013 BCS Championship Game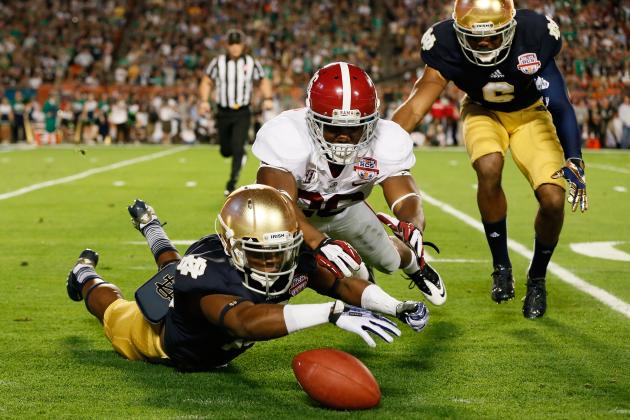 Kevin C. Cox/Getty Images

Notre Dame won the coin toss of the 2013 BCS National Championship Game. That was where any form of success ended Monday night before kickoff against the Alabama Crimson Tide, the 2012 kings of college football.
When the final whistle mercifully blew, the scoreboard showed the Crimson Tide with 42 and the Fighting Irish with 14. It turns out the oddsmakers swung and missed for the second year in a row on how much to favor Alabama, as Nick Saban's bunch won in lopsided fashion once again.
It was expected to be a defensive struggle, but all the struggling belonged to Notre Dame on this night. That was an overall bitter disappointment for the Irish, but here are the five biggest letdowns from the BCS National Championship Game.
Begin Slideshow

»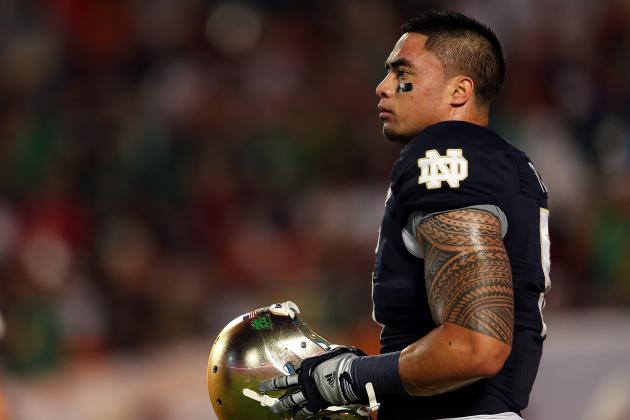 Mike Ehrmann/Getty Images

Entering the game, we knew it was going to be difficult for Notre Dame to match Alabama in the preparation battle for a number of reasons.
Alabama coach Nick Saban had previously won three national championships, and he therefore knows how to get a team ready to play at such a big stage after a long layoff. There were also several Alabama players who played prominent roles in last year's title game against LSU.
On Notre Dame's side, Brian Kelly has coached in the Orange Bowl before, but it was with Cincinnati, and his team lost 20-7. Also, the national championship game is a much bigger stage, and going up against a coach that has so much experience coaching in big games, it was going to be difficult for Notre Dame to be as ready to play as Alabama.
That being said, mental mistakes early in the game as well as undisciplined football put the Fighting Irish in an early hole, and it was simply too much to overcome.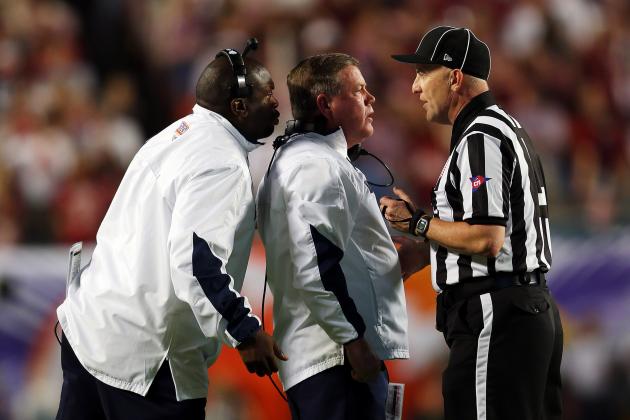 Mike Ehrmann/Getty Images

Within the game's first five minutes, the officials were involved in three questionable calls, two of which had to go to a review up in the booth.
On Notre Dame's opening offensive possession, a pass intended for tight end Tyler Eifert was called incomplete when it probably could have gone either way. With the call coming on a third down, the Irish were forced to punt, which led to more controversy involving the zebras.
As Alabama's Christion Jones waved for a fair catch, Notre Dame's Matthias Farley was blocked into Jones just after he caught the ball. While the Irish recovered the fumble, kick catching interference was called on Farley, wiping out the turnover and giving the ball to the Crimson Tide, who would eventually score another touchdown.
Later on, a fumble by Eifert had to be overturned, so at least the officials were able to overcome their incompetence in that instance.
While there's no denying that Alabama was still moving the ball at will early on and would have gone on to win by a large margin regardless, too much attention was being focused on the officiating, and that is never a good thing.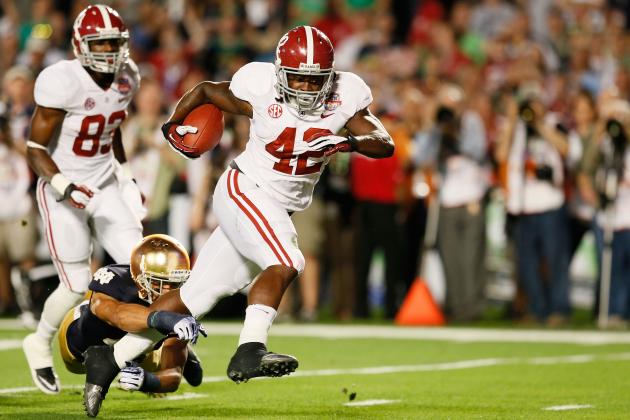 Kevin C. Cox/Getty Images

Considering how Notre Dame had a Heisman Trophy finalist in linebacker Manti Te'o and a defense that topped the nation in fewest points allowed, giving up 28 points in the first half wasn't exactly what anyone—especially Notre Dame—was looking for.
After only having two missed tackles all season, Te'o missed multiple tackles in the national championship game, and the defense couldn't stop the run or the pass. That usually doesn't bode well for your chances, but the weapons and speed Alabama had on offense were just too much for Notre Dame.
Eddie Lacy looked like a man among boys, breaking tackles and spinning his way into the end zone on multiple occasions. If Notre Dame was going to have an opportunity to win this game, it would've needed its defense to play like it had all season, and that simply did not happen.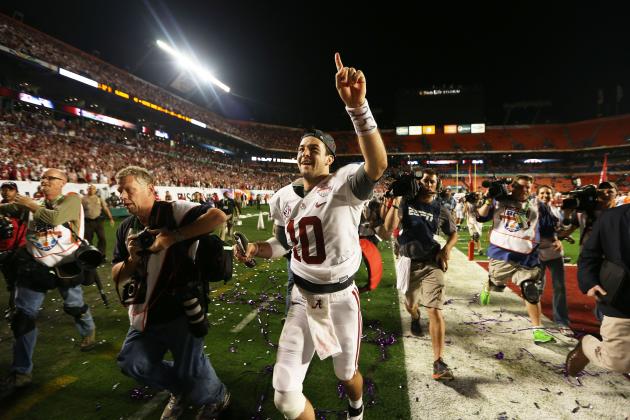 Streeter Lecka/Getty Images

This isn't to hate the Southeastern Conference, but parity in college football is wearing thin. This marks the seventh straight season that a school from the SEC has won the BCS National Championship.
For as much as fans around the country are tired of hearing so much talk of the SEC reigning supreme in college football, it's the truth. Until another conference or school is able to knock off Alabama—or whoever represents its conference in the title game—the SEC will retain bragging rights.
On the flip side, we saw what happened when two SEC schools face off in the national championship last season, so that shouldn't necessarily happen every year for the rest of eternity, but for the sake of some variation in college football, someone needs to step up.
Oregon? Ohio State? You're on the clock.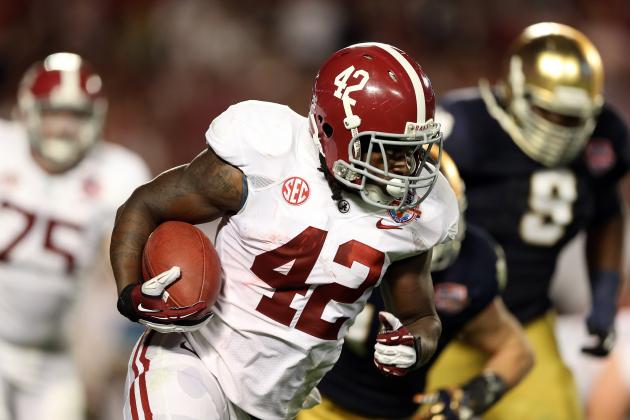 Streeter Lecka/Getty Images

Because of the two schools involved and their immense fanbases, this particular national championship game had more hype than any title game in recent memory, even with Alabama as a double-digit favorite.
The fear was that the game wouldn't live up to the hype, and that fear was recognized within the game's first 10 minutes.
Nick Saban's articulate preparation and Alabama's familiarity with the big stage was evident, and Notre Dame's lack of experience under the blinding lights of a college football title game was even more so.
That's disappointing for fans of college football in general, especially Notre Dame, and to see a game in which the Irish were within striking distance throughout would have at least made for a watchable contest.
But many times, sports don't give the majority of us exactly what we want, and that was the case Monday night in South Beach.