Norwich City: 4 Things Canaries Must Do to Stay Clear of Relegation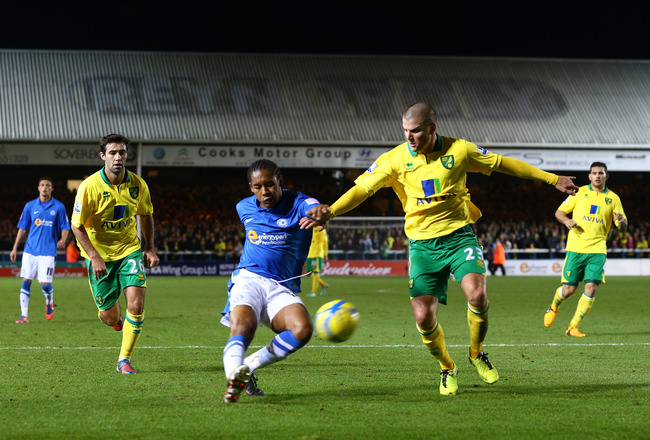 Jan Kruger/Getty Images
Staying in the Premier League is always going to be a difficult task. After all, only 20 sides can be in England's top-flight at any one time. Nevertheless, the Canaries managed it last season and will be hoping to repeat their feat during the current campaign.
The team has now played 21 games and remain well-placed in the league to finish above the relegation zone. But it's important that Norwich finish off the job during the second half of the season. So, sit back and relax with my latest slideshow on the things that the Canaries must do to be in the Premier League next season.
Find a Reliable Goalscorer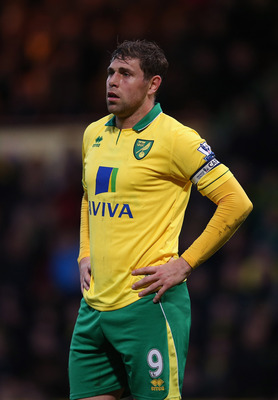 Julian Finney/Getty Images
One of the things that Norwich City have lacked this season is having a player that can be relied on to score a good number of goals. And it's likely that a striker will top off the shopping list during the current transfer window.
However, this sort of player typically comes at a premium price, and with the Canaries also on the lookout for other players, there is a chance that they will come up empty-handed. Therefore, they might have to consider if the player they crave is currently at the club.
Anthony Pilkington, Grant Holt and Robert Snodgrass all have just four goals apiece from Premier League games. The club have made a habit of finding goals from multiple sources, but having a player that could register 15 league goals would certainly be useful.
Ironically, the man that achieved this last season is still at the club. But Holt has found things harder going with the more defensive system that Chris Hughton has set up. Also, he has to do a lot of work as the lone striker that may mean he isn't in the best position to score.
The Canaries are currently seven points clear of survival, but fans would feel a lot more comfortable if a new attacking goal-scoring option can be found this month. I have stopped short of saying a striker, because Swansea City have proved that a top-scorer can equally come in the form of a goal-scoring midfielder.
I think it's unlikely that any of the current options will become a goal-scoring sensation since what has happened in the past tends to be what will happen in the future, unless something dramatic changes. Chris Hughton will know what he wants, but the price has to be right in order to secure his targets.
Keep Defending Well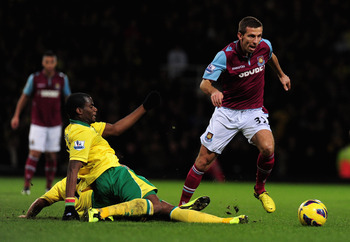 Jamie McDonald/Getty Images
After a dodgy start to the season, the Canaries have managed to stabilize themselves after building a solid defence and scoring the odd goal here and there. However, this is something that must continue for the second half of the season.
It should be noted that Norwich haven't been quite as solid since John Ruddy has been injured, and clean sheets have dried up a bit of late. In fact, it has now been nine league games since the side last kept a clean sheet, and the team is currently on a run of four consecutive clean sheets.
I'm sure there was a direct relationship between clean sheets and that 10-match unbeaten run, so the Canaries will want to make sure that they are not conceding many goals. Therefore, they will want Javier Garrido and Steven Whittaker to prove their fitness again to get back to that first choice back four. I think we all know that Sebastien Bassong is absolutely crucial to keeping the goals out. So, it's extremely fortunate that he will not be missing for the African Cup of Nations.
Find Four More Wins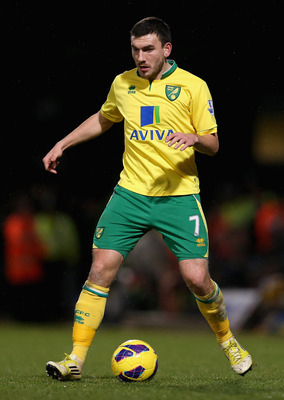 Julian Finney/Getty Images
If we assume that 40 points will be needed for survival this season, then Norwich City will need another 15 points from their remaining games. Now, I think we know that the way Chris Hughton sets his team up means that the Canaries will draw a lot of games. After all, they have already drawn seven games this season, or they tend to draw a Premier League game once every three league games.
Therefore, four more wins will be more than enough to get beyond the magical 40-point mark. This is certainly a task that doesn't seem too hard. So, Norwich City should be reasonably confident that they have enough about themselves to get over the line, given the excellent start in the first half of the season.
Ensure Carrow Road Remains a Fortress and Use the Fans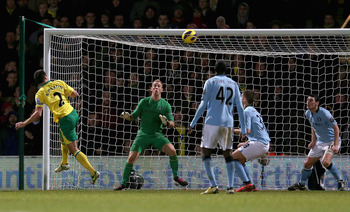 Julian Finney/Getty Images
I think most of us saw when Chris Hughton arrived that he was likely to look towards home games for the majority of his wins this season. And that perception has proved to be correct with just one away-league win so far.
Norwich were on a run of five consecutive home-league wins until the Christmas doubleheader featuring Chelsea and Manchester City. In the end, the Canaries hardly disgraced themselves by losing each game by just the single goal.
Nevertheless, if the club could grab all three points against Newcastle United, that would mean they have taken four home wins from their last six games. It is this kind of form that can lead towards survival, especially if the home fans can get behind their team when they're up against it.
Keep Reading