Keep, Trade, or Cut Every Player on the Chicago Bears' Roster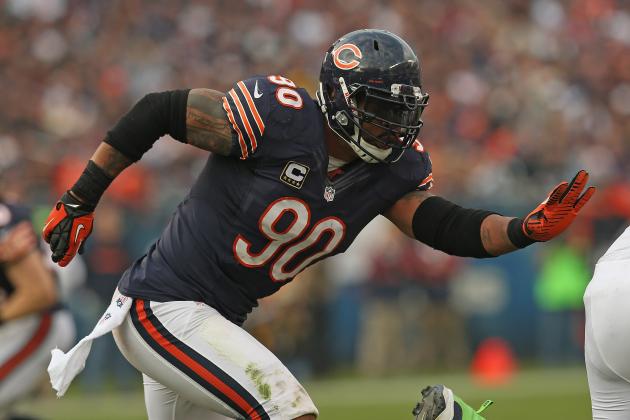 Jonathan Daniel/Getty Images
Julius Peppers (90) tracks down the Seahawks Marshawn Lynch
An NFL roster is ever-changing, with players being kept, traded, or cut throughout the entirety of the season. During the offseason it becomes a more difficult task in determining which players will best help the organization in the future.
Beyond having the difficult task of hiring a new head coach, general manager Phil Emery has to evaluate the roster he has and determine which players he is willing to move forward with and which he is ready to get rid of.
A new head coach with possibly a new philosophy will make some players expendable, leaving many open to either being traded or cut.
The 2013 Chicago Bears will likely be a much different team and here is a breakdown of their roster and who should be kept, traded, or cut:
Begin Slideshow

»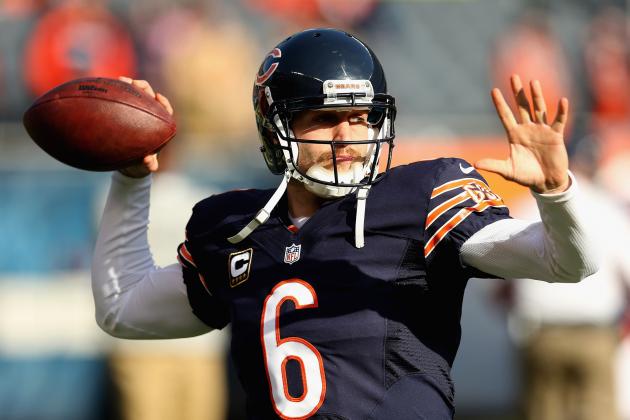 Jonathan Daniel/Getty Images
Jay Cutler warms up prior to the November 25th meeting against Minnesota
Jay Cutler: Keep
Throughout his tenure in Chicago, Cutler has dealt with a porous offensive line and, until the arrival of Brandon Marshall this season, little to no offensive weapons. He was derailed by a concussion earlier this season and threw for just 3,033 yards, 19 touchdowns and 14 interceptions. They will likely try to surround him with better talent along the offensive line and, with a year still left on his deal, he will be your starting quarterback in 2013.

Jason Campbell: Cut
Due to injuries, Campbell relieved Cutler against the Houston Texans and started the following week against the San Francisco 49ers along with taking some snaps against the Lions and Vikings this season. He finished the year with 265 yards, two touchdowns and two interceptions. He struggled at times and, after signing a one-year deal, will likely be searching for an opportunity to start somewhere.

Josh McCown: Cut
Brought in as insurance following Cutler's concussion against the Houston Texans, McCown never saw the field this season and will not likely return.
Matt Blanchard: Keep
An undrafted rookie free agent, Blanchard surprised many by not only getting an invite to Training Camp, but landing a spot on the practice squad. He is viewed as a development prospect and will likely come into camp again this year fighting for the third quarterback spot.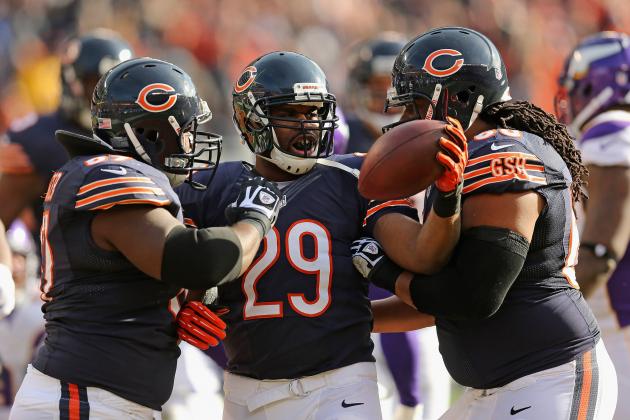 Jonathan Daniel/Getty Images
Michael Bush celebrates with teammates after a touchdown against the Vikings
Matt Forte: Keep
After signing a four-year, $30.4 million contract prior to the start of training camp this season, Forte was vastly underutilized and suffered from an ankle injury for a good portion of the season. He finished the season gaining just over 1,000 yards and scoring five touchdowns. The new head coach and offensive coordinator will look to get him more involved in 2013, particularly in the passing game.


Michael Bush: Keep
Brought in to be a complement to Forte, Bush struggled late in the season with injuries, but still finished tied with Forte with the team lead in rushing touchdowns, with five. His strengths still lie in his role in short yardage and goal line situations and he will continue in that capacity in 2013.

Armando Allen: Cut
Viewed mostly as a special teams contributor, Allen saw some time at the end of the season due to injuries to both Forte and Bush. Most of his yardage was gained in mop up time and he did not put much on tape that stood out.

Kahlil Bell: Cut
Bell spent time with the Bears in Training Camp before be waived after he refused to take a pay cut. He returned in September following Forte's injury but was again waived in October. He was picked up by the New York Jets in November before being waved again and returning to Chicago in late December. He has shown the ability to be a short-yardage runner, but has struggled with protecting the football.

Harvey Unga: Cut
A former-supplemental pick of the Bears in 2010, Unga has spent time on and off the team's practice squad and was finally promoted to the active roster prior to the Detroit Lions game but never saw the field.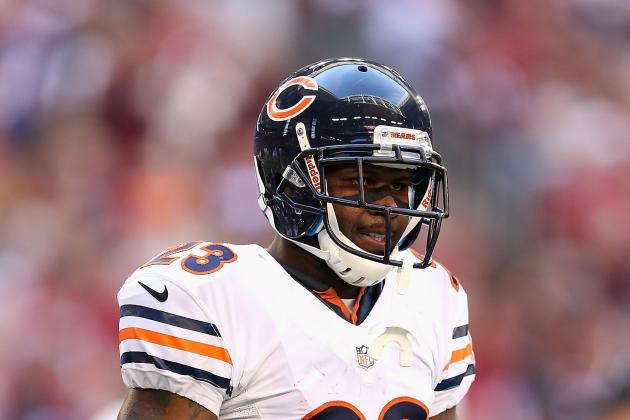 Christian Petersen/Getty Images
Devin Hester prior to the December 23rd matchup against Arizona
Brandon Marshall: Keep
Marshall shattered various Bears receiving records following his trade to Chicago prior to the season, including yards in a season with 1,508 yards and catches, with 118. In a year in which the offense struggled week in and out, Marshall continued to impress and will once again be Jay Cutler's top target in 2013.

Alshon Jeffery: Keep
Jeffery made a splash in his NFL debut, hauling in three catches for 80 yards, including a 42-yard touchdown. He struggled with injuries that forced him to only play in ten games but he showed signs of a receiver that will complement Marshall for years to come.

Devin Hester: Trade
For years, coach Lovie Smith and staff made it a point to anoint Hester as a number-one wide receiver. He continued to struggle offensively, hauling in just 23 catches for 242 yards and one touchdown. The once-great return man found himself running backwards more often than forward and it appears that his time in Chicago may be up. No longer the return man he once was, a team desperate to make a splash could be interested in trading for Hester who is still under contract through the 2013 season.

Earl Bennett: Keep
Bennett signed a five-year, $18.5 million deal prior to the 2011 season, but has failed to live up to his lofty contract. He struggled with injuries at times this season, but failed to break out until his five-catch, 109 yard, one touchdown performance against the Detroit Lions in Week 17. Cutler has had a good connection with Bennett in the past and because of that he will continue to get opportunities in 2013.

Eric Weems: Keep

Weems, a special teams ace, signed a three-year, $4.2 million deal prior to the 2012 season. He failed to make an impact as a return man, averaging just 17 yards per return. He was still solid in coverage, coming away with eight tackles. Despite the down year as a return man, he could be back if the Bears decide to move Hester.
Johnny Knox: Cut
After injuring his back in December of 2011, Knox was not able to return to the field in 2012. His contract expired at the end of the season and there is little indication on whether or not he will be able to return to the game.
Joe Anderson: Cut
An undrafted free agent, Anderson spent time on the practice squad before being activated against the Packers. He could return as a training camp body, but does not project beyond that.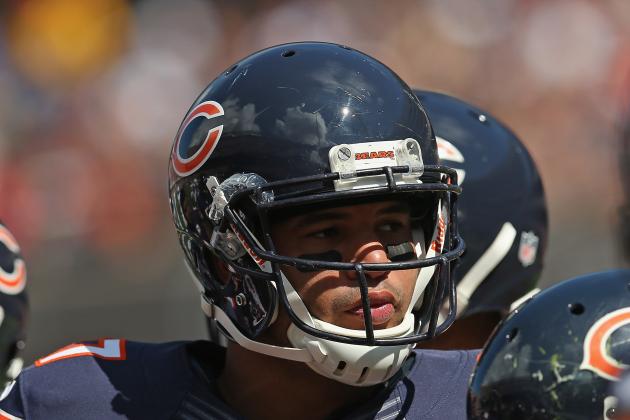 Jonathan Daniel/Getty Images

Kellen Davis: Cut
Arguably the least trustworthy of all of Jay Cutler's targets this season, Davis had six drops on 44 targets this season and hauled in just 19 catches. He struggled in both the passing game and as a blocker and, according to Spotrac.com, he is set to make $2.4 million for the 2013 season. His high salary number may make it more difficult to cut him but it is unlikely he would enter the 2013 season as the Bears starting tight end.

Matt Spaeth: Keep
Known solely as a blocking tight end, Spaeth did well at times in both pass and run blocking. His season was highlighted by a 13-yard touchdown catch against the Minnesota Vikings in Week 14. He is under contract for one more year and could continue to be a nice role player as a blocking tight end.

Kyle Adams: Cut
A combination blocking/receiving tight end, Adams saw time at both tight end and h-back this season, filling in for injured fullback Evan Rodriguez at times as a lead blocker. He has shown the ability to be a solid blocker but has had limited opportunities to be a pass catcher. Expect the Bears to improve their tight end corps and Adams may be the odd man out.

Evan Rodriguez (Fullback): Keep
Drafted out of Temple in 2012, many viewed Rodriguez as a tight end/h-back hybrid, much like the New England Patriots' Aaron Hernandez. He spent the majority of his time on the field at fullback and impressed many with his lead blocking ability. He is still raw, but has the ability to move back to tight end if needed and could end up being a solid receiving target for Cutler in 2013.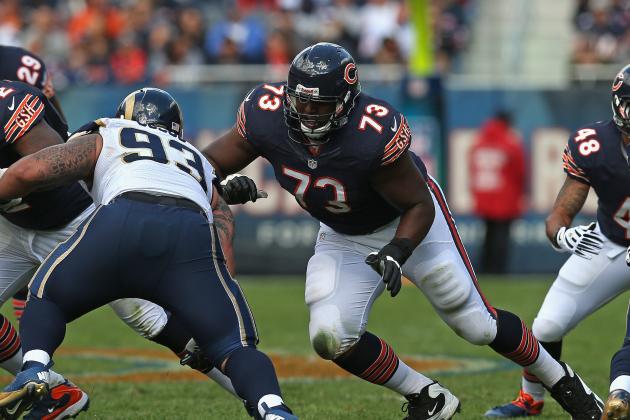 Jonathan Daniel/Getty Images
J'Marcus Webb (73) attempts to block St. Louis Ram, Jermelle Cudjo (93)
J'Marcus Webb (LT): Cut
For years, the Bears coaching staff led fans to believe that J'Marcus Webb was an NFL-caliber starting left tackle and, for years, he has continued to dispel those notions. This season, he started all 16 games at left tackle, allowing nine sacks along with getting called for six penalties. The Bears should look to not only the draft but free agency for a new left tackle that will seemingly close the book on the Webb Era.

Jonathan Scott (RT): Keep
Signed by the Bears in September, Scott found himself in the starting lineup at right tackle for Week 10 following the demotion of Gabe Carimi. He allowed just one sack and had only one penalty in seven starts and was praised by general manager Phil Emery at his end of the year press conference (h/t Chicago Sun-Times). He is set to be a free agent but, given how well he played to finish out the season, it would be wise for the Bears to hang on to him for the future.
Gabe Carimi (RT/G): Keep
After missing the majority of his rookie season in 2011, Carimi returned this season as the starting right tackle but struggled mightily, particularly in a loss to the San Francisco 49ers, in which he was consistently outmatched all night. He was placed at right guard following injuries to Lance Louis and Chris Spencer and for having never played the position before, for the most part, he held his own. He will be given the chance in Training Camp to reclaim the starting right tackle position but it will be interesting to see who Phil Emery brings in along with Scott to challenge him.

Cory Brandon (RT): Cut
Impressive at times in Training Camp and the preseason, Brandon was signed to the practice squad to start the season before being cut and then re-signing again in October. He has a big frame and the size to play the position, but projects as nothing more than a low-end backup.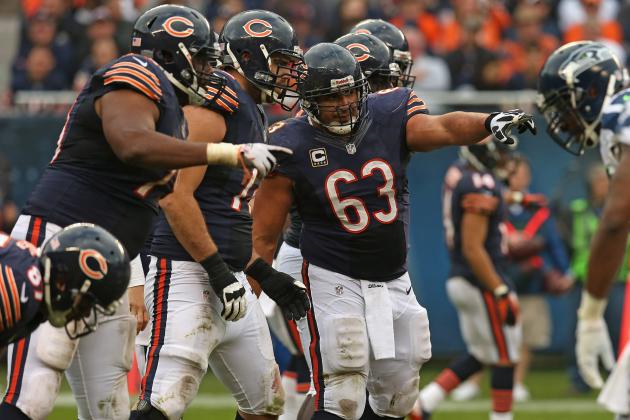 Jonathan Daniel/Getty Images
Roberto Garza (63) calls out line assignments against the Seattle Seahawks on December 2nd.
James Brown: Keep
An undrafted free agent, Brown started the season on the practice squad and was elevated to the 53-man roster following the departure of Chilo Rachal midseason. He got his opportunity to start at left guard in the final three games of the season and appeared to hold his own. He is still very raw, but many viewed him as a mid round draft prospect until word surfaced of his prior marijuana use. His upside will give him an opportunity to fight for a starting job this offseason.

Lance Louis: Keep
Arguably the best offensive lineman for the Bears prior to a season-ending injury against the Vikings, Louis continued to go about his business at a high level week in and week out. A prototypical right guard, he has the power and nastiness that teams covet in the run game and his quick feet and athleticism benefit him in the pass game. Expect him to maintain his starting spot at right guard for the 2013 season.

Chris Spencer : Cut
After a move to left guard replacing Chilo Rachal, Spencer struggled at times with a knee injury and was eventually replaced by Brown. His contract expired at the end of this season and his return is unlikely.

Edwin Williams: Keep

A seven-game starter in 2011, Williams started two games this season due to injuries but failed to impress in either. He signed a two-year extension after 2011 and could provide depth as a backup center.

Roberto Garza (Center): Keep
A first time starter at center in 2011, Garza maintained his position in 2012 and held together an offensive line that was seemingly changing on a game to game basis. He will never be regarded as one of the league's best and despite a bit of a decline in play in 2012, he will likely return as the Bears center in 2013.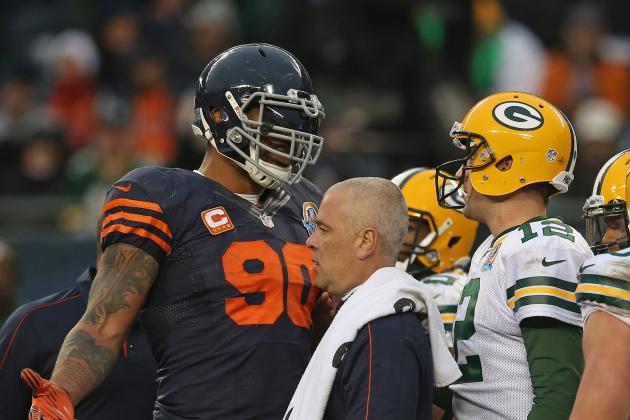 Jonathan Daniel/Getty Images
Julius Peppers (90) confronts Packers quarterback Aaron Rodgers (12)
Julius Peppers: Keep
Since his arrival in Chicago, Peppers has totaled 30.5 sacks, including 11.5 this season, while struggling with a foot injury. He has been a force on the field, even though, at times, his numbers did not reflect it. He is set to make $16 million this coming season and, despite such a large salary hit, it is undeniable that he makes those around him that much better.

Israel Idonije: Cut
An unheralded asset to the Bears defensive line, Idonije saw time not only at defensive end but also inside at defensive tackle. He was second on the team with seven and half sacks but was eventually moved out of the starting lineup in favor of Corey Wootton. At 32 years old, the Bears could consider bringing him back but with an aging defense, it is time for a youth movement along the defensive line.

Corey Wootton: Keep
Once considered a first round talent before injuries marred his career at Northwestern, Wootton was selected by the Bears in the fourth round of the 2010 NFL Draft. He again struggled with injuries at the beginning of his career but came on strong this season, finishing third on the team with seven sacks. He moved into the starting lineup in the middle of the season and played well both as a pass rusher and against the run.

Shea McClellin: Keep
As general manager Phil Emery's first draft pick, McClellin showed flashes on the field this season but was hampered by both a concussion and a sprained MCL. He finished the season with two-and-a-half sacks and was utilized not only as a pass rusher but also found himself dropping into coverage at times. A full NFL offseason and a year under his belt should make him a better player and he could be competing for a starting position in 2013.

Cheta Ozougwu: Cut
Ozougwu spent much of the season on the practice squad, being activated for three games, seeing his most significant time against the Packers in which he finished with three tackles. He signed a future/reserve contract the first week of January (h/t Chicago Tribune) but will likely face plenty of competition in training camp this summer.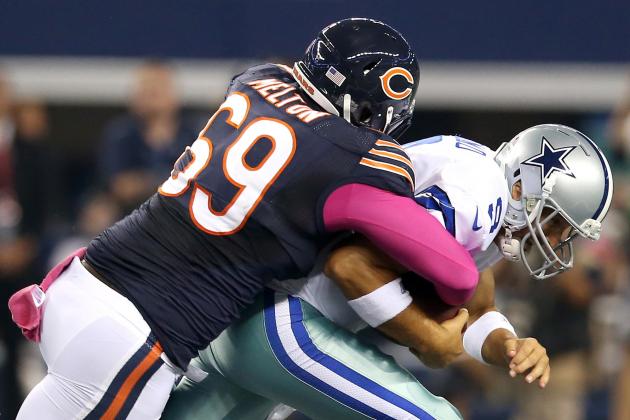 Ronald Martinez/Getty Images
Henry Melton (69) sacks Cowboys' quarterback Tony Romo (9)
Henry Melton: Keep
A first time Pro Bowler, Melton finished the season with 43 tackles, six sacks, and two forced fumbles. He is set to hit free agency and re-signing him should be Phil Emery's top priority. He was disruptive in the running game and found consistency with his pass rush, something he had lacked in the past. Re-signing him would be huge step towards keeping this defense near the top in the league.

Nate Collins: Keep
Signed by the Bears in the offseason after the Jacksonville Jaguars rescinding their exclusive rights free agent tender placed on him due to an arrest for marijuana possession, Collins provided some solid play in limited action. He finished with just 11 tackles on the season, but was solid against the run and did well trying to funnel plays to the outside. He is viewed as a rotational defensive tackle but provides solid depth for a position that they need more help.

Amobi Okoye: Cut
After not being re-signed by the Bears in this past offseason, Okoye signed with the Buccaneers before being released before the start of the season. He returned to Chicago and saw some action before being released and once again brought back in December. His career has been marred by inconsistency and despite only being 25 years old, his time in Chicago is likely over.

Stephen Paea: Keep
A former second round pick, Paea started to live up to his potential this season, coming away with 24 tackles and two and half sacks. A prototypical nose tackle in a 4-3 defense, he combines strength with quickness and is a force in the running game. If a new coach wants to make the move to a 3-4 defense, he is likely the best candidate to move to a 3-4 defensive end.

Matt Toeaina: Cut
Plagued by a knee injury for much of the season, Toeaina played in just three games this season before being placed on injured reserve in the middle of December. He has always been a solid contributor against the run but, due to his knee problems, it may be time for the Bears to look in a different direction.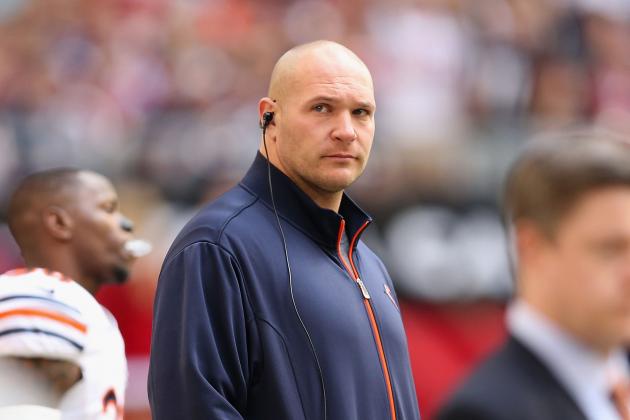 Christian Petersen/Getty Images
Brian Urlacher watches the Chicago Bears take on the Arizona Cardinals
Brian Urlacher: Cut
After injuring his knee in the final game of the 2011 season, Urlacher returned in 2012 as a different player. The ability to move sideline to sideline had diminished and he appear a step or two slower than he had in the past. As weeks progressed he began to improve but a hamstring injury suffered against the Seattle Seahawks essentially ended his season. His contract his up but he will be 35 when next season begins. Many are not ready for the day to come, but 2013 may be the first year since 2000 that number 54 isn't starting for the Bears on opening day.

Lance Briggs: Keep
Often overshadowed by Urlacher, Briggs has continued to become one of the best 4-3 outside linebackers in football. He finished the season with 101 tackles, two forced fumbles, and two interceptions that he returned for touchdowns. He has a nose for the football and is one of the best tacklers in the league. As of late he has been one of the best players on this defense and if Urlacher is gone, he will have his chance to become the face of this defense.

Nick Roach: Keep
Typically a strongside linebacker, Roach was thrust in at middle linebacker following Urlacher's injury and performed well. He finished with 66 tackles and has improved in pass coverage. If Urlacher is gone, he will be strongly considered to replace him in the middle or he could return to his spot on the strong side.

Blake Costanzo: Keep
Brought in as a special teams ace, Costanzo found himself in the starting lineup at strongside linebacker after Roach's move to the middle and his replacement, Geno Hayes, getting injured. Costanzo played better than expected, but will likely be kept on for his special teams abilities.

Dom DeCicco: Keep

Cut during training camp because of an injury, DeCicco was brought back in early December and played mostly on special teams. A solid contributor in 2011 on special teams, he will likely again get the opportunity to play a role doing that and could fight for a backup linebacker spot.

Jerry Franklin: Cut
Plucked from the Dallas Cowboys practice squad on November 14th, Franklin was brought in for depth at linebacker and on special teams. He played in the final three games and came away with two tackles. Likely would only be back to compete for a spot on special teams.

Geno Hayes: Cut
Signed as depth for both the strongside and weakside linebacker positions, Hayes was placed in the starting lineup at strongside linebacker after the injury to Urlacher forced Roach to the inside. He struggled as a starter and was often out of position, particularly on a large run by Adrian Peterson on December 9th. Having signed a one-year deal prior to this season, he likely will not return.

J.T. Thomas: Keep
A solid contributor on special teams, Thomas played in a all 16 games this season, finishing with five tackles and a forced fumble. He played well in training camp and could be a dark horse candidate to move to the strongside linebacker position if Roach is named middle linebacker.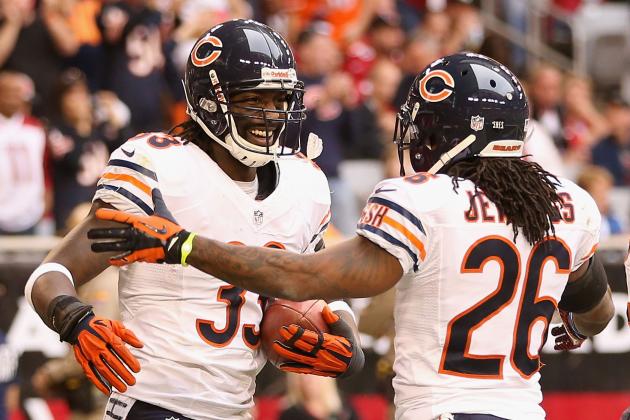 Christian Petersen/Getty Images
Tim Jennings (26) congratulates Charles Tillman (33) following an interception against the Arizona Cardinals.
Charles Tillman: Keep
A year after claiming his first Pro Bowl nod, Tillman received the honor yet again this season. He had arguably the best season of his career, 85 tackles, ten forced fumbles, and three interceptions, all returned for touchdowns. He has one year left on his contract and will once again be the Bears number one cornerback next season.

Tim Jennings: Keep
A year after being benched in favor of Zack Bowman, Jennings re-signed with the Bears this offseason and earned himself his first career Pro Bowl honors. He finished the season with 60 tackles and an NFL-leading nine interceptions. He struggled early in his career with holding onto the football but worked hard in the offseason and improved his game. He will once again lineup opposite of Tillman as the Bears number-two cornerback.

Kelvin Hayden: Keep

Signed to a one-year deal this past offseason, Hayden eventually beat out D.J. Moore for the nickelback position and also started two games for the injured Jennings. He finished with 37 tackles, one interception, and tied for the NFL lead in fumble recoveries with four. If the price is right, he would continue to be a nice piece to this secondary.

D.J. Moore: Cut
After hauling in four interceptions in each of his last two seasons, Moore fell out of favor with then Head Coach Lovie Smith and saw limited action much of the season. Many feel his size deters him from playing on the outside and he has been best as a nickelback, but struggled at times there this season. With his contract expiring, he likely will not return this season.

Zack Bowman: Keep
Sherrick McManis: Keep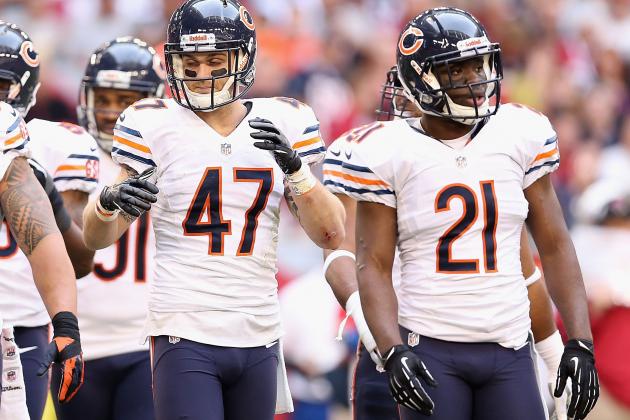 Christian Petersen/Getty Images
Starting safeties Chris Conte (47) and Major Wright (21)
Major Wright: Keep
For the first time in his young career, Wright was able to stay healthy and started all 16 games this season. He showed flashes of his big play potential, bringing in four interceptions, including one for a touchdown, and was solid against the run. He finished with 71 tackles on the year and showed his versatility following an injury to Chris Conte that moved him to free safety at the end of the season.
Chris Conte: Keep
During his rookie season in 2011, Conte's responsibilities were limited to not getting beat deep and typically playing 20 yards off the line of scrimmage. In 2012, his role was increased as he was used often as a blitzer or as a decoy, eventually dropping back into coverage. He finished with 68 tackles and two interceptions and was particularly good in stopping the run.

Craig Steltz: Cut
A perennial favorite of Lovie Smith, Steltz signed a two-year deal prior to the 2012 season, but struggled when put in the lineup following an injury to Conte. He finished the season on injured reserve with a chest injury and without Smith being around he may be looking for work this offseason.

Brandon Hardin: Keep
A third-round pick in the 2012 Draft, Hardin never got to play in a regular season game following a neck injury in the preseason that place him on the season ending injured reserve list. He has great size and speed and, although he has struggled with injuries in the past, he has great potential to push Conte in camp this summer for the starting free safety spot.

Anthony Walters: Keep
A former undrafted free agent, Walters got his opportunity to start at the end of the season in place of Conte, and performed well. Mostly a special teams contributor, he will have the opportunity in camp to fight for a number two job.

Troy Nolan: Cut
Signed for depth following the Conte injury, Nolan likely will not return in 2013.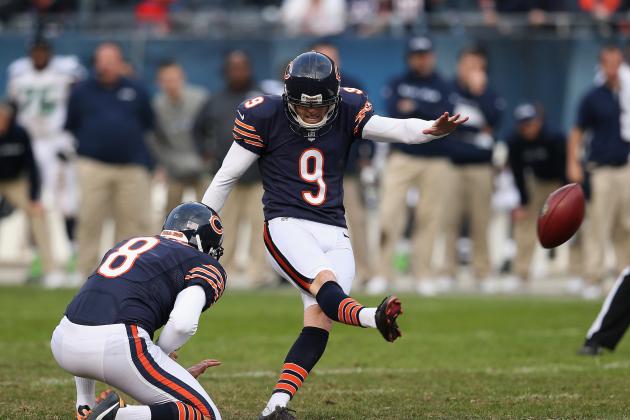 Jonathan Daniel/Getty Images
Robbie Gould (9) kicks a game tying field goal against the Seattle Seahawks
Robbie Gould (Kicker) - Keep
Replaced by veteran Olindo Mare after injuring his leg in during the pregame against the Vikings in December, Gould is expected to return as the team's kicker next season. Having made just over 85 percent of his kicks, he ranks sixth all-time in career field goal percentage.

Adam Podlesh (Punter) - Cut
Podlesh struggled at times earlier this season and the team even brought in punters midseason for workouts but they ultimately stuck with the veteran. He finished the year with a 42-yard average per punt but given his struggles earlier in the year the Bears could look to add a more proven punter to replace him.

Patrick Mannelly (Long Snapper) - Keep
The Bears record holder for most games played, Mannelly continued to be an unheralded contributor on special teams and the team rewarded him with a one-year extension on Christmas Eve.