The Real Winners and Losers from Invicta FC 4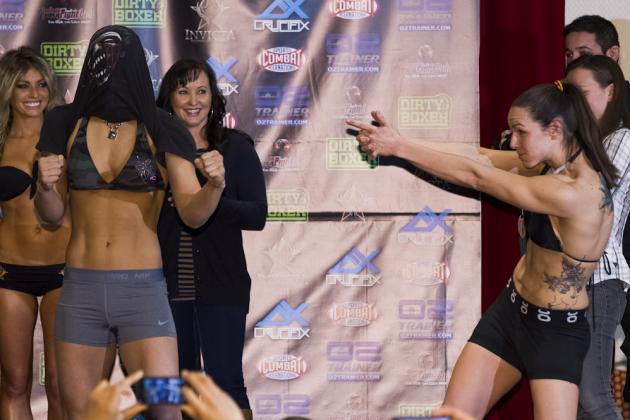 Photo Credit: Esther Lin/Invicta Fighting Championships
Invicta Fighting Championships made its first foray in to the world of pay-per-view, and it lasted just a couple of fights.
After numerous complaints via social media that fans were having trouble purchasing the event Invicta president Shannon Knapp removed the paywall and turned the event into another free showing.
In the night's main event, Carla Esparza became the first ever Invicta strawweight champion.
The co-main event was the true main event in terms of importance. Top-10 bantamweights Shayna Baszler and Alexis Davis went at it in a thrilling encounter. With the UFC bringing the division on board, this was a big fight at 135 pounds.
Here are the real winners and losers from the fourth Invicta broadcast.
Begin Slideshow

»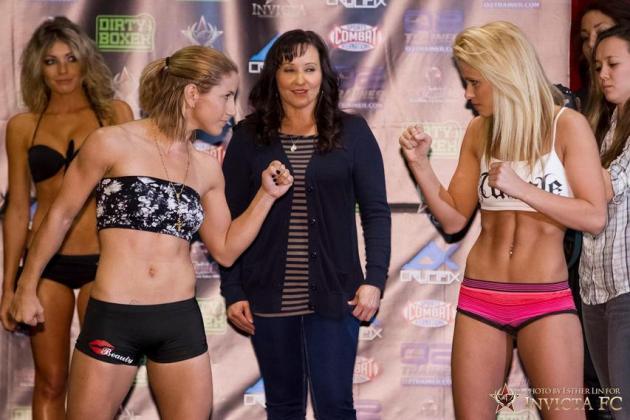 Photo Credit: Esther Lin / Invicta Fighting Championships
Tecia Torres made her pro debut at the previous Invicta event and put on a show. Fans took notice of the newcomer in the strawweight division.
At Invicta FC 4, she did it again.
Torres is quickly becoming one of the must-see fighters in the division, and she is just 2-0 in her pro career.
She comes forward with a variety of strikes and gets the crowd going. Torres is still a ways off from moving way up the ladder, but she is marking out a spot on all future Invicta cards. She is definitely a talent to watch as she continues to mature in the sport.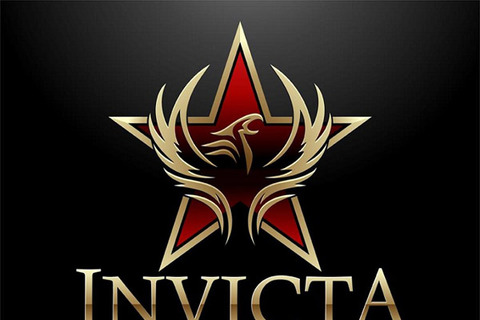 Photo Credit: Invicta Fighting Championships
It gave a valiant effort in trying to make the jump to an Internet pay-per-view, but it failed.
Once again it had issues with the stream, and it reflects poorly on Invicta FC no matter how good the intentions are. Or how much fault is actually its.
The product itself was as fun as always, but the jump to PPV did not go well. Everyone wanted to see if it would fail or succeed. The eyes of the MMA world were firmly on Invicta. It is a shame it couldn't have a resounding success to show everyone.
If you want to make the jump to a PPV, you need to make sure everything will go off without a hitch. It certainly was not the case for Invicta FC 4.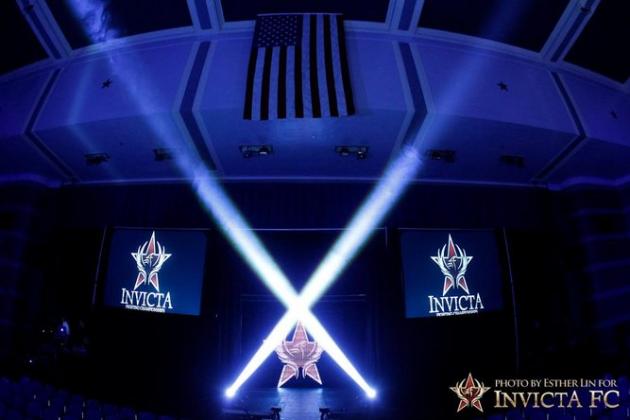 Photo Credit: Esther Lin / Invicta Fighting Championships
Even with the streaming troubles, the fans won at Invicta FC 4.
First, we got great fights.
Second, they were free.
Many of us purchased the stream to begin with, but when Shannon Knapp announced that the event would in fact be free that was an extra bonus. Thirteen fights for the price of none.
The naysayers of Invicta can keep on hating, but they continually deliver a solid product. If you are a fight fan, there is no reason to miss these events. Free fun fights are always welcome.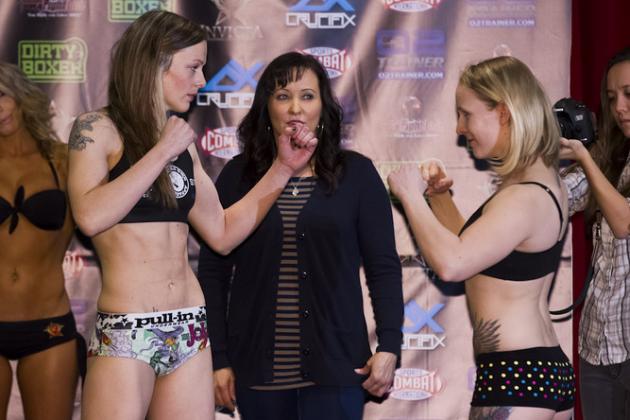 Photo Credit: Esther Lin / Invicta Fighting Championships
Joanne Calderwood entered as the potential next No. 1 contender for the Invicta FC Strawweight Championship, and her performance showed that she is ready.
Livia von Plettenberg is a loser not because she lost the fight, but because she took far too much damage.
The referee, the doctor and her corner should have intervened at some point. She was a punching bag for three rounds. It was a prolonged beating that took significant time off her fighting clock.
There is a significant problem in all of combat sports with allowed one-sided beatings to continue for far too long. There are numerous excuses used, but if anyone was interested in the health of the fighter they would have stopped this fight.
It is a shame. Von Plettenberg was outgunned. She quickly found herself in the deep end of the pool, and everyone just let her drown.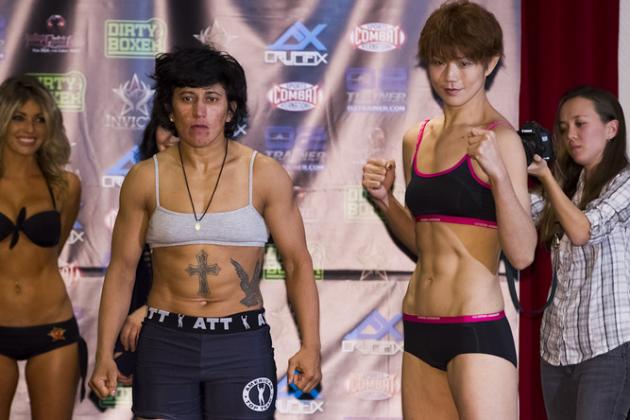 Photo Credit: Esther Lin / Invicta Fighting Championships
Hiroko Yamanaka was once considered one of the elite featherweights in the world. Then she came to Strikeforce.
Cyborg Santos destroyed her, but that was understandable. It was Cyborg after all. Then she was pitted against Germaine de Randamie. She was on the losing end of that bout as well.
Now she would get a chance to show her skills against Ediane Gomes.
She was exposed again.
Gomes showed that Yamanaka may be a talented fighter, but she is nowhere near the top of the division. She lacks too many skills. She had the opportunity to show that she deserved that ranking, but it was clear she could not do it.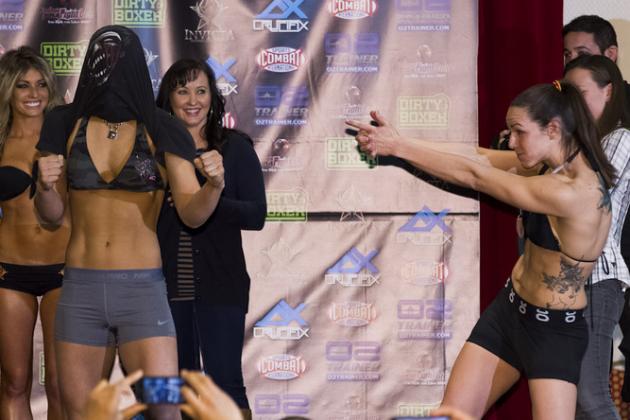 Photo Credit: Esther Lin / Invicta Fighting Championships
The fight lived up to the hype as Baszler and Davis had an incredible battle.
Davis would pull off the submission victory in the third and final round, but both women come out as winners.
As the UFC brings along the bantamweight division, it no doubt had its eye on this event, and this fight specifically. Davis was already under contract to Strikeforce and would likely join the UFC regardless, but the win moves her closer to a potential title shot in 2013.
Baszler, not under contract to the Zuffa, showed just how exciting she can be. This was her second fight-of-the-night performance against top-five talent in the division. The UFC loves exciting fighters and without question Baszler is one. She should get a call to the big show.
Look forward to seeing these two women under the bright lights of the Octagon in 2013.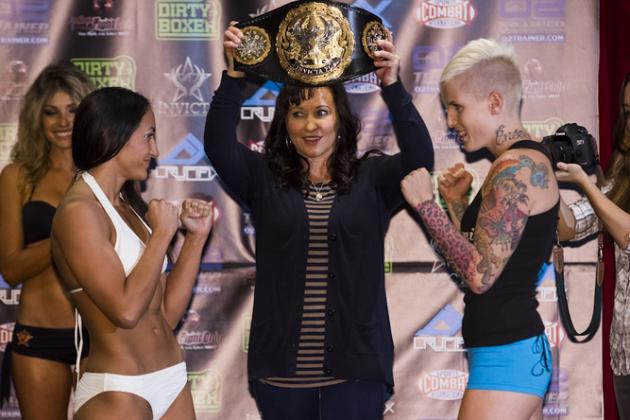 Photo Credit: Esther Lin / Invicta Fighting Championships
Esparza was the runaway favorite for this bout, but becoming the first-ever Invicta strawweight champion is still worthy of note.
The new champion is the class of Invicta's strawweight division, but two of the fighters ranked above her are not in the promotion. Megumi Fujii may be calling it a career, and Jessica Aguilar, the reigning no. 1 in the division, is in Bellator.
The original title fight featured No. 3-ranked Ayaka Hamasaki, but she had to be replaced. It is likely that is the next fight for Esparza if both women are healthy.
Bec Hyatt deserves credit for taking the fight on short notice and battling for five rounds, but she was no match for Esparza's wrestling.
Esparza took care of business and now wears gold around her waist.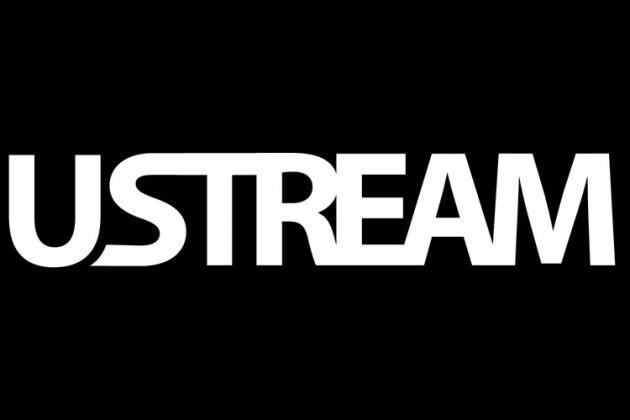 Invicta placed its trust in Ustream, and that proved to be a mistake.
The trouble started right from the beginning. As fans attempted to purchase the event they were met with hurdle after hurdle. In some cases, a simple change of browser fixed the issue, and in other cases, they were without an answer.
This problem left Invicta to pull the paywall, refund the money and make its fourth installment free for everyone.
And even after that fiasco, the stream often would buffer and falter. It will be interesting to see if Invicta goes back to Ustream for any future events.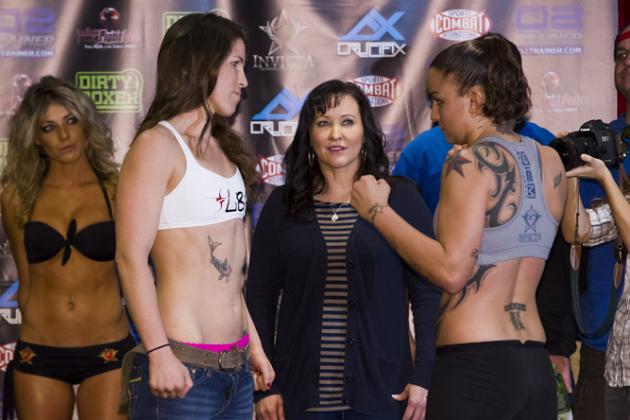 Photo Credit: Esther Lin / Invicta Fighting Championships
The president of Invicta FC knows how to do damage control.
With the complaining about the problems getting the fight to stream properly, she stepped up, ate the bullet and offered everyone refunds. For a small promotion, that is a big deal. She deserves recognition for her quick action.
Knapp could just have easily offered an apology and pocketed the revenue. Not many would have begrudged her for that decision. With just 2,500 paying customers that would have been a nice $20,000 in revenue.
Instead, Knapp offered the event for free to everyone and refunded the fans their money. That kind of goodwill will continue to earn her fan loyalty as Invicta keeps moving forward.