The Best Free Agent Fit at Every Position for the Detroit Lions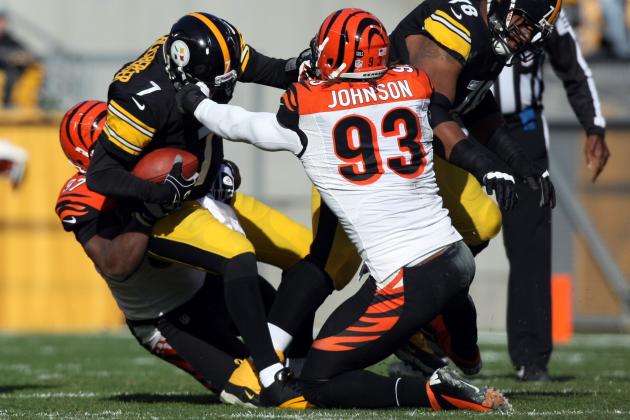 USA TODAY Sports
DE Michael Johnson should be one marquee free agent the Lions target.
After finishing 4-12, the Detroit Lions have a tumultuous offseason ahead of them. They have over 20 players who will be free agents, many of whom won't return.
The Lions have a good core of players, but they need to upgrade the talent surrounding them. If they fail to do so, they'll find themselves at home evaluating top draft prospects again this time next year.
That's why this is the most important off-season of the Martin Mayhew/Jim Schwartz era. If they want to build a consistent winner they need to improve their depth across the board.
The draft is obviously a big part of their plan but, given the number of players they could be losing, the Lions are going to have to be active in free agency as well.
I'm not talking about scraping the bottom of the barrel for throw-away players that no one else wants either. Mayhew tried it that way and look where it got him.
The Lions will need to take a look at some marquee FAs to replace some of their top players.
Here are the best free agent fits, per position, for the Lions:
Begin Slideshow

»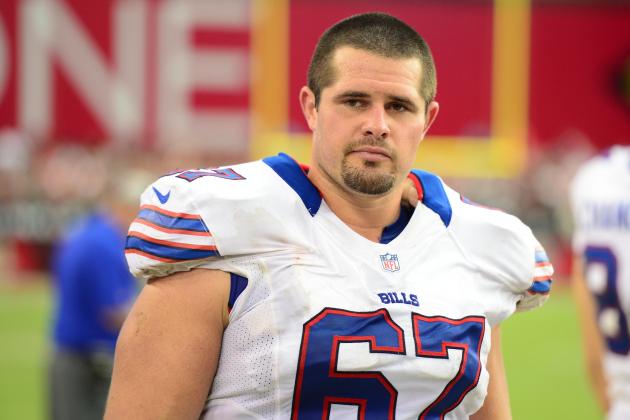 Mark J. Rebilas-USA TODAY Sports

I said it a month ago and I'll stick by it: If Levitre is available, the Lions should sign him. He might not be a household name, but he's still young and played in every game of his four-year career. Better yet, he's started each one too.
He's durable and a proven NFL starter and he'd be an upgrade on the right side of the line.
The Lions have Rob Sims under contract until 2015 and he's a solid player. Stephen Peterman has long been viewed as the Lions' weak link. He's not a FA until next year, but it's possible he could be cut.
The Bills have chosen not to offer Levitre a contract yet, opting to take care of his line-mate Kraig Urbik first. Is this a sign, or simply a team taking their time?
Only time will tell.
If the Bills opt to not re-sign Levitre, the Lions should jump at the chance.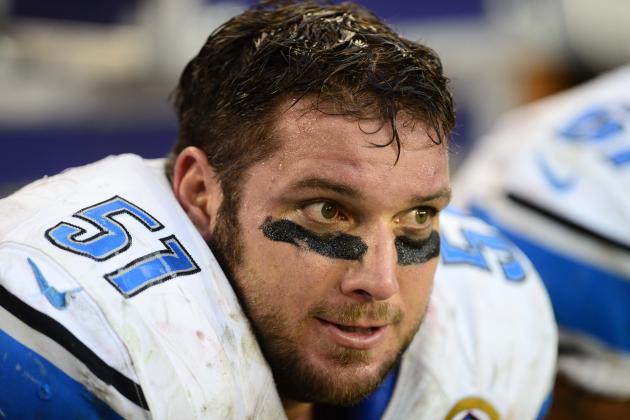 Mark J. Rebilas-USA TODAY Sports

There is no one available in free agency that would be a significant upgrade over Dominic Raiola. Not that the Lions need to upgrade the center position just yet.
Raiola is a fearless, albeit undersized, team leader who more than holds his own. He's getting up there in age though and only signed through next year.
The Lions snatched Bill Nagy away from the Dallas Cowboys last season. He's young and represents Raiola's future replacement.
For now, the Lions have their centers.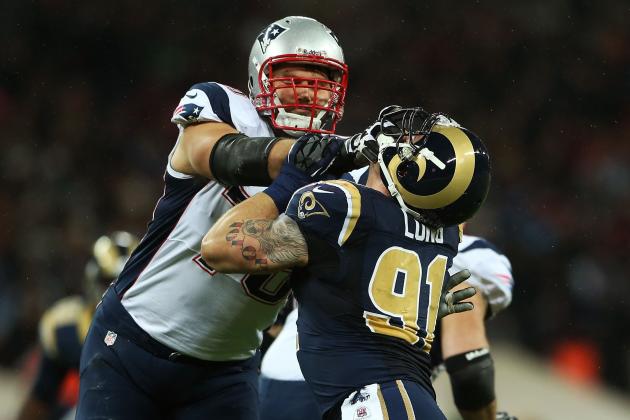 Scott Heavey/Getty Images
Vollmer manhandling the Rams' Chris Long
The Lions have a number of tackles on their roster yet the only one that is a lock to return is Riley Reiff. Jeff Backus is on retirement watch and all the others are free agents.
The Lions have their left tackle of the future in Reiff, so they won't be looking to sign a big-name player like the Miami Dolphins' Jake Long.
However, they could use an upgrade on the right side, especially if they don't plan on re-signing Gosder Cherilus.
Like Levitre, Sebastian Vollmer of the New England Patriots has started since his rookie year and he's proven to be a solid and consistent player when healthy. The issue is he missed 10 games in 2011 with a back injury.
He made a successful return to the starting lineup this year though, appearing in 15 games. He'd be a good signing for the Lions, who may have run out of patience with the oft-penalized Cherilus.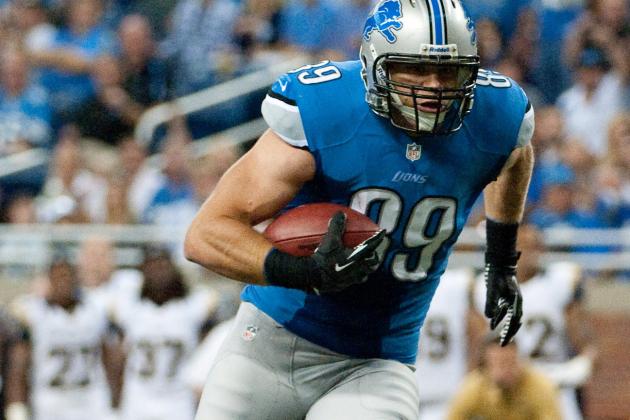 Tim Fuller-USA TODAY Sports

The Lions have two very good tight ends that get the bulk of the playing time in Brandon Pettigrew and Tony Scheffler.
They're both skilled offensively and are dangerous weapons in the Lions' passing attack.
Then you have Will Heller. He's the third TE on the roster and he does the dirty work. He's a great blocker and, although not as skilled offensively as the other two, he can occasionally be on the receiving end of a big pass play.
Heller knows the system, has an established role and does his job well with no questions.
He's a free agent and the Lions would be best served re-signing him.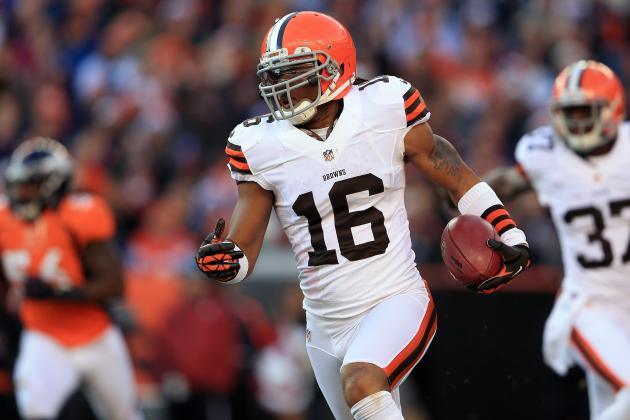 Doug Pensinger/Getty Images

As nice as it would be to see Mike Wallace, Greg Jennings or Dwayne Bowe lined up on the other side from Calvin Johnson, it won't happen.
The Lions have too much money tied up in Johnson, Matthew Stafford and Ndamukong Suh. They don't have the cap space to sign any other players of that caliber.
Titus Young and Nate Burleson might be sticking around longer than originally thought, a clear sign that the Lions won't target any big-name players.
They should be able to afford a player like Cribbs, who has flown under the radar in Cleveland despite being the Browns most versatile player.
That's what makes him a great fit in Detroit.
Lions' offensive coordinator Scott Linehan could get creative and run him from anywhere on the field, as we've seen him do with other receivers.
He would also be a big upgrade in the return game. Cleveland was ranked eighth and third in kickoff and punt returns respectively. Cribbs was the main reason for that and would be an immediate upgrade from Stefan Logan.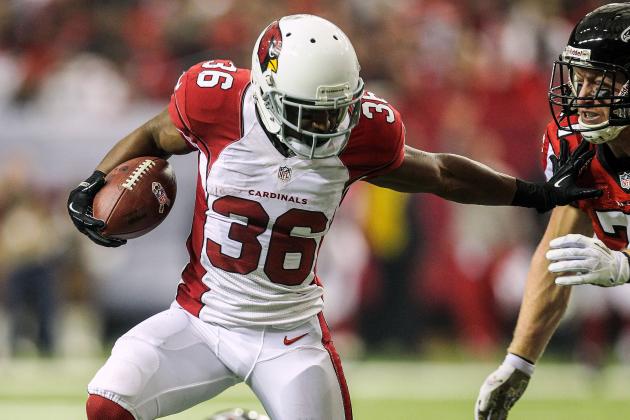 Daniel Shirey-USA TODAY Sports

The Lions will enter 2013 with Mikel Leshoure and Joique Bell atop their running back depth chart. So if they're going to be in the market for a running back it would be for depth only.
Kevin Smith has been that guy for the past two seasons and his price tag is nice. However he's another year older and he didn't impress in the limited opportunity he was given last season.
Bell and Smith are very similar players and the Lions don't need both of them. Bell will be the one they keep.
What they do need is someone who can take over Jahvid Best's role as a speedy change-of-pace back.
LaRod Stephens-Howling could be that guy. As Rotoworld suggested here, he was given ample opportunity to prove himself a starter with Arizona in 2012 but failed. His slight frame, 5'7" 185 lbs, makes him ill-suited to the role.
He's proven to be an effective change of pace back and return specialist though.
He doesn't have the break-away speed that Best provided, but he is very quick, shifty and can make defenders miss in space. He's also a good, productive receiver.
The Lions' offense hasn't been the same without Best and Stephens-Howling might be the closest thing to him on the market.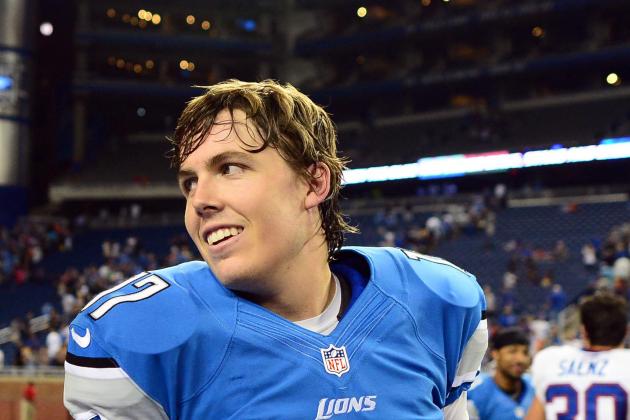 Andrew Weber-USA TODAY Sports

The Lions won't be in the market for a free agent quarterback. They'll be too busy trying to re-sign Matthew Stafford to a long-term contract.
In doing so they'll avoid having to pay him the $21 million he's due next season and free up some cap space to sign other free agents.
Stafford's back up, Shaun Hill, is signed through next year and he's one of the best in the business. The Lions are also happy with the development of third stringer Kellen Moore, according to Tim Twentyman of detroitlions.com.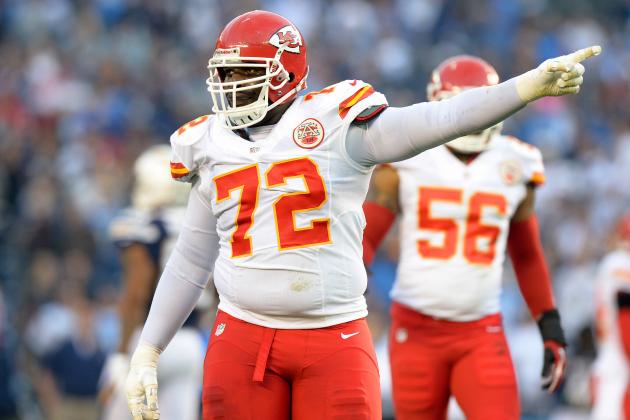 Jake Roth-USA TODAY Sports

The Lions have one of the best DT duos in the NFL with Ndamukong Suh and Nick Fairley.
Fairley emerged this season, in part due to Corey Williams' knee injury, solidifying his role as a starter.
Williams is a free agent, but was playing at a very high level prior to his injury.
He's also a leader in the locker room too and the Lions need as many of those guys as they can get.
If his price is right and he's willing to accept less playing time the Lions coaching staff would love to have him back.
If not than perhaps Glenn Dorsey would be a worth a look. Some might label the 2008 first-rounder a bust, but the fact is he's been a mainstay on the Chief's defensive line since his rookie year.
Like Williams, his strength is versus the run rather than rushing the passer. He doesn't specialize in the area that get the headlines or win awards i.e. racking up sacks.
Dorsey will be available as the Chiefs are poised to make even more changes than Detroit after their dismal season. He could provide the solid depth that they need.
In Detroit he'd start with a clean slate and that could be good for him. He wouldn't have the first-round expectations weighing him down.
It worked wonders for another first-round "bust" that the Lions took a chance on, in Lawrence Jackson. The defensive end has emerged as a key reserve and resurrected his career with the Lions. Dorsey may be able to do the same.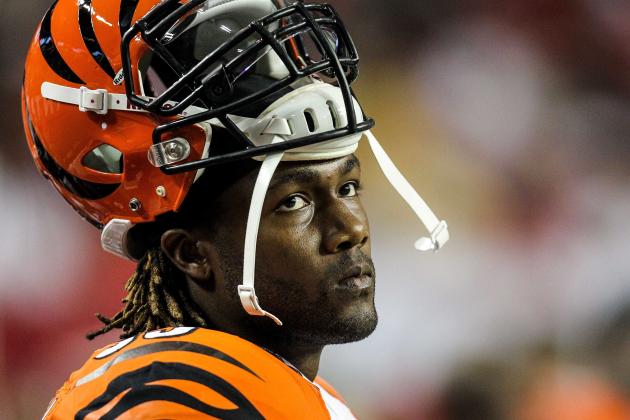 Daniel Shirey-USA TODAY Sports
Johnson is waiting for his payday.
I sung the praises of Michael Johnson about a month ago and I'll do it again.
Yes, he will command top dollar on the free agent market, but if the Lions aren't making Cliff Avril a priority to resign then they'll have some cap space to work with.
They need to replace him with another top-notch pass rusher.
According to Rotoworld.com, the Bengals have tabbed Johnson as the early favorite to earn their franchise tag in 2013.
That number would be $10.8 million according to nationalfootballpost.com.
That's high but, if he signed with another team, his annual salary wouldn't be that high. He'd get more money with a long-term deal over time. Thus, the Lions might be able to manage the cap hit.
Without Avril, the Lions starting defensive ends might be Kyle Vanden Bosch and Willie Young. Now that's scary (for the Lions anyway) and it's more than enough to make the Lions enter the Johnson sweepstakes.
Given that their defensive scheme is predicated on pressuring the quarterback, it makes sense that they have talent on the edge as well as the middle.
Johnson is certainly just that.
In fact, he's equally talented in the pass rush, 11.5 sacks last season, as he is against the run. Plus he's only 25 years old. He's coming off his best season and he hasn't reached his prime yet.
Someone is going to sign this future Pro Bowler. Why not the Lions?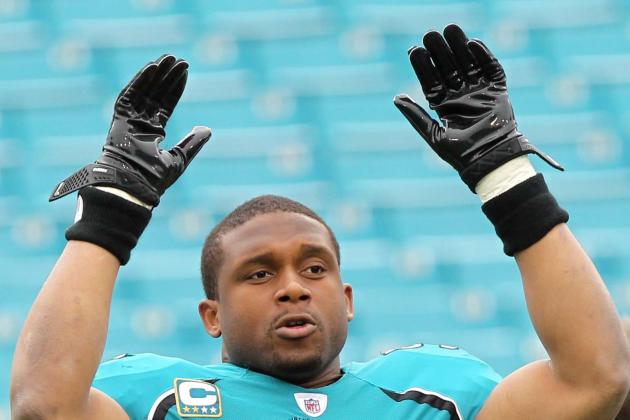 Kim Klement-USA TODAY Sports

According to Chris McCosky of the Detroit News, the Lions won't be able to retain both linebackers DeAndre Levy and Justin Durant.
They'd love to, of course, but Durant is coming off a career year and he'll likely get a bigger offer from another team.
Levy is the one the Lions will keep. They drafted him and he's been a productive player that has improved each year. He was limited by injury in 2012 but had been playing at a very high level early in the season.
The Lions signed Durant two years ago from the Jacksonville Jaguars and it could be another Jaguar they target to replace him. Thirty-year old veteran Daryl Smith has proven to be a consistently productive outside linebacker in a 4-3 defensive scheme for many years.
He missed nearly the entire 2012 season with a groin injury but returned to play in the final two games of the season.
According to ESPN, he's a great tackler, has excellent speed off the edge and gets good depth in pass coverage. He's also proven to be able to stick with those pesky tight ends, both underneath and downfield.
He's older than Durant but had a more impressive career thus far. He'd be be a more-than-capable replacement for the next two or three years.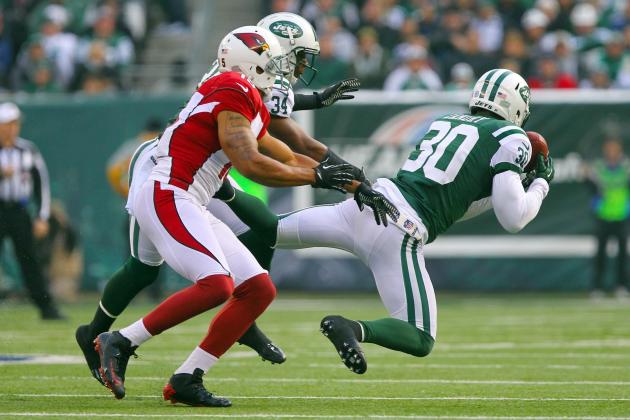 Ed Mulholland-USA TODAY Sports
Landry making one of his two interceptions last season.
The Lions will retain Louis Delmas but they will need to replace already departed Erik Coleman and frequently concussed Amari Spievey.
Given his injury history, they might need to replace Delmas at some point next season too.
In other words, the Lions are a mess at the safety position. Their most reliable player is Ricardo Silva who entered the starting lineup mid-season from the practice squad.
Obviously they need consistency, but they need a proven performer too. They'll target a safety or two in the draft but Martin Mayhew would be wise to target a free agent as well.
LaRon Landry is the type of hard-hitting veteran the Lions need.
After coming back from an Achilles injury he signed a one-year deal with the New York Jets last year to prove he was healthy. He played 96 percent of the defensive snaps and was arguably their best player.
According to the New York Daily News, Landry won't be giving the Jets a "hometown discount" and they don't have the means to keep him. He'll test the market and make the best business decision for himself.
He's an intimidating presence and if he was paired with a healthy Delmas the Lions would have one of the most feared safety tandems in the NFL.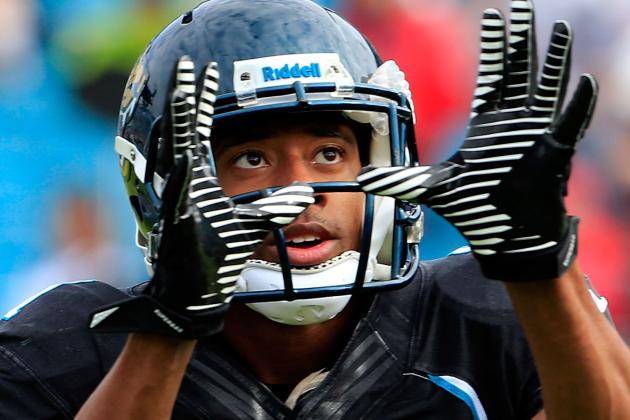 Sam Greenwood/Getty Images

The cornerback position has been the weak link of the Lions' defense for years.
Despite their respectable 14th ranking in terms of opponents passing yardage per game, the Lions can't expect to reach their ultimate goals with another makeshift secondary.
They have to get legitimate talent on the outside to pair with Chris Houston, assuming they re-sign him. If they don't they'll really be in trouble.
It will also help to get Dwight Bentley back, but 2013 will essentially be his rookie year. He only played in four games before a shoulder injury ended his season.
Health will go a long way to improve this bunch, but so will an infusion of talent. That can be achieved via the draft, but the Lions need help now and there's no guarantee a rookie will pay dividends immediately.
They would benefit from targeting another Jaguar in Derek Cox. He's flashed Pro-Bowl ability, but hasn't proven he can stay health for a full year. He missed 10 games in 2011 and four games this season.
The Lions need another injury prone defensive back like they need Matt Millen to return as their head talent scout.
While Cox has drawbacks, the risk is worth it. He's only 26 years old and has put up very good numbers in limited time—four interceptions in three out of four years. His injury history might even make him more affordable.