Cotton Bowl 2013: Live Score, Analysis and Results for Texas A&M vs. Oklahoma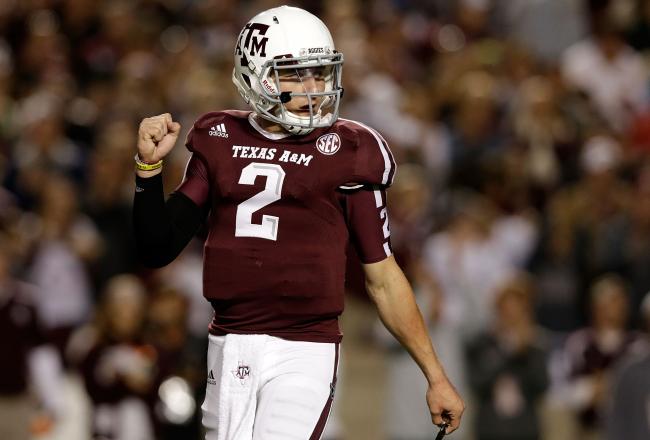 Heisman Trophy winner Johnny Manziel will look to lead the Texas A&M Aggies past the Oklahoma Sooners in the 2013 Cotton Bowl.
Scott Halleran/Getty Images
Final Score - Texas A&M 41, Oklahoma 13
Nobody had to wait very long to find out if Heisman Trophy winning quarterback Johnny Manziel could shake off the rust from the post-award circuit, and the No. 9 Texas A&M Aggies used a big third quarter to pull away from the No. 11 Oklahoma Sooners in the 2013 Cotton Bowl Classic at Cowboys Stadium.
Manziel racked up 516 total yards and four touchdowns in the rout of the Sooners. The redshirt freshman signal-caller also set an FBS bowl record with 229 rushing yards on 17 carries.
The Sooners kept things close in the first half, but only came away with one touchdown and two field goals on three trips inside the 10-yard line.
Oklahoma's defense simply had no answer for Manziel, or anything resembling a pass rush against Texas A&M's talented offensive line.
Senior quarterback Landry Jones threw for 278 yards, one touchdown and one interception in the final game of his college career.
The Aggies improved to 5-8 all time in the Cotton Bowl and notched their first victory in the postseason contest for the first time since 1988. The win also snapped a six-game losing streak in the Cotton Bowl.
First-year head coach Kevin Sumlin helped lead the Aggies to an 11-2 record, while head coach Bob Stoops and the Sooners fell to 10-3 on the year.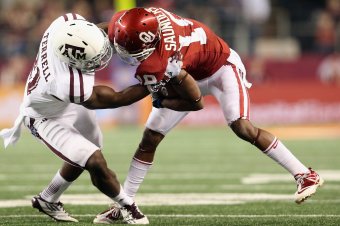 Ronald Martinez/Getty Images
Once again the Oklahoma Sooners were embarrassed in a major bowl game with a national audience watching.
The Sooners actually had some momentum going into the locker room at halftime after squandering a few opportunities inside of the Texas A&M 10-yard line, but Oklahoma never established a rushing attack in the second half to keep the clock moving and senior quarterback Landry Jones struggled with his accuracy as the game went on.
Back-to-back three and outs to open the third quarter dug too deep of a hole for the Sooners to climb out of and Oklahoma's season ends in disappointment after a solid regular season.
Next year does not look as good for the Sooners as it does for the Aggies. Jones will be gone, which means Oklahoma will have its first legitimate quarterback battle since Sam Bradford took over in 2007.
The Sooners will also be without two of its top receivers if Kenny Stills elects to turn pro, and Oklahoma does not look good enough up front to rely on a ground game if the passing attack struggles under a new quarterback.
Oklahoma will have a lot of questions to answer in 2013.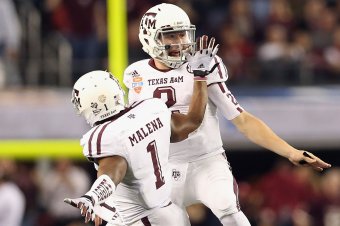 Ronald Martinez/Getty Images
Any questions about whether or not Johnny Manziel would be focused and ready to play the Cotton Bowl after a wild post-award media circuit were put to rest on Texas A&M's opening possession. Manziel got out of trouble in the pocket, outran Oklahoma defenders every time he got to the corner and threw the ball with tremendous accuracy.
A big part of why Manziel was so successful was because of how well the Aggies' offensive line blocked for the redshirt freshman quarterback. Oklahoma hardly got any pressure on Manziel, who settled in and got comfortable in the pocket for nearly the entire game.
Kevin Sumlin has the top player in college football returning for another year with the Aggies in 2013, and expectations will be much higher after an 11-win campaign.
The Aggies will have a major question mark along their offensive line, though, heading into next season. Three Texas A&M linemen are expected to depart, which could have an adverse effect on Manziel and the Aggies' SEC title hopes.
There is no question the Aggies deserve to finish near the top five of the final polls and should be ranked near the top 10 to start 2013.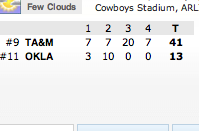 Final box score per ESPN.com.
Final stats per ESPN.com.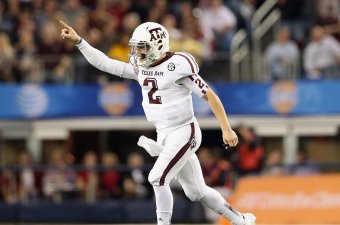 Ronald Martinez/Getty Images
Oklahoma keeps the ball on the ground and brings this second half drubbing to an end.
End of Game.
Yet another record for Johnny Manziel:
Manziel now at 229 rushing yards, most ever by a QB in an FBS bowl. Sick.

— Jon Solomon (@jonsol) January 5, 2013
The Sooners have the ball back and will attempt to make the score a little more respectable.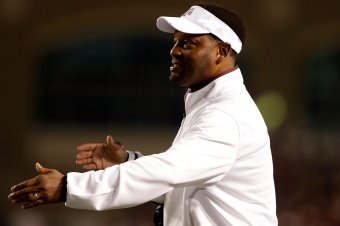 Scott Halleran/Getty Images
The Aggies are just bleeding the clock out with running plays now.
Sumlin already had the school record for most wins by a first-year coach before tonight, but now he will set that mark even higher with win No. 11.
This will also be Texas A&M's first Cotton Bowl victory since 1988 when it defeated Notre Dame 35-10.
Could be a down year for the Sooners in 2013:
OU has had seven seasons of Sam Bradford and Landry Jones. First QB competition since 2007 coming. Have fans been spoiled? We'll find out.

— Dane Beavers (@DaneBeavers) January 5, 2013
Well, Manziel has over 200 yards rushing after that 31-yard run. Now he just needs 13 more yards through the air to become the second 300/200 performer.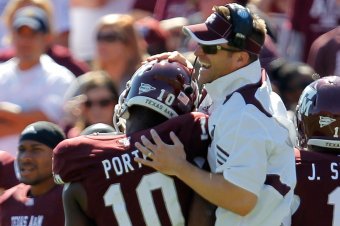 Sarah Glenn/Getty Images
Sean Porter comes on a blitz and beats the left guard to sack Jones and force another Oklahoma punt.
Will we see Johnny Football one more time?
Things continue to spiral out of control for Oklahoma. Penalties essentially negated the only first down the Sooners picked up on this drive and third down and 13 is coming up.
This is one of the greatest individual bowl performances I've ever seen. Johnny Football is living up to his nickname and his Heisman.

— Skip Bayless (@RealSkipBayless) January 5, 2013
Timeout Oklahoma.
Only 1 FBS player has passed for 300 yds/rushed for 200 yds in a game (Marques Tuiasosopo of Washington, 1999). Johnny Manziel has 287/198

— Texas A&M Football (@AggieFootball) January 5, 2013
Jones gets the Sooners away from their own goal line with a nice pass to Saunders in the open field. Jones takes a shot to Stills on the next play and Oklahoma is flagged for offensive pass interference.
Looked like it should have been offsetting penalties there.
Don't think we will see Manziel out there again, though:
Heisman winner Johnny Manziel has 287 passing, 198 rushing. Could be A&M's first 300/200 player.

— Texas A&M Football (@AggieFootball) January 5, 2013
It is hard to believe how quickly this one got away from Oklahoma. The Sooners were only down a point at halftime, but back-to-back three and outs followed by two scoring drives by the Aggies completely took Oklahoma out of the game.
The Sooners got hit in the mouth and never got back up.
More records for Texas A&M:
Aggies have now gained 599 yards, breaking USC's #attcbc record of 578 from 1995 game vs. Texas Tech.

— Texas A&M Football (@AggieFootball) January 5, 2013
Johnny Manziel is just killing Oklahoma. Looks like the Heisman voters got it right this time!

— Tony Dungy (@TonyDungy) January 5, 2013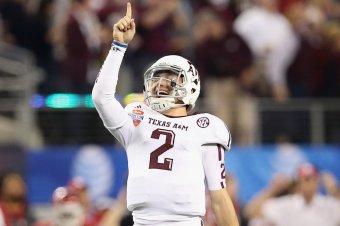 Ronald Martinez/Getty Images
Touchdown Texas A&M! Texas A&M 41, Oklahoma 13 - 9:03 4th Quarter
Manziel hits Nwachukwu in stride down the sidelines for a 34-yard touchdown pass. The Aggies are really opening it up on the Sooners, but that possession might be the last time we see Manziel this season.
No point in risking his health in a complete blowout.
The Aggies are on the move once again behind the legs of Manziel. Malena rips off a six-yard gain on second down and Texas A&M is already at the Oklahoma 35-yard line.
The Aggies are going to have a major rebuilding project along the offensive line unless a couple of their draft eligible juniors come back:
Great performance by Texas A&M tonight. With Manziel, if they can replace the O-Line, the Aggies might be preseason favorite in the SEC.

— Matt Jones (@NWAMatt) January 5, 2013
Ronald Martinez/Getty Images
Jones and the Sooners' passing attack stalls once again and the protection up front is starting to break down. Mathis swats a Jones pass on third down and a blitz forces a low pass on fourth down. Turnover OU.
Texas A&M takes over with 12:03 remaining.
Some food for thought:
Had it not been for two missed FGs against LSU, Texas A&M would have won the SEC West this season.

— Barrett Sallee (@BarrettSallee) January 5, 2013
If Oklahoma does not score here the trophy engraver can get to work and put Texas A&M on the Cotton Bowl championship trophy.
This article is
What is the duplicate article?
Why is this article offensive?
Where is this article plagiarized from?
Why is this article poorly edited?

Texas A&M Football: Like this team?