Oregon Football: Where Ducks Should Turn If Chip Kelly Leaves for an NFL Job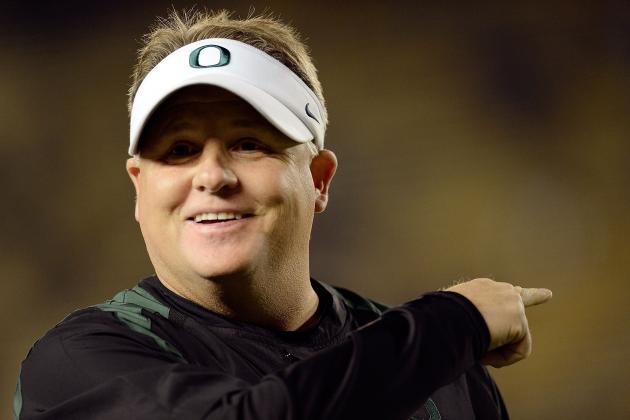 Thearon W. Henderson/Getty Images

Maybe you haven't heard, but Oregon head coach Chip Kelly could soon take his talents to the NFL.
After the Fiesta Bowl victory over Kansas State, Kelly is expected to interview with many teams at the next level in the coming weeks and could very well end up leaving Eugene for good. It is soon to be a sad day for college football—and Ducks fans, especially.
So where does Oregon turn from here if Kelly decides to skip town?
Reports indicate (h/t USA Today) that current offensive coordinator Mark Helfrich would become the head coach. However, none of that has been confirmed by the school. And even if this was the case, making a decision this big certainly can't be that easy. Not doing your proper research and at least looking into other possible candidates would be senseless.
Naming a new head coach will either make or break your program, and it is important to at least look into other possibilities.
So who would the best hire if Kelly does in fact move onto the NFL?
Let's take a look at the top five options for the Ducks if a coaching search needs to take place.
Begin Slideshow

»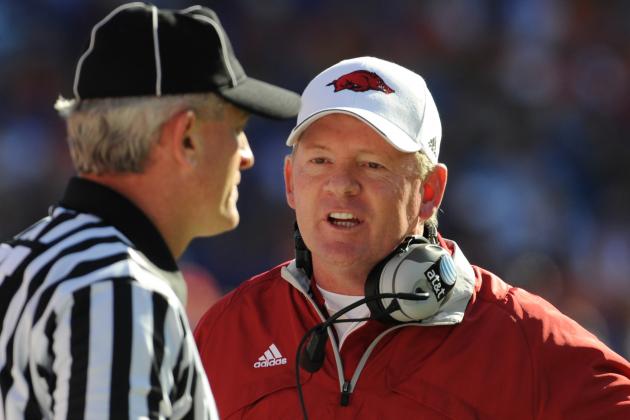 Al Messerschmidt/Getty Images

If you want the ultimate shot in the dark, it would be hiring Bobby Petrino as the head coach. The odds of this happening are probably as great as they were when the world was supposed to come to an end this past December. However, I'm not sure if many Oregon fans would be jumping out of the window if this hire was to take place.
Petrino in no way is a saint, and he has more baggage than my girlfriend who packs for a weekend vacation. And while that isn't necessarily a good thing, none of these issues on and off the field have involved the NCAA needing to get involved.
The former Arkansas Razorbacks head coach is by far the biggest name out there. Sure, he recently took the coaching job at Western Kentucky, but he would likely have no problem leaving if Oregon decided to give him a call. This is a job that wasn't going to last long anyway.
Petrino is somebody who can continue the offensive fireworks, but due his ties in the SEC and his NFL experience, he could also help bulk up the defensive side of the ball. This is a coach that will soon be on the sidelines of another big program and Oregon may have the first opportunity.
If the Ducks are feeling a little desperate, but want to make a splash, this would be the correct hire.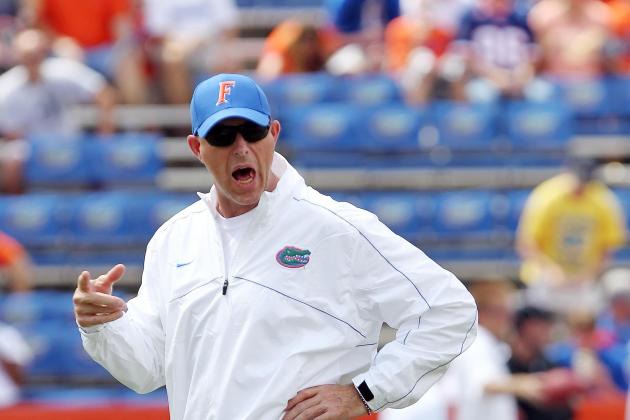 Kim Klement-USA TODAY Sports

Brent Pease has never had the opportunity to become a head coach, and at 48 years old, it is about time that he is given that chance. Pease has been one of the better offensive coordinators in the country for many years, helping to lead teams such as Boise State and now Florida toward successful seasons.
His current Florida offense may not have lit up the scoreboard this season, but running back Mike Gillislee was the third best running back in the SEC. He was also coaching an offense that was really limited at the skill positions, which shouldn't be an issue if he was to take over the duties at Oregon.
Pease still has a couple of years left on his contract, but at less than $500,000 a year, I'm sure he would listen to a head coaching offer from Oregon.
The current Florida Gators offensive coordinator is actually from out West, being born in Idaho and going to college in Montana. This is a hire that may fly under the radar, but could be worth the Ducks while, as he would help keep the offensive excitement in Eugene and give them a young coach to build around.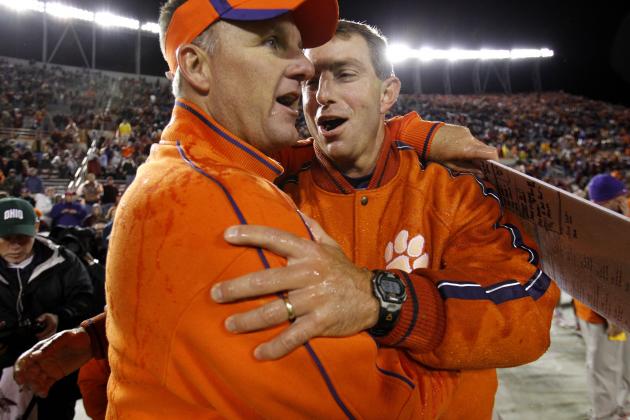 USA TODAY Sports

Chad Morris had recently signed a long-term deal to be the offensive coordinator at Clemson for quite some time. At the same time, he did interview for the Texas Tech job last month, which does mean that he is open to the idea of becoming a collegiate head coach.
If he is still interested in landing a head coaching gig, Oregon would be foolish not to show interest.
Much like Chip Kelly, Morris runs a quick tempo offensive system. He had great success at Tulsa for a year, which helped him move onto Clemson. Ever since he took over the Tigers, they have had one of the more explosive offenses in the country—including a squad that was ranked eighth in college football this season with 512 total yards a game.
Due to his explosive system, it has helped skyrocket the recruiting scene for Clemson and top-tier talents are now interested in attending the ACC school.
Morris is a Southern guy, as he was born and coached high school football in Texas for many years. However, like all of the other coaches on this list, he would be likely to seriously consider taking a trip out West to be the head coach at Oregon.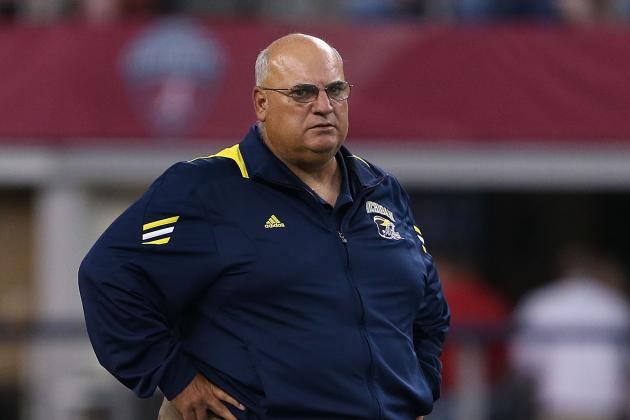 Leon Halip/Getty Images

Al Borges can't be an offensive coordinator forever, can he? Eventually you would think he would want to test the waters as a head coach.
What better way to do that than to become the guy running the Oregon Ducks?
Borges has held numerous offensive coordinator jobs over his career. Usually, he has taken over offenses that were absolutely brutal before he arrived and found a way to make something out of nothing. Checkout what he told Adam Rittenberg of ESPN back in 2011, when he first became the guy running the Michigan offense:
"What I've done in the past," Borges said, "is I've changed jobs and pretty much just blew up everything that they did before, started over again, put in the offense and away we go."
This would be his first job where he doesn't really have to change much. And the reason Oregon should be interested is because Borges already has experience with Oregon. He was the offensive coordinator for the Ducks back in 1995, and his offense led the Pac-10 in passing yards that year.
Borges is also from the California area and has held jobs at other Pac-12 schools such as UCLA and California. When making coaching changes, schools like to try and go with familiarity, and Borges provides that in a way.
If Oregon wants to replace one offensive genius with another, this may be the right guy.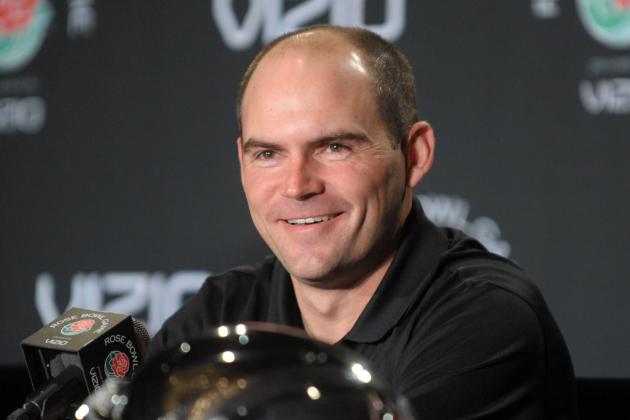 Kirby Lee-USA TODAY Sports

The guy who has already been pegged as the future head coach of this program is by far the best hire available for the Ducks. Unless Urban Meyer or Nick Saban decides they aren't happy at their current programs, making Mark Helfrich the man in charge is the best option.
For one, Helfrich is an Oregon guy. He was born in Oregon, went to school at Southern Oregon, was a graduate assistant with the Ducks back in 1997 and has been the offensive coordinator under Chip Kelly since 2009. Although it is Kelly that calls the plays, Helfrich are his eyes from above, telling the head coach what the defense is doing, what formation they are in and helping out in any way possible.
He has basically been Kelly's right-hand man ever since he stepped on campus and that has to go a long way when it comes to the coaching hire. Having somebody who is familiar with the program and how things are done makes you impossible to ignore when picking a reliable candidate. Not to mention his ties to Oregon makes him leaving a highly unlikely possibility in the near future.
Also, according to a Dennis Dodd report from CBS Sports, Helfrich is really well-rounded and somebody who can communicate on many different levels.
"He's got a ton of humility," said a coach who worked on the same staff as Helfrich. "He's a guy you could sit down with and talk about history, geography. He's at home in a lot of settings -- academically, socially and culturally. He speaks German; a pre-med major in college. He sort of worked his way up. I think he's got the full package."
What else is there to say?
Just give the guy the job already. That is, if Kelly decides to leave, of course.