Minnesota Vikings: Analyzing the Defense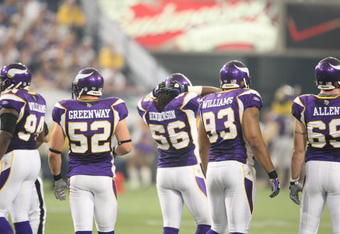 (Photo by David Sherman/Getty Images)
The Strength of the Minnesota Vikings Team is their Defense. Lets take a position by position analysis of this unit.
Defensive Tackle - This is where the defense starts, and Leslie Frazier's scheme is built around these Kevin William and Pat Williams. When they are both in the game at the same time, the defense clicks. However the depth at the position leaves a lot to be asked for. Fred Evans and Letroy Guion are decent enough back ups but we need to find a replacement for Jimmy Kennedy. They also experienced very good results using Robison here on third down by having the four best pass rushers on the field at the same time.
Defensive End - This is probably our deepest position on the team. Everyone knows Jared Allen, but Ray Edwards and Brian Robison are very good players too. Hopefully we will be getting Kenechi Udeze back as well. If everyone can stay healthy, the Vikings will be able to battle the Giants for the best defensive line in football.
Linebackers - Chad Greenway is becoming a star and should be a cornerstone of the defense for years to come. Ben Leber is a very solid player who rarely makes mistakes. However, neither of these guys compare to the way EJ Henderson was playing last year before he got hurt. Just getting him back and having him for a whole season should take the defense to the next level.
Cornerbacks - Our defense consistently ranks toward the bottom of the league in passing. This is more due to the system than the players. The system is designed to take away the deep passes, and allow the d-line and linebackers to create havoc near the line of scrimmage. The scheme will allow short passes all day long. Cedric Griffin and Antoine Winfield are perfect for this scheme because they are two of the best tackling corners in the game. Charles Gordon was playing phenomenal until he got hurt, hopefully we will get him back. Benny Sapp and Karl Paymah are better than average and will compete with Gordon for the nickel and dime roles and depth.
Safety - Our defense was hitting on all cylinders once Madeui Williams recovered and returned to the lineup. He is a great pickup if he can stay healthy. Darren Sharper is gone, but he was not really a fit for the system and I believe it will be addition by subtraction. That role is to be the last line of defense and to protect against the big play. Tyrell Johnson is faster and a surer tackler than Sharper and should be a good fit for that position in our defense. Depth is a question at safety with Husain Abdullah, the top backup at both positions, and Michael Boulware returning from injury, being unsure if he will even make the squad. I expect a mid round draft pick, third or fifth, to be spent on this position for depth.
Last year, injuries plagued the vikings defense. Madeiu Williams missed the first half of the season. EJ Henderson missed the last 3/4 of the season. Jared Allen was plagued by minor injuries all season long. Pat Williams missed the last two most critical games. Charles Gordon had a horrendous injury. Heath Farwell was lost, not to mention Kenechi Udeze battling cancer, and Darrion Scott making poor life choices.
Once this unit gets back to full strength and can stay that way, it will be one of the most dominant defenses in recent history. We have more talent across the board than the Giants, Ravens, and Steelers, if only we can stay relatively healthy for the season. Go Vikes!
This article is
What is the duplicate article?
Why is this article offensive?
Where is this article plagiarized from?
Why is this article poorly edited?

Minnesota Vikings: Like this team?