Louisville vs. Florida: Postgame Grades for the Cardinals' Sugar Bowl Win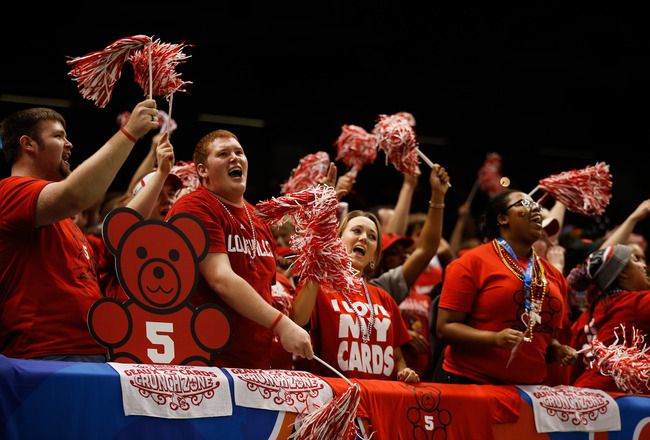 Chris Graythen/Getty Images
Louisville has registered one of the biggest upsets history, as the two-touchdown underdog Cardinals upset No. 3 Florida, 33-23 in the Allstate Sugar Bowl.
The Cardinals capitalized on a plethora of mistakes by Florida, who were extremely sloppy after a 39-day layoff since its regular season finales.
We've graded each unit on their performance in what might have been the biggest win in Louisville football history. Let's just say we didn't have to go very deep in the alphabet for most of the grades.
Quarterback: A-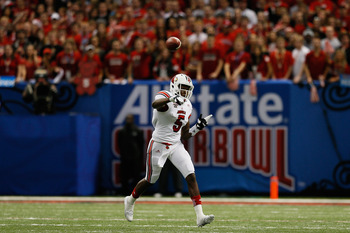 Kevin C. Cox/Getty Images
That's why Teddy Bridgewater was such a highly-touted recruit in the 2011 class. The sophomore completed 20 of 32 passes for 266 yards and a pair of touchdowns, with his lone interception coming on a tipped pass.
Florida had no answer for Bridgewater, particularly on third down, where the Cardinals converted nine of 14 chances. This performance will fuel the preseason Heisman Trophy hype for Bridgewater heading into 2013.
Running Backs: B-
Chris Graythen/Getty Images
The numbers weren't pretty, with just 70 total yards on the ground, but Jeremy Wright did enough, especially in the second half, to allow Louisville to hang on to its lead.
Wright had almost all of his 84 yards in the second half, but his lone touchdown came in the first quarter on a one-yard run. 25 carries against an SEC defense normally wears down a running back, but Wright seemed to get stronger as the game progressed.
Receivers: A-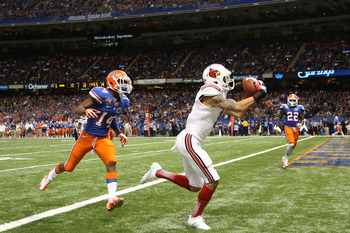 Matthew Stockman/Getty Images
The nation's top-ranked team in pass efficiency defense was shredded by Bridgewater and an underrated set of receivers.
Eli Rogers and Andrell Smith each caught four passes, with Damian Copeland and DaVante Parker each adding touchdown receptions. Parker's touchdown catch was a thing of beauty, as he was interfered with on the play but still made a difficult catch along the sideline.
The best news for the Cardinals may be that of those four, only Smith will not be back next year. Rogers and Parker could be one of the most dangerous receiving duos in the country in 2013.
Offensive Line: B+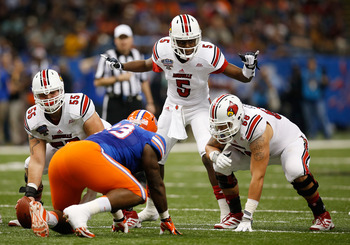 Chris Graythen/Getty Images
There were some sacks and some penalties, but the Cardinals offensive line kept an elite defensive front at bay for most of the evening. Center Mario Benavides has been the heart and soul of the unit all year, and the senior led a line that wore down the Gators' front four.
Generally, its not SEC teams, but their opponents, whose offensive lines grow weary late in the game. The opposite was true on Wednesday night, as Charlie Strong showed he has built an SEC-like team in just three years at Louisville.
Defensive Line: A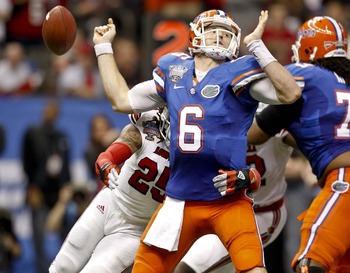 USA Today Sports
It was Strong's defensive line while he was defensive coordinator at Florida in 2006 that began the SEC's recent dominance of college football when the Gators embarrassed Ohio State in the BCS Championship Game.
Things came full circle on Wednesday night, as Louisville's defensive front was the dominant force against the Gators.
Lorenzo Mauldin led the way with a sack and a fumble recovery, while Marcus Smith also added a pair of sacks.
Linebackers: B+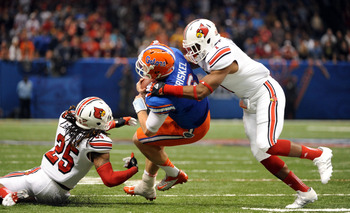 USA TODAY Sports
There isn't a lot of star power in the Louisville linebacking corps (yet), but the Cardinals tackled well and made All-SEC running back Mike Gillislee a non-factor with just 48 yards on nine carries.
Most of the pressure was generated by the front four, allowing the linebackers to roam free and make necessary tackles.
Defensive Backs: A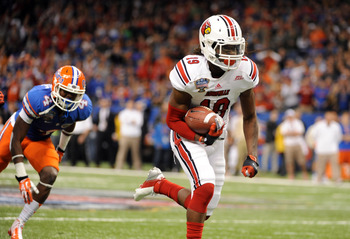 USA TODAY Sports
A sack, forced fumble and two interceptions, including one that went for a touchdown, is about as impressive a statistical performance you can ask from a secondary.
The first play from scrimmage went for a touchdown after Terell Floyd intercepted a deflected pass and went untouched into the end zone. Calvin Pryor added a sack and forced fumble on the same play in the third quarter.
Andrew Johnson all but sealed the victory in the fourth quarter with another interception of Jeff Driskel. The sophomore quarterback was held to just 175 yards passing, despite playing from behind for the final 59 minutes and 45 seconds.
Special Teams: C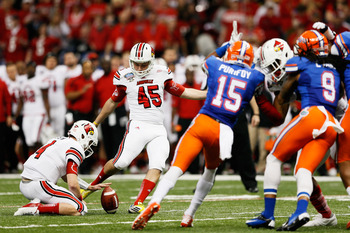 Kevin C. Cox/Getty Images
Special teams wasn't a strength all season for Louisville, and it reared its ugly head at times on Wednesday night. The Cardinals allowed a kickoff return touchdown by Andre DeBose that allowed Florida to climb back in the game.
John Wallace missed a pair of field goals and an extra point, and Jake Smith was called for a chop block on a made field goal that was nullified by the penalty. Wallace did convert attempts from 27 and 30 yards.
Louisville only punted once, and Ryan Johnson pinned the Gators at their own three-yard line. The return game did little, with only 10 total yards.
Coaching: A-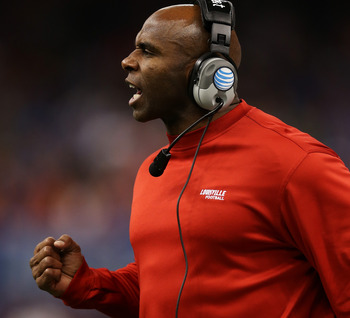 Matthew Stockman/Getty Images
Strong turning down the Tennessee job last month clearly brought this team closer together in the weeks leading up to this game. The Cardinals were the more focused team and played a far more crisp game despite not having taken the field for 34 days.
Offensive coordinator Shawn Watson kept the Florida defense off-balance all evening by rolling Bridgewater out. Aggressive playcalling may have let Florida hang around a bit too long, but the passing game was working, so it was hard to go away from it.
Defensively, Strong stuffed the box and made the Gators beat Louisville through the air, which they could not do. Strong showed why it was well worth the effort the school had to make to keep him in the Bluegrass State.
Keep Reading