Boston Celtics' Stock Watch: Players Rising and Falling Near Halfway Point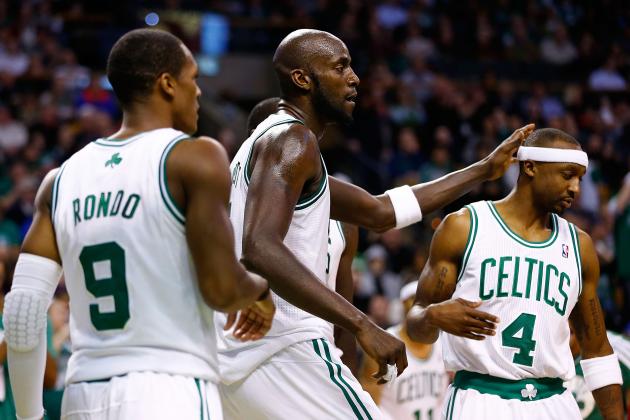 Jared Wickerham/Getty Images

The Boston Celtics have had quite the rollercoaster start to the 2012-13 NBA season. So it comes as no surprise that the team is currently floating around .500 at 14-16.
For fans of the team, watching the Celtics play must be equivalent to viewing the musical rendition of Dr. Jekyll and Mr. Hyde.
Boston has proven to be difficult to beat at home, while serving as a punching bag to their opponents on the road.
Then there's the fact that the Celtics have been on the right end of some blowouts—five of their last six wins have been by 10 points or more—while being on the wrong end in others—they have lost three-straight by 18 points or more.
As a whole, Boston has only been consistent at one thing, and that's being inconsistent.
The blame has to go squarely on the performance of the players. Their up-and-down form has put the team at risk of missing the players for the first time since 2007.
Using each player's stats over the last couple of games, these are the Celtics who are helping the cause and the players who are hurting it.
Begin Slideshow

»
Jonathan Daniel/Getty Images
Collins (left) has been an embarrassment to watch so far this season.
If there was an award for the worst starting center in the NBA, Jason Collins would most certainly be on the receiving end of it. Heck, he might even go down as the worst ever.
When the Celtics re-signed Collins, they expected his 7'0" height advantage to provide the team with a boost in the paint.
So far, it has been anything but.
In his last five games, Collins averaged 1.6 points, 1.8 rebounds and 0.4 blocks per game in 14.4 minutes a night. That includes being held scoreless in two of his last three games.
No disrespect to Doc Rivers, but throwing Collins into the starting lineup, simply for his superior pick-setting skills is a mistake. And it surely isn't going to result in too many wins.
Make it stop, please. Haven't the fans suffered enough?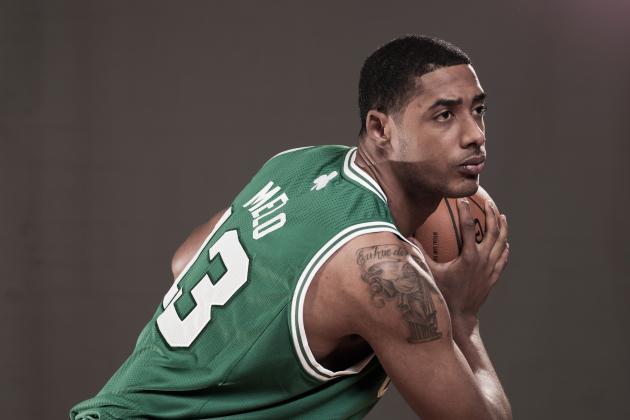 Nick Laham/Getty Images
It won't be long before fans will see Melo back in green.
Although he was drafted in the first round with the No. 22 pick, expectations for Fab Melo were not all that high.
It was known that he was extremely raw and would likely need some time to develop. Following a lackluster summer league and preseason, Melo was assigned to the D-League.
Through 12 games for the Maine Red Claws, the 22-year-old is averaging 10.9 points, 6.9 rebounds and 3.83 blocks per game in 26.8 minutes a night.
However, over his last few games, Melo's potential seems to be finally shining through.
It began on Dec. 22, when Melo recorded an incredible triple-double, posting 15 points, 16 rebounds and 14 blocks. He quickly followed that up four days later by putting up a monster stat line of 32 points, nine rebounds and nine blocks.
Over the last four games, he's averaged 18.5 points, 10.3 rebounds and 7.5 blocks per game in 35.3 minutes a night.
While it's best to let Melo keep building up his confidence in the D-League, he has made it clear that we will be seeing him back in the NBA sooner rather than later.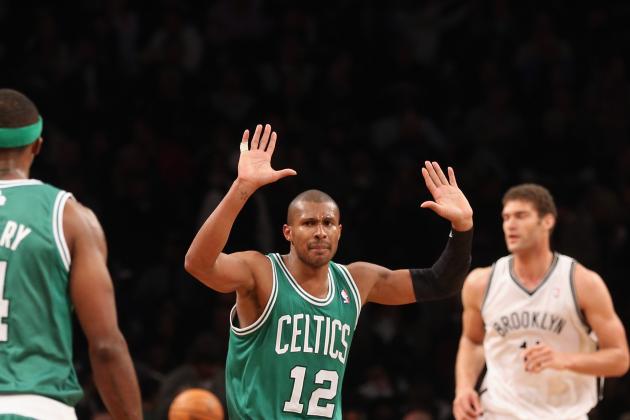 Bruce Bennett/Getty Images
Barbosa hasn't seemed to have a clue as to what's going on lately.
After scoring 16 points in 16 minutes during the Celtics' opening-night loss to the Miami Heat, Leandro Barbosa has been somewhat of a disappointment this season.
When Boston signed the 30-year-old to the veteran's minimum back in October, they thought they were receiving the productive bench scorer who had averaged 12.2 points per game in 10 seasons in the league. Instead, the Celtics have received a player in the midst of a career-worst year.
Through 24 games this seasons, Barbosa is averaging 4.9 points per game on 40.2 percent shooting—both serve as career-lows.
Surprisingly, it only keeps getting worse.
In his last five games, Barbosa has averaged 2.0 points per game on 3-of-15 (20.0 percent) shooting. That includes two games where he was held scoreless.
Barbosa just has not worked out for Boston this year and there's no signs of it getting better any time soon.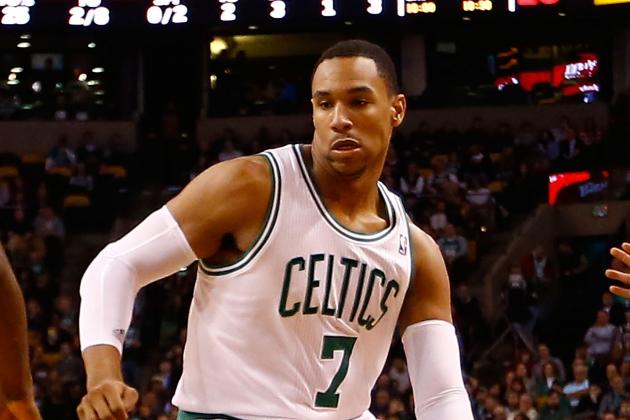 Jared Wickerham/Getty Images
Sullinger's play has impressed many so far this season.
With Boston getting negative results from the Jason Collins project, the team has begun to look elsewhere for solutions. However, the Celtics do not need to look too far.
The solution just might be rookie Jared Sullinger.
Through 30 games this season, Sullinger has averaged 5.5 points, 5.2 rebounds and 0.5 blocks per game in 18.1 minutes a night.
On paper, the numbers might seem to be modest. But when you take into consideration his recent play, the 20-year-old is giving Rivers good reason as to why he deserves more playing time.
Over his last four games, Sullinger has averaged 10.4 points and 6.5 rebounds per game in 24.8 minutes a night. More impressively, he's shot 68.1 percent from the floor in that stretch.
Don't be surprised if Sullinger is included in the starting lineup by the end of January.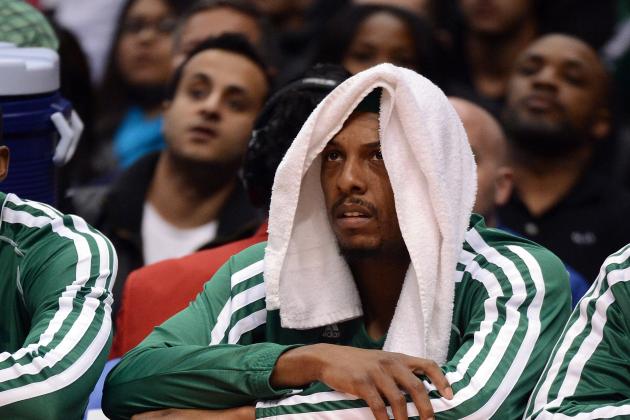 Harry How/Getty Images
Pierce hasn't had much to smile about lately.
Paul Pierce began the month of December averaging 23.8 points, 4.6 rebounds and 4.6 assists per game during 10 games. Since then, he's significantly cooled off.
Maybe a little too much.
During the last four games, Pierce has averaged 13.3 points, 3.0 rebounds and 4.8 assists per game. Furthermore, he's struggled with his shot, shooting 20-of-58 (34.5 percent) during that stretch.
If the team's 1-3 record in the last four games is any indicator, the Celtics need Pierce to regain his form right now. They cannot afford to have their leading-scorer suddenly loss his shooting touch. Not now, at least.
However, while Pierce is certainly on a slide right now, don't bet on it to last too much longer.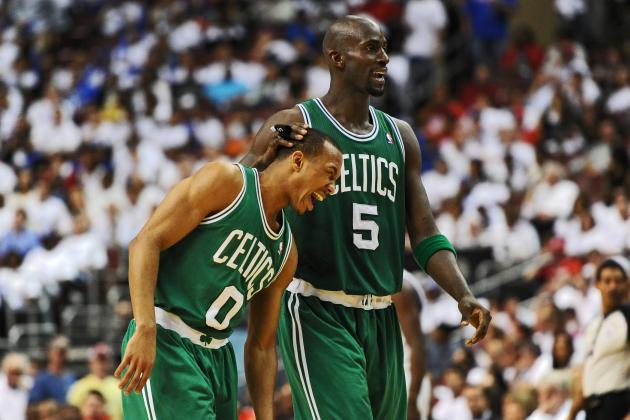 Drew Hallowell/Getty Images
Bradley (left) will be expected to provide the same spark he provided the C's last season.
Sure, Avery Bradley has not started a game for the Celtics since May, but he just might be the player who's stock is at the highest right now.
However, a lot of that has to do more with Boston's disastrous defense this season than Bradley himself.
Through 30 games this season, the Celtics are allowing 98.1 points to opponents this season—their highest mark since the 2006-07 season. They also rank No. 22 in opponent field-goal percentage and No. 27 in opponent three-point percentage.
While it may be unfair to expect Bradley to single-handedly put a stop to their defensive woes, it is no secret that the 22-year-old will have a significant impact on that side of the floor.
Last season, Boston ranked No. 2 in the league, allowing just 89.3 points per game. Bradley's superior perimeter defense played a large role in that. In fact, during the 28 games he featured in the starting lineup, the Celtics allowed only 84.7 points per game.
That five-point difference is a little more important than you might think. Boston has already lost five games by that margin or less this season.
At 19-11, would as many people be panicking right now? Not likely.
Bradley's Jan. 2 return could not come any sooner for the Celtics.
All stats used in this article are accurate as of January 1, 2013
Also check out: Celtics Would Be Wise to Pass on Cousins
You can follow Sebastian on Twitter at @SP7988