SF Giants: 6 Things We Want to See in 2013 from the Team by the Bay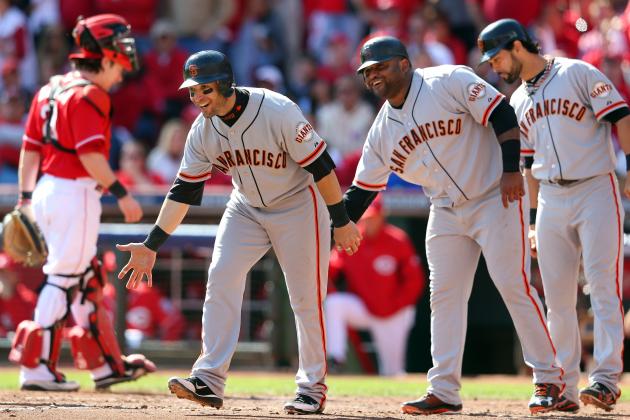 Andy Lyons/Getty Images

Winning two World Series while landing a pair of Cy Young awards and an NL MVP and pulling off a perfect game in the past five years has more than exceeded expectations. But that is all in the past. Moving forward, Giants fans want more wins, awards and memorable moments from their team.
Expectations don't only remain high for San Francisco heading into 2013. They are probably higher than they have ever been for a sports team in this city since the 49ers hoarded Super Bowls in the 1980s and 1990s.
So what do we want to see out of the Giants in the upcoming seasons in order to keep the Bay Area on a winning high? Take a look...
Begin Slideshow

»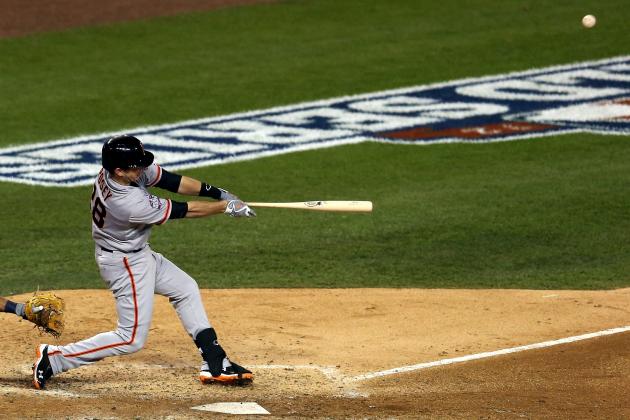 Jonathan Daniel/Getty Images

Somehow the Giants won the NL West, NL pennant and World Series, despite hitting the fewest home runs in the major leagues. Obviously, the dearth of power didn't matter. But they can't continue to rely on small ball and great pitching to win, can they?
It would seem that at some point their timely hitting and Bruce Bochy's managerial magic will run dry. When that happens, the San Francisco offense will need to power up to keep the wins coming. That means Giants hitters will need to a lot better than the 103 home runs they hit last year—compared to the NL leading 202 hit by the Washington Nationals.
So will Giants fans see an uptick in long balls? They should. Full seasons out of Pablo Sandoval and Hunter Pence should make a difference. And if Brandon Belt continues to develop (no guarantee of that), the San Francisco lineup could be semi-formidable.
Of course, it would help if general manager Brian Sabean signed a left fielder who could add 20 to 25 home runs.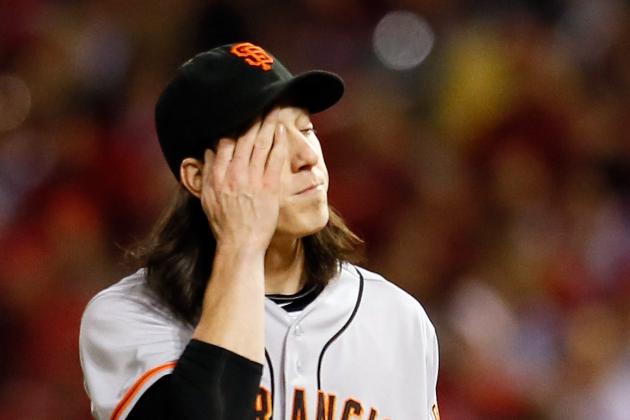 Kevin C. Cox/Getty Images

As gratifying as a second World Series title was for the Giants and their fans, it felt incomplete without Tim Lincecum being in the middle of the action In fact, the Giants won in spite of Lincecum's disastrous season on the mound.
Lincecum somewhat redeemed himself with his stellar relief pitching during the playoffs, but the Giants need him to pitch like a $22 million starting pitcher in 2013.
When Lincecum is on his game, the Giants are a better team, Giants fans are happier and Major League Baseball is more fun to watch.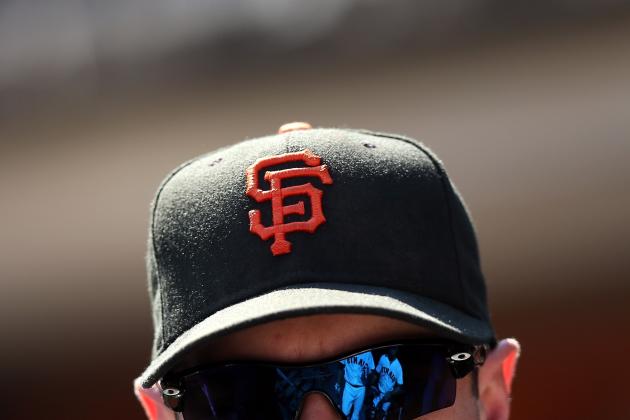 Ezra Shaw/Getty Images

Brandon Belt has teased with potential but mostly delivered mediocrity. With the bat, anyway (He is an excellent glove man).
After a productive 2010 in the minor leagues and an impressive 2011 Spring Training by Belt, the Giants appeared to have their first baseman of the present and future. But Belt never got on track in his first major league season, and despite some improvement in 2012, he has yet to prove that he is a middle-of-the-order hitter.
Belt, who turns 25 in April, is still young enough to develop at the plate. Improving on his .275 average and 7 home runs to, say, .290 and 18, would be greatly welcomed by San Francisco's anemic lineup and by the fans who have been waiting for him to emerge.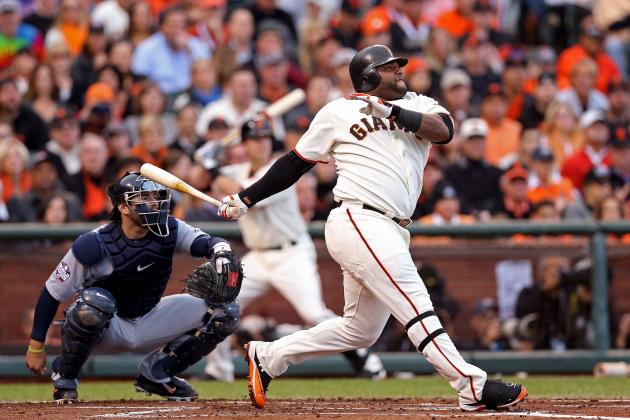 Christian Petersen/Getty Images

This sure looks nice: .330 average, 25 home runs, 90 RBI.
That was Pablo Sandoval's stat line in 2009, his first full season in the major leagues. It appeared to be a sign of great things to come, but a medley of interferences—weight control, divorce, hand injuries—have tripped up Sandoval's progression over the last three seasons.
Considering how well Sandoval hit in this past postseason (1.098 OPS), with two healthy hands, a clear mind and on the game's biggest stage, the Panda could very well be in line for a monster 2013.
Giants fans already love the Panda. But the gregarious third baseman can emerge as a national star if he stays focused and healthy going forward. A .325-32-110 season shouldn't be too much to expect.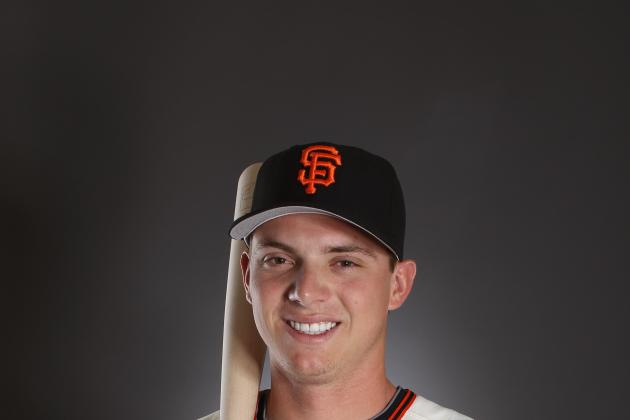 Ezra Shaw/Getty Images

General manager Brian Sabean has not made any improvements in left field this offseason (no, bringing back Andres Torres does not count), which suggests he is content heading into 2013 with Gregor Blanco manning the position.
This is just speculation, but it could also mean that he is allowing for outfield prospect Gary Brown to claim a role with the big club at some point in the upcoming season.
Brown is not an elite prospect, but he has been the best player in the Giants' minor league system the past two seasons. So Giants fans have been clamoring to see what he can do with the big club.
Impressive numbers during his 2011 season with Single-A San Jose (.336 average, 14 home runs, 80 RBI, 53 stolen bases) are not very telling since the California League is so hitter-friendly. His less impressive numbers at Double-A Richmond in 2012 (.279-7-42-33, along with 19 failed steal attempts) are not very telling since the Eastern League is so pitcher-friendly.
So what can Giants fans expect when Brown reaches the major leagues? It's difficult to predict, but the best-case scenario is probably a right-handed version of St. Louis outfielder Jon Jay.
What Giants fans want to see is San Francisco's next young star who will give the lineup a .300 hitter at the top of the order and an electrifying presence on the base paths and in the outfield.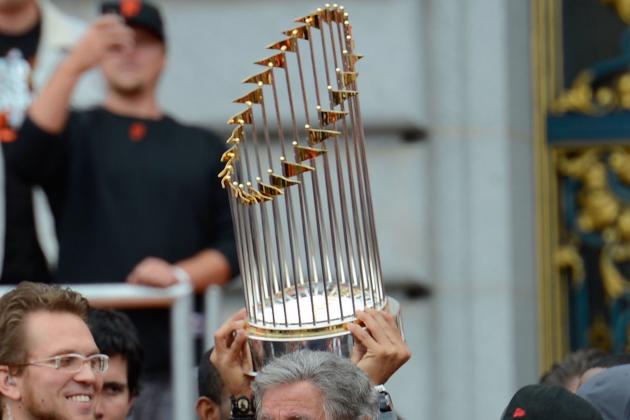 Thearon W. Henderson/Getty Images

Well, duh. If you're a Giants fan.
If you're a fan of any other team, you probably want to see a different outcome to the Giants' 2013 season, anything from a World Series loss (for an American League fan) to a zero-win season (if you're a Dodgers fan).
Having earned two World Series trophies in the last three seasons, the standard of success is as high as it has ever been in San Francisco, so anything short of another championship will be a letdown.
With the roster returning mostly intact, and the potential for bounce-back seasons from Tim Lincecum, Pablo Sandoval and Hunter Pence, the Giants will have just as good—if not better—of a chance to win in 2013 as they did in 2012.