Bonuses for UFC's Best KO, Submission and Fight of December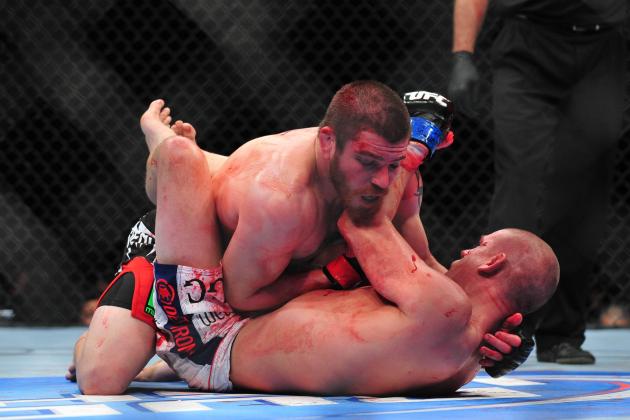 Gary A. Vasquez-USA TODAY Sports
Jim Miller (top) and Joe Lauzon
With four UFC events taking place in the final month of 2012, there's certainly plenty to discuss and dissect. There were some boring stretches this month, but there were also a lot of sudden spikes of excitement. Benson Henderson's title defense over Nate Diaz comes to mind, as does Cain Velasquez regaining his title at UFC 155. The entire UFC on Fox 5 undercard was scintillating.
At the end of each month, we here at Bleacher Report like to present bonuses for that month's best fight, knockout and submission in the UFC. It's a lot like the UFC's own post-fight bonuses, except there's no money or prestige involved.
So who made the cut for December? Read on to find out.
You can find the post-fight bonuses for November here.
Begin Slideshow

»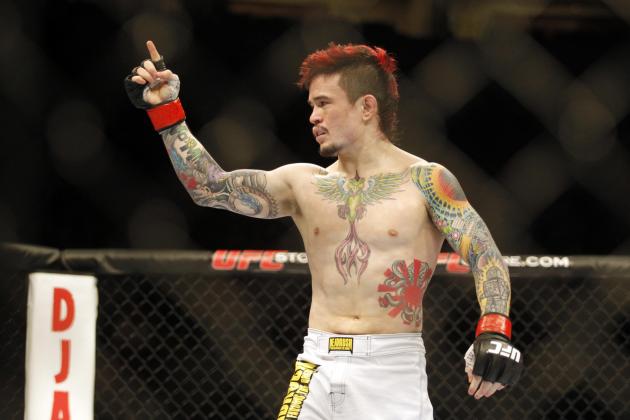 Joe Nicholson-USA TODAY Sports

There were only five submission wins this month in four UFC events. By comparison, there were 18 KOs or TKOs.
Even if there were 100 tapouts, though, Scott Jorgensen would still be right in the mix for the rear-naked choke at UFC on Fox 5 that forced John Albert to give up in literally the round's final second.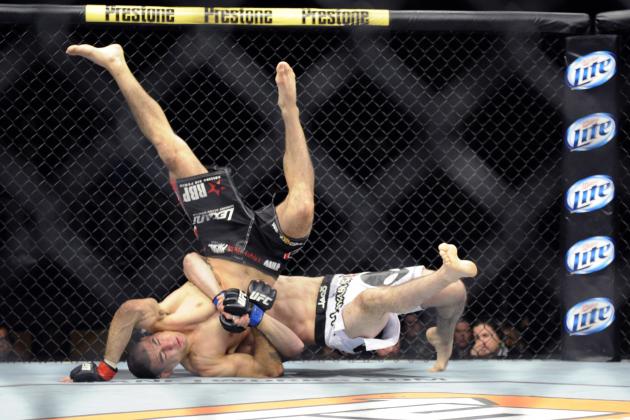 Josh Holmberg-USA TODAY Sports

No shortage of worthy contenders here. Roy Nelson, Daron Cruickshank, Matt Brown, Pat Barry, Yves Edwards, Ross Pearson, you get the picture.
But rookie UFCer Rustam Khabilov gets the nod for getting it done by way of suplex. You don't see that every day, especially in a fighter's UFC debut. And in the lightweight division, no less.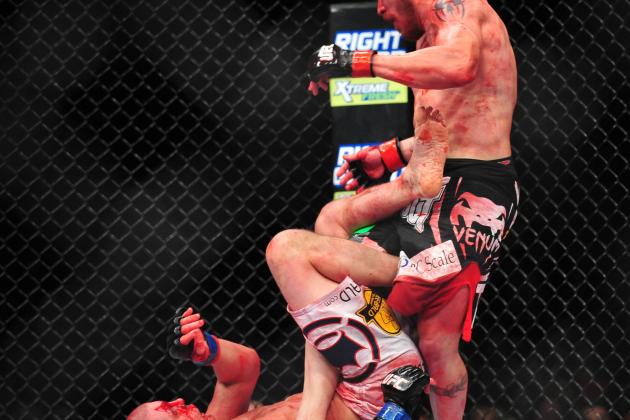 Gary A. Vasquez-USA TODAY Sports

Was there any doubt? I hope not.
The more I think about it, the more I'm certain this was my Fight of the Year in the UFC.
At a minimum, it was the year's Most Valuable Fight, or MVF, as I like to say. What event needed its standout performance more than UFC 155? What other fight delivered the goods so emphatically for both casual and serious fans alike? The fight certainly satiated the Just Bleed contingent on hand there in Las Vegas, who later booed a wayward brood of orphaned baby ducks.
Junior dos Santos certainly dug deep against Velasquez in the evening's main event. But Joe Lauzon, his head pouring blood, dug deeper. Jim Miller was aggressive and showed why he is an elite contender in pounding and then fending off a furious run from Lauzon, who is also a contender. There was action on the feet and the ground. There was an uppercut elbow, for Pete's sake.
Seriously, if this fight didn't give you goosebumps, you should see a dermatologist.