5 Ways the Philadelphia Eagles Can Rebuild the Franchise After Firing Andy Reid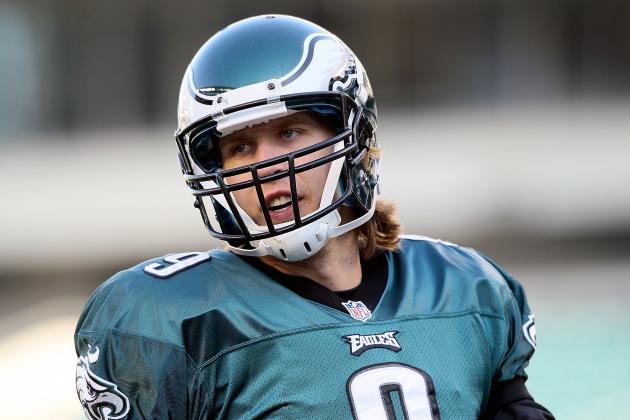 Alex Trautwig/Getty Images

A new era of Philadelphia Eagles football begins right now. The team will start by lining up interviews for the head-coaching vacancy. After that, the Eagles will fill out the staff, make huge decisions regarding Michael Vick and several other veterans and adjust the roster in free agency before capping off the makeover when they pick fourth in April's draft.
Jeffrey Lurie and Howie Roseman undoubtedly have a grand vision of how this process will unfold. Well, so do I. Here are the five steps the Eagles have to take in order to get this franchise back on track.
Begin Slideshow

»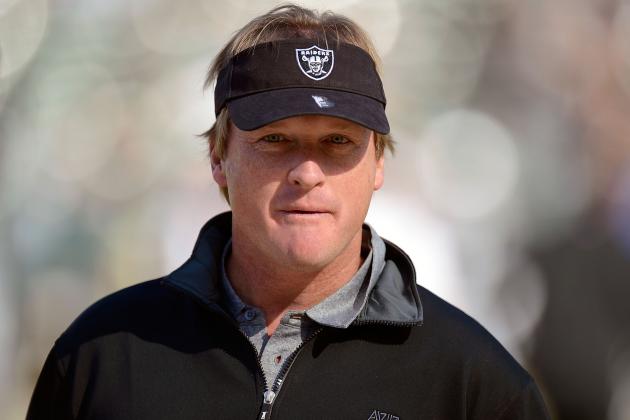 Thearon W. Henderson/Getty Images

I'm not going to pretend that Gruden is some sort of magician who will fix this franchise overnight, and I'll even concede that he's probably a bit overrated as a coach as a result of a Super Bowl victory with a team he didn't build.
That said, he still won games. A lot of 'em. And he's still one of the most respected offensive minds in football. If the Eagles want to give Nick Foles his best possible chance to become a franchise quarterback, Gruden is the man.
Regardless of the financial commitment (easy for me to say, I know), the Eagles should make Gruden their top priority if indeed he is willing to return to the sideline for the 2013 season.
One caveat: As I wrote earlier Monday, the Eagles shouldn't force Howie Roseman to cede control of personnel. I do not believe Gruden should have any say over defensive acquisitions or related personnel matters. That's not his area of expertise, so if that's a requirement, the Eagles should look elsewhere.
Regardless, the goal should be to find a coach who can get the best out of Foles or any other potential quarterbacks of the future. Mike McCoy, Greg Roman, Dirk Koetter, Jay Gruden, Ben McAdoo and Chip Kelly also fit that profile, but only Gruden is the proven winner of that batch of candidates.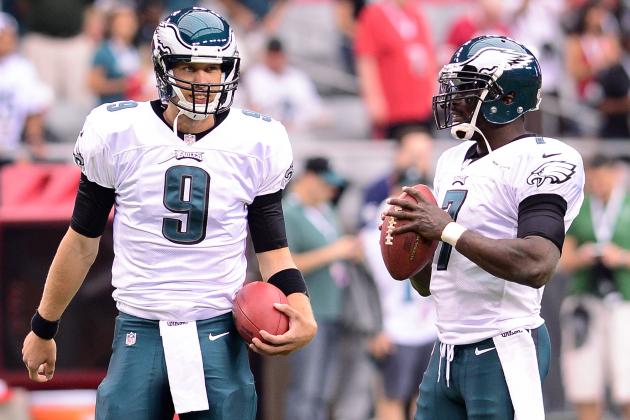 Jennifer Stewart-USA TODAY Sports

So long as the Eagles cut ties with Michael Vick by Feb. 6, they won't owe him a dollar. Considering that rookie third-round pick Nick Foles outplayed Vick in 2012, there's little reason to believe they'll keep the soon-to-be-33-year-old around for yet another season.
Nothing will become official until the next head coach is hired, but the Eagles shouldn't hire anyone who is silly enough to believe that Vick is worth $16 million in 2013, especially with Foles in mind.
Foles was babied a bit early in his run as the starter, but really came into his own and made some big throws down the stretch. At this point, it's hard to imagine there's a better candidate to start for this team, whether it be in the free-agent market, the trade market or the draft.
That doesn't mean that the Eagles shouldn't consider using a draft pick on Foles or spending some money on a guy like Alex Smith, but I don't think they should sacrifice at other, more desperate positions in order to create a quarterback competition, and I definitely believe Foles has earned the right to start in Week 1.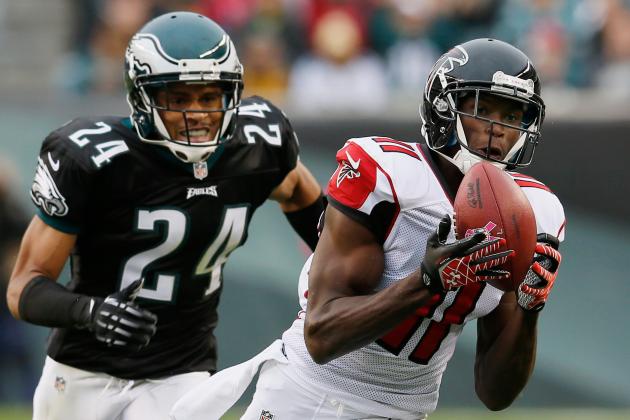 Rob Carr/Getty Images

The Eagles can either pay Nnamdi Asomugha $4 million to go away or $15 million to play. Even if Asomugha is willing to renegotiate that down into the seven-figure range, I don't think the Eagles should keep him on the roster.
Asomugha was mediocre at best in 2012, with his production dropping off significantly right across the board. This time, there was no excuse. It wasn't on a lack of press-man or Juan Castillo. At 31, the former All-Pro has simply lost a step.
If the Eagles are committed to revamping the D, they have to wave goodbye to Asomugha and let his partner in crime, Dominique Rodgers-Cromartie, walk. DRC was only slightly better this year than he was while forced to play the slot in 2011, but he isn't worth the money he'll fetch as an unrestricted free agent.
Safeties Nate Allen and Kurt Coleman have also run out of time to prove that they're worthy of starting in the secondary. The Eagles can cut ties with both of those disappointing 2010 draft picks for next to nothing.
I don't necessarily feel that Brandon Boykin and Colt Anderson and whomever they find on the open market and in the draft will step in and immediately be an upgrade over the 2012 secondary. But growing pains are necessary at times like these, and the Eagles can't rebuild this thing right with ghosts of terrible seasons past still missing tackles and blowing coverages in the secondary.
Plus, it can't get much worse. This is a unit that gave up 25 touchdown passes while recording only one interception in the final 10 weeks of the season.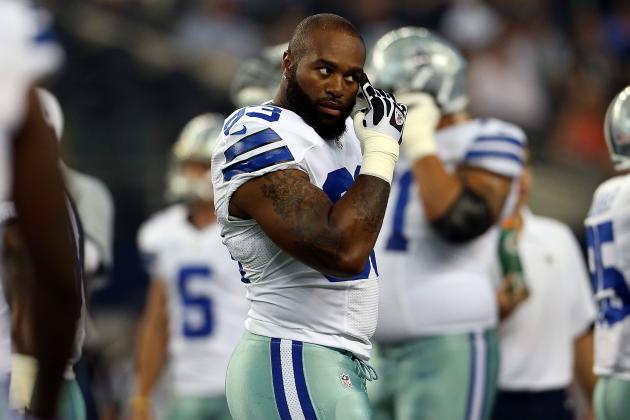 Ronald Martinez/Getty Images

The defensive backfield needs to be gutted, and the defensive line is fine as is. But what about the guys in the middle? DeMeco Ryans has probably earned the right to stick around after a decent first season in Philly, but rookie Mychal Kendricks struggled and needs to at least be pushed in camp, while Akeem Jordan and Jamar Chaney really have no business starting.
The Casey Matthews experiment didn't work either, leaving nobody on the current roster to step in.
Remember how much of a laughingstock the Eagles were when it came to tackling in 2011? Well, they missed even more tackles in 2012, according to Pro Football Focus. That indicates they have to make some more drastic changes at linebacker this offseason.
Ideally, they'll add two new starters. Worst-case scenario, they'll get significantly deeper.
Again, they have the money to bring in a free agent or two, and they should also use a draft pick or two on the position.
The ultimate prize would, of course, be versatile Cowboys outside linebacker Anthony Spencer, who is slated to become an unrestricted free agent on March 12. If that happens and the Eagles can make a splash with Spencer, they'll have one of the best front sevens in football. But even if that doesn't come to fruition, they need upgrades in the second level of the D.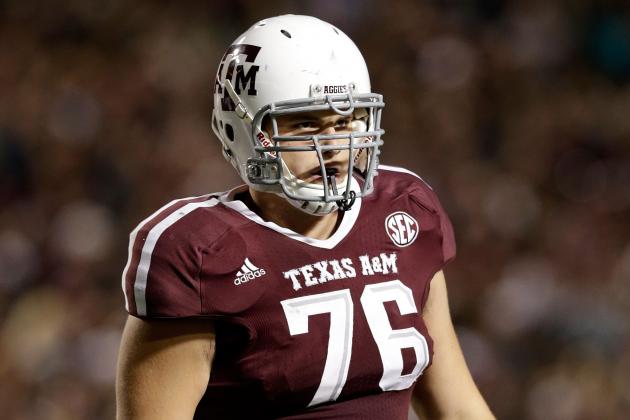 Scott Halleran/Getty Images

The Eagles might have needs on defense, but those can be filled throughout the draft and in free agency. Remember, they've got a ton of salary-cap space. But franchise left tackles can't be found on the open market, and Philadelphia has a chance to pick a stud with the fourth selection in the 2013 draft.
I realize they have Jason Peters, but Peters is coming off a significant Achilles injury and will turn 31 next month. There's no telling if he'll ever be the same. Right tackle Todd Herremans is solid, but the Eagles could solve their interior offensive line issues by drafting a tackle like Luke Joeckel out of Texas A&M, starting him on the right side and moving Herremans back to guard (where he started his career) to replace first-round bust Danny Watkins.
With a healthy Peters, Herremans and Jason Kelce returning and teaming up with solid swing tackle Dennis Kelly, Pro Bowl snub Evan Mathis and a rookie like Joeckel, the Eagles' offensive line would immediately become a strength.
And that would make things a lot easier on Foles or whoever the Eagles have under center.