Sugar Bowl 2013: 10 Things You Need to Know for Florida vs. Louisville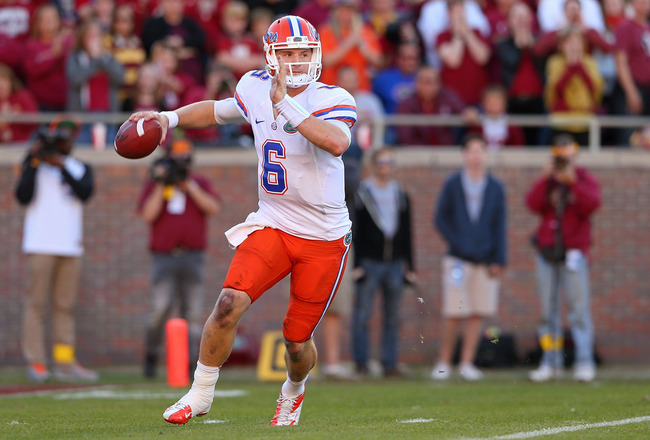 Jeff Driskel can cap off a strong sophomore year with a Sugar Bowl victory.
Mike Ehrmann/Getty Images
The Florida Gators will try to cap off a highly successful campaign Wednesday in New Orleans as they take on the Louisville Cardinals in the Allstate Sugar Bowl.
Just a year ago, the thought of the Gators playing in a BCS bowl game was laughable, but it's become an expectation for a team that went 11-1 during the regular season.
Thanks to a ferocious defense that features a number of future NFL stars, UF dominated conference play and came agonizingly close to earning a spot in the SEC Championship Game. While the Gators came up just short of their national title dreams, they certainly won't lack motivation against Charlie Strong and the Cardinals.
In a matchup that features two rising sophomore quarterbacks and a great Gators defense, there'll be plenty to watch for Wednesday.
Here are 10 things you should know for the Sugar Bowl showdown between Florida and Louisville.
10. Cardinals Can Score with the Best of Them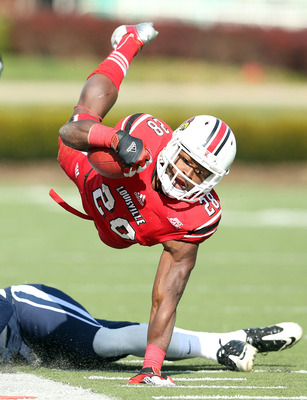 The Cardinals have a multitude of weapons to get the ball to.
Andy Lyons/Getty Images
Although not as diverse as the Gators offensively, the Cardinals score at a more prolific rate than their Sugar Bowl counterpart.
With Teddy Bridgewater at the helm, the Cardinals put up 31 points per game, good for 50th in the nation. By comparison, the Gators come in at No. 74 with 26.8 points per game.
Louisville topped the 30-point mark in six of its 10 wins, including two games in which it scored 45 points.
Stopping the Cardinals' attack will be a tough test for the Gators defense.
9. Florida Can Flat-out Run the Ball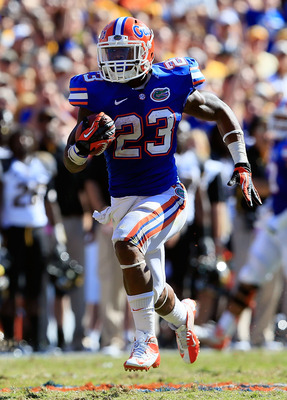 Mike Gillislee had a breakout senior season.
Sam Greenwood/Getty Images
It took nearly four years for even the Gators to realize what they had in Mike Gillislee, but better late than never, right?
The senior tailback made the most of his lone season as a starter, becoming Florida's first 1,000-yard back since Ciatrick Fason accomplished the feat in 2004. Gillislee carried the load for the Gators, totaling 1,104 yards and 10 touchdowns on 235 carries.
Always humble, the soft-spoken senior never changed despite being in the spotlight.
Stopping the speedy tailback should be priority No. 1 for Louisville.
8. Louisville Does Its Damage Through the Air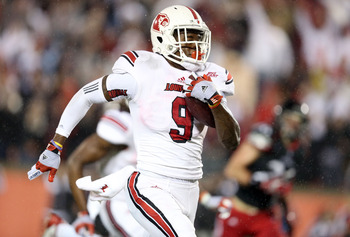 DeVante Parker is the Cardinals' leading receiver.
Andy Lyons/Getty Images
While Florida prefers to stick to the ground game, Louisville attacks opponents through the air.
The Cardinals boast the nation's No. 23 passing game, averaging nearly 300 yards per game.
Receivers DeVante Parker (6'3", 205 pounds) and Damian Copeland (6'1", 183 pounds) bring legitimate size on the perimeter.
Parker—who's just a sophomore—leads the Cardinals in receiving yards (712), yards per catch (18.7) and touchdowns (nine). He will have to be accounted for on every down, but Florida has the right mix of corners to combat the king-sized wideout.
7. Gators Have a Limited Passing Game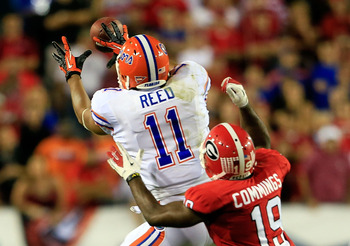 Jordan Reed is the Gators' top receiving threat.
Sam Greenwood/Getty Images
As efficient as Florida is running the ball, throwing the ball can be a total nightmare at times.
Quarterback Jeff Driskel has all the physical tools to be a great player, but his accuracy and decision-making can be inconsistent. Then again, when his starting wideouts combine for just 51 receptions and less than 600 yards, he's not getting a lot of help.
Jordan Reed is the one player the Cardinals must account for in Florida's 118th-ranked passing game. The redshirt junior is one of the top tight ends of the country and a true matchup dilemma.
Reed led the Gators with 44 receptions for 552 yards this season and could very well be a high draft pick if he chooses to leave school early.
6. Cardinals Boast Two-Headed Rushing Attack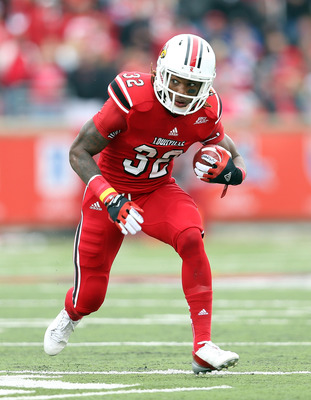 Senorise Perry ran for over 700 yards in 2012.
Andy Lyons/Getty Images
Without a true bell-cow back, the Cardinals rely on two juniors to split the load.
Jeremy Wright leads the Cardinals in carries (186) and yards (740) and is also an adept pass-catcher for the position. However, while he brings more speed and versatility to the table, 6'0", 203-pound Senorise Perry acts as the finisher for Louisville.
With 705 yards and 11 scores on 135 carries, Perry fills a big role for Charlie Strong's team and comprises one of the top tandems in the country.
5. Florida's Freshmen Are for Real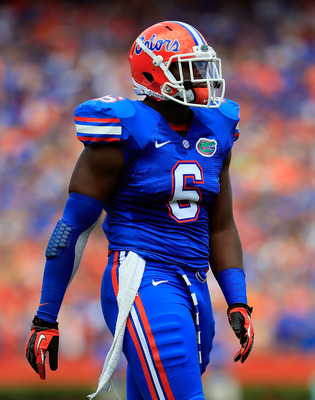 Dante Fowler has all the makings to be an All-American defender.
Sam Greenwood/Getty Images
It didn't take long for Will Muschamp to get his freshmen's feet wet.
By midseason, several of his first-year players—namely defensive ends Dante Fowler Jr. and Jonathan Bullard—were being counted on as more than just rotational players.
Both pass-rushers made immediate impacts after arriving as highly touted recruits. Fowler finished the regular season with 27 total tackles (6.5 for loss) and 2.5 sacks. Fellow freshman Bullard racked up 26 tackles of his own to go with five tackles for loss and seven quarterback hurries.
Besides the pair of defensive ends, Florida has also gotten great play out of weak-side linebacker Antonio Morrison (31 tackles), as well as running back Matt Jones and left tackle D.J. Humphries.
Expect to see a ton of snaps from Florida's freshman class Wednesday.
4. Charlie Strong and the Gators Go Way Back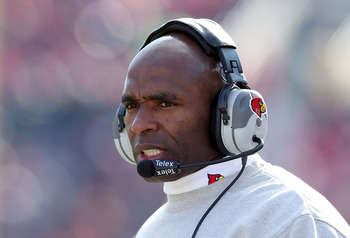 Charlie Strong served as the defensive coordinator under Urban Meyer.
Andy Lyons/Getty Images
Before he turned Louisville into a Top 25 program, Charlie Strong was the architect behind the Gators' two championship defenses.
After beginning his career as a graduate assistant at Florida all the way back in 1983, Strong returned to the Gators in 2002 and really took off. During his eight-year tenure with the Gators, he oversaw the development of players like Channing Crowder, Reggie Nelson, Jarvis Moss, Ray McDonald and Derrick Harvey. He also happened to coordinate one of the toughest defenses in the country, which helped the Gators to two national championships in three years.
Although Urban Meyer isn't at the helm anymore, Strong shouldn't lack motivation to beat his old team in the Sugar Bowl. Like Strong, Will Muschamp is a defensive-minded coach who has an intense passion for winning.
Don't expect Strong to hold back as he tries to earn a bowl victory over the Gators.
3. Watch out for Florida's Secondary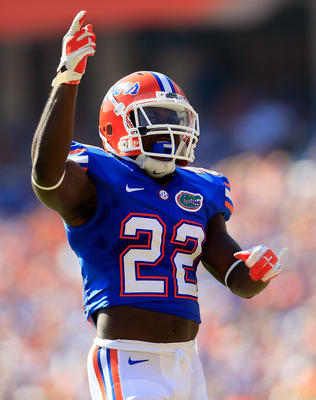 Matt Elam earned All-American honors for his fantastic 2012 season.
Sam Greenwood/Getty Images
Florida fans better hope Matt Elam returns for his senior season. If not, the Gators will be losing not only one of the best safeties in the country, but also one of their team leaders.
The sensational junior did it all for the Gators this season, racking up 65 tackles (10 for loss), four interceptions and nine passes defended. His ability to line up at both safety spots as well as the nickel spot made him an invaluable member of Florida's deep secondary.
Besides Elam, senior free safety Josh Evans showed tremendous improvement in all areas, and the Gators' three-headed cornerback monster of Marcus Roberson, Jaylen Watkins and Loucheiz Purifoy is the best in the nation.
Teddy Bridgewater better keep his eyes open before one of the Gators' secondary members makes a big play.
2. Teddy Bridgewater Is One of the Best QBs in the Country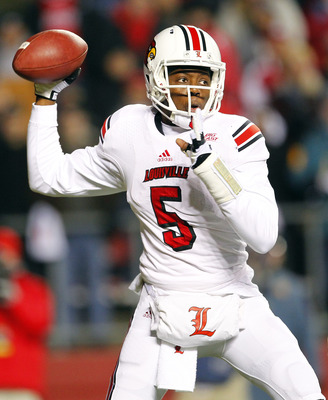 Teddy Bridgewater is already one of the top QBs in the game.
Rich Schultz/Getty Images
Back in 2011, Teddy Bridgewater was ESPN's No. 9 quarterback prospect in the nation.
Want to venture to guess who was No. 1?
Jeff Driskel.
But while the Gators quarterback has only shown flashes of excellence, it's been Bridgewater who's taken college football by storm in just his second season.
The 6'3", 218-pounder went from a turnover-prone freshman into a prolific passer as a sophomore, tossing 25 touchdowns and over 3,400 yards on the year. With a completion percentage of 69 and just seven interceptions, Bridgewater does an excellent job of taking care of the football and avoiding costly turnovers.
Putting pressure on the dual-threat QB will be huge for the Gators if they hope to shut down the Cardinals' potent passing attack.
1. The Gators' Defensive Line Is the Best Unit in This Game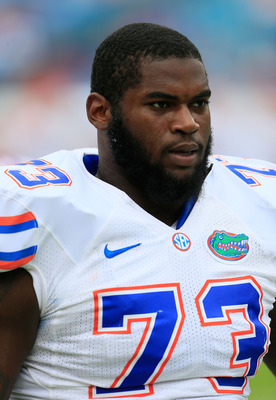 Sharrif Floyd is an animal at the defensive tackle spot.
Sam Greenwood/Getty Images
For all the talk about Teddy Bridgewater, Jeff Driskel and Mike Gillislee, the star power of this game falls on Florida's defensive line.
Whether it's defensive tackle Sharrif Floyd, defensive end Dominique Easley or hybrid pass-rusher Lerentee McCray, this game begins and ends with the Gators' front four.
Floyd anchors the unit, utilizing his incredible size (6'3", 303 pounds), quickness and explosion to routinely beat double teams and make plays in the backfield. The projected first-round pick led all Florida defensive linemen with 41 total tackles (11 for loss) while contributing a sack and six quarterback hurries.
Joining forces with Floyd is fellow junior Easley, whose initial burst off the line of scrimmage is a sight to see.
McCray, who lines up at Buck linebacker, and Omar Hunter, a steady presence at nose tackle, round out the starting four. Along with freshmen Jonathan Bullard and Dante Fowler Jr., there's simply no way the Cardinals can match the Gators' talent and depth up front, making the Gators' defensive line the best overall unit in this Sugar Bowl showdown.
Keep Reading