Ohio State Basketball: Ranking the 5 Biggest Roadblocks to the Big Ten Title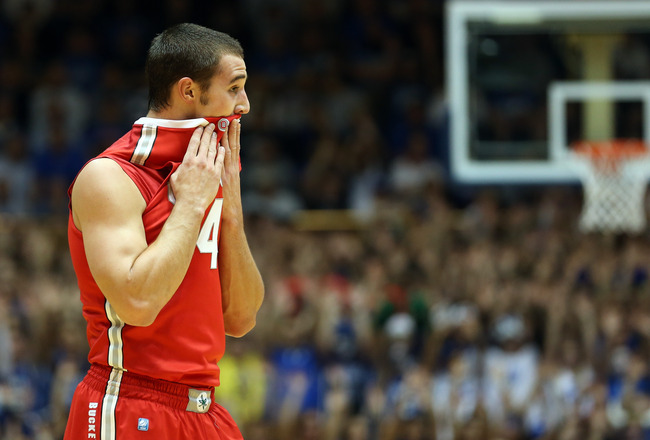 Streeter Lecka/Getty Images
Oh, Big Ten play, how we have missed you.
For some reason, all of these nonconference games don't result in bruises the size of baseballs, fundamental box outs, players sprawling on the floor for loose balls and 51-49 final scores.
Ohio State begins conference play Wednesday against Nebraska, but the real fun begins on Saturday when the Buckeyes visit Champaign to take on a dangerous Illini team.
The Big Ten is probably the best league in the country this year, so the Scarlet and Gray will certainly have their hands full if they hope to win a fourth straight conference crown. Read on to see the five biggest roadblocks standing in the way of that championship.
No. 5: Big-Game Shooting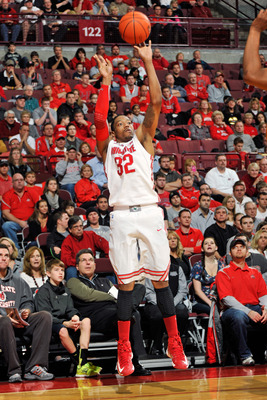 Jamie Sabau/Getty Images
Ohio State's nonconference schedule featured only two marquee games (not counting the cancelled Marquette contest), and the Buckeyes couldn't buy a basket in either.
They shot a measly 33 percent for the game in the trip to Cameron Indoor Stadium against Duke, including only 28 percent from downtown. Furthermore, Aaron Craft, the emotional leader of the team, went 3-of-15 and shot more times than anyone else on the roster.
It didn't help that his backup Shannon Scott went 1-of-8.
But as bad as you thought the offense was in the Duke contest, it was worse when the Kansas Jayhawks came to town. Not even the comforts of Value City Arena helped the Buckeyes shooting that day.
Ohio State shot 30 percent from the field and a putrid 8-of-31 (26 percent) from behind the three-point line. To make matters worse, the majority of those long-range attempts (outside of those forced up by Deshaun Thomas) were relatively uncontested.
There will be plenty of big games in the Big Ten, so the Buckeyes are going to have to straighten out their shooting if they want to win a conference crown.
No. 4: Big Ten Strength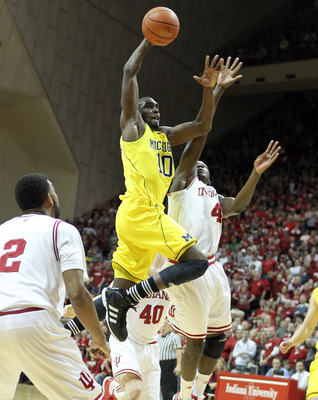 Andy Lyons/Getty Images
This may be relatively straightforward, but a major roadblock in the Buckeyes hopes for a Big Ten championship is the conference's overall strength.
Half of the league's 12 teams are in the Top 25, and three of them are in the Top 10 alone (as of this writing).
Ohio State will have to deal with Trey Burke and Michigan, Cody Zeller and Indiana, resurgent Illinois and Minnesota teams and the ever-consistent Tom Izzo and Michigan State if it hopes to find itself on top of the conference in March.
While this will help with seeding come Selection Sunday, beating out all those teams to win a Big Ten title may be too much to ask.
No. 3: Back-Loaded Schedule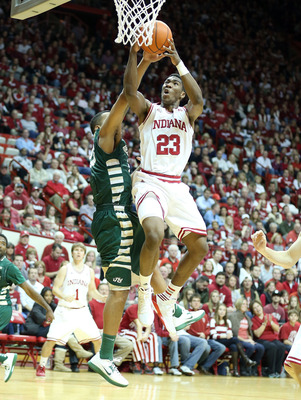 Andy Lyons/Getty Images
There really aren't any automatic wins in the Big Ten outside of Nebraska and Penn State, but the Buckeyes will have some time to gel early on.
Ohio State plays the Cornhuskers twice, Iowa, Penn State and Purdue in the first half of the conference schedule, meaning a young team that has struggled offensively in marquee games should be able to garner some early confidence.
Of course, the flip side of that argument is that the Buckeyes will be up against the wall down the stretch of the season. Six of the final nine games are against teams currently ranked, and two of the three against non-ranked squads are on the road in tricky environments (Wisconsin and Northwestern).
If all these strong teams are clustered on the top of the conference standings down the stretch, Ohio State will have to earn that championship against the best the Big Ten has to offer.
No. 2: Lack of an Established Second Scoring Option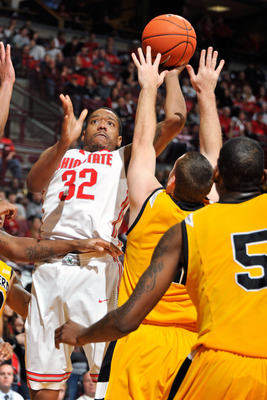 Jamie Sabau/Getty Images
Lenzelle Smith, Jr. is a quality piece in Thad Matta's lineup, but he is not consistent or talented enough to really be considered an established second scoring option on a Big Ten championship-caliber team.
For as good as Deshaun Thomas is, he is going to need some help from his teammates in the scoring department. Part of that will mean giving up some of his shots on a nightly basis.
Thomas has taken 73 more shot attempts than Smith, who is second on the team, and nearly 100 more shots than anyone else. Sure, Thomas is a dangerous scorer, but Big Ten teams that pride themselves on their defense will be able to zone in on Thomas and make life difficult for the Buckeye offense.
No. 1: Lack of Dominating Inside Presence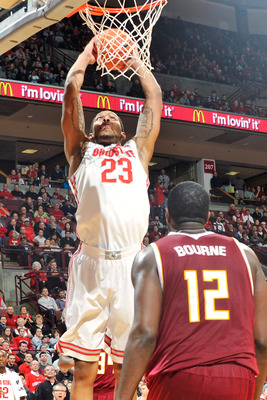 Jamie Sabau/Getty Images
As alarming as the lack of a second scoring option is for the Ohio State offense, the lack of an inside presence is even more worrisome.
Mason Plumlee had a field day in the Ohio State-Duke game (21 points and 17 rebounds), and the Jayhawks Jeff Withey dominated in the paint when Kansas visited Columbus (14 points and 10 rebounds).
With big guys like Cody Zeller on the Big Ten slate, the Buckeyes are going to have to find a way to establish some sort of presence in the lane. For better or worse that job is going to fall to the likes of Amir Williams and Evan Ravenel.
Williams got his first start of the year against Chicago State and held his own against Withey in the Kansas game. He is probably the closest thing to a true threat Thad Matta will have at center all year.
That could be a problem during the conference season.
Keep Reading

Ohio State Basketball: Like this team?