Top Moments for Every Phillies Player Voted into the Baseball Hall of Fame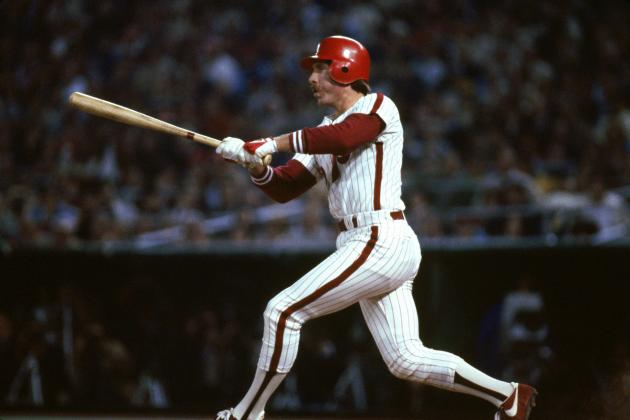 Getty Images/Getty Images

The 2013 Hall of Fame ballot is one that has been five years in the making and a hotbed of discussion, but still hit the voters, fans and other baseball folks like a ton of bricks, the elephant in the room being, "Do players who have been caught or accused of 'cheating' have a right to be inducted into the Hall of Fame?"
Now, that's a long discussion for a different day. When you sit and think back on some of these careers, however, it's easy to make a case for their inclusion. No man in history has more home runs than Barry Bonds. Roger Clemens won the Cy Young Award seven different times. And that's just the tip of the iceberg.
Luckily for the Phillies, this isn't a debate that is going to rage in their inner circle. The Phillies haven't had a player inducted into Cooperstown since Jim Bunning finally got the call in 1996, and probably won't see another one any time soon.
But it does get one to thinking, what was the greatest moment of each member of the Phillies in the Hall of Fame? This slideshow will take a look back at the careers of some of baseball's all-time greats.
Begin Slideshow

»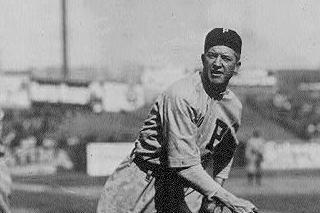 (Public Domain photo) http://en.wikipedia.org/wiki/File:Grover_Cleveland_Alexander.jpg
The Moment: Three-time winner of the "Pitching Triple Crown."
It is impossible to define Pete Alexander's career in a single moment. For a man who could easily be considered one of the top five pitchers in the history of baseball, there isn't a single great moment that jumps off of the page. There are a ton of them.
One of the most impressive, at least in my opinion, is the fact that no pitcher in history has won the Pitching Triple Crown more times than Alexander, who accomplished the feat in 1915, 1916 and 1920 when he led the league in wins, strikeouts and ERA.
Of course, the list just expands from there. He won a World Series as a member of the St. Louis Cardinals in 1926. He won two National League pennants and is near the top of several pitching records including wins (3rd all-time) and shutouts (2nd all-time).
Of the fun fact variety: The Phillies retired the 1915 version of the old-fashioned "P" in his honor, and Ronald Regan played him in a move about his life called The Winning Team.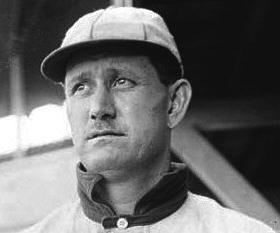 http://baseballrevisited.wordpress.com/2012/03/20/ed-delahanty-and-bob-horner-two-of-a-kind/
The Moment: Hit four home runs in a single game in 1896.
Ed Delahanty was the 19th century version of a "five-tool" player. Over the course of his career he would lead the league in categories across the board including home runs, stolen bases and RBI. Had the Phillies built a team around him, they could have been contenders.
But Delahanty's most memorable moment (well, most positive memorable moment) came in an 1896 game against the Chicago Cubs where "Big Ed" came to play and mashed four home runs. At the time, he was only the second player in history to do so.
In true Phillies fashion, at least for that time period, the Phillies would score just eight runs and lose the game by a single tally. Talk about not getting any help.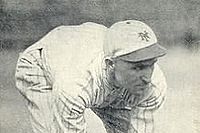 (Public Domain photo) http://en.wikipedia.org/wiki/File:Bancroftbaseballcard.jpg
The Moment: Wins the second of back-to-back World Series titles as a member of the New York Giants in 1922.
With Hall of Fame voting becoming more public with the growth of media, I'm sure that you have heard Cooperstown called the "Hall of Very Good" before. It's a paradigm of voting tendencies: What actually constitutes as a player who should be in the Hall of "Fame?" What constitutes as "elite?"
One of the biggest question marks, from that standpoint, in Phillies history is the inclusion of former shortstop Dave Bancroft. He was a slick defender, but a mediocre hitter who posted a career slash line of .279 / .355 / .358. Good numbers, but not great, and in my opinion, not worth of Cooperstown.
However, Bancroft was not originally elected to the Hall of Fame. He was inducted by the Veterans Committee in 1976—a committee that featured a few of his former teammates. Members of the media and fans of the time considered his election to be a fraud; cronyism.
As far as this slideshow is concerned, I'd like to back up that statement by pointing to his lack of accomplishments. Bancroft never won a major award, set records or even came close to doing so.
His greatest feat may have been as a member of the Giants, when the club won back-to-back World Series titles in 1921-22.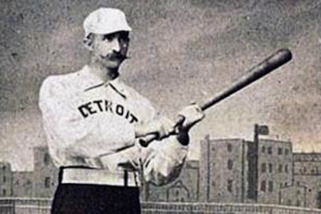 http://fromdeeprightfield.com/big-sam-thompson-first-great-clutch-hitter/
The Moment: Drove in 166 runs during the 1887 season.
Sam Thompson was one of the most underrated hitters, not only in Phillies history, but in the history of baseball. Standing at 6-foot-2, Thompson was a big, powerful hitter that propelled the Phils' offense for a decade.
Over the course of his career, he repeatedly made a claim as one of the best hitters of all-time. Thompson led the league in hits three times. He led the league in doubles, RBI and home runs twice each. In 1887, he was the league's batting champion.
And that was his greatest season. Although he was a member of the Detroit Wolverines at the time, Thompson made his name in '87. During that season, he drove in an incredible 166 runs. At the time, it was a Major League record. In the 19th century, he was the only player to eclipse the 150 RBI mark—and he did it twice.
Babe Ruth would set a new record in 1921.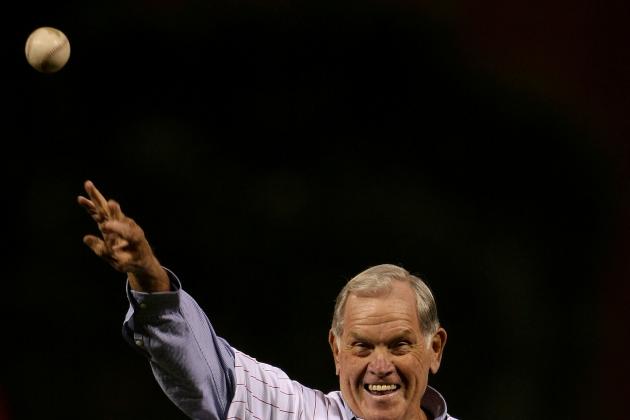 Elsa/Getty Images

The Moment(s): Starts pennant-clinching game against Brooklyn Dodgers in 1950 and the one-hit game in 1954.
I'm going to cheat a bit here because it is my opinion that Robin Roberts' mentality and talent as a starting pitcher for the Phillies can be aptly described through two games. The first was the pennant-clinching match against the Dodgers in '50.
That was a busy weekend for Roberts. He pitched three games in the span of five days and the Phillies absolutely needed him to be at his best. During the final game of the regular season, he was. En route to his 20th win of the season, Roberts pitched 10 innings for the Phillies that day—a game which they would win on a mammoth, three-run home run by Dick Sisler.
The second moment is one that gets a little less attention nowadays, but was equally as impressive. In a 1954 game against the Cincinnati Redlegs, Roberts gave up a leadoff home run to Bobby Adams. That obviously didn't sit well with him.
Roberts, who was known for his durability and fierce competitive nature, pitched a perfect game after that. He retired 27 consecutive batters and the Phillies went on to win by a score of 8-1.
Roberts is also a seven-time All-Star and his number 36 was retired by the Phillies.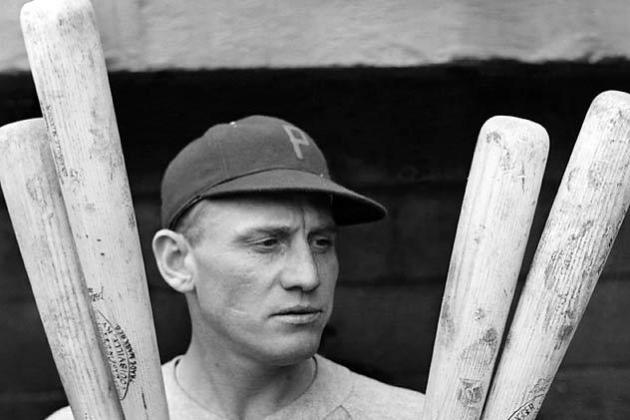 http://dickallenhof.blogspot.com/2012/07/on-this-day-chuck-klein-x4.html
The Moment: Wins National League Triple Crown in 1933.
Stop for a moment and think about all of the great offensive accomplishments possible in baseball throughout its history. Chances are, Chuck Klein has done it. He won an MVP Award in 1932. He hit four home runs in a single game in 1936.
His greatest accomplishment may be something that not many men have done before—win the Triple Crown. Miguel Cabrera became just the 17th man in the history of the game to accomplish the feat in 2012.
Klein did it in 1933 and in convincing fashion. Not only did he lead the league in batting average, home runs and RBI, but he also led the league in hits, hits, doubles, on-base percentage, slugging percentage, OPS, OPS+ and total bases. Talk about dominant.
He was also named to his first of two All-Star Games in '33.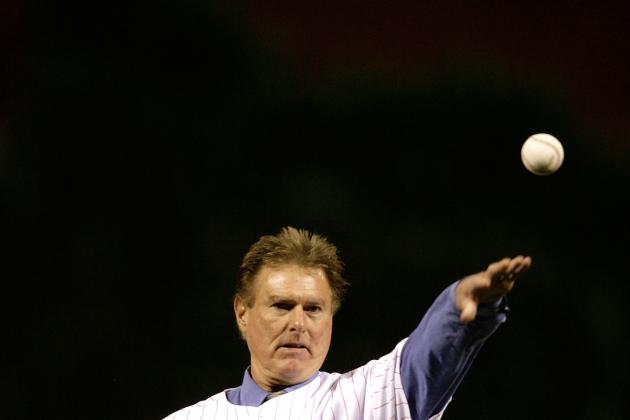 Pool/Getty Images

The Moment: Won fourth National League Cy Young Award in 1982.
Steve Carlton is easily one of the greatest pitchers to ever play the game of baseball and the accomplishments are plentiful. You could go with any number of moments for this list, but any time a player epitomizes greatness by consistently beating out his competition for major awards, that takes the cake for me.
With that in mind, before the 1982 season began, Carlton was already the proud owner of three Cy Young Awards (1972, 1977 and 1980). Perhaps what's even more amazing is how timeless Carlton made himself. By '82, he was already 37 years old—an age that many of today's pitchers are retired by.
But during that season, Carlton won 23 games for the Phillies, led the league in wins, games started, complete games, shutouts, innings pitched, hits, strikeouts and batters faced en route to his fourth National League Cy Young Award.
At time time, no pitcher in history had ever won four Cy Young Awards. Carlton had left his mark on greatness in a number of different ways, but this was at the top of the list.
Of course, his other accomplishments are equally as noteworthy. Carlton was a 10-time All-Star and twice a World Champion, including the Phillies' first title in 1980.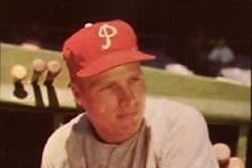 (Public Domain photo) http://en.wikipedia.org/wiki/File:Richie_Ashburn_1953.jpg
The Moment: Made a sensational leaping catch during the 1951 All-Star Game.
This was an interesting one.
Richie Ashburn is one of the most beloved sports figures in Philadelphia sports history and an all-time fan favorite. There are no two ways about it. But when it came to playing the game of baseball, Ashburn wasn't flashy.
He went up to bat trying to get the job done. He'd rack up singles like it was nobody's business and hustle his way around the base paths. Ashburn became more well known for his physical attributes, like the color of his hair and the way that he ran, as opposed to what he did on the field.
And that made him a Hall of Fame caliber player for the Phillies—a sensational defender with the ability to drive opposing pitchers mad with his "hit and run" approach to the game. That style was on full display in 1951 when he made one of his most memorable catches in Detroit at the All-Star Game.
In the sixth inning, Ashburn got a chance to rob the hometown hero. Vic Wertz, the Detroit Tigers outfielder, hit a long fly ball to deep in the outfield that had a chance to clear the wall, but Ashburn made a sensational leaping catch to rob Wertz.
Of that play, the AP wrote, "Richie Ashburn, fleet footed Philadelphia Phillies outfielder, brought the huge Briggs Stadium crowd of 52,075 to its feet with a brilliant leaping catch in the sixth inning to rob Wertz of a near homer. Ashburn caught the ball in front of the right center field screen 400 feet distant after a long run."
Ashburn, who is a six-time All-Star, was also the batting champion twice. He was elected to the Hall of Fame by the Veterans Committee in 1995 and his number one has been retired by the Phillies.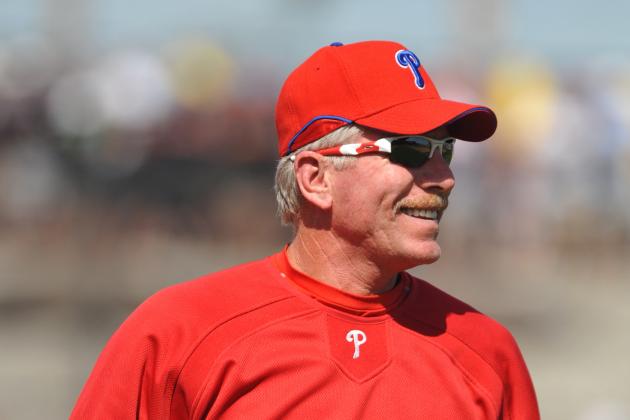 Al Messerschmidt/Getty Images

The Moment: Hits 500th home run, called by Harry Kalas.
You would think that it would be easy singling out the greatest career moment for a player who could easily be the greatest third baseman to ever play the game, but Mike Schmidt's list of achievements is so long that I had trouble singling out a specific moment.
But if there is one moment that immediately jumps out, it's Schmidt's 500th career home run, called by legendary broadcaster Harry Kalas.
When Schmidt retired in 1989, he did so with 548 home runs. The only players in history at that point with more home runs than Schmidt were Hank Aaron, Babe Ruth, Willie Mays, Frank Robinson, Harmon Killebrew and Reggie Jackson. Talk about good company.
Of course, Schmidt also spent all 18 seasons of his career as a member of the Phillies and is easily the greatest player in their history. The man has a long list of accolades. He is a three-time National League MVP, a World Series MVP, a World Series Championship, 12 All-Star appearances, 10 Gold Gloves and six Silver Sluggers.
He led the league in home runs eight different times. He led the league in RBI four times. He even hit four home runs in a single game, the third member of this list to accomplish the feat. The bottom line is this—Schmidt was an easy choice for the Hall of Fame. He received nearly 97% of the vote his first time on the ballot.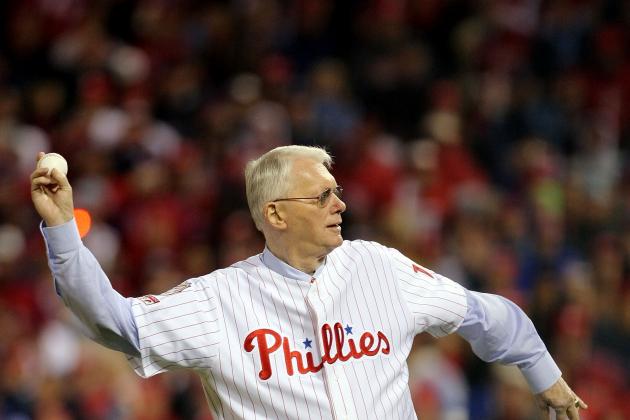 Doug Pensinger/Getty Images

The Moment: Tosses a perfect game against the New York Mets as part of a Father's Day doubleheader.
In one of the best trades in franchise history, the Phillies acquired Jim Bunning from the Detroit Tigers for next to nothing. You see, the Tigers had soured on Bunning and believed that he was heading in the wrong direction. The Phillies thought otherwise, and were correct.
After throwing a no-hitter earlier in his career, Bunning made his mark on franchise history in his first season as a member of the Phils. The club played a doubleheader against the rival New York Mets on Father's Day and Bunning was perfect.
For the first time in franchise history, a Phillies pitcher had thrown a perfect game. The second pitcher to throw a perfect game would not come along until 2010, when Roy Halladay accomplished the feat.
Bunning was also a nine-time All-Star, but even then, was not elected into the Hall of Fame. It was not until 1996 that the Veterans Committee decided to vote Bunning in.