Cain Velasquez Next Fight: Velasquez vs. Overeem Head-to-Toe Breakdown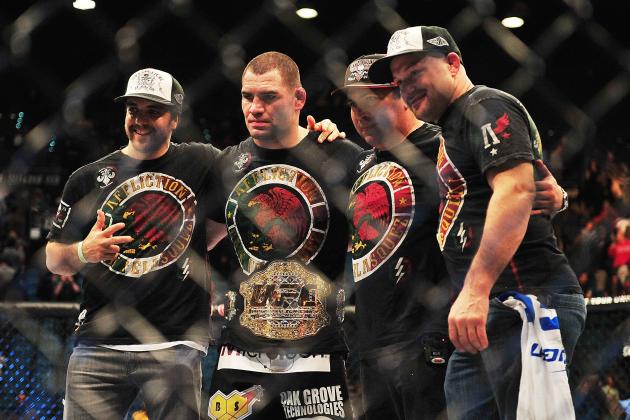 Gary A. Vasquez-USA TODAY Sports

Let's not kid ourselves: Alistair Overeem is going to beat Antonio "Big Foot" Silva at UFC 156 and earn a title shot against Cain Velasquez.
Yeah, yeah, anything can happen, it's MMA, blah, blah—Silva's skill set is nothing to write home about, and I expect Overeem to find his target (how can you not hit this mug?) and end this fight early.
After he does so, the Reem will probably challenge Velasquez in his post-fight interview, and we will have ourselves a scrap.
I, for one, am ecstatic about this possibility, and I think this is the most intriguing bout the heavyweight division has to offer.
Will Velasquez defend his title this time around, or will Overeem become the third heavyweight champion in as many years?
Start the slideshow to see how these two colossal heavyweights match up inside the Octagon.
Begin Slideshow

»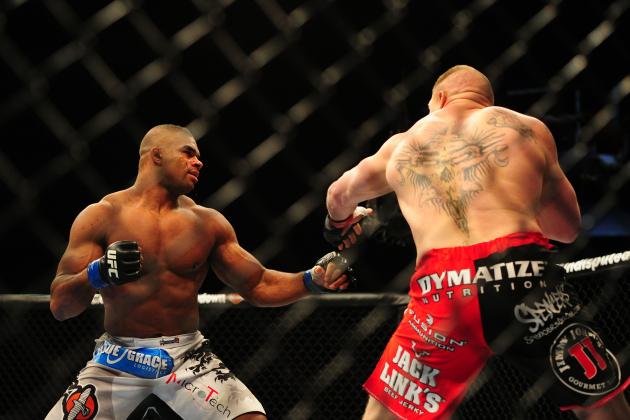 Mark J. Rebilas-USA TODAY Sports

This is the one area in the fight where I think we will be surprised.
A hulking heavyweight with K-1 kickboxing credentials, Alistair Overeem is widely considered the heavyweight division's premier striker.
Fifteen of his 36 professional MMA victories have come via KO/TKO—that's four more stoppages via strikes than Velasquez has total victories, for those keeping track at home.
All that said, Cain Velasquez made me a believer in his five-round tilt against Junior dos Santos at UFC 155. While his wrestling and conditioning obviously played a huge part in the win, Velasquez's striking was the most surprising aspect of the fight.
He teed off on dos Santos almost at will, and he was never hurt and never in any kind of serious danger against the man whom many called the best heavyweight boxer in all of MMA.
Velasquez's striking is hugely underrated in my eyes, but one still has to favor Overeem on the feet in this matchup until proven otherwise.
In a straight-up kickboxing match, Overeem handles Velasquez easily, but the striking game in MMA is a totally different animal, and the two are much, much closer here.
Advantage: Overeem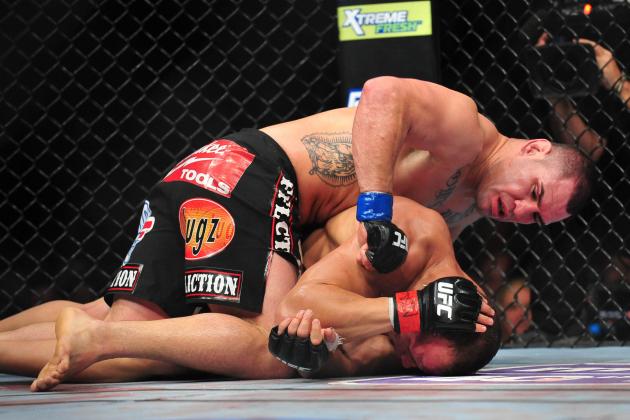 Gary A. Vasquez-USA TODAY Sports

Going into his rematch with Junior dos Santos, many critics and fans felt Velasquez was the heavyweight division's most dangerous wrestler.
His performance at UFC 155 solidified that notion and suggested that his grappling skills are perhaps even better than we originally thought.
Velasquez grounded dos Santos at will, a feat no heavyweight has even come close to accomplishing inside the Octagon.
The challenger-to-be, Overeem, simply does not have this kind of grappling prowess.
"The Demolition Man" is not a terrible grappler by any stretch, and his enormous size and strength will serve him well in defending Velasquez's takedowns, but there is no doubt who the superior grappler is in this one.
Advantage: Cain Velasquez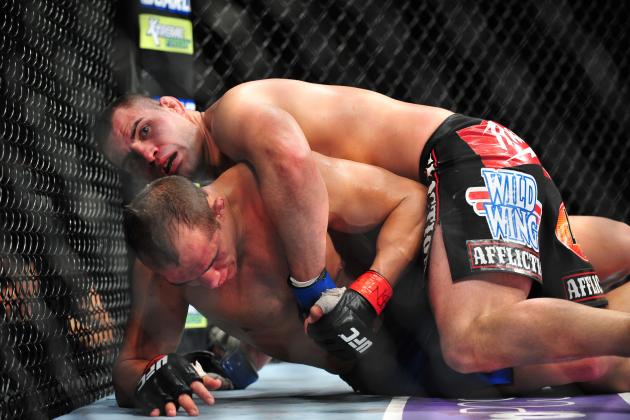 Gary A. Vasquez-USA TODAY Sports

For somebody with such phenomenal wrestling and ground control, it is disheartening that Cain Velasquez does not have a single submission victory in his professional career.
Honestly, I feel like he could have submitted Junior dos Santos easily in Rounds 1 or 2 of their UFC 155 fight, and it simply appeared he was content to grind out the victory and wear down his opponent.
There's nothing wrong with that—it worked out marvelously for him, after all. Still, that killer instinct on the ground (with submissions, at least) is not evident in Velasquez's game.
We have never seen him submit an opponent, nor have we seen him fend off submission attempts, so your guess is as good as mine concerning his skill level here.
I will say this, though: His reluctance to go for submissions tells me he is not totally comfortable there, and that is very telling.
Overeem, on the other hand, has a remarkable 19 submission victories in his career. For somebody widely considered a striker, Overeem's submission game is awfully deadly.
His guillotine is vicious (he has won eight fights via this method), and his brute strength makes any submission he secures a scary sight.
Adding to this, he has been submitted just twice in 48 career fights, and one of those submissions was due to strikes. The other, a kimura loss, came at the hands of Fabricio Werdum, who is arguably the heavyweight division's most dangerous submission specialist.
In short, when it comes to submissions, Overeem's resume speaks for itself.
Advantage: Overeem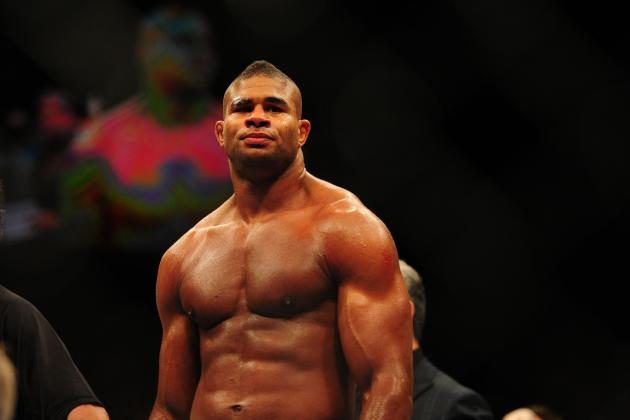 Mark J. Rebilas-USA TODAY Sports

Outside of the obvious areas of striking, grappling and submissions, this matchup has some interesting elements at play.
X-Factor for Velasquez
For new champion Cain Velasquez, cardio is the biggest X-factor. He did gas a bit against dos Santos, but it was clear he had much more in the tank for the bout's duration.
Like he said in the post-fight interview, keeping that kind of pace is insanely difficult for any fighter, let alone a big heavyweight in the fight of his life, and simply staying effective for the full 25 minutes is an accomplishment.
Overeem has only won twice via decision, and his most recent victory via this method against Fabricio Werdum was one of the strangest fights in MMA history. The pace was not really pushed at all in that bout, and Werdum seemed content to play the role of Paris Hilton and lay on his back for fifteen minutes.
This suggests that Velasquez will have a definitive advantage in the cardio department, and I expect that to play a huge role in a potential matchup.
X-Factor for Overeem
Are you clean, bro?
...And if so, are you still the beast we all think you are?
I don't want to start the steroid discussion, but you kind of have to with a guy who looks like the offspring of Lou Ferrigno and Ronnie Coleman (go ahead and picture that...like two Rhino's fighting over a T-bone steak, isn't it?).
There's also that part where Overeem is currently serving a suspension for just this reason, so, yeah, you pretty much can't avoid the topic here.
If Overeem comes in clean against "Big Foot" and he is still as brutal as we all expect, I think we should cast aside the steroid discussion leading up to his title fight with Velasquez (hint: we still won't).
Still, as of now, you have to think about it, and it's an unfortunate point that needs to be considered.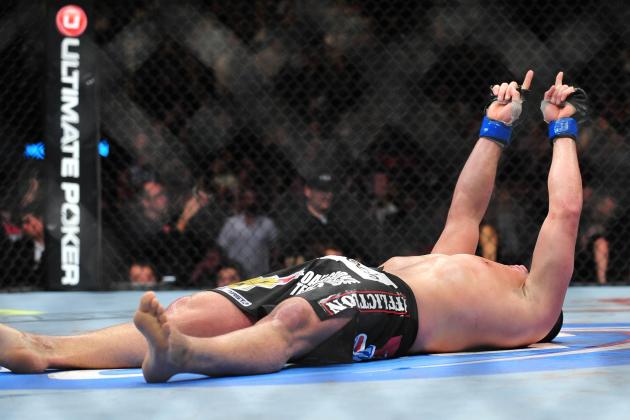 Gary A. Vasquez-USA TODAY Sports

If (when) they fight, Cain Velasquez will defeat Alistair Overeem.
Like I said earlier, this isn't a kickboxing match, and fighting a guy who continually moves forward and masterfully mixes up his wrestling and striking is a tall order for any heavyweight, and I do not think the Reem is up for the task.
Velasquez showed he deserves his spot atop the heavyweight mountain at UFC 155, and he will further this notion against Alistair Overeem.
I do think Overeem has a fair chance of catching Velasquez with a huge shot early or a tight guillotine on a takedown attempt, but I still think the logical choice here sides with the champion.
With a game plan identical to the one he employed against Junior dos Santos in their rematch, I expect Velasquez to stay in Overeem's face and punish him with short shots and a stifling grappling game.
This will wear Overeem down, and Velasquez will finish the job with some ground-and-pound late in the fight.
Prediction: Velasquez via TKO, Round 4