Stanford Coach David Shaw, QB Kevin Hogan Poised to Outshine Harbaugh and Luck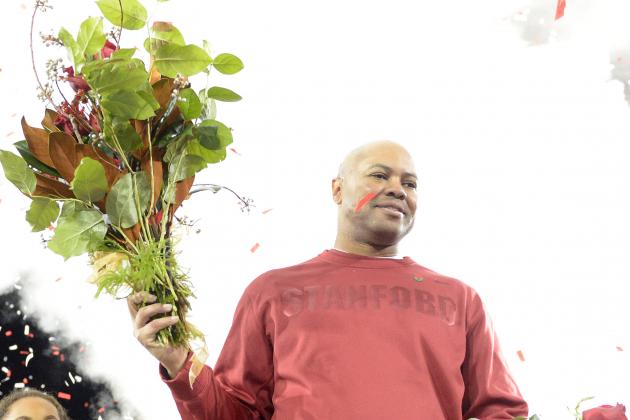 Kirby Lee-USA TODAY Sports
Stanford is heading to the Rose Bowl to face Wisconsin.
As the Stanford Cardinal make their final preparations for the Rose Bowl battle against the Wisconsin Badgers, coach David Shaw and quarterback Kevin Hogan are entering uncharted territory. They are writing new chapters every game into the Stanford football record book.
Replacing icons Jim Harbaugh and Andrew Luck, they are taking the program to places it's never been.
Harbaugh is credited with putting Stanford on the map as a powerhouse in the national football picture. Andrew Luck, twice runner-up for the Heisman Trophy, was the kind of quarterback who only comes along once in a generation.
The combo was fantastic and led to an impressive Orange Bowl win over the Virginia Tech Hokies at the end of the 2010 season.
Once Harbaugh left and Shaw took over in 2011, there were some questions about what would happen. A drop-off was expected.
Yet Luck and crew came through, capping a great year with a Fiesta Bowl appearance.
After Luck left, there were big questions in 2012 about who would succeed him and how well the team would do. It became a very interesting story.
Begin Slideshow

»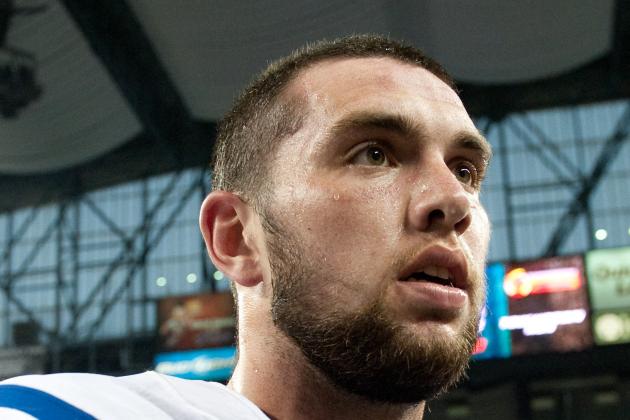 Tim Fuller-USA TODAY Sports
Who would succeed the great Andrew Luck?
All-American star QB Andrew Luck left after the 2011 season to start his pro career with the Indianapolis Colts. For 2012 Shaw had to pick a successor.
Two QBs were in the mix: Josh Nunes and Brett Nottingham. Nunes got the nod.
Over the first eight games, Stanford did reasonably well. It compiled a 6-2 record with close losses to Washington and Notre Dame.
Nunes took the majority of the snaps with occasional appearances by another backup QB named Kevin Hogan, a redshirt freshman.
Then came the Colorado game. This was one of the weakest teams in college football.
After an unimpressive first quarter by Nunes, Shaw gave Hogan a chance to play. He lit up the scoreboard over the next two quarters before Shaw brought in two more QBs in the fourth quarter for cleanup in a one-sided game.
That Colorado game was the key. After a few days Shaw deftly announced that Hogan would start the next game.
Thus began the Kevin Hogan era. There's been no looking back since then.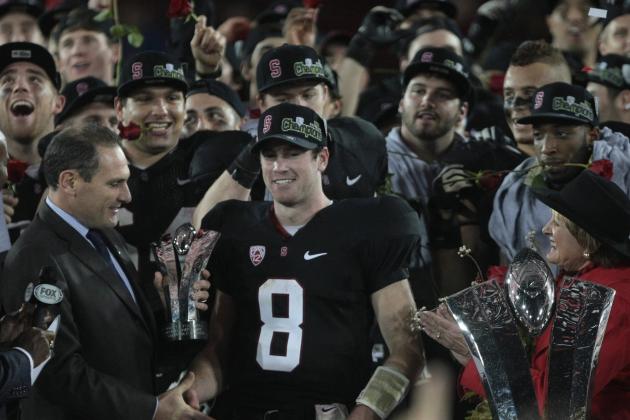 Kelley L Cox-USA TODAY Sports
Redshirt freshman Kevin Hogan is the man.
Hogan got involved at the toughest time of Stanford's schedule. The last three games were against ranked opponents Oregon State, Oregon and UCLA.
These were good teams with good defenses, and Hogan would earn his stripes against formidable opponents.
Few expected Stanford to win all three games, but it did. That led to the Pac-12 Championship game, a rematch with UCLA, which Stanford had beaten just one week earlier.
This time the Rose Bowl was on the line, and Stanford won again.
In the first UCLA game, Stanford won easily. But in Hogan's other three starts, the combined margin of victory was just 10 points. In fact, in those three games Stanford entered the fourth quarter losing.
In other words, Hogan had to lead comeback charges in all three games. To be fair, he got considerable help from Stanford's strong defense, which seemed to get better as the games went on.
But Hogan's poise and decision making played a big part, too. Stanford ended the season with seven consecutive wins.
Stanford has many stars, and it's unfair to pick out just one. This was borne out with the postseason honors, which were spread among many Stanford players.
The achievements were clearly team achievements, not the result of any one or two players. Still, it was great that Hogan was picked to the All-Pac-12 team even though he only started four games.
Hogan has a lot of potential and a bright future.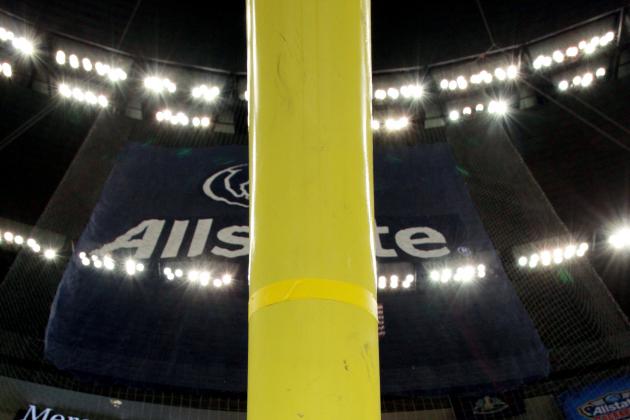 Ronald Martinez/Getty Images

The Bowl Championship Series (BCS) system started in 1998 and will go away after the 2013 season. It was created for good reasons and has given us many more intriguing bowl games than we experienced prior to its creation.
It also has been the subject of much controversy. Therefore a new system will replace it in the 2014 season.
Within the BCS era, only five teams had gone to BCS bowl games three years in a row before this year: Ohio State, Oklahoma, USC, Miami (FL) and Florida State.
This year Stanford will join this illustrious club. Harbaugh got Stanford there the first year, and Shaw the last two years.
Stanford joins the impressive list of serious football powerhouses. Pretty good.
By the way, Stanford's Rose Bowl opponent Wisconsin will also join this club this year with its third consecutive Rose Bowl appearance.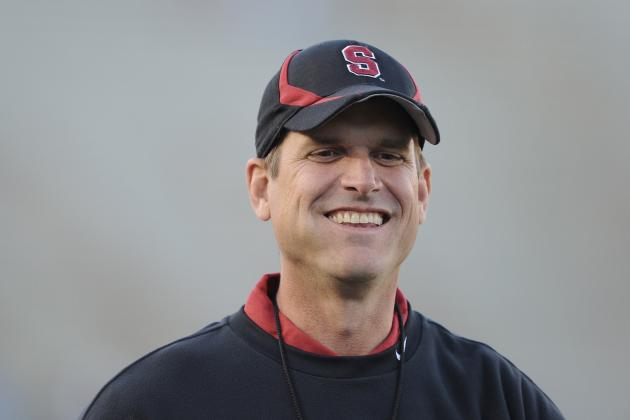 Harry How/Getty Images
Coach Jim Harbaugh
To be fair, Stanford would not be in this position were it not for Jim Harbaugh.
In four short years he totally transformed the Stanford football program. He inherited a team that had gone 1-11 under coach Walt Harris in 2005.
The 2009 team ended with an amazing 12-1 record. The last game was a 40-12 thrashing of Virginia Tech in the Orange Bowl. Stanford was ranked No. 4 in the final AP Poll.
Harbaugh was a complete coach and strong leader. He brought several great coaches with him from the University of San Diego including David Shaw. He also hired other outstanding coaches and did a fantastic job of recruiting.
Harbaugh changed the mindset of the Stanford players. Known for their pedigree and smarts, he convinced them that they were blue-collar players who had to fight it out in the trenches.
He built strong offensive and defensive lines and emphasized the run game despite having one of the premier passers in all of college football with Andrew Luck.
The results speak for themselves. While the win-loss record was impressive, even more impressive was the system that Harbaugh created, which would be successful even after he left.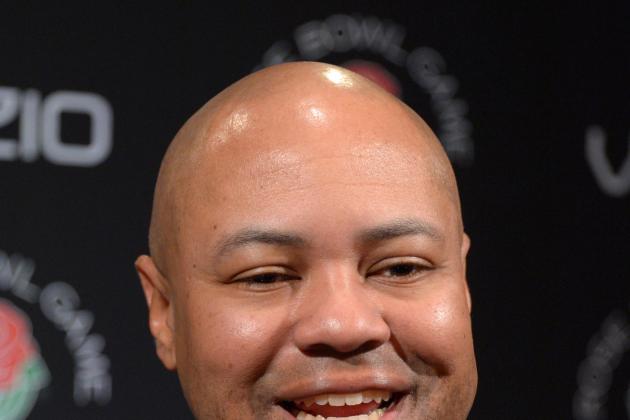 USA TODAY Sports
Second-year coach David Shaw
The 2011 season was Shaw's first as head coach. He still had Andrew Luck as his play-caller, so hope remained high.
Even so, Shaw surprised many when Stanford won the first nine games and ended the regular season 11-1.
That was the same as Harbaugh the year before, and both coaches lost only to Oregon during the regular season.
Shaw ended 2011 with a very tough 41-38 loss to Oklahoma State in overtime in the Fiesta Bowl. The record was 11-2 record, earning a ranking of No. 7 in the final AP Poll.
Shaw's second season has been a surprising success to most people. Stanford started the season 4-2. That included a quality 21-14 win over then No. 2 USC and a controversial 20-13 overtime loss to then No. 7 Notre Dame.
At that point, most folks thought Stanford would have a good but not great season.
No one expected Stanford to run off seven consecutive victories including a 20-17 win over then No. 1 Oregon and four consecutive wins over Top 20 teams to end the season.
Shaw compiled a list of accomplishments that even the great Jim Harbaugh could not achieve. Those include:
- Pac-12 championship
- Two consecutive BCS bowl appearances (after Harbaugh's one BCS game in the Orange Bowl)
- Two consecutive 11-win seasons (after Harbaugh's one 12-win season)
- School record 46 straight weeks ranked in the AP Top 25
- Nation's No. 1 team in sacks and tackles for loss; No. 3 in rushing defense
- Pac-12's No. 1 scoring defense
- Two-time Pac-12 Coach of the Year

Not bad for a new guy's first two years as head coach.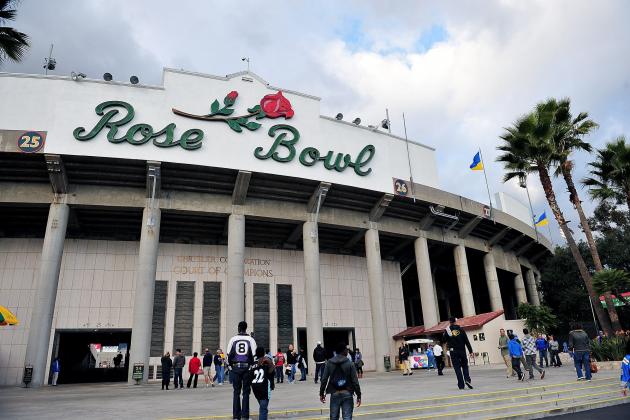 Gary A. Vasquez-USA TODAY Sports
Stanford and Wisconsin are heading into the Rose Bowl.
In Harbaugh's second season (2008), the team went 5-7 and did not go to a bowl game. In Shaw's second season (2012), the Rose Bowl will be the prize after a great 11-2 campaign.
In Andrew Luck's first season (2009), he started every regular season game and led the team to an 8-5 record. Only two opponents were in the top 20, and Stanford beat them both: a 51-42 win over No. 7 Oregon, and a 55-21 win over No. 11 USC.
Overall it was a pretty good season, but not as impressive as Hogan's 4-0 record in 2012 against four Top 20 teams.
Luck did not get to play in the Sun Bowl at the end of the 2009 season; he had broken his index finger in the last game against Notre Dame. He can't be held responsible for the 31-27 loss to Oklahoma. He did play in bowl games the next two years: a 40-12 thumping over Virgina Tech in the Orange Bowl, and a tough 41-38 overtime loss to Oklahoma State in last year's Fiesta Bowl.
Regardless of the outcome of the upcoming Rose Bowl, Hogan's overall record as a starter in his first year will be better than Luck's had been in his first year, and Hogan has a shot at tying the number of bowl game wins notched by Luck.
With the Rose Bowl looming, Shaw and Hogan have a chance to put an exclamation point on the season. A win over Wisconsin would mean many things including:
- A 12-win season for Stanford for just the third time in school history (in addition to 2011, it also happened in 1908)
- Redemption for Stanford to atone for the 17-9 loss to Wisconsin in the 2000 Rose Bowl
- Recognition for Hogan as the first Stanford quarterback to win a Rose Bowl since Don Bunce (and the "Thunder Chicken" defense) beat Michigan 13-12 in 1972
- A tie for Hogan with Luck for bowl game wins as a starter
To be sure, Harbaugh and Luck left a meaningful mark on the Stanford football program.
However, neither Harbaugh or Luck ever got to the Rose Bowl. Shaw and Hogan will be there soon, upstaging their impressive predecessors in the the grandaddy of them all.
This is a great story in the making.
Much has been achieved. Much more is yet to come.
With a Rose Bowl victory, Shaw and Hogan will be in rare company, indeed.