10 NHL Teams That Made Big Mistakes Prior to the Lockout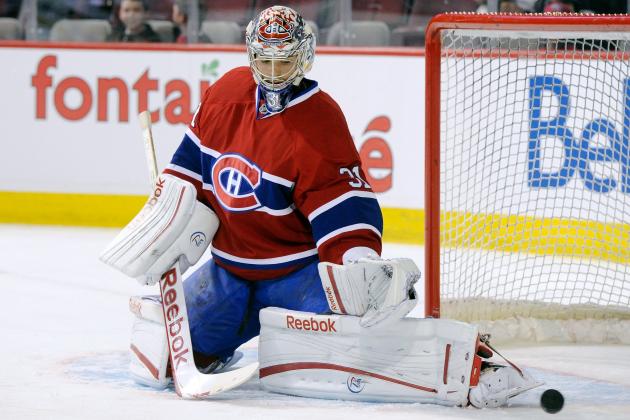 Richard Wolowicz/Getty Images
Carey Price of the Montreal Canadiens.
When it comes to professional sports, mistakes—innocent or not—tend to be put under a magnifying glass for all to see.
Thankfully for the general managers of National Hockey League teams, the current labor dispute between the league and the NHL Players' Association has diverted most of the attention away from their errors in judgment this past summer.
That doesn't mean they should get off scot-free, though. With that in mind, here are the 10 teams that made the biggest mistakes just prior to this current lockout:
Begin Slideshow

»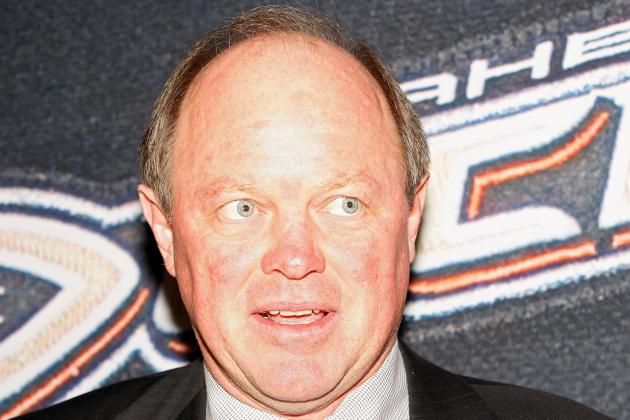 Richard Wolowicz/Getty Images
General manager Bob Murray of the Anaheim Ducks.
Granted, the Anaheim Ducks were reportedly handcuffed and unable to convince 2008 second-round pick Justin Schultz to sign with them (via the Hockey Writers). As such, they were relatively powerless when he opted to become an unrestricted free agent and sign with the Edmonton Oilers.
However, letting him walk away without getting anything in return speaks to great mismanagement at the highest level.
The Ducks couldn't sign him for four years. If they believed they would be able to sign him during the exclusive 30-day window, during which they still held his rights, after he deregistered from the University of Wisconsin, they were smoking something incredibly potent.
Now Schultz, who finds himself in second place behind teammate Jordan Eberle in the American Hockey League's scoring race with 42 points in 30 games, has established himself as one of the game's most dangerous NHL-ready prospects.
Meanwhile, the Ducks are down a high-end prospect—when they could have drafted the likes of Luke Adam, Derek Stepan or Travis Hamonic (just to name a few).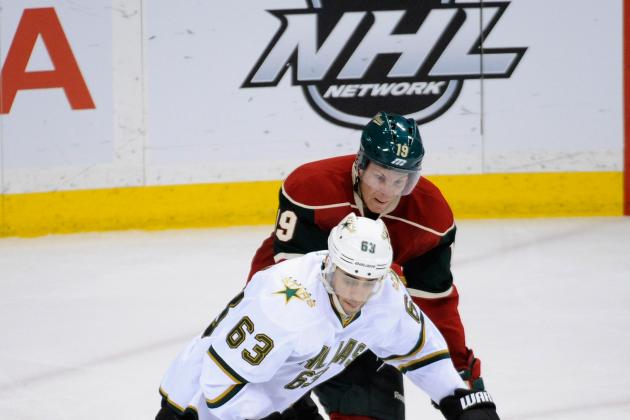 Hannah Foslien/Getty Images
Mike Ribeiro, formerly of the Dallas Stars.
This deal may still pay dividends if the league and union are miraculously able to iron out a deal in the coming days.
If not, Mike Ribeiro will presumably become an unrestricted free agent this summer without playing a game for the Washington Capitals, with prospect Cody Eakin and a second-round pick having gone the other way.
There's little denying Ribeiro's many talents, from pulling off sick dangles to acting like he's just been the victim of an on-ice armed robbery at the drop of the hat.
He nonetheless could have been (and theoretically still could be) the center Alexander Ovechkin had been waiting for to jump-start his career.
Because Nicklas Backstrom has clearly not worked out, at least in the way Justin Timberlake wasn't working out for NSYNC.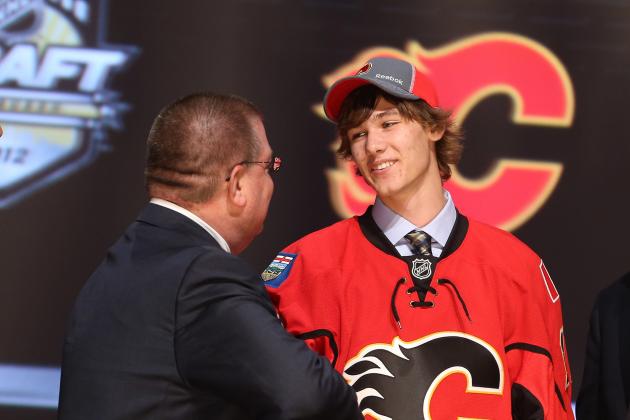 Bruce Bennett/Getty Images
General manager Jay Feaster and Mark Jankowski of the Calgary Flames.
Yes, center Mark Jankowski may yet pan out. But it doesn't change the fact that there were many higher-ranked players available, when general manager Jay Feaster went off the board and drafted him 21st overall in June.
Not only that, but Feaster had the 14th overall pick before trading down with the Buffalo Sabres to acquire the No. 21 and No. 42 picks. The Sabres themselves drafted a center, Zemgus Girgensons, with that 14th pick.
Considering Jankowski was only ranked 43 overall by the NHL Central Scouting Bureau among just North American skaters, the Flames could have theoretically waited until the second round to take him.
Feaster assured everyone he wouldn't have lasted that long, and he made the right decision taking him when he did. But when terms like "long-term project" are being tossed around, it makes one wonder what kind of game the Flames are playing.
Lately it hasn't resembled hockey all that much.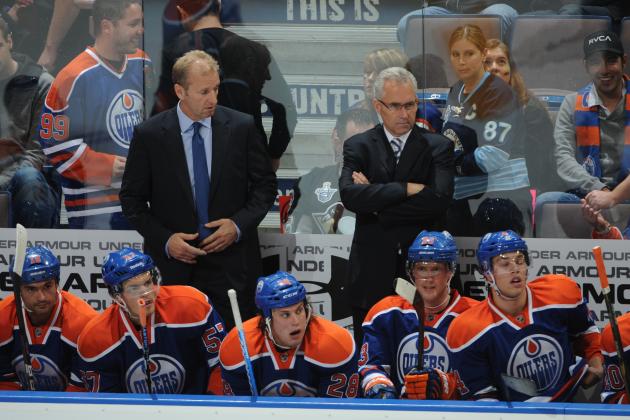 Dale MacMillan/Getty Images
Ralph Krueger (left) and Tom Renney behind the Edmonton Oilers' bench.
When play starts up again, Ralph Krueger will become the Oilers' fourth head coach in five seasons.
The argument that a relative unknown behind the bench might be able to lead the team to a playoff berth, after Pat Quinn and Tom Renney failed to, might just hold some water, that is if Krueger hadn't been an assistant of the latter for the past two seasons, during which Edmonton finished either dead or second-last.
There's little denying that the Oilers are poised to build on their lack of success of the past few seasons. They're in good shape, but there were clearly more qualified candidates out there.
Sure, Krueger is reportedly an effective communicator (via CBC), but all head coaches are at the start. And, sure, it's unfair to dismiss someone based purely on the fact that he lacks NHL head-coaching experience (you need someone to give you a chance before you get experience).
However, if your crowning achievement is a single upset win over Canada as Switzerland's head coach in the preliminary round at the Turin Olympics, a tournament at which your team didn't medal either, it's entirely possible you may not find all that much long-term success as a head coach in the NHL.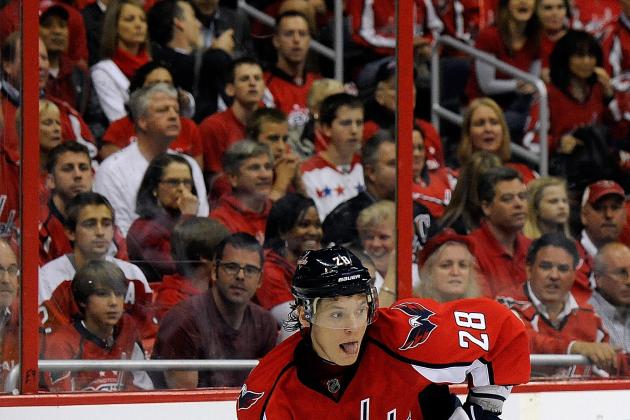 Patrick McDermott/Getty Images
Alexander Semin, formerly of the Washington Capitals.
I'm putting it out there: Alexander Semin is not worth $7 million per year. Now, one can make a case that no NHL player is worth that much, but Semin, who goes through the motions so often that you'd think he was a stewardess relaying proper in-flight safety procedures, especially isn't.
When Carolina Hurricanes general manager Jim Rutherford reached out to the enigmatic right-winger this past summer, it was the third straight time Semin had been signed to a one-year deal with the prospect of becoming an unrestricted free agent the following summer.
If after 2009-10 when the Washington Capitals opted not to lock him up long term despite a career-high 84 points wasn't warning enough for Rutherford, Semin's two subsequent 54-point campaigns should have been.
And yet, if the lockout lasts the entire season, Rutherford may not have to live with the consequences of his clear mistake. He can just let Semin become a UFA and go after Michael Ryder.
Bruce Bennett/Getty Images
Zach Parise, formerly of the New Jersey Devils.
Not only did the Pittsburgh Penguins lose out on Zach Parise, but they lost out on everybody else this past summer.
After trading away Jordan Staal and Zbynek Michalek and making cap space to theoretically give captain Sidney Crosby the elite winger he's needed since losing Colby Armstrong to the Atlanta Thrashers, general manager Ray Shero swung and missed.
If that wasn't bad enough, Steve Sullivan left town in favor of signing with the Phoenix Coyotes, which is kind of like leaving Wall Street to work at a three-ring circus.
Curious life choices aside, the fact that Sullivan now joins another missed target in Shane Doan must seriously sting. Just what does Phoenix have that Pittsburgh doesn't? Aside from one foot in a desert grave, I mean.
Obviously, any team that boasts both Evgeni Malkin and Crosby is a force with which to be reckoned, but it's clear the Penguins missed out on a great chance to establish themselves as a legitimate contender (yet again).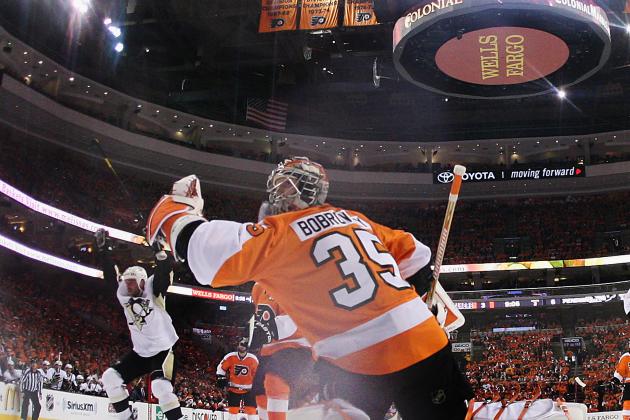 Bruce Bennett/Getty Images
Sergei Bobrovsky, formerly of the Philadelphia Flyers.
It remains to be seen whether or not Sergei Bobrovsky and Anders Lindback are the answers in Columbus and Tampa Bay respectively. But considering Vancouver Canuck Roberto Luongo was and still is very much available, one would have thought either one of these desperate-for-goaltending teams would have landed him.
They indeed may very well have tried and decided to go a different, cheaper route. But when it looks like a duck, quacks like a duck and has about as much big-league experience as Duck Jeff Drouin-Deslauriers, there's a good chance it's a back-up goalie.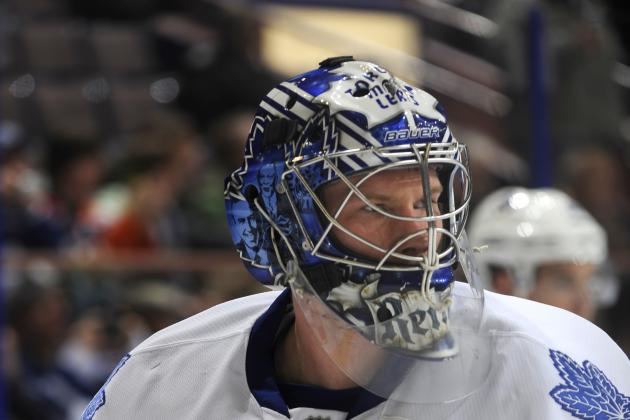 Dale MacMillan/Getty Images
James Reimer of the Toronto Maple Leafs.
General manager Brian Burke has always been a relatively straight shooter. Yet just prior to the lockout, he got goalie James Reimer caught in the crossfire of the ongoing Roberto Luongo saga with the Leafs.
Addressing rumors that the Leafs were interested in Luongo, Burke had this to say to Pierre LeBrun (via ESPN):
"We are prepared to go forward [with James Reimer and Ben Scrivens in net]. If we can upgrade at the goaltending position, and at a reasonable price, we'll do it. But we are prepared [to go that way]. I believe in James Reimer. He's young, he's athletic, I believe in this kid. If we have to start like that, we will."
Come again?
You want to upgrade your goaltending, even though you believe in Reimer. Your defense gave up the second most goals in the Eastern Conference last year. Does that mean you kneel and pray to Mike Komisarek? Because that would explain a lot, namely his exorbitant contract.
Meanwhile, saying Reimer is athletic as if it were a compliment? The dude is a professional athlete. Isn't that akin to saying you love pizza because it's food? Finally, being willing to start with Reimer and Scrivens because "you have to" is not exactly a ringing endorsement.
This whole ludicrous position on the matter, which Burke has maintained on multiple occasions, makes about as much sense as his justification of the Phil Kessel trade: admitting the Leafs always acknowledged the first of those two first-round picks going to the Boston Bruins could very well turn out to be Tyler Seguin, but deciding the deal was well worth it anyway.
Logically, you trade for Kessel for one reason only: to make the playoffs immediately and not finish second to last in the entire NHL. Clearly, you gambled and lost, badly. But in a classic attempt to save face, Burke continues to have his cake and try to eat it too.
This latest soap opera surrounding his team's goaltending situation is more of the same. With all the half-truths, he's just throwing Reimer under the bus and quite possibly irreparably damaging his confidence moving forward.
Either lie through your teeth when talking to the media about ongoing trade negotiations or don't talk to the media at all. It's that simple. Believe me, no one will think less of you. It's kind of impossible at this point.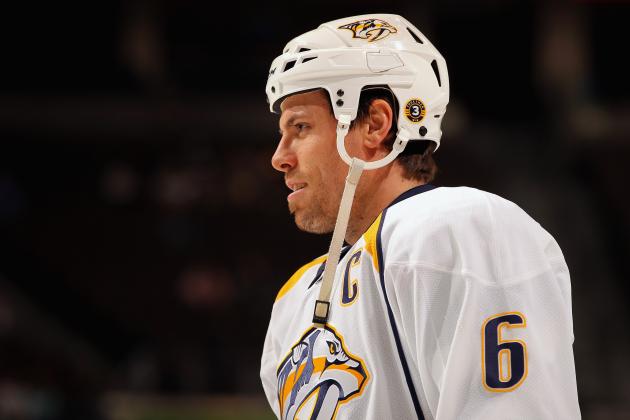 Doug Pensinger/Getty Images
Shea Weber of the Nashville Predators.
The Nashville Predators got eliminated by the Phoenix Coyotes on May 7. Star defenseman Shea Weber became a free agent on July 1. On July 19, the Philadelphia Flyers signed him to the 14-year, $110-million offer sheet, which the Predators eventually matched.
No one is disputing the fact that once the Flyers signed Weber to that offer sheet the Predators had to match it.
They had already lost Ryan Suter to the Minnesota Wild and, as much as Weber may have wanted out as well, general manager David Poile could ill afford losing another star from a roster already paper thin on game-breaking talent.
That isn't to say Nashville is a bad team. However, when the inconsistent Martin Erat has consistently been the team's best offensive player over the last five years, it's clear, 237 goals or not, that the Preds are a few forwards short of an intimidating offense.
As such, small-market Nashville had to match. But, considering Nashville is currently paying Weber's $13-million signing bonus even with the lockout, the Predators could have spared themselves a lot of frustration and money down the toilet by realizing the market for a 27-year-old, 6'4", 232-pound defenseman capable of scoring upwards of 50 points per season.
In short, that there is one. Who would have guessed?
Bruce Bennett/Getty Images
Carey Price of the Montreal Canadiens.
Los Angeles Kings Conn Smythe Trophy winner Jonathan Quick signed a 10-year contract extension worth $58 million on July 1 (average of $5.8 million).
One day later, the Montreal Canadiens re-signed the AHL-equivalent, Jack Butterfield Trophy-winning goalie Carey Price to a six-year, $39-million deal (average of $6.5 million).
Needless to say, no matter how many times Hab fans hear how Price has excelled at every level of hockey prior to this one, it doesn't change the fact that he has yet to establish himself as a star in the NHL.
Yet Montreal general manager Marc Bergevin somehow deemed him worthy of more money per year than a goalie who just this past post-season earned more playoff-series victories than he has over his entire career (one season longer than Quick's, for the record).
The contract also gives yet-to-be-re-signed defenseman P.K. Subban a good reason to become disillusioned with Montreal's negotiating tactics. The deal is poised to blow up in Montreal's face in the near future, and potentially into the long run, if Price fails to become the all-star goalie he by all accounts should be by now.