Tampa Bay Lightning: 10 Players You Need to Know from the Syracuse Crunch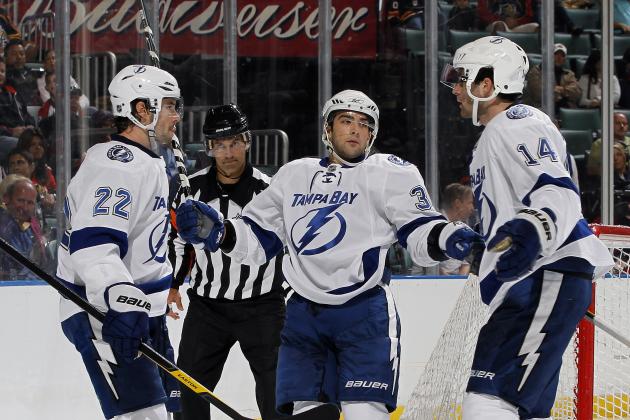 Joel Auerbach/Getty Images
Tampa Bay has the best AHL team in the league that is full of talented prospects.
There isn't an easier place to find a collection of future NHL stars than the American Hockey League. In the AHL, it has been the Tampa Bay Lightning's affiliate that has dominated the league recently and this year is no different.
There are a number of players on the Syracuse Crunch that Lightning fans need to know. From Cory Conacher to Dustin Tokarski, the Crunch are full of talent that could be joining the NHL ranks in the near future.
Here is a list of the 10 players you need to know from the Lightning's AHL affiliate.
Begin Slideshow

»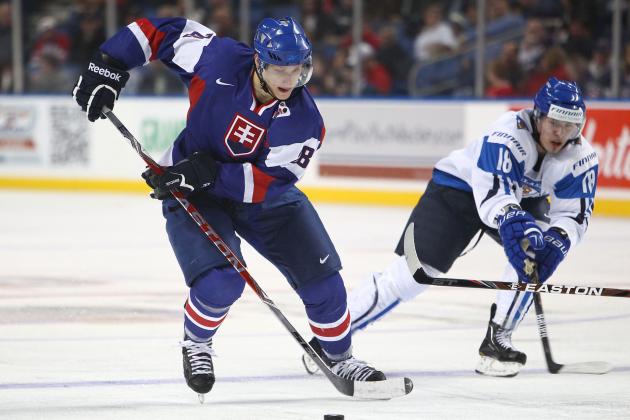 Tom Szczerbowski/Getty Images
Richard Panik is just one of the talented Lightning prospects playing in the IIHF World Junior Championships.
Draft Pick: 2009, 2nd Round (52nd Overall)
Position: Right Wing
Build: 6'2", 195 pounds
Shoots: Right
Panik spent time in the Ontario Hockey League over the last few seasons before being moved to the AHL in 2011 with the Norfolk Admirals.
He is an offensive-minded forward with size and skill, which he has demonstrated in the early part of the season. He can skate and score with ease.
There is a lot of promise for this winger. He could be a potential replacement for Martin St. Louis.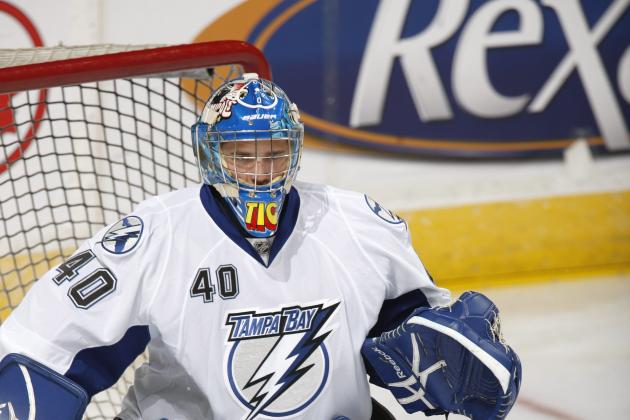 Dale MacMillan/Getty Images
Dustin Tokarski is one of the best goaltenders in the AHL.
Draft Pick: 2008, 5th Round (122nd Overall)
Position: Goaltender
Build: 5'11", 190 pounds
Shoots: Left
No one was more important to the Calder Cup run than goaltender Dustin Tokarski. Tokarski went 12-2 with a 1.46 goals-against average and solidified his name as one of the Bolts' top goaltending prospects at the time.
Tokarski's start to the 2012 campaign with Syracuse has been average. He is the team's top goaltender and one of the league's best.
Where does he fit in the Tampa Bay organization that now includes a handful of young goaltenders?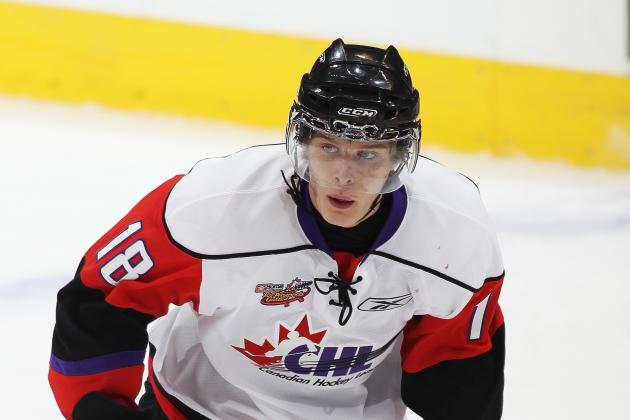 Claus Andersen/Getty Images
Namestnikov is a top-line center for the Crunch.
Draft Pick: 2011, 1st Round (27th Overall)
Position: Center
Build: 6'0", 170 pounds
Shoots: Left
Bolts prospects seem to land on great teams no matter what league they are in. Vladislav Namestnikov was a part of the London Knights of the Ontario Hockey League last season.
The Knights won the OHL Cup. This year, he joins the Syracuse Crunch of the AHL.
Namestnikov suffered a shoulder injury in late October, which sidelined him for nearly six weeks. Namestnikov is a highly touted prospect that could make for a great second-line center behind Steven Stamkos in the near future.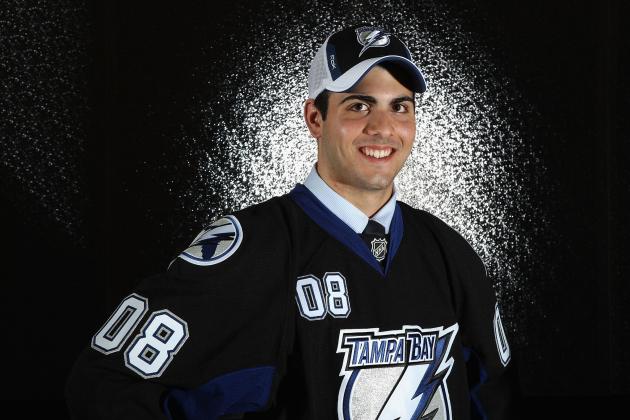 Andre Ringuette/Getty Images
Mark Barberio is the top-rated defenseman for the Crunch.
Draft Pick: 2008, 6th Round (152nd Overall)
Position: Defenseman
Build: 6'2", 202 pounds
Shoots: Left
Mark Barberio is in his final season of his three-year, entry-level deal after being drafted in 2008.
Barberio is the second-rated defenseman for the Lightning, according to hockeysfuture.com. He projects well with his frame (6'2", 202 pounds) and two-way play.
The defenseman should be an asset to the Lightning's style of play in the next few seasons.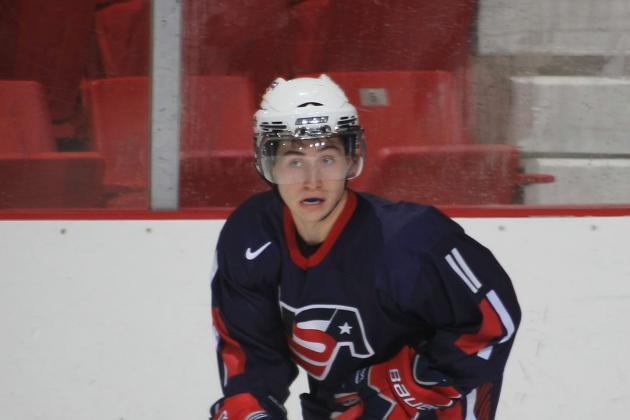 Bruce Bennett/Getty Images
Tyler Johnson could be an undrafted diamond-in-the-rough for Tampa.
Draft Pick: Undrafted
Position: Center
Build: 5'9", 165 pounds
Shoots: Right
Tyler Johnson attended the Minnesota Wild camp two years ago, but the Wild didn't sign him to a contract. Tampa Bay jumped at the opportunity and signed him to an entry-level deal in 2011.
Hockeysfuture.com lists him as the Bolts' second-best center, but doesn't give him much of a shot at NHL success (D-rating). Johnson is a scoring stud.
His consistency will be welcomed on the NHL level.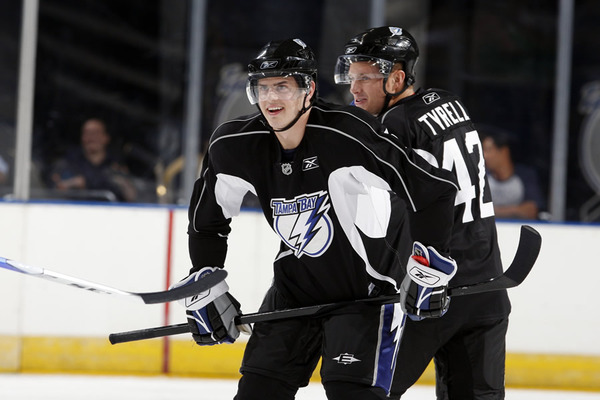 Photo Courtesy: Lightning.nhl.com
Draft Pick: 2007, Third Round (77th Overall)
Position: Left Wing
Build: 6'1", 165 pounds
Shoots: Left
Alex Killorn is the third-rated left wing in the Bolts system and is earning his time at the AHL level.
Last season, Killorn joined the Admirals for just 10 regular-season games and 17 playoff contests. He recorded 18 points in those games.
His game is raw but upside is huge for this Bolts prospect.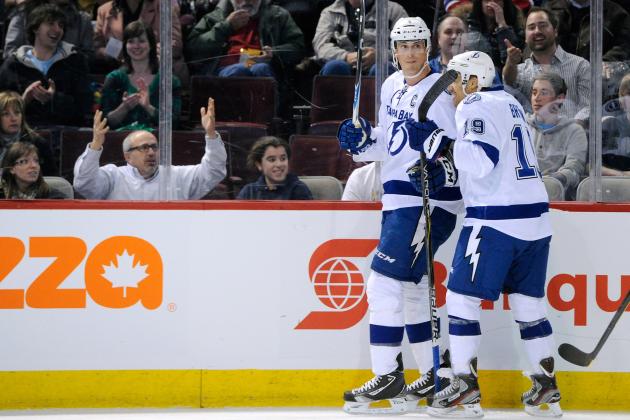 Richard Wolowicz/Getty Images
A broken collarbone will sideline J.T. Brown for an undisclosed amount of time.
Draft Pick: Undrafted
Position: Right Wing
Build: 5'10", 170 pounds
Shoots: Right
J.T. Brown is the fourth-rated right wing in the Tampa Bay system—but he is a member of the Syracuse Crunch. Brown could have started the season with the Lightning this year but the lockout prevented that.
He suffered a broken collarbone and will require surgery, according to ProHockeyTalk.com.
Undrafted, Brown signed with the Lightning last season and has seen significant time with the Crunch. Brown is built a bit like current superstar Martin St. Louis and has good upside.
He is a good skater who is learning on both ends of the ice.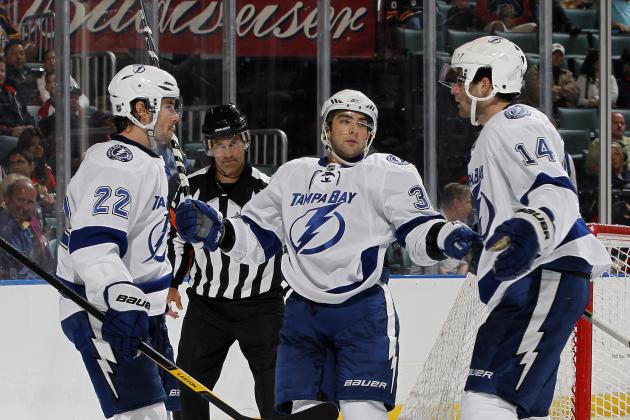 Joel Auerbach/Getty Images
Cory Conacher is another prospect on the cusp of reaching the big club.
Draft Pick: Undrafted
Position: Left Wing
Build: 5'8", 180 pounds
Shoots: Left
Conacher is a stud, period. Named to the 2012 AHL All-Star game, Conacher had an impressive year with Norfolk last season.
The Canadian netted 80 points in the regular season, including 31 goals. He continued that production in the postseason with 15 points in 18 games.
Conacher is third on the team in scoring this season and is under contract until 2014.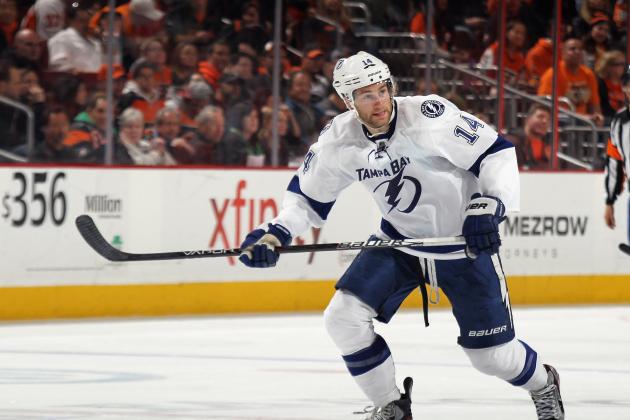 Bruce Bennett/Getty Images
Connolly has already had a taste of NHL action.
Draft Pick: 2010, First Round (Sixth Overall)
Position: Center
Build: 6'1", 165 pounds
Shoots: Right
Brett Connolly is an offensive juggernaut. He can score goals at an impressive rate and even set them up, if needed.
The 20-year-old forward is working on his defensive game and at 165 pounds, could use some additional poundage. Even with his lack of size, Connolly could be in a Lightning uniform sooner rather than later.
Connolly is one of the top scorers for the Crunch this season.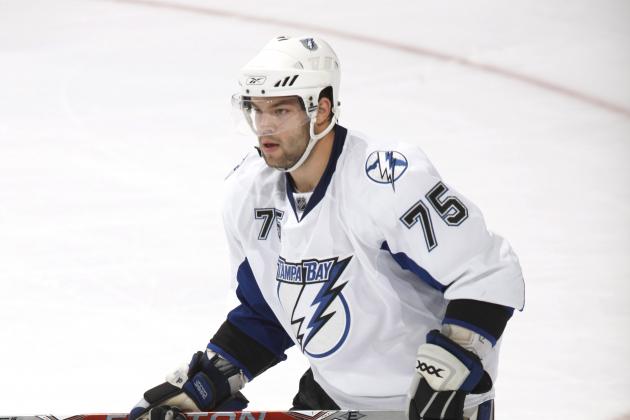 Dale MacMillan/Getty Images
Radko Gudas has a nice frame and a physical presence to his game.
Draft Pick: 2010, Third Round (66th Overall)
Position: Defenseman
Build: 6'0", 200 pounds
Shoots: Right
Radko Gudas is the son of a former professional hockey player and bronze medal winner for Czechoslovakia in the 1992 Olympics, Leo Gudas.
Gudas is a bit of an old-school player. He isn't a huge guy, but he is willing to use his six-foot frame to punish the opposition.
He isn't afraid to spend a little time in the penalty box either. Gudas has almost 450 penalty minutes in two-plus seasons.
The Lightning might want to use his physical services on the blue line soon.