Arsenal 7-3 Newcastle: 6 Things We Learned from the Gunners' Thrilling Win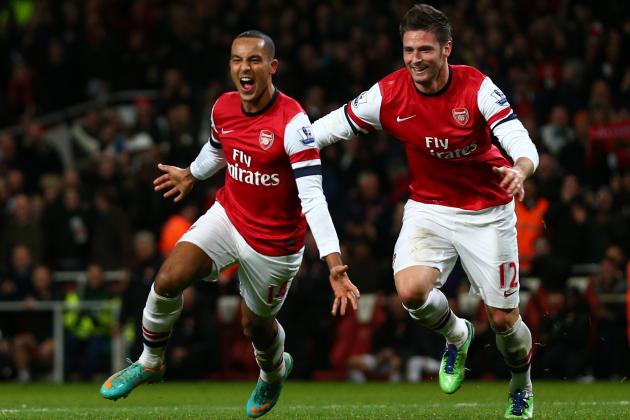 Clive Mason/Getty Images

In a match for the ages, Arsenal scorched Newcastle to the score of 7-3 at the Emirates Stadium.
I began my live blog of the match by saying that things were proceeding at an unexpectedly slow pace, and I couldn't have predicted the rest of the game worse.
The eight-goal second half was, well, marvelous. Each side traded blows at a comically fast pace, turning the score from 1-1 to 3-3 within a few minutes.
Arsenal, however, pulled away when it really mattered. Theo Walcott, the hat-trick hero who's suddenly the hottest striker in the Premier League, and super-sub Olivier Giroud each netted two goals in the final half hour to seal an historic win for the Gunners.
The task of summing it all up is futile, but let's look at six things that this match taught us.
Begin Slideshow

»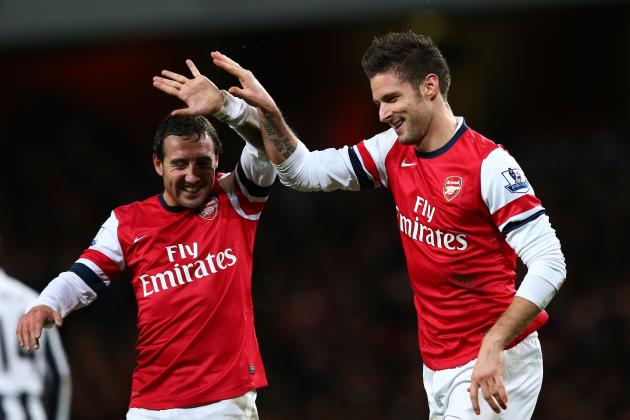 Clive Mason/Getty Images

Olivier Giroud's outstanding performance was understandably lost in all the hype of Theo Walcott's hat-trick, but still deserves to be honorably mentioned. This is, after all, a player who has received his fair share of barbs from the Arsenal faithful.
If his late point-blank shot had not careened off the underside of the crossbar, Giroud would have scored a true hat-trick, using his left foot, right foot and head. All during a cameo that lasted about 15 minutes.
Despite the Walcott mania that is surrounding Arsenal at the moment, it is important to remember that the Gunners have a world-class center forward already, and his name is Olivier Giroud.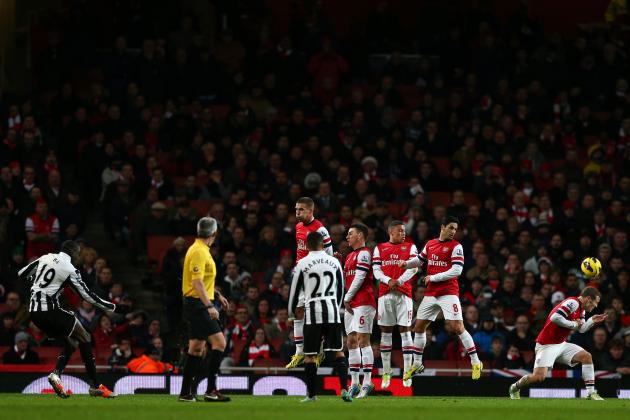 Clive Mason/Getty Images

Lurking behind the drama of the actual match was the fact that Demba Ba will be able to talk to other clubs in a couple days, and Arsenal may be one of those interested.
After all, with Ba's displays this season and his excellent audition at the Emirates, it would be criminal for Arsene Wenger to just overlook his £7 million release clause.
Even assuming that Theo Walcott remains a striker through the end of the season, Arsenal have just two recognized strikers in their team. Ba is the Premier League's joint third-leading goalscorer with 11 strikes to his name, including two that were very well taken against Arsenal.
For a paltry fee, the Gunners could have one of the most potent, diverse corps of strikers in England. What's not to like about that?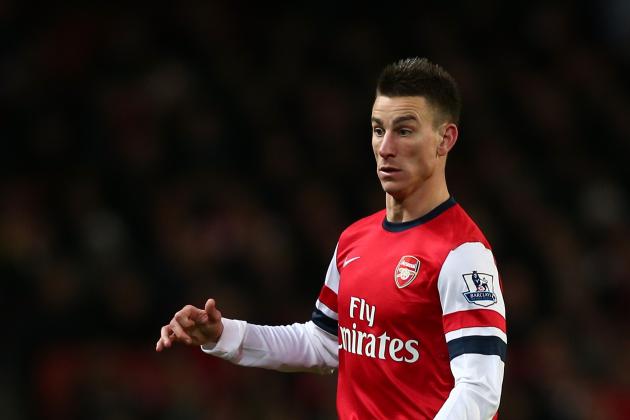 Clive Mason/Getty Images

Not to be a downer, but let's remember that before Arsenal began to pull away in the 73rd minute, they were conceding goals just as fast as Newcastle.
Granted, one was the result of an unanticipated deflection of a free kick, but the other two were absolutely inexcusable.
On the Magpies' second, Sylvain Marveaux was left completely unmarked at the far post, and Gabriel Obertan's simple ball across the face of goal was not defended at all.
Kieran Gibbs, though very good going forward, had a terrible day at the back, positively going to sleep to allow Demba Ba to get around him and easily tap in Newcastle's third.
While Arsene Wenger will be delighted with his team's attacking performance, Steve Bould will not be as impressed.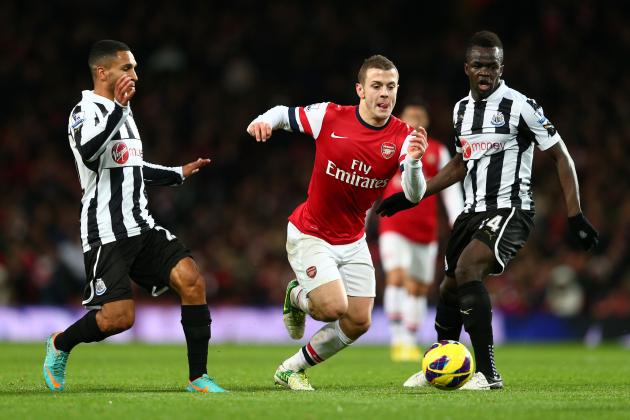 Clive Mason/Getty Images

If Arsenal were defensively disappointing on the day, Newcastle were calamitous.
Every goal was seemingly the result of sloppy play, which showed that the team had no leadership and could not organize itself beyond the first half hour or so.
Davide Santon was woeful, allowing Kieran Gibbs and Lukas Podolski to run him around and giving up when Theo Walcott skipped through to complete his hat-trick in stoppage time.
Even stalwart Fabricio Coloccini was only a little better, failing to organize his men and falling victim to Arsenal's incisive passing and movement.
Alan Pardew could do with a couple of new defenders to shore up a unit that has conceded 11 goals in its past two games. But for now, he'll probably just have to get creative on the training ground.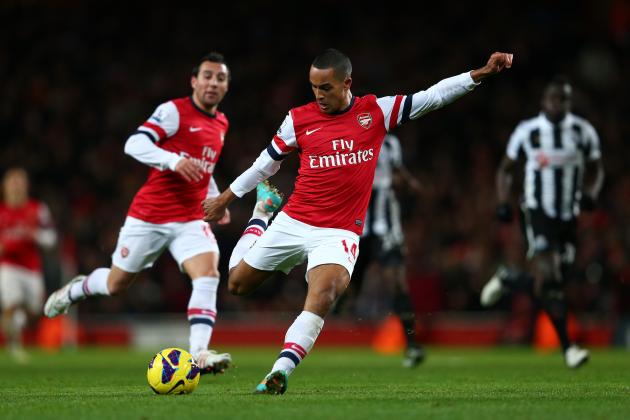 Clive Mason/Getty Images

If there were any doubts about Theo Walcott's ability to excel as a center-forward, they were convincingly put to rest against Newcastle.
Or at least it seemed that way.
Walcott can be a good striker—he's proved that with effective displays against Reading, Wigan and now Newcastle. It's hard to argue against that when the man is only a few hours removed from scoring a scintillating hat-trick and leading his team to victory.
But were the Englishman's goals only possible from a center-forward position? Bar the second, which did not really result from positional play, none were. And his wonderful cross to Olivier Giroud just showed how well Walcott can work with a traditional striker.
So can he be a good striker for Arsenal? Yes. Does he automatically deserve to start every game up front and displace Olivier Giroud? The jury's still very much out on that one.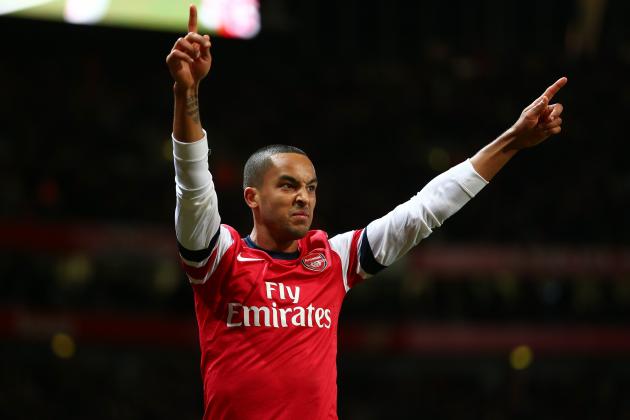 Clive Mason/Getty Images

Despite the fact that Theo Walcott might not be quite as skilled or refined as some would claim after his hat-trick, he is one of the most vital components of the Arsenal machine.
There is obviously the searing speed; in that respect, Walcott provides an element that few others in the Premier League can. Combine that with his increasingly pinpoint finishing ability, and you have a lethal weapon.
Whether deployed on the right wing or at center-forward, Walcott is a man who has the rare ability to win matches with one flash of brilliance. He will occasionally have a frustrating day, but every so often he pops up with an absolute gem like his hat-trick against Newcastle.
He probably should not get paid as much as Lionel Messi, but Theo Walcott has definitely earned himself a new contract. Whether he—or his agent—are inclined to get a deal done is a different story.
But Arsenal are obligated to make their best effort to retain their least replaceable player.