Philadelphia Phillies' Biggest Winners and Losers of the Offseason So Far
Rick Yeatts/Getty Images

While the MLB offseason may still be in media res, it looks as though the Philadelphia Phillies' offseason is winding down. They acquired a center fielder in Ben Revere, a third baseman in Michael Young, and signed a veteran set-up man in Mike Adams and a fifth starter in John Lannan.
Aside from picking up Mauricio Robles off waivers from the Seattle Mariners and signing catcher Humberto Quintero to a minor-league contract, the Phillies' offseason consists solely of the aforementioned moves without any big-name free agent signings. Considering that the Phillies' past three offseasons have each consisted of a major move in Roy Halladay, Cliff Lee and Jonathan Papelbon, the lack of a marquee move comes as a bit of surprise.
Nevertheless, as a result of these moves, some players have gained the edge for roster consideration that they may not have otherwise had. Conversely, other players now stand at a disadvantage following the Phillies' offseason moves. And though the offseason is far from over—there's still just over a month until the start of spring training—the implications of the Phillies' moves are pretty clear.
Without further ado, let's take a look at the winners and losers of the Phillies' offseason so far.
Begin Slideshow

»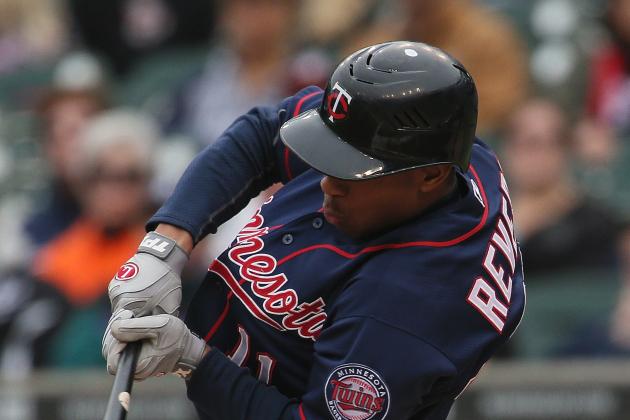 Dave Reginek/Getty Images

At the start of the offseason, the Philadelphia Phillies' top priority was finding a center fielder. B.J. Upton was at the top of their list until he signed with the Atlanta Braves. Then the Phillies turned their attention to Angel Pagan, but he opted instead to return to the San Francisco Giants.
After they lost out on their top two targets, it looked as though the offseason would not be a good one for the Phillies. When the Washington Nationals acquired center fielder Denard Span from the Minnesota Twins, it left the Phils without another possible option. Michael Bourn was still available, but with Scott Boras as his agent, chances are that he'd be out of the Phils' price range.
Then the Phillies made a relatively unexpected trade when they acquired outfielder Ben Revere from the Twins in exchange for starting pitchers Vance Worley and Trevor May. Revere had already been a winner after the Span trade, as he had earned a full-time starting job in center field for Minnesota. Since Minnesota didn't have any clear options after Revere, it came as a surprise that they were willing to deal him.
However, Revere is a winner in Philadelphia as well. First of all, he plays in a much less spacious park, meaning that he'll have less ground to cover defensively and could possibly hit his first major league home run more easily than he would have at Target Field. Additionally, he'll be the primary focus in the Phillies' outfield and he'll be able to shine now that he doesn't have someone else like Span towering over him in center field.
Yes, Revere would have had a starting job in Minnesota as well as Philadelphia. But he gets to play for a major market team now, and most importantly, a potential contender.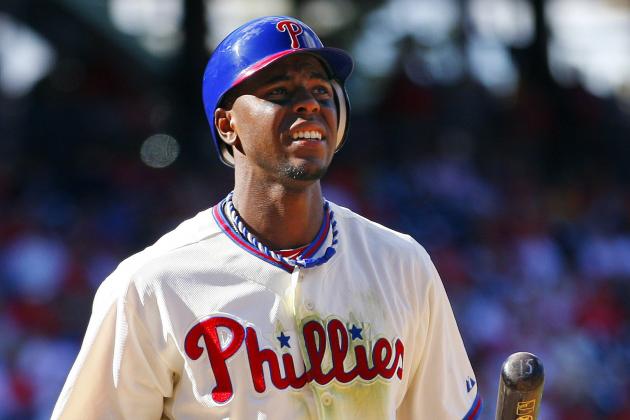 Rich Schultz/Getty Images

John Mayberry, Jr. was once a promising prospect. A former first-round draft pick, Mayberry had all the tools it took to make it as a star in the majors.
However, things did not go too well for Mayberry in the Texas Rangers organization, and the Philadelphia Phillies acquired him for Greg Golson before the 2009 season in a swap of washed-up outfield prospects. Mayberry got his major league chance in 2009 for a time, appearing in 39 games but hitting just .211. In 2010, Mayberry saw even less major league action, appearing in 11 games but batting .333 through them.
The 2011 season was really when Mayberry got his opportunity and ran with it. He played in 104 games and batted .273 with an .854 OPS, 15 home runs and 17 doubles. He had captured the lightning in a bottle that he needed and made the most of his chance.
As a result of his late-season heroics in 2011, Mayberry was given the advantage in 2012 spring training to win a starting job. However, he did not impress, and while he was still given that opportunity in left field to a degree, Juan Pierre eventually took over almost full-time. Despite this, Mayberry still found his way into the lineup 149 times in 2012, but he hit just .245 with a .695 OPS and an OBP of .301. His home run total was one fewer than 2011 as well.
Now 29 years old, Mayberry has likely reached his ceiling as a fourth outfielder with some potential to have pop on his bat. He likely will never be of the caliber of a major league starting outfielder, though he may still get his chance due to a lack of better options for the Phillies at the moment. But he has already fallen out of favor, and his primary position of center field (at least with the Phillies) has since been taken over by Ben Revere.
If Mayberry does get a starting outfield job, it won't be in center field. Chances are that he'll platoon with somebody, though he could very well end up as a full-time backup outfielder. Revere's acquisition means that Mayberry has fallen out of favor in Philadelphia, and if he struggles even more, perhaps he won't be back at all come 2014.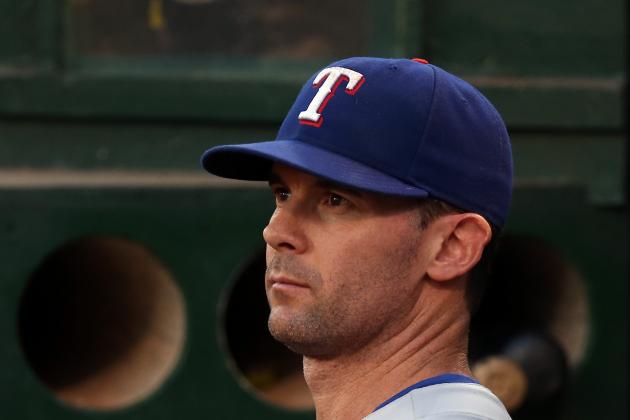 Ezra Shaw/Getty Images

Why wouldn't Michael Young be a winner?
After being drafted by the Toronto Blue Jays in 1997, Young spent roughly three years in their system before being traded to the Texas Rangers during the 2000 season. He was given his chance in 2001 and stuck, becoming a fan favorite in addition to breaking many of the Rangers' offensive records.
However, as the years went by Young was asked to make many a position switch. He played second base until being asked to move to shortstop to make room for Alfonso Soriano, who was acquired for Alex Rodriguez. After Elvis Andrus was promoted in 2009, Young once again was asked to switch his position, this time to third base. And when Adrian Beltre was signed before the 2011 season, Young was relegated to a utility/designated hitter role.
Earning less playing time certainly was not appeasing to Young, and he waived his 10-and-5 rights and accepted a trade to the Phillies which saw him leave the only team he had ever known in the Rangers. He will be used as the Phils' full-time third baseman.
Even though Young doesn't offer much on defense, his hitting should suffice in Philadelphia. Yes, Young's offense is declining, but it certainly has more potential than anything else that was available this offseason. He's also only under contract for one season, which is great news for the Phillies, since they have third base prospect Cody Asche waiting in the wings down in the farm system.
Young gets to focus on one position and gets a change of scenery with his trade to Philadelphia. Now that he has a clean slate, Young should thrive with the Phillies, and it wouldn't be crazy to rule out a rebound year for him. Maybe the seven-time All-Star could see a resurgence and an eighth Midsummer Classic nod as well.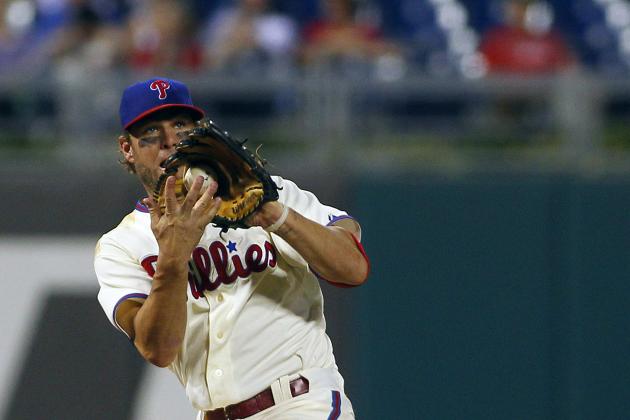 Rich Schultz/Getty Images

Due to Chase Utley's chronic knee issues, Freddy Galvis opened the 2012 season as the Philadelphia Phillies' starting second baseman. Despite being a natural shortstop, his defense was superb at second base, and though his offense was inconsistent at best, he quickly became a fan favorite. However, Galvis suffered a Pars fracture in his back on June 8 and was placed on the DL.
The biggest detriment to Galvis' 2012 season, though, came on June 19 when he was suspended for 50 games due to a positive test for PEDs. Even though he would not have been ready to return when his suspension ended due to his injury still persisting, Galvis' suspension caused a riff with fans and the organization alike.
Kevin Frandsen, on the other hand, was called up to the major league roster in late July after a successful minor league season up to that point. He did not disappoint in the majors either, batting .338 with an .834 OPS in 55 games. His defense left something to be desired at times, though he also made some spectacular plays at the hot corner.
Entering the offseason, it was expected that if a third base move was not made by the Phillies, Frandsen and Galvis would platoon at the hot corner. However, that platoon opportunity is now out of the question after the Michael Young trade, leaving the duo as bench players. Either one of them could realistically be sent back to the minors as well so they get more playing time.
Losing the possibility of a starting job hurts, and that's what makes Frandsen and Galvis losers this offseason. Galvis is capable of playing other positions defensively, but Frandsen is fairly limited to third base, so his role will be a bit more interesting to watch in spring training and the beginning of the 2013 season.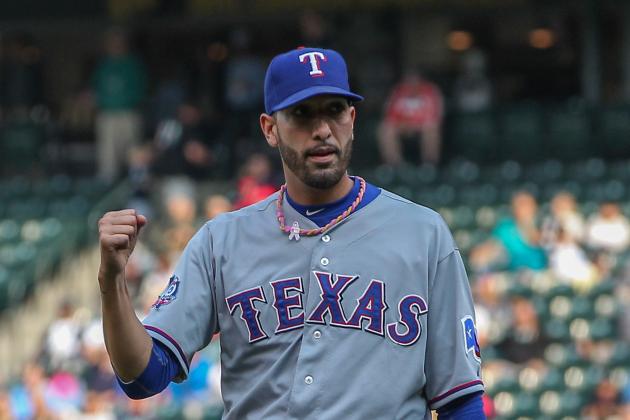 Otto Greule Jr/Getty Images

Mike Adams has been one of baseball's best set-up men over the last five years. After a fizzling minor career, Adams came out to be a late bloomer and emerged as an elite reliever in 2010 when he pitched to a 4-1 record with a 1.76 ERA and 1.07 WHIP with the San Diego Padres.
However, it was 2011 when Adams really made a name for himself. With the Padres that year, Adams pitched to the tune of a 1.13 ERA and 0.73 WHIP until being traded at the deadline to the Texas Rangers. Adams also thrived in Texas with a 2.10 ERA and 0.90 WHIP.
While the 2012 season was still good by baseball standards for Adams, it was well below the expectations for him. Adams posted a 3.27 ERA and 1.40 WHIP, both of which ballooned at the end of the season when Adams allowed three home runs in two thirds of an inning in his last appearance of the season. It was revealed, though, that Adams had been suffering from Thoracic Outlet Syndrome (TOS) which was corrected this offseason, and it may have been subtracting from his pitching abilities.
Adams received interest from seven teams this offseason before settling in Philadelphia on a two-year, $12 million contract. It's a great opportunity for Adams because he'll be relied on as the primary set-up man and the lone veteran right-hander besides closer Jonathan Papelbon. An Adams-Papelbon eighth-ninth inning combination is right up there with the best in the league.
What's interesting is that Adams said in his press conference that he had actually received an opportunity to close with another NL East team and had received more money from other teams as well, though he chose Philadelphia because of what he'd heard about the team from other players and his opportunities pitching-wise here as well. Adams should make a great set-up man for the Phillies assuming his TOS recovery goes well.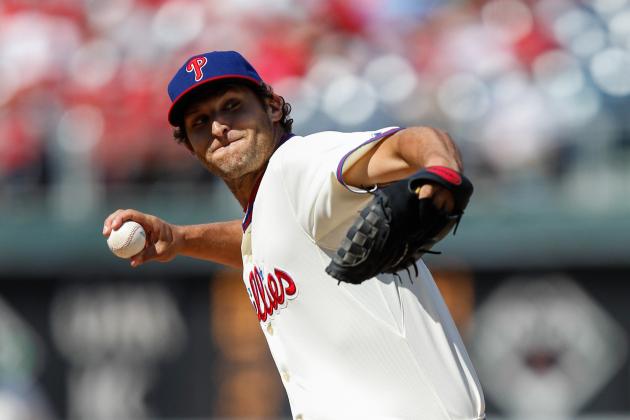 Brian Garfinkel/Getty Images

Aside from Jonathan Papelbon and Mike Adams, the bullpen jobs are up for grabs in spring training. With a variety young bullpen arms that includes Phillippe Aumont, Justin De Fratus, Jeremy Horst, Jake Diekman, Michael Schwimer and the recovering Mike Stutes, the competition should be pretty intense. Antonio Bastardo is likely a lock for a spot as well, though he has struggled in recent years, so stranger things have happened.
However, with Adams signing one more of these guys will be pitching in the minors this season since Adams took the eighth inning set-up job one of the young guns would have won. After Bastardo it's unclear how many left-handers the Phillies want to go with in their bullpen, as they have Horst and Diekman in addition to minor league veteran Raul Valdes. At least one of those three is likely to win a job, if not more depending on the righties' success.
As for those righties, Aumont, De Fratus, Schwimer and Stutes have a hot competition on their hands. While Stutes impressed in 2011, he fell off by season's end and was injured for most of 2012. Schwimer has potential but his recent issues with the front office could see him fall out of favor. De Fratus likely would have won a job out of spring training in 2012 had he not had elbow soreness, and Aumont, though he has some inconsistency issues, may have the most potential of them all.
Whatever happens with the bullpen drama, it will be interesting in spring training. It should be exciting to watch, but for one of these guys, it could very well be a "what could have been" situation had Adams not been brought to the City of Brotherly Love.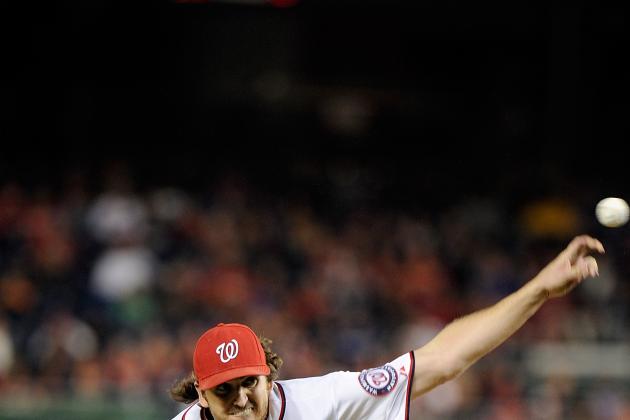 Greg Fiume/Getty Images

John Lannan may not be the biggest win for the Philadelphia Phillies, but the Phillies are certainly the biggest win for him.
Lannan has been a bit of an oddity throughout his major league career. Phillies fans may known him best as the guy who plunked Utley's hand in 2007 with a pitch that saw him hit the DL for a month, then hitting Ryan Howard with a pitch in the next at-bat and being ejected. All of this, and it was Lannan's major league debut.
Aside from that, the Phillies had a great track record against Lannan, or shall we say, Lannan was horrible against the Phillies. In his career, Lannan pitched to a 3-13 record with a 5.53 ERA and 1.74 WHIP in 19 starts against the Phils. At Citizens Bank Park, Lannan has gone 2-5 with a 6.49 ERA and 1.96 WHIP in his career.
You can certainly say that the Phillies are hoping that those results won't happen with Lannan on their side.
But what makes Lannan a winner is that in 2012, Lannan spent most of the year in Triple-A before having some success in the majors at the end of the season. However, that wasn't enough for the Washington Nationals to keep him, and they non-tendered him not long after the World Series, making him a free agent. Lannan signed with the Phillies on a one-year, $2.5 million contract, but the bigger perk for the Phillies is that he's under team control for 2014 as well should they desire to keep him.
Lannan wins most of all because he's practically guaranteed a starting job in the majors, something he didn't have in Washington in 2012 and may not have had elsewhere. He's expected to serve as the Phillies' fifth starter in their rotation behind some combination of Roy Halladay, Cliff Lee, Cole Hamels and Kyle Kendrick.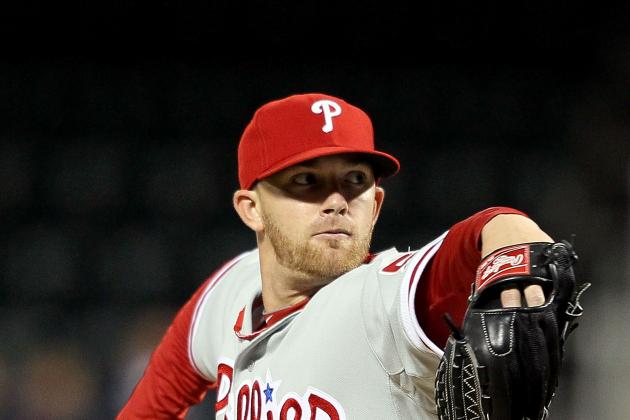 Alex Trautwig/Getty Images

Tyler Cloyd had an incredible 2012 season. Starting the year in Double-A Reading, Cloyd went 3-0 in four starts with a 1.80 ERA before being promoted to Triple-A Lehigh Valley. Spending the rest of his minor league season there, Cloyd posted an astounding 12-1 record with a 2.35 ERA. On the season, Cloyd went 15-1 with a 2.26 ERA and 1.01 WHIP en route to being named the International League's Most Valuable Pitcher.
Cloyd made his major league debut on August 29 against the New York Mets and pitched seven innings, allowing three runs. It was a bad luck loss for Cloyd, though, as the Philadelphia Phillies failed to provide enough run support and lost 3-2.
Cloyd would earn his first major league win in his second start against the Cincinnati Reds in a 4-2 Phillies victory and ended up going 2-2 on the season with a 4.91 ERA with a 1.21 WHIP. He'll likely start the season in Triple-A once again due to a lack of room on the Phillies' roster.
But could that have been averted? Had the Phillies not signed Lannan, Cloyd would be the favorite to win the fifth starter's job. The Phillies may not have been confident enough in Cloyd to give him that distinction. After all, his fastball tops out at 90 miles per hour. Cloyd could find himself as a long reliever for the Phillies in 2013, though the chances of that happening aren't very high.
While Cloyd would practically have been the hands-down favorite to win the fifth starter's job if Lannan had not been signed to take Vance Worley's former spot in the rotation, a dark horse candidate could have been Jonathan Pettibone. Pettibone, who the Phillies drafted eight picks after Worley in 2008, projects to be a mid-rotation starter at best, though will likely end up as a number four or five starter in the majors.
Nonetheless, his 2012 was impressive, as it saw him go 13-8 with a 3.10 ERA on the season and a promotion to Triple-A Lehigh Valley, where he actually pitched better than Double-A Reading.
It's another case of "what could have been," but Cloyd and Pettibone will have to wait a little bit longer for their shot at a major league roster spot.