Re-Grading the James Harden Blockbuster Trade Heading into 2013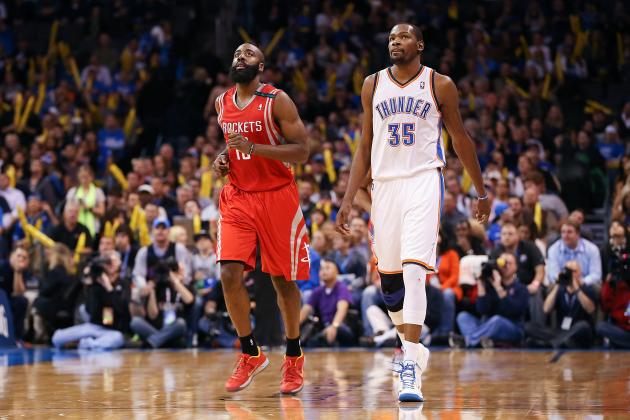 Kevin Jairaj-USA TODAY Sports

James Harden's departure from the Oklahoma City Thunder has changed everything.
It changed everything for the Thunder, the Houston Rockets and any and all players involved in the blockbuster deal.
A change of scenery has allowed Harden to blossom into a top 10-caliber superstar, eased any burden that was once upon Jeremy Lin's shoulders and left the rebuilding Rockets contending for a playoff spot.
Subsequently, Harden's absence has left Kevin Durant and Russell Westbrook balling, Kevin Martin smiling and Oklahoma City as a more formidable entity as a result.
And yet, that's barely the beginning. As I said, this swap changed everything for both teams.
Now it's time for us to see just how much.
*All stats in this article are accurate as of December 27, 2012.
Begin Slideshow

»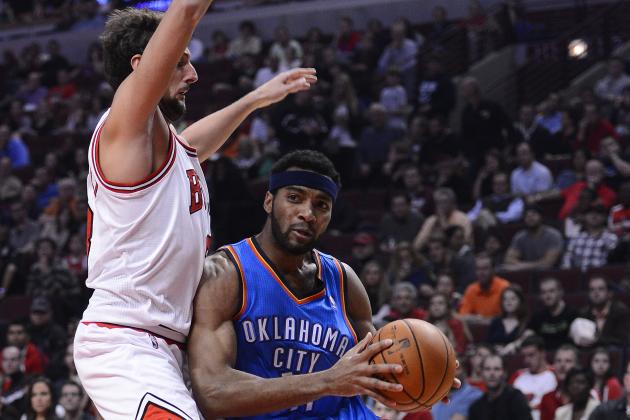 Mike DiNovo-USA TODAY Sports

2012-13 Per Game Stats: N/A
2011-12 Per Game Stats: 1.4 points, 0.6 rebounds, 0.2 assists, 0.1 steals and 0.0 blocks on 34.2 percent shooting.
Grade: Incomplete
Upon acquiring Lazar Hayward from the Thunder, the Rockets released him.
The forward has yet to sign on with another NBA team, though he has worked out for the Minnesota Timberwolves and plays in the D-League.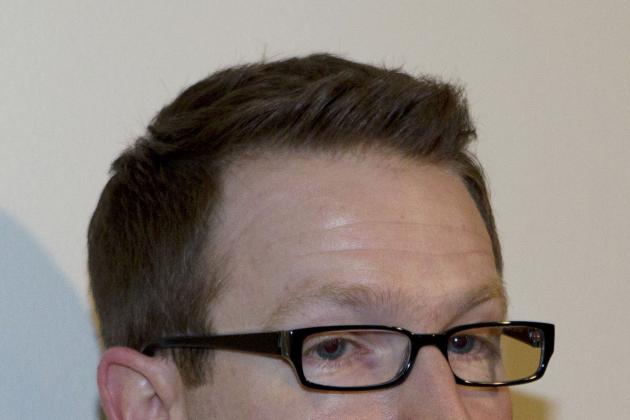 Richard Rowe-USA TODAY Sports
Oklahoma City general manager Sam Presti.
Grade: A
One of the most important aspects of this trade was the draft picks that Oklahoma City received.
The Thunder are now in possession of three additional draft selections—one second-rounder and two first-rounders, the most important of which is a first-rounder from the Toronto Raptors.
That particular pick is essentially protected in the Thunder's favor. It basically ensures that Oklahoma City receives a lottery selection in the next five years.
Now, tell me how that's a bad thing?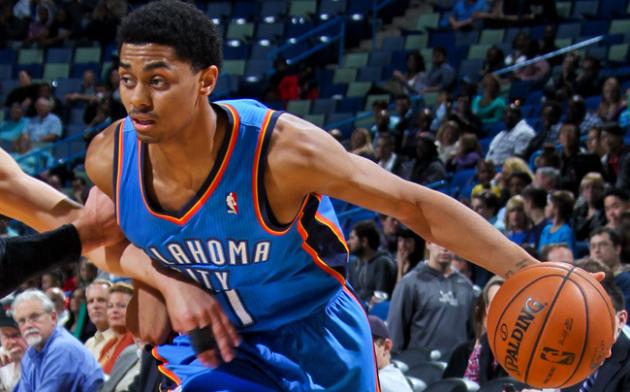 Photo via thundergazette.com.
2012-13 Per Game Stats: 2.2 points, 0.4 rebounds, 0.2 assists, 0.1 steals, 0.0 blocks on 38.9 percent shooting
Grade: B-
I was hesitant to offer up a grade for Jeremy Lamb, because he has only appeared in four games. Yet the show must go on.
Though the rookie hasn't turned many heads in limited action, his 2.2 points in 4.1 minutes of action per game translate to 19.3 points per 36 minutes.
Impressive? Definitely. Premature? Of course.
That said, with Kevin Martin's impending free agency status, Lamb remains an important part of this deal. If Martin walks over the summer, Lamb will be leaned upon heavily for scoring.
And he has at least proved that he can provide that, even if the sample size is small. He averaged 23 points per game in seven starts in the D-League before being recalled to the Thunder—which, at the very least, is encouraging and a strong indicator of his offensive potential.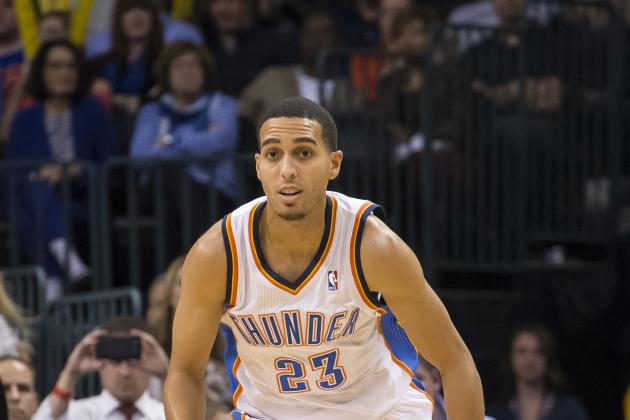 Shane Bevel/Getty Images

2012-13 Per Game Stats: 15.8 points, 2.6 rebounds, 1.5 assists, 1.0 steal and 0.1 blocks on 46.7 percent shooting
Grade: B+
Let's, for a minute, give it up for Kevin Martin.
The shooting guard has performed admirably in James Harden's stead, coming off the bench to provide an instant scoring punch much like his bearded predecessor did.
No, he hasn't provided the passing or even the individual defense that Harden did, but Oklahoma City has far from suffered in that regard.
Plus, Martin is also knocking down a career-best 45.7 percent of his threes. And when you extrapolate his numbers, he's averaging 19 points per 36 minutes, which is right on par with Hardens 19.3 from just a year ago.
Is Martin better, or even as good as Harden?
Not at all, but he's doing more than what was expected of him and must be held in high regard as a result.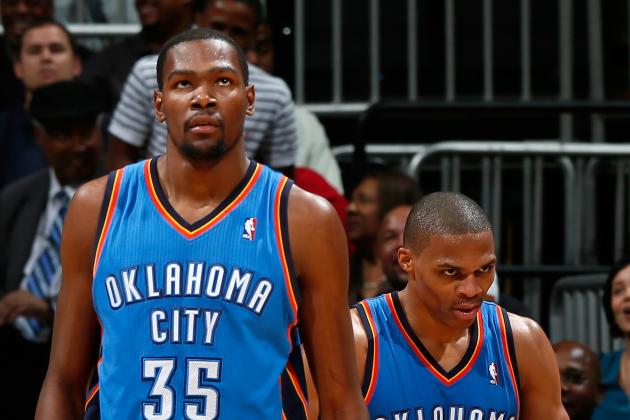 Kevin C. Cox/Getty Images

Grade: A
The Thunder are better off without James Harden. There I said it.
Oklahoma City is not only winning at the same rate as last season, but it's scoring more points per 100 possessions (112.8) than last year (109). Its margin of victory (8.2 points) is also significantly higher than last season's (6.4 points) as well.
More importantly, though, Kevin Durant, Russell Westbrook and Serge Ibaka are having career seasons.
Durant is averaging 28.5 points per game to go along with career-highs in rebounds (8.4), assists (4.2), steals (1.5), blocks (1.4), field-goal percentage (51.8), three-point percentage (43.5) and free-throw percentage (90.4).
Westbrook has encountered the same magnitude of success as well. He's setting a career-high in rebounds (5.1), assists (8.7) and steals (2.1). He's also the only player in the league in the top 10 in points (21.2), assists and steals per game.
For Ibaka, he's dropping a career-best in points (14.4), rebounds (8.5) and field-goal percentage (57.2). He's also first in the Association with 3.1 blocks per contest
In Harden's absence, the aforementioned three have stepped up their play and maximized this team's potential.
The result?
Laying claim to the NBA's second-best record and a heightened title contender status.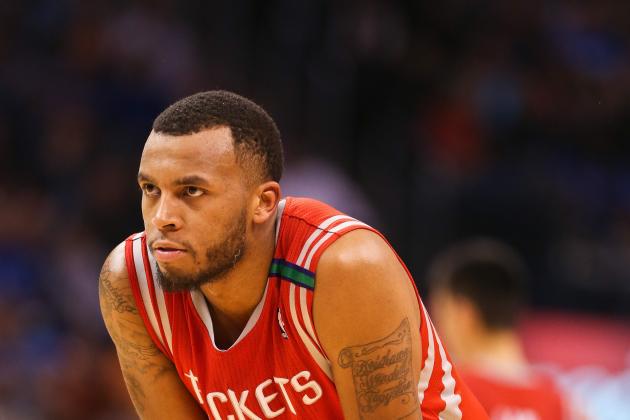 Kevin Jairaj-USA TODAY Sports

2012-13 Per Game Stats: 3.7 points, 1.1 rebounds, 0.7 assists, 0.4 steals and 0.1 blocks on 37 percent shooting
Grade: C
Daequan Cook has appeared in just 14 games this season and has averaged just 10 minutes a night within those contests.
While on the court, though, he has visibly struggled to find his shooting touch from inside the arc. He's shooting an impressive 39.3 percent from deep, but his 37 percent shooting overall isn't anything to write home about.
Cook has struggled defensively. He's too much of a liability on that end of the ball and has found himself buried on the bench as a result.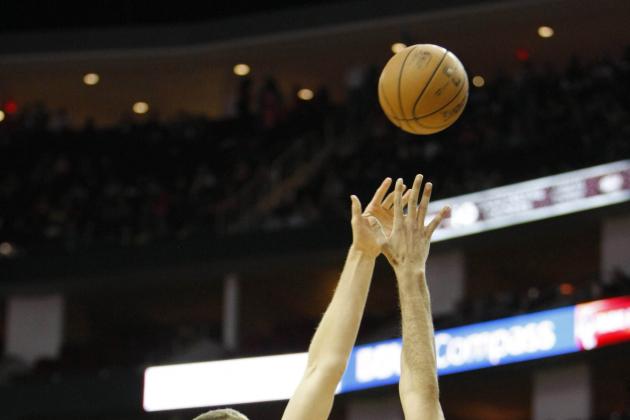 USA TODAY Sports

2012-13 Per Game Stats: 2.1 points, 2.1 rebounds, 0.3 assists, 0.1 steals and 0.4 blocks on 53.8 percent shooting
Grade: C
Much like he did in Oklahoma City, Cole Aldrich has found himself playing the part of an afterthought in Houston.
He has appeared in just 14 games and has failed to distinguish himself as a strong defender, rebounder or even less clumsy of a scorer than Omer Asik.
Troubling? Absolutely.
The good news? Aldrich is just 24 years old, so he has plenty of time to turn things around.
Currently, however, he's not even showing a semblance of a player who should have been drafted with the 11th overall pick in 2010.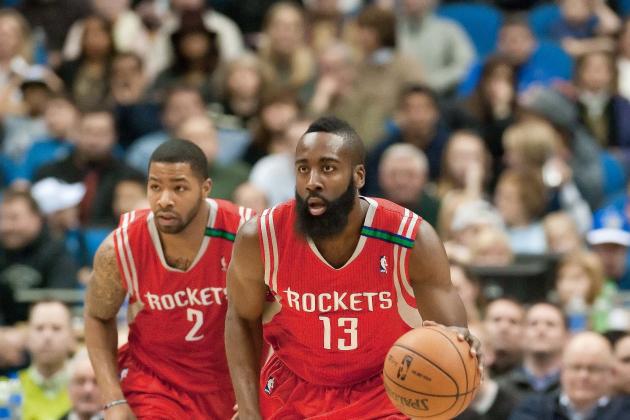 Greg Smith-USA TODAY Sports

2012-13 Per Game Stats: 25.8 points, 4.5 rebounds, 5.3 assists, 1.9 steals and 0.5 blocks on 44.9 percent shooting
Grade: A-
There's no use being coy here, James Harden has thrived as a member of the Rockets.
The streaky shooting guard is fourth in scoring and has really improved his footwork and overall mechanics on the defensive end.
Has his efficiency been spotty at times? Of course. Those 3.6 turnovers per game that he's committing are a career-high, but so are his points, rebounds, assists, steals and even blocks per night as well.
It's also worth noting that he has raised his field-goal percentage considerably, and his 35.9 percent conversion rate from deep is respectable as well.
Yes, Harden has officially become a noticed superstar—one who has been able to showcase the full extent of his talents on a team where he is "the man."
And one who changed the future of an entire team in one swift transaction.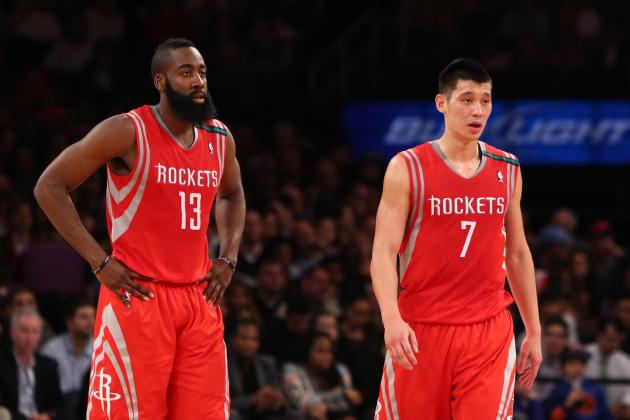 USA TODAY Sports

Grade: A
Houston did well for itself here.
The Rockets are winning at the same pace as last season, but they now have a promising core, headed by a superstar who has already proved that he can carry them.
Harden is scoring more points per game (25.8) than any of the pieces Houston sent to Oklahoma City combined.
Again, he's emerged as one of the most explosive stars in the league and he's found a way to inject life into the likes of Omer Asik and Chandler Parsons. Even Jeremy Lin is beginning to shine along with his fellow guard.
Most importantly, though, the Rockets are in the thick of the Western Conference's playoff picture, which is huge.
Even with Harden, this was supposed to be a rebuilding year, and the Rockets were supposed to be a team with both eyes fixated on tomorrow.
Suddenly, though, there's purpose to be found in today.
And plenty of it.