WWE Hall of Fame 2013: Is It Possible That the NWO Could Be Inducted?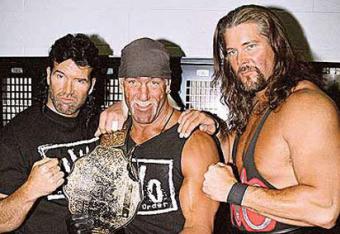 Photo Credit: http://firequinito.com/archives/377-LeBron-James-turns-heel.html

The New World Order changed the face of wrestling history on July 7, 1996 when they formed at WCW "Bash at the Beach."
In this article, I will give you definitive reasons why you can't deny the possibility of the New World Order getting their rightful place inside the WWE Hall of Fame.
Before you jump to conclusions, just read on and understand where I am coming from. There are many factors that have led to this thought process, and I am going to begin with the basics.
The event is taking place at Madison Square Garden in New York City. Two of the founding fathers of the

nWo

, Hulk Hogan and Kevin Nash, both achieved their first

WWE

Championship reigns inside that very building. Hogan defeated The Iron Sheik on Jan. 23, 1984 and Kevin Nash defeated Bob

Backlund

on Nov. 26, 1994. Another coincidence is that The Iron Sheik defeated Bob

Backlund

for the

WWE

Championship on Dec. 26, 1983.

Not only that, but the other founding father, Scott Hall, made history by competing with Shawn

Michaels

at

WrestleMania

10 in a legendary ladder match. With Ric Flair getting the permission from

TNA

to appear for the

WWE

Hall of Fame last year, there is no doubt in my mind that Hulk Hogan could be the second wrestler to be inducted into the

WWE

Hall of Fame twice.


Recently,

WWE

released a brand new retrospective

Blu

-Ray on the

nWo

entitled:

nWo

: The Revolution. While I often like to think outside the box, I believe that this is no coincidence. When

WWE

gets a marketing machine going, they tend to go all out. With the current push of the "Attitude Era" and the New World Order, it would make perfect sense to bring it full circle.


One man that the fans have consistently wanted in the

WWE

Hall of Fame is "Macho Man" Randy Savage. There aren't many bigger Randy Savage fans than myself (just look at my picture with Colt Cabana). It has been a grave injustice that Savage was never inducted into the

WWE

Hall of Fame before his untimely passing.

Recently, the brother of Randy Savage, Lanny

Poffo

, stated that he would deny all requests from

WWE

for The Macho Man to be inducted into the

WWE

Hall of Fame unless Lanny himself and their father were also inducted as a family package. Maybe this could be a loophole that

WWE

needs to get the legacy of Randy Savage into the

WWE

Hall of Fame.

In the months leading up to the passing of Randy Savage, he seemed to be coming to a working relationship with

WWE

. A career retrospective DVD was released, action figures were distributed and the likeness of Randy Savage was used in video games. There is truly no doubt in my mind that the bridge was being rebuilt and it wouldn't have been long before he graced the stage to accept his Hall of Fame honor. Randy was a key member of the

nWo

and could be a key member to this induction.


Considering the

WWE

inducted The Four Horsemen (well deserved), it shouldn't be a true shock if the

nWo

was the next faction to get in. There were many Four Horsemen and we all know there were tons of members in the

nWo

, but only the elite were inducted. The elite members of the

nWo

all had major moments in both

WWE

and

WCW

. This would be the ideal time for the eventual induction.


Anything can happen in the wacky world of professional wrestling. The rumors of an

nWo

return of some sort have been running rampant for months. Not only did Kevin Nash stir the pot on numerous occasions, but other respected wrestlers have as well.

The fact of the matter is,

WWE

is lacking that big name to headline their ceremony this coming April the night before

WrestleMania

29. While Mick Foley has been rumored to headline the event, the

nWo

could create a lasting memory for years to come and send

shockwaves

through the world of professional wrestling.
I understand that this scenario hasn't been brought up in any of those hideous "newwzz" sites that destroy the integrity of professional wrestling journalism. This is one guy that has a clear mind about the unbelievable possibilities that the WWE can provide for the professional wrestling fans.
Maybe this is wishful thinking, but if WWE wants to shake the wrestling world to its core and stir up a bit of well needed publicity during WrestleMania season, a small reunion of the nWo at the WWE Hall of Fame would be a way to do it.
Keep it real.

"Jersey Strong" Jay
Follow @PWPowerhouse
Please leave your comments below. Think before you type please.

Also, please visit ProWrestlingPowerhouse.com and get involved in our community.
Give us a LIKE at: Facebook.com/ProWrestlingPowerhouse.
Listen to Pro Wrestling Powerhouse Radio each and every Tuesday Night at 9 p.m. EST at: BlogTalkRadio.com/PWPRadio
This article is
What is the duplicate article?
Why is this article offensive?
Where is this article plagiarized from?
Why is this article poorly edited?