Texas Football: 5 Longhorns Who Must Shine in the Alamo Bowl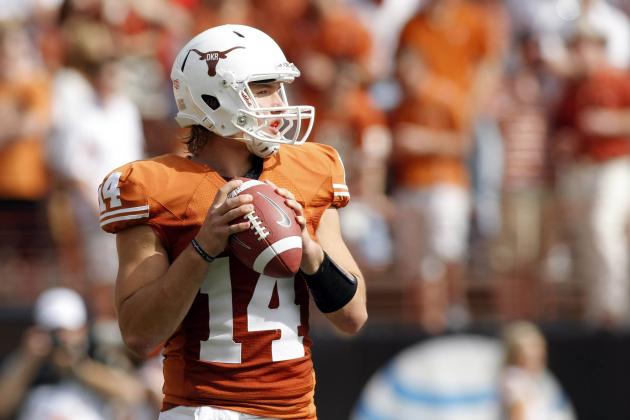 Brett Davis-USA TODAY Sports

The Texas Longhorns' 2012 season hits its make-or-break point in Saturday's Alamo Bowl matchup against the Oregon State Beavers. If they hope to pull out the win, the 'Horns are going to need some marquee performances out of their best players.
If the Longhorns can defeat the Beavers in San Antonio, it will be two consecutive seasons of improvement after the abysmal 2010 season. Not to mention that a win over a top-15 opponent would get Major Applewhite's career as the Texas offensive coordinator off to a strong start.
A loss would mean Texas has to answer the same questions for the third offseason in a row: how far away is this program from contending on the national landscape? Is coach Mack Brown still the right man for the job? Finally, when is this team going to find a legitimate quarterback?
Though the 'Horns fell short of expectations this season, a win against the No. 13 Beavers shows fans and, more importantly, recruits that this program is still heading in the right direction. To accomplish this, a handful of Texas players are going to have to play their absolute best games of the season.
Here are those five Longhorns and what they need to do to give their team the best chance to win this year's Alamo Bowl.
Begin Slideshow

»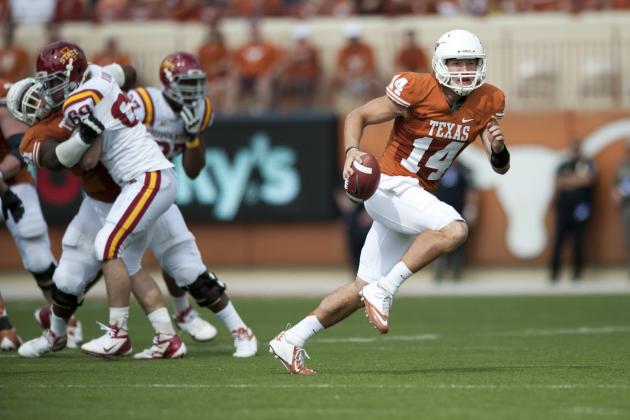 Cooper Neill/Getty Images

After being named the starter last Monday, it is time for David Ash to do everything he can in what is likely his last chance to take hold of the quarterback position at Texas.
In 2013, Texas could commit up to six scholarships to the quarterback position, meaning this could be David Ash's final audition. If he plays well, he remains in the discussion to remain the starter in 2013. If not, he most likely spends his final two seasons holding a clipboard.
That said, this is a golden opportunity for Ash to make a major statement, as the Beavers are the exact type of team that has given the 'Horns, and Ash, fits all season. Oregon State defends the run very well (28th in the nation), forces a lot of turnovers (30 on the season) and its offense can score in a hurry.
Texas probably must score at least 30 points with much of that coming through the air. This means Ash is going to have to figure out how to get the ball downfield and do so without throwing more ill-timed, ill-placed interceptions.
A big game against the Beavers would do wonders for Ash in proving he can get it done against a good defense and would help him significantly in terms of his spot on the 2013 depth chart. It would also mean Texas should be able to hang with the Beavers.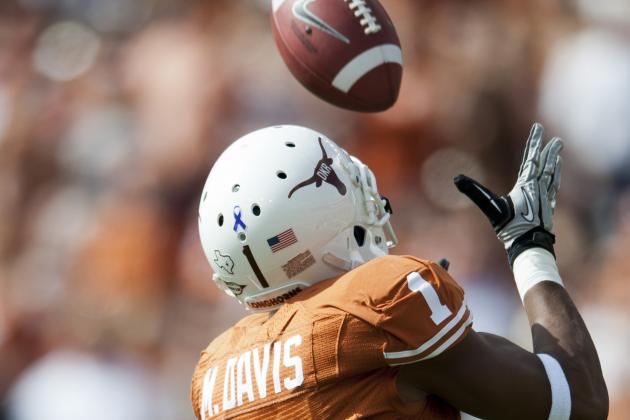 Cooper Neill/Getty Images

Piggybacking off of David Ash is his No.1 receiver Mike Davis, who has to buck his trend of underperforming when his quarterback needs him most.
After enduring a sophomore slump in 2011, Davis exploded this season and is only 91 yards away from a 1,000-yard season. He has emerged as Texas' big-play receiver courtesy of his four receptions of 65-plus yards. He is clearly Ash's favorite target.
Unfortunately, Davis has disappeared this season in big games. He had 20 yards against West Virginia, 54 yards against TCU and a paltry 18 yards against Kansas State, all of which were losses for the 'Horns.
With the exception of the West Virginia game, Ash tends to go as Davis goes, posting his best games when he can find Davis deep. For Ash to find success in this game, Davis is going to have to find a way to outwork Oregon State's All-America cornerback Jordan Poyer, who has seven interceptions on the season.
Otherwise, the script will be as follows: The Texas offense moves the ball, Ash takes a shot for Davis downfield, Poyer makes him pay and the offense sputters for the rest of the game.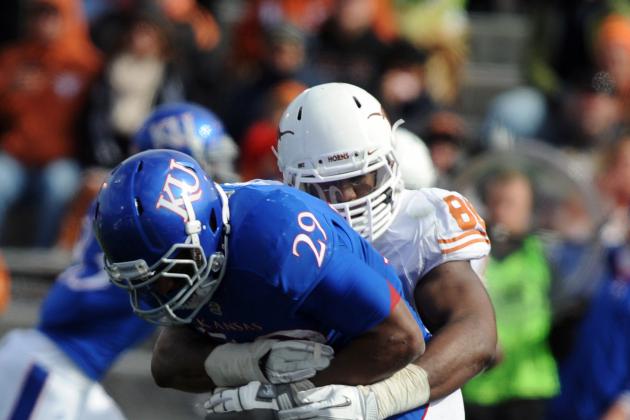 John Rieger-USA TODAY Sports
Okafor is Texas' best defensive player and could be the difference on Saturday.
While the Texas defense is probably going to give up a lot of points on Saturday, a big game from defensive end Alex Okafor could be the difference between a win and a loss.
He may have been shorted when the Big 12 released its awards for the season, but Okafor is still one of the best defensive ends in the country. The only evidence you need is his performance against West Virginia, when his two strip-sacks put the game's outcome in Texas' hands.
He has his work cut out for him, as he is going to continue to be double-teamed, but Okafor must figure out a way to remain effective, even if it means freeing up space for his teammates to make plays.
The Beavers have shown that they will turn the ball over this season and Okafor's ability to stay in the face of quarterback Cody Vaz will go a long way in forcing some giveaways. His skill against the run will also be imperative against the underrated OSU rushing attack.
Expect Okafor to come up big in his final game before we see him on Sundays in the NFL.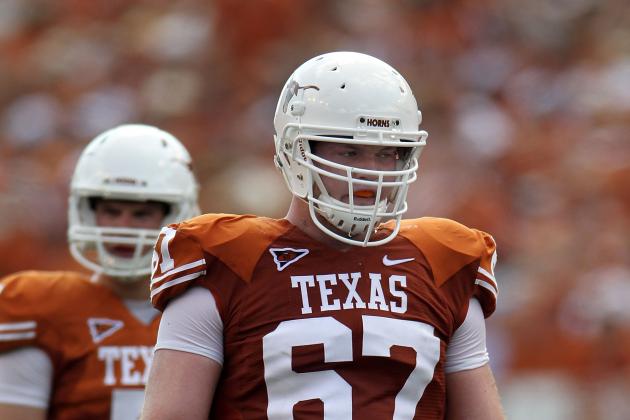 Ronald Martinez/Getty Images
Texas is going to need stellar play from the offensive line, and that starts with the junior Walters.
With top offensive lineman Trey Hopkins out Saturday, it falls to former All-Conference right guard Mason Walters to pick up the slack inside for the Texas offense. Texas needs a big game from David Ash to upset the Beavers. For that to happen, he will need solid protection up front and an effective running game. That is where Walters comes in.
In Hopkins' absence, Walters becomes Texas' top interior lineman and run blocker, which it will need against the nation's No. 28 rushing defense. He needs to not only step up and be a leader for the rest of the men in the trenches but give the running backs some room to run between the tackles, an area in which they have struggled.
If Texas is to find consistent success on the ground, Walters will be a key in their ground attack.
Michael C. Johnson-USA TODAY Sports
Byndom (right) can redeem his 2012 season with a shutdown performance against Markus Wheaton of the Beavers.
A year removed from being Texas' best corneback, junior Carrington Byndom has had a down year. He will need to return to form against one of the nation's best receivers on Saturday.
With Quandre Diggs moving to safety, Byndom becomes Texas' No. 1 corner come Saturday, which means he will be charged with the unenviable task of covering receiver Markus Wheaton, who is second only to USC's Marqise Lee as far as Pac-12 receivers are concerned.
Fortunately Byndom has a track record that proves he is talented enough to cover players like Wheaton. In 2011, he held two-time Biletnikoff winner Justin Blackmon to four catches for 48 yards and also had a key pick-six in the dramatic win over the Aggies.
The problem is that Byndom has not been the same player this season. He has one more interception than he did a year ago, but has broken up nine fewer passes and has been picked on at times by mediocre competition.
The prevailing school of thought regarding Byndom's struggles is it comes as a result of some nagging injuries, which a month off should help greatly. Texas fans should hope so because, if Byndom is at his best against Wheaton, it would take a massive load off the rest of this young defense.