Chicago Bears Mock Draft: A Complete 7-Round Wish List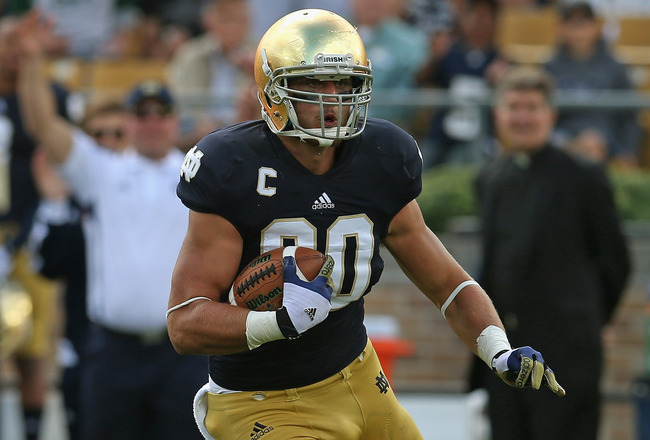 Jonathan Daniel/Getty Images
Whether the Chicago Bears make it to the playoffs or not, general manager Phil Emery has to already be thinking about ways to improve his team this offseason.
It will soon be determined whether that includes a change in head coach, but another important thing to focus on is whom the Bears should target in the NFL Draft. With bowl season heating up, there's no better time to get a good look at future NFL starters.
The Bears typically have focused on defense in their recent drafts, but with an offense that ranks 28th in the league in total yards, it's obvious where the biggest needs reside. What rounds the Bears fill those needs will be determined based on what players are on the board.
Offensive line is Chicago's biggest area of weakness, but if the top-tier offensive tackles are gone by the time the Bears are on the clock, selecting a playmaking tight end like Notre Dame's Tyler Eifert may be the answer.
Here is a complete seven-round wish list for the Bears' upcoming draft
Upgrade Pass Protection in Early Rounds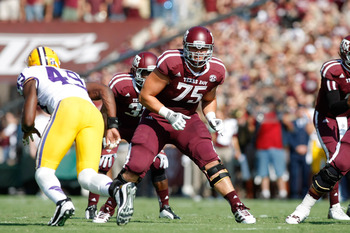 Brett Davis-USA TODAY Sports
The Bears would love to have someone like Texas A&M tackle Jake Matthews, but he will likely be long gone by the time they are on the clock.
It's no secret that protecting Jay Cutler needs to be made a top priority, as only the Arizona Cardinals have given up more combined sacks than the Bears the last three seasons. With pass-rushers like Minnesota's Jared Allen and Green Bay's Clay Matthews in the division, it's time that Chicago finds an upgrade from J'Marcus Webb on Cutler's blind side.
While it's possible that the Bears could fill that need with potential free agents like Brandon Albert, Jake Long and Ryan Clady, targeting prospects in the draft is not a bad backup plan. Besides, with the struggles of Gabe Carimi, the Bears may need a right tackle as well.
Here are some realistic options.
Eric Fisher (Central Michigan) — 1st round
Barrett Jones (Alabama) — 1st round or trade up to early 2nd round
Dallas Thomas (Tennessee) — Trade up to mid-2nd round

D.J. Fluker (Alabama) — 2nd round
It's likely Fisher comes off the board before Chicago's spot (along with Matthews, Luke Joeckel and Taylor Lewan), so Jones may be the best option. Jones played center for the Crimson Tide this season, but he has the ability to succeed at any spot on the line.
If the Bears look for a linebacker or tight end in the first round, Fluker appears to be the next plausible option. Regardless, if the Bears can't fix their pass protection woes in free agency, they need to do it in the first two rounds of the draft.
Find Pass-Catching Tight End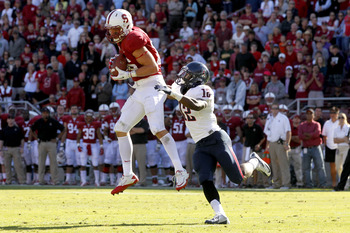 Cary Edmondson-USA TODAY Sports
The Bears need a new tight end in town, plain and simple.
The production they have gotten out of Mike Martz's favorites (Kellen Davis and Matt Spaeth) has been dreadful. Davis currently ranks 42nd in the NFL among tight ends in receiving yards, further representing the lack of viable options for Cutler to throw to (minus Brandon Marshall).
A good pass-catching tight end can be a quarterback's best friend—which is what Greg Olsen was to Cutler when he was in Chicago. Now it's time to find a new big target down the middle, taking pressure off Marshall.
Granted, Cutler needs time to throw to be able to fully utilize any target. But if the offensive line can be patched up some in free agency, it would be a smart move for the Bears to add a tight end in the first two rounds. If not, Davis' replacement should be selected no earlier than the fourth round.
Here are some options that Cutler would love to have on his unit:
Tyler Eifert (Notre Dame) — 1st round
Zach Ertz (Stanford) — 1st round
Joseph Fauria (UCLA) — 2nd round
Travis Kelce (Cincinnati) — 2nd round
Jordan Reed (Florida) — 4th round
Mychal Rivera (Tennessee) — 4th round
If the Bears want a slam dunk at tight end, they should look no further than Eifert, but you can't go wrong with Ertz either. However, the Bears might want to take an offensive lineman in the first round, leaving Fauria and Kelce as the next best options.
Fauria had a monster season at UCLA, hauling in 11 touchdown receptions; while no tight end is rising up draft boards faster than Kelce. The 6'6" target caught 45 passes for 722 yards and eight touchdowns this season, including five catches for 123 yards and a touchdown against Duke in the Belk Bowl.
Improve Interior of Offensive Line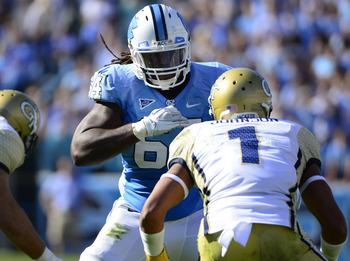 USA TODAY Sports
Outside of Lance Louis, any player on the Bears' offensive line is dispensable, and Louis isn't even guaranteed to be back in 2013.
Roberto Garza's time at center is running short, and the Bears need to find another solid guard to start opposite Louis—assuming he gets a new contract.
The Bears have not been able to run the ball like they should with the tandem of Matt Forte and Michael Bush (14th in the league in yards per carry). For this to change, the Bears need to put interior offensive lineman right next to offensive tackles and tight ends on the priority list.
If the Bears can get an offensive tackle in free agency, then selecting an interior lineman early in the draft might be the way to go. Here are some options:
Barrett Jones (Alabama) — 1st round
Jonathan Cooper (North Carolina) — 2nd round
Larry Warford (Kentucky) — 2nd round
Khaled Holmes (USC) — 2nd round
Omoregie Uzzi (Georgia Tech) — 4th round
Graham Pocic (Illinois) — 4th round
Cooper and Warford are athletic guards who could be inserted in the starting rotation right away, along with Jones. Holmes could be Garza's immediate replacement, if the Bears want to go that route.
However, given the vast number of needs, the Bears might wait until the later rounds to look in this area. This leaves Uzzi (guard/center) and Pocic (center) as viable fourth-round options.
Find a Viable Replacement for Brian Urlacher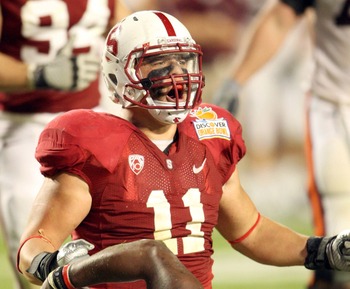 Douglas Jones-USA TODAY Sports
Brian Urlacher can say whatever he wants about the fans and the media, but one thing is certain: Of the three, only the fans and media are guaranteed to be back in Chicago next season.
With his expiring contract and declining production, the future is hazy for the future Hall of Fame member. Whether he returns for another season in the Windy City or not, the Bears need to start looking for his heir apparent.
The Bears will need to decide how big of a priority this is in the 2013 draft, but it may be too risky to let it sit for another year. Here are some potential selections:
Alec Ogletree (Georgia) — 1st round
Kevin Minter (LSU) — 1st round
Shayne Skov (Stanford) — 2nd round
Jonathan Bostic (Florida) — Trade up to early 4th
Nico Johnson (Alabama) — 4th round
If the Bears didn't have as many problems on offense, Ogletree would likely be their No. 1 target. Instead, Skov is probably their best realistic option. Skov has been a beast this year, returning to his 2010 form (before his 2011 knee injury).
If the Bears want to wait until the fourth round, SEC standouts Bostic and Johnson would also be great picks.
Look for Late-Round Secondary Help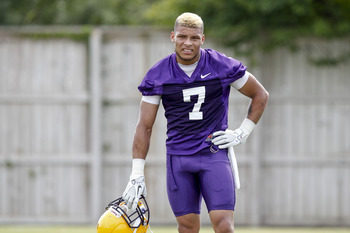 Derick E. Hingle-USA TODAY Sports
Given their two Pro Bowl corners, adding secondary help is not the Bears' top priority.
However, Tillman is not getting any younger, and the Bears could definitely use a nickel back or safety. This will allow them to look for steals in the later rounds.
Adding someone with some return capabilities might not be a bad idea either, given the uncertainty of Devin Hester's future. Here are some possibilities:
Nigel Malone (Kansas State) — 5th round
Tyrann Mathieu (LSU) — 5th round
Johnny Adams (MSU) — 5th round
D.J. Swearinger (South Carolina) — 5th round
Malone, Mathieu and Adams all have the potential to fill the nickel position in the NFL. Malone is probably the best option, totaling five interceptions this season. Mathieu and Adams are risk-reward players, who could be booms or busts.
Everyone knows what Mathieu is capable of, given his Heisman candidacy in 2011, but his troubles off the field raise some flags. Nevertheless, he might be worth a shot, given his talent in the secondary and in the return game.
Adams was primed to have a big season for the Spartans, but instead got beat on the outside on too many occasions. Adams has seen his stock fall greatly, but he still has the potential to get back on track.
If the Bears want to go the safety route, which wouldn't be a terrible idea, then Swearinger would be a good pick. He has been nothing but a solid player for Steve Spurrier the past few seasons (70 tackles and two interceptions in 2012).
Keep Reading

Chicago Bears: Like this team?