NCAA 2012-13 Women's Hockey Midseason Report Card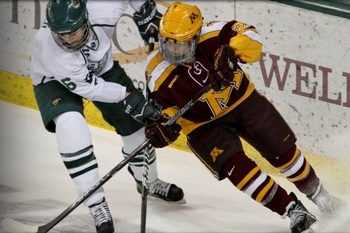 Image courtesy of Minnesota Golden Gophers athletics
With the Class of 2012 having seen some of the greatest players ever (Hilary Knight, Florence Schelling, Hillary Pattenden, Genevieve Lacasse, Natalie Spooner, Bailey Bram) graduate to the Canadian Women's Hockey League, it would have been easy to write off the 2012-13 NCAA season as a transitional year.
Instead, remarkable rookies such as Erin Ambrose and Hannah Brandt have turned the NCAA on its ear. It is no surprise that their squads, Clarkson (featuring Ambrose) and Minnesota (with Brandt) enjoy a mid-season rank of #2 and #1 in the national polls, respectively.
Although the NCAA saw expansion with the Penn State Nittany Lions and the Rochester Institute of Technology Tigers, both clubs have managed to earn respectable starts. In addition, the 10-6-2 start by the Frozen Four runner-up Wisconsin Badgers has brought an unforeseen level of parity to the Western Collegiate Hockey Association.
Established players such as Amanda Kessel, Christine Bestland, Jamie-Lee Rattray and Marie-Philip Poulin continue to stake their claim as players worthy of consideration for the 2014 Winter Games. Meanwhile, all four have enjoyed banner years and should emerge as top ten finalists for the Patty Kazmaier Award.
Mid-Season Most Outstading Player, Amanda Kessel, Minnesota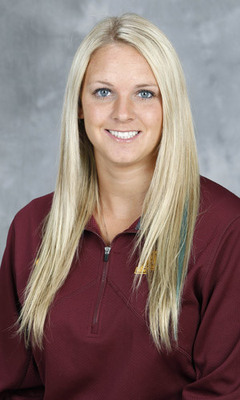 Image courtesy of Golden Gophers athletics
The leading scorer in the NCAA, Kessel is a key factor in the outstanding 20-0 first half start for the Golden Gophers. On pace for a 100 point season, Kessel is the catalyst on a Gophers squad that is poised to capture its second consecutive NCAA title. Having logged an astounding 54 points (on 25 goals and 29 assists) in merely 19 games, Kessel is on pace to top 100 points.
Mid-Season Most Valuable Player, CHA, Christine Bestland, Mercyhurst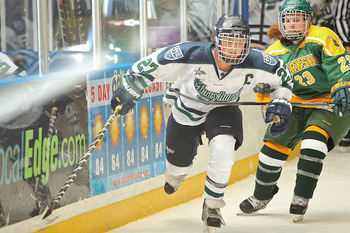 Photo by Tim Brule, USCHO http://uscho.photoshelter.com/image/I00000IS.TgGzvpA
With the graduation of key leaders like Bailey Bram, Hillary Pattenden, and Pamela Zgoda, Bestland has taken the team under her wing and flown. The leading scorer in College Hockey America, she logged a remarkable 16 points in the first six games of the season. Having topped 50 career goals, Bestland is the key factor in the Lakers enjoying a top 10 ranking in the national polls.
Mid-Season Most Valuable Player, ECAC, Jamie-Lee Rattray, Clarkson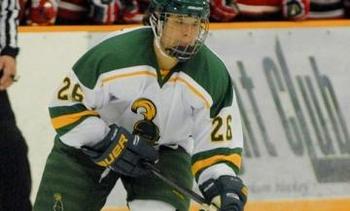 Image from ECAC Hockey http://www.ecachockey.com/women/members/clarkson/20122410_Clarkson_W_Team_Notes
Having enjoyed a remarkable 8 game point scoring streak, Rattray has enjoyed a breakout season. Establishing herself as a leader, Rattray's superlative contributions have led to a No. 2 ranking for Clarkson in the polls. With the arrival of Erin Ambrose and Shannon MacAulay, the two have complemented Rattray's skills well.
Mid-Season Most Valuable Player, Hockey East, Marie-Philip Poulin, BU Terriers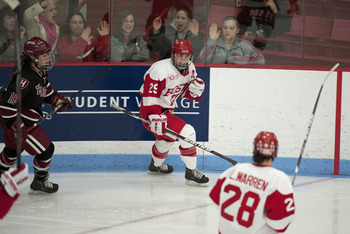 Photo by Brooks Canaday http://www.bu.edu/today/2012/terrier-icewomen-take-round-one-of-beanpot/
With a 14 game point scoring streak to start the first half of the 2012-13 NCAA season, Poulin is the most dominant player in Hockey East.
Having logged 28 points in 15 games, she provides Boston University with an opportunity to win every game. Twice this season, she has topped a four point performance. The first time occurred on November 16 vs. Providence. Her December 1 performance, in which she logged a hat trick and an assist, also came against Providence. She would end her 14 point streak in style by logging the 100th point of her career. In a December 8 road contest vs. the Minnesota Duluth Bulldogs, Poulin logged two assists to reach the century mark.
Mid-Season Most Outstanding Rookie, Hannah Brandt, Minnesota
Image courtesy of Golden Gophers athletics
With 48 points (on 19 goals and 29 assists), Brandt is the NCAA leading scorer among rookies. The winner of the 2012 Minnesota Ms. Hockey Award, Brandt has exceeded expectations. In her first career NCAA game, she logged a hat trick. Her presence has contributed greatly to the career seasons that teammates Amanda Kessel and Megan Bozek have enjoyed.
Mid-Season Most Outstanding Defender, Erin Ambrose, Clarkson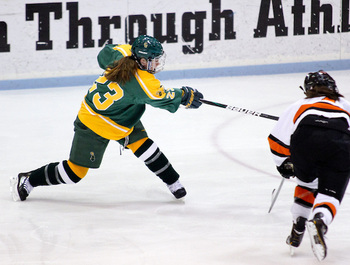 Photo by Shelley M. Szwast, USCHO http://uscho.photoshelter.com/image/I0000snYCjdcE_DI
In only her freshman season, Ambrose is having a season to remember. With two goals and 19 assists in the first half of the season, Ambrose has quarterbacked the Golden Knights power play. A key factor in the Golden Knight No. 2 ranking in the national polls, she is poised to bring the green and gold back to the NCAA Tournament for the first time since 2010.
Mid-Season Most Outstanding Goaltender, Noora Raty, Minnesota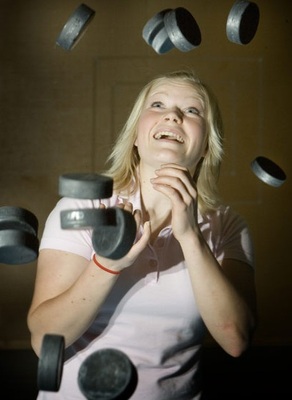 Photo from Tumblr http://www.tumblr.com/tagged/noora-r%C3%A4ty
With Hillary Pattenden's all-time NCAA wins record within reach, Noora Raty is establishing herself as one of the greatest backstops in NCAA history. Her performance between the pipes during a sweep of the Wisconsin Badgers from December 1-2 has solidified her legend as one of the greatest NCAA goalies ever. Having already broken program records for all-time wins and shutouts, Raty is looking for a second consecutive NCAA Frozen Four title.
Mid-Season Most Improved Player, Danielle Butters, Minnesota State
Image from WCHA http://www.wcha.com/women/recaps13.php?wmndmns1.o20
In a conference where the MSU-Mankato Mavericks compete with cross-state rivals such as the UMD Bulldogs and the Minnesota Golden Gophers (along with St. Cloud State), it is hard to gain recognition. A key factor in one of the greatest starts in program history during the month of October, Butters is a strong presence between the pipes for an improving squad.
Her 4-2-2 start was the best in her career. Her best performance came in a 1-0 shutout against the Minnesota-Duluth Bulldogs. It was the first win over UMD since November 21, 2009, snapping a 14 game skid. Prior to the season, Butters only had five career wins. In the first half of the 2012-13 season, she has already logged six wins. For the first time in her career, her GAA is under 3.00, and she boasts a save percentage over .900.
Mid-Season Most Underrated Player, Sasha Nanji, Dartmouth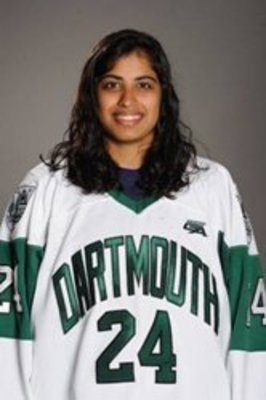 Image from Dartmouth Athletics
One of the most dangerous snipers in NCAA hockey, Nanji has quietly contributed to the Dartmouth offense. On a team that features Camille Dumais, Reagan Fischer, and a fantastic freshman class including third generation star Laura Stacey, it would be easy to overlook Nanji's remarkable presence on the Big Green. Having come through in numerous clutch situations, she will be a key cog in any success that Dartmouth will experience.
Mid-Season Coach of the Year, Doug Derraugh, Cornell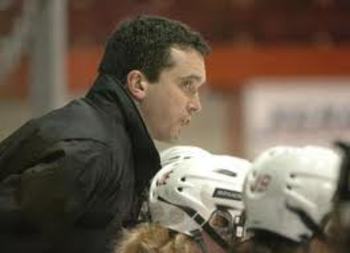 Image from Cornell Daily Sun http://cornellsun.com/node/27938
Despite the Golden Gophers 20-0 start, Doug Derraugh has done a very admirable job with the Cornell Big Red. Facing the loss of legends such as Rebecca Johnston, Amanda Mazzotta and Catherine White, the program could have easily fallen apart. Instead, a crop of eight freshmen have resulted in the finest recruiting class in the NCAA. Derraugh has displayed that he is a capable coach and a proven winner. Standing second overall in the ECAC, Derraugh is ready for a strong second half push.
Mid-Season Best Leader: Jocelyne and Monique Lamoureux, North Dakota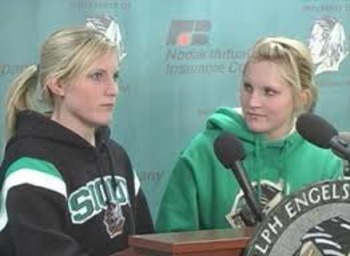 Image from UND Athletics http://und.edu/news/archives/story.php?id=3165
Lost in the background of Minnesota's 20-0 start to the season is the fact that Jocelyne Lamoureux (and her twin sister Monique) is in her senior season with North Dakota. A finalist for the 2012 Patty Kazmaier Award, Lamoureux is establishing herself as a clear favorite for the 2013 award. Along with her sister, the two have redefined the North Dakota program. Both are members of the NCAA 200-point club and represent the best opportunity the Fighting Sioux have to qualify for the Frozen Four.
Mid-Season Most Sportsmanlike Player: Jessica Wong, Minnesota-Duluth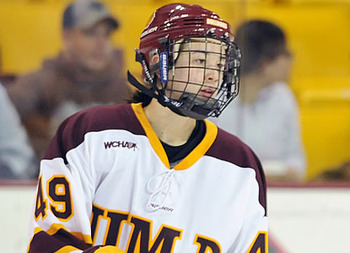 Image from WCHA.com http://wcha.com/mobile/wommob_recaps13.php?wbc_mnd1.o26
With the Minnesota-Duluth Bulldogs having an off season, the program has benefited from the presence of their captain, Jessica Wong. Her greatest goal was the game winning goal vs. Cornell in the 2010 NCAA Frozen Four. This season, she accomplished the 100th point of her career. With over a dozen freshmen on the Bulldogs squad, Wong is a great leader and role model.
Mid-Season Biggest Surprise, Wisconsin off to 10-6-2 Start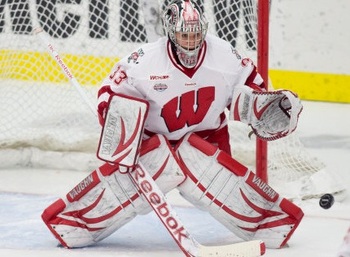 Image by David Stluka
The graduation of leaders such as Hilary Knight and Carolyne Prevost has changed the culture of the Badgers. Despite a superlative recruiting class, the team is still adjusting. While Brianna Decker continues to be the offensive spark-plug for the Badgers, Alex Rigsby has had a difficult start to the season. As the fastest goaltender to reach 60 wins, expectations were high for Rigsby to carry the load for the red and white.
Mid-Season Best Single Game Performance: Rebecca Vint's 5 Goals vs. Penn State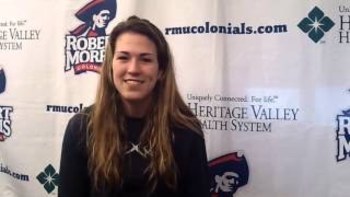 Obtained from Robert Morris University Athletics facebook page
Playing in the shadow of Christine Bestland of Mercyhurst, Rebecca Vint has quietly emerged as one of the most underrated players in the NCAA.
After a superlative rookie season that saw Vint rewrite the Robert Morris Colonials record books, Vint has not missed a beat in her sophomore season. In the month of November, she logged four game winning goals.
Perhaps more impressive was her five goal performance vs. the Penn State Nittany Lions. She tied Megan Picnic's program record for most goals in one game while establishing herself as a game changer.
Second Half Outlook: Wisconsin Has Best Chance of Beating 20-0 Minnesota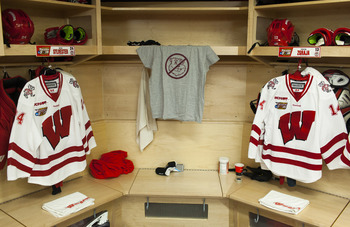 Image from Derek Montgomery Photography http://derekmontgomery.com/2012-ncaa-womens-hockey-championship-wisconsin-vs-minnesota/
Despite prevailing by a 2-0 score in a December 2 match vs. the Wisconsin Badgers, high scoring Hannah Brandt was kept off the score sheet. Although the Badgers have struggled under an unexpected 10-6-2 start, the team boasts one of the elite coaches in NCAA women's hockey, Mark Johnson. The Badgers will make the necessary adjustments to defeat Minnesota in their next match-up.
Mid-Season Best Team Performance: Ohio State Enjoys Historic Weekend Versus Bemi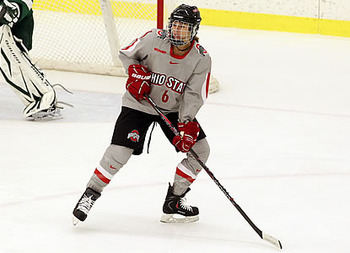 Taylor Kuehl earned her first career hat trick in the historic win (Photo from WCHA.com)
An October 26, 2012 victory over the Bemidji State Beavers (a 4-1 triumph) provided the Ohio State Buckeyes with the 200th win in program history. The Buckeyes followed that historic performance with an even better one on October 27. Once again vs. the Bemidji State Beavers, Ohio State set a program record for most goals in one game with 10. In that game, Taylor Kuehl logged her first career hat trick, while the five goals scored in the second period were the most in program history.
Keep Reading