Ohio State Basketball: 5 Improvements Buckeyes Need to Make Before Big Ten
Deshaun Thomas has been strong for the Buckeyes, but he cannot carry the load alone.
Jamie Sabau/Getty Images
At 9-2, Ohio State basketball is off to a solid start this season, but there are a few improvements that could be made.
While there have been some quality wins over the likes of Washington and Long Beach State, Ohio State has failed to take down elite opponents such as Duke and Kansas.
These two losses have been valuable in the sense that they have illuminated some of the key weaknesses that need shoring up before Big Ten conference play.
Here is a list of the five most pressing needs that Ohio State must improve on in order to be successful in conference play.
Learning Aaron Craft's Role on Offense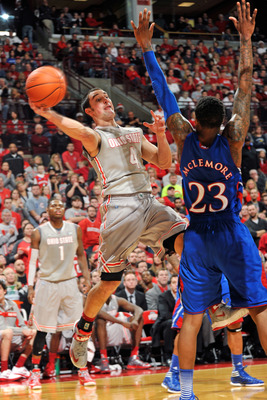 Aaron Craft must discover what his role is as a facilitator and as a scorer.
Jamie Sabau/Getty Images
Aaron Craft has been struggling on the offensive end of the floor during non-conference play.
Chief among the problems facing Craft is what his role must be within Ohio State's offense.
Craft thrives as a distributor with 4.6 assists per game this season but has struggled shooting the ball this season.
He has shot just 36 percent from the field, much lower than in the last two seasons.
Craft's poor shooting comes on more shot attempts than normal, and he looks uncomfortable with his role in the offense.
This poses the question as to whether the Buckeyes can be successful with Craft as a pure facilitator of the offense or whether they need Craft to score to win.
As the Buckeyes begin conference play, they will have to work out what Craft's role will be in competition.
Better Outside Shooting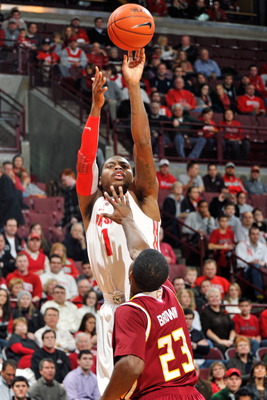 Deshaun Thomas has been the Buckeyes' best three-point shooter, but he is far from the go-to shooter the Buckeyes need.
Jamie Sabau/Getty Images
As a team, Ohio State shoots just 37 percent from beyond the three-point line.
The Buckeyes have historically relied on sharpshooters such as William Buford and Jon Diebler to be successful.
This season, though, the Buckeyes lack that go-to shooter.
Deshaun Thomas is currently shooting 41 percent from beyond the arc.
Compare that to Diebler, who shot 50.2 percent from deep his senior season, and Buford, who shot 46.1 percent his junior season.
This is quickly becoming an area of weakness for the Buckeyes, and moving forward, it must be addressed.
Look for guards such as Aaron Craft and Shannon Scott to look for more shots behind the arc.
Better Rebounding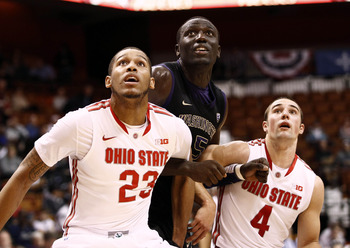 The Buckeyes lack elite height down low.
Mark L. Baer-USA TODAY Sports
Ohio State's recent loss to Kansas illuminated another glaring deficiency: rebounding.
Jeff Whitey, a true seven footer, abused the Buckeyes on the boards.
Whitey and Kevin Young pulled down 10 rebounds, while Ohio State's leading rebounder was Deshaun Thomas with just six.
Ohio State lacks elite height.
At 6'11", Amir Williams is the tallest player on the Ohio State roster.
That being said, Williams only plays 15.6 minutes per game.
Without a player over 6'8" on the floor, it is easy to understand how opposing teams can bully Ohio State at times in the paint.
The Buckeyes must do a better job rebounding as a team, and big men such as Amir Williams, Sam Thompson and Evan Ravenel must own the paint when they are on the floor.
The Emergence of a Third Scorer
The Buckeyes need a third scoring option to emerge. Could that scorer be Aaron Craft?
USA TODAY Sports
Deshaun Thomas has been a scoring machine this season.
Thomas has scored 20 PPG, but at times he has looked overworked in Ohio State's offense.
While Thomas has had a bit of support from Lenzelle Smith Jr., who is averaging 11 PPG, he simply cannot carry the load alone.
For Ohio State's offense to be consistently dominant, a third scorer must emerge.
Aaron Craft and Sam Thompson both average close to eight PPG.
The more likely candidate to increase his scoring is Aaron Craft.
Craft's scoring has not increased from last season even though he is averaging two more shots per contest.
This is because Craft is shooting at a lower percentage.
Do not be surprised to see Craft starting to score close to 12 PPG in conference play once he becomes more comfortable with his new role as Ohio State's third scorer and makes more shots as a result.
Better Bench Production
Freshman Amedeo Della Valle is just one of the members of Ohio State's bench that must step up
USA TODAY Sports
Deshaun Thomas and Aaron Craft both average over 30 minutes per game.
This could become a problem during the long, tiring season of conference play.
Thad Matta could alleviate some of this pressure on his starters if he could rely on his bench to produce more with the minutes they receive.
Forwards such as Evan Ravenel and Amir Williams receive close to 20 minutes per game, and yet they score less than seven PPG and pull down less than five RPG.
How can Matta take a player like Deshaun Thomas, the Buckeyes leading rebounder with 6.8 RPG, out of the game if team rebounding is going to fall so sharply?
A shining example of a bench player using his minutes effectively is Shannon Scott.
The backup point guard is averaging 7.2 PPG and 4.6 APG off the bench.
If he continues this rate of play, Thad Matta will be able to find a couple more minutes of rest for Aaron Craft.
Ohio State needs its key reserves to step up on the floor to provide greater depth during the ultra physical Big Ten play.
Keep Reading

Ohio State Basketball: Like this team?