Predicting the Starting XI for England at the 2014 World Cup in Brazil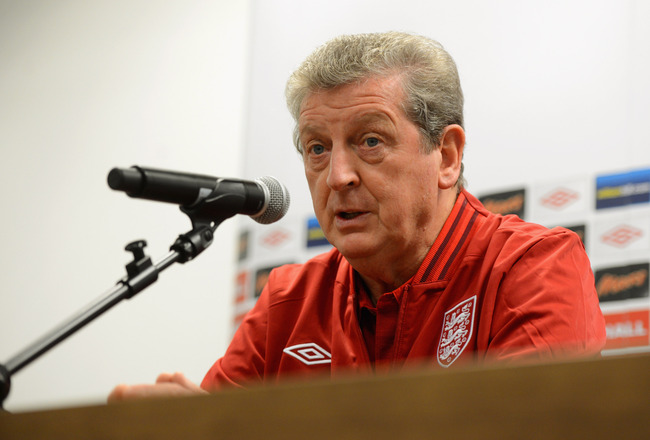 If England qualify, who will Roy Hodgson be picking for his team come World Cup 2014?
Michael Regan/Getty Images
Currently second place in a competitive Group H, there is no guarantee that England will even be at the 2014 World Cup in Brazil with over half of their qualifiers still to play.
Wins over Moldova and San Marino were simple enough, but the 1-1 draws with Ukraine and Poland were more telling—both of the difficulties presented by the opposition in this group and the challenges facing manager Roy Hodgson in the England camp.
Attempting to blood a new generation of talent that can take the national team forward in the coming years is vital, but doing so while qualifying for the World Cup requires a pragmatism that does not necessarily correspond with giving opportunities for younger players.
More senior players are still playing significant parts in Hodgson's teams, and while he will continue to attempt to bring through England's budding new stars, it is likely that many of the names flying to Brazil will have already played in an international tournament.
With over 18 months until Brazil 2014, there is time for things to change, but based on what we have seen over the year and with a nod to the information we have gathered of Hodgon's preferences, here is a prediction of how England's starting XI might look for that tournament.
While England still use 4-4-2 at times, for this team, the presumption is being made that at the World Cup, a 4-3-3 (or a somewhat flexible variation of that) will be the chosen formation.
Goalkeeper: Joe Hart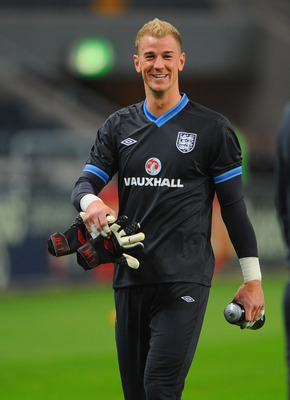 Michael Regan/Getty Images
Since cementing his place as Manchester City's first-choice goalkeeper, and as England's too soon after, Joe Hart has had a pretty good time of things.
Success at club level has not been matched on national service, but his performances in both have earned him plaudits and increasing recognition as one of the world's best in his position.
The first half of the current campaign has been a reminder that things will not always go his way.
Hart has still been good (and great at times, as he was against Borussia Dortmund at home), but he has had to contend with defensive struggles in front of him at Manchester City while some individual errors have been focused on in a way he has not had to deal with previously.
But at still only 25, if his character is strong as we believe, these difficulties may turn into valuable learning experiences.
He remains the standout English goalkeeper, and while there is some interesting competition from guys like John Ruddy and Jack Butland, it is hard to see him not being Hodgson's No.1 come 2014.
Defense: Walker—Cahill—Jagielka—Baines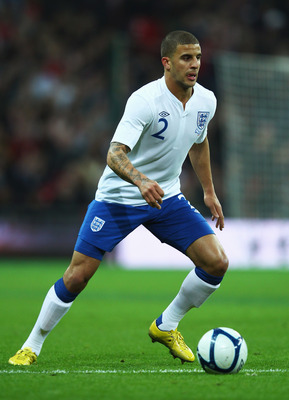 Kyle Walker
Julian Finney/Getty Images
Right-back—Kyle Walker
Not entirely dissimilar to Joe Hart, Walker has faced the first serious test of his character at the top level this season, with a drop in form leading to criticism for a player who had mostly received praise.
There has been an improvement in this regard in recent weeks, but it has quietened the voices heralding him as the undoubted right-back of choice for England.
While Glen Johnson remains ahead of him in the pecking order for now, Walker remains on track to get that spot eventually so long as he continues to work at his game.
The talent is there, and areas where he has struggled (positioning, concentration) will be improved upon as he matures.
Whether he is better than Johnson probably depends on your opinion, but one reason he may get the nod is he is as safe a concession to youth as his manager, Hodgson, is likely to find—and if the pressure is on for him to give younger players a chance, Walker is not as risky as others might be.
Central defense—Gary Cahill and Phil Jagielka
Despite John Terry's retirement and Rio Ferdinand's falling out of favor, this is one position where Hodgson still has options, though as of yet, he has not quite decided on the best pairing for this current World Cup cycle.
It is unlikely that Hodgson will not want a big, physical presence at the heart of his defense, and for now, Cahill is just about the best option there.
He is a better player than that makes him sound, but essentially, his job is to compete with forwards of similar build and dominate the smaller types best he can.
Cahill still needs to improve as a more, well-rounded defender, but at Chelsea, he is testing a place to develop into one as he is likely to find—and he will need to do so there if is to also cut it at a major tournament.
Jagielka's place in this team does not feel so certain, but while there is competition from younger, more fashionable defenders, the Toffee is reliably committed and aware in a way that is likely to appeal to Hodgson.
Left-back—Leighton Baines
Jagielka may also be selected partly because of his familiarity with club-mate Baines, an attribute not to be sniffed at in international football where there is little time to get to know others.
Baines' own selection ahead of Ashley Cole may be somewhat controversial, but while the Chelsea full-back remains one of his position's finest practitioners, by 2014, it may be time to give someone else a chance.
After taking a little time to find his feet, Baines has looked more comfortable in recent international outings, and given the confidence boost of being Hodgson's first choice, his impeccable club form may well translate.
Midfield: Milner—Wilshere—Cleverley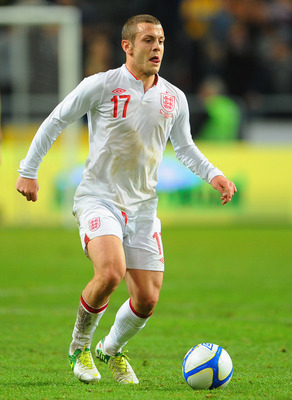 Jack Wilshere
Michael Regan/Getty Images
It has become so fashionable for teams to have a "holding" player in midfield, but what do you do when the ideal person to fulfill that role is not there?
England have Gareth Barry and Scott Parker, who have become their go-to men there (though really, they are defensive midfielders rather than "holding" ones, akin to the role Claude Makelele made famous), but with both approaching their mid-30s, the time may be coming to move on.
As of now, there are few young English defensive midfielders asserting their credentials in the Premier League.
Instead of specifying one player to do the bulk of the dirty work, a unit of three performing various jobs may be what Hodgson opts for in attempt to ensure England can live with world football's best midfields.
Steven Gerrard is the notable omission here.
As current England captain, this may be regarded as an oversight, but with this next World Cup over 18 months away, Hodgson may have to begin to prepare for life without a player whose influence is already waning at club level (though Gerrard's experience ensures he should be in the squad at least).
Jack Wilshere
England's great hope for the future, the pressure on Wilshere's shoulders is only going to increase as time goes by.
But as well as the requisite skill, passing and vision that has earned him that responsibility, he has the confidence (or maybe arrogance) to make it work in an effective way.
Despite going down easy on occasion, Wilshere is not averse to doing his defensive duty and making challenges.
Most significantly, it is his presence of mind to get on the ball and try and get his team playing that will be so vital if England are to avoid the jibes of boorishness that have plagued their style in recent years.
Tom Cleverley
Just how good a player Cleverley is going to be is not clear, but his understanding of the need for movement and a desire to pass the ball marks him out as someone who may be useful in improving England's standard of play.
His selection here is banking on him finding his feet sooner rather than later, with greater contributions to the uglier aspects of midfield play needing to find their way into his game, but the makings of a link-up player with a decent blessing of creativity might make Cleverley someone Hodgson wants to take a chance on.
James Milner
Milner is not especially quick and not remarkably skillful, and while some criticize his selection for those reasons, they are overlooking the industry and sensible use of the ball he brings.
They might not be especially exciting, but these types of players are the ones that keep a team ticking nicely, and in the midfield selected here, Milner be required to put in a shift that allows the others to really play.
The Manchester City man is actually a better footballer than people give him credit for, but it his willingness to do what is required of him that will see him win more international caps.
Attack: Oxlade-Chamberlain—Rooney—Welbeck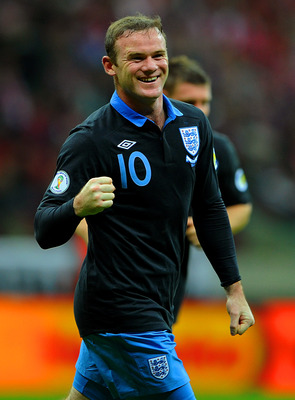 Wayne Rooney
Michael Regan/Getty Images
Wayne Rooney
It is hard to see any England manager ever dropping Rooney, not when there is even the slightest hope he may summon his talent at its spectacular best.
Despite underperforming at major tournaments for so long, his club form has ensured he remains his country's first option upfront, even when sound arguments have been made to look elsewhere.
Logic does not apply with Rooney, and Hodgson has all but made it clear that he will be starting to matter what.
Danny Welbeck
Welbeck has yet to assert himself as a regular at Manchester United, and with the form Robin van Persie is in, it may be a while yet.
But for England, he has played well, and so long as he makes his appearances count for his club, he will be in contention for his country.
He is comfortable on the ball outside of the box, but crucially inside it, he has shown himself to be an adept and adaptable finisher.
Jermain Defoe may be England's most natural goalscorer, but Welbeck's height may get him the nod in Hodgson's mind while he is more likely to score than someone like Andy Carroll.
Alex Oxlade-Chamberlain
Oxlade-Chamberlain would almost certainly be an auxiliary forward in Hodgson's mind—possessing the skill and speed to contribute here, but versatile enough to drop back into midfield when needed.
It is the latter that gives him a particular advantage over a Theo Walcott or Aaron Lennon, and while he he has not turned into a fully-fledged attacking dynamo, he is nonetheless a recognizable threat for opposition defenders.
Keep Reading

England (National Football): Like this team?