San Francisco Giants: 5 Big Offseason Questions That Still Need to Be Answered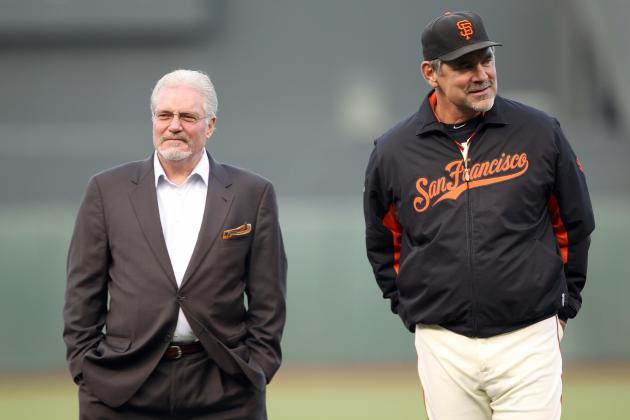 Ezra Shaw/Getty Images
Brian Sabean and Bruce Bochy work very well together.
The San Francisco Giants were able to retain the key free agents that they targeted this offseason. By doing so, GM Brian Sabean was able to keep the nucleus of the team that won the 2012 World Series together.
Manager Bruce Bochy will again have Angel Pagan and Marco Scutaro at the top of the batting order heading into the 2013 season. Both players tested the free-agent market and opted to return to the Giants. Pagan signed a four-year, $40 million contract, and Scutaro cashed in with a three-year, $20 million deal.
In addition, Sabean was able to retain valuable left-handed reliever Jeremy Affeldt, who played a key role for the Giants all year. He signed a three-year, $18 million contract to stay in San Francisco.
The Giants also brought in switch-hitting outfielder Andres Torres, who is expected to platoon with Gregor Blanco in left field. Torres was a key member of the Giants' 2010 world championship team. He had a poor 2012 season with the Mets, so Sabean was able to sign him for only $2 million.
Although the Giants hot stove has cooled, a few important questions still remain. Let's take a closer look at five important areas the Giants are still addressing this offseason.
Begin Slideshow

»
Nick Laham/Getty Images
Andres Torres' greatest assets are his speed and defense.
The San Francisco Giants had tried to sign several free-agent outfielders before settling on Andres Torres. The hope of Sabean was to bring in a right-handed bat with some power, to platoon with Gregor Blanco in left field.
Torres hit only .230 with an OBP of .327 last season with the Mets. However, he did hit .286, with an OBP of .382 as a right-handed hitter. He hit only three home runs in 347 at-bats, so he is not the power threat the Giants were hoping for.
The biggest stumbling block to acquiring a right-handed hitter with power was the length of the contract, as well as the overall dollar amount. Sabean wanted someone to sign a one-year deal. Two top candidates, Cody Ross and Ryan Ludwick, were both successful in finding longer-term contracts.
The best remaining option appears to be Scott Hairston, but he is also pushing for a lucrative, multi-year deal. Hairston would be a very good fit for the Giants, but it looks like a long shot at this point.
Ideally, the Giants can acquire a solid starting outfielder. Blanco is better suited as a fourth outfielder and Torres is ideally a fifth outfielder. However, based on the available players on the market, it's entirely possible that the Giants will enter 2013 with a Blanco - Torres platoon in left field.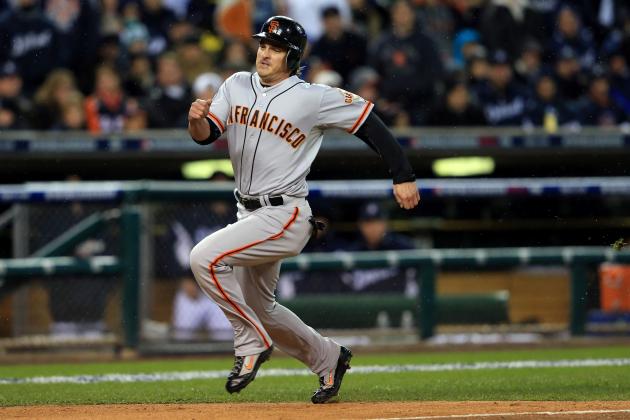 Doug Pensinger/Getty Images
Ryan Theriot scored the winning run in Game 4 of the World Series.
The Giants infield appears set with starters Pablo Sandoval, Brandon Crawford, Marco Scutaro and Brandon Belt from left-to-right. Utility infielder Joaquin Arias played a vital role on the 2012 championship team and will have one of the reserve jobs.
The other backup infielder spot is uncertain, as 2012 utility infielder Ryan Theriot is now a free agent. In each of the past two seasons, Theriot was a starter, but lost his job when his team acquired another infielder at the trade deadline.
In 2011, with the Cardinals, Rafael Furcal took Theriot's job, and in 2012, with the Giants, it was Marco Scutaro. Theriot won world championships on both teams and is an excellent man to have around the clubhouse. He is a professional and is well-liked by his teammates.
Theriot was paid $1.25 million for the 2012 season, and it would not take much more than that to keep him for 2013. The key is whether another team would give Theriot a starting job. If he can't find that option, there is a good chance he would return to San Francisco.
If it does not look like he can re-sign Theriot, Sabean will look to acquire another infielder. If that player can also play some outfield, that would be a welcome bonus.
Currently available players on the market in the Giants' price range could include Jeff Baker, Adam Kennedy or Drew Sutton.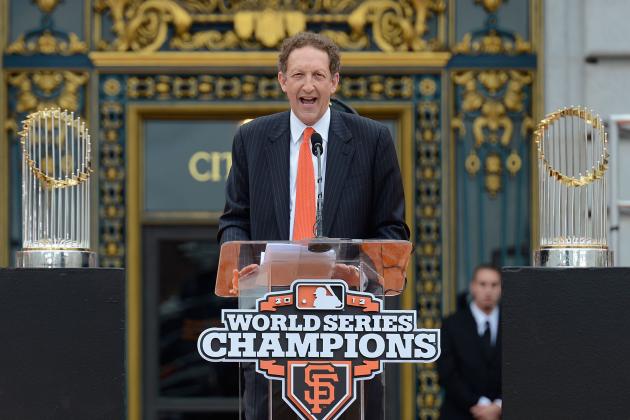 Thearon W. Henderson/Getty Images
Larry Baer is the CEO of the Giants.
Each year, the San Francisco Giants ownership group provides Sabean with a budget. In 2012, the Giants' opening day payroll was slightly in excess of $131 million.
The question is, how much flexibility will Sabean have as he attempts to build a championship-caliber team for 2013? With the Los Angeles Dodgers spending a huge amount of money on players, the Giants must find a way to compete and win against their arch rival.
It is expected that the Dodgers will have the highest payroll ever to start a season, and they will also be able to spend the money needed to acquire additional players during the season. The Dodgers' payroll gives them a level of comfort because they can make a mistake on players, yet still have the money to correct it.
The situation in San Francisco is not as aggressive, financially. The Giants are still paying debt service on their stadium, and the television revenue is nowhere near what the Dodgers get out in Los Angeles.
The Giants' opening day salary is estimated to be around $140 million, which will likely be some $80 million less than the Dodgers'. The Giants ownership group has always displayed a willingness to expand the payroll at the midseason trade deadline. However, they will not approach the Dodgers' spending habits.
The Giants currently have 12 players under contract, who amount to $106 million. This does not include Hunter Pence, Buster Posey or Sergio Romo, all of whom are due to make big money.
Pence, who is arbitration-eligible, is likely to make roughly $14 million, which now brings the payroll to $120 million for 13 players. Sabean will need to fill out the rest of the roster, which is 12 more players for only about $20 million more.
The real question is how much flexibility Sabean has to exceed that $140 million mark. In any case, the Giants will be bargain-hunting for those last few spots.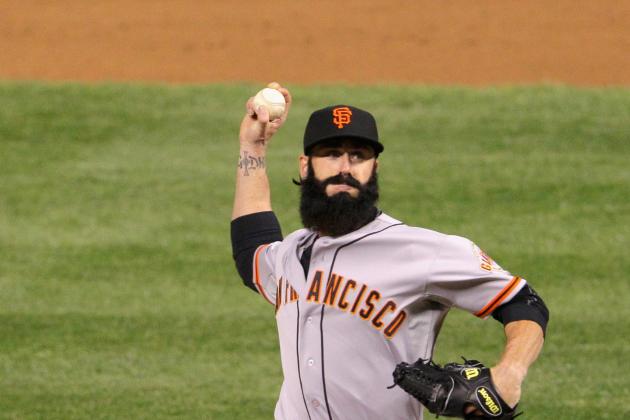 Doug Pensinger/Getty Images
Brian Wilson was a key to the Giants' 2010 world championship.
Brian Wilson gave his heart and soul to the Giants in their 2010 World Series title run. Unfortunately, he also gave his right arm.
Wilson was hampered by arm trouble in 2011 and hoped to make a full recovery in time for the 2012 season. He was shut down after only two regular season appearances and underwent his second Tommy John elbow surgery this past April.
Wilson, who is a workout maniac, insists that he will be back in time for opening day, although one has to wonder if his arm can hold up for an entire season.
The Giants had the opportunity to keep Wilson for $6.8 million, but passed and want to give him an incentive-laden contract. Wilson was miffed by the perceived slight and is trying to find a team that will offer him a larger guaranteed salary.
As of now, Wilson has not found a deal to his liking and the Giants are still in the picture. The Giants would like to keep Wilson, but for the right price. If Wilson turns out to be healthy and productive, he would make the $6.8 million and maybe even more, depending on the structure of the incentives.
It's very unlikely any team will be willing to guarantee him such a large amount after his second Tommy John surgery. The large guarantee also does not fit into the Giants' budget, so the only way Wilson returns will be on a heavily incentive-based contact.
Wilson is well-liked in San Francisco by his teammates and the fans. He has to understand that this is business and not a personal slight. The Giants won the world championship without him, and a hefty contract is a risk they do not need to take.
All things being equal, we can expect Wilson to return. However, if another team is willing to offer him 25-30 percent more in guaranteed money, Wilson will likely take it.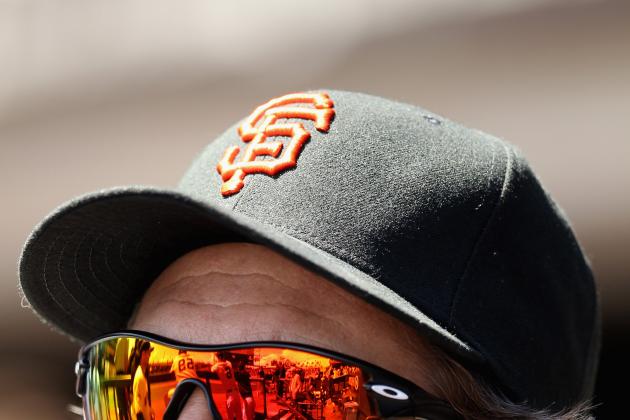 Ezra Shaw/Getty Images
Pitching coach Dave Righetti is highly respected in the Giants' organization.
The San Francisco Giants have built their team around pitching. The starting rotation of Matt Cain, Madison Bumgarner, Tim Lincecum, Ryan Vogelsong and Barry Zito get most of the press, but the Giants bullpen has also been a key factor in their success.
The Giants have typically carried 12 pitchers, which means a seven-man bullpen. It looks as if six of those spots are pretty well set. The Giants have three solid right-handers in Sergio Romo, Santiago Casilla and George Kontos.
Jeremy Affeldt, Javier Lopez and Jose Mijares make up a solid southpaw trio. In addition, young lefty Dan Runzler could challenge Mijares for the final spot from the left side.
This leaves one remaining bullpen spot, which was manned by a host of pitchers last year. Veterans Guillermo Mota, Brad Penny and Clay Hensley all pitched for the Giants at one point. Minor league pitchers Dan Otero, Jean Machi or Heath Hembree could also be given a shot.
GM Brian Sabean and manager Bruce Bochy have tended toward veterans for this long-reliever role. Look for the Giants to explore their options and see if they can pick up an inexpensive free-agent reliever who throws from the right side.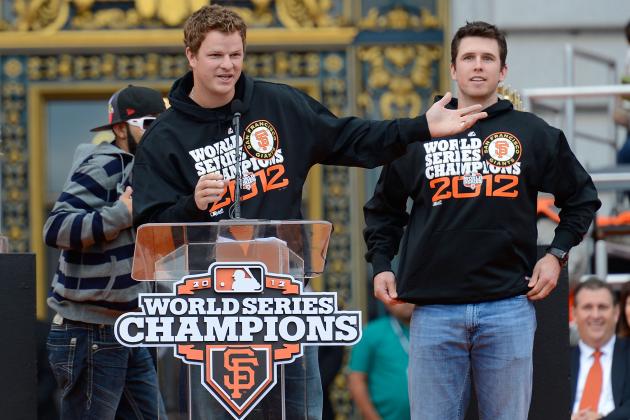 Thearon W. Henderson/Getty Images
Matt Cain and Buster Posey will lead the Giants into 2013.
The San Francisco Giants won their second world championship in three years. They proved to the baseball world that their 2010 title was not a fluke, and they will be a team to be reckoned with in the coming season, as well.
The NL West will be tougher as the Los Angeles Dodgers will continue to spend money to buy all the talent they can. The question is whether the Dodgers will mesh as a team and and be greater than the sum of the individual pieces.
The Arizona Diamondbacks are a good young team with solid pitching. They are a team on the rise and not done with their offseason moves.
Sabean was successful in keeping all the major parts of the 2012 championship team together. I also look for him to make a strategic addition or two as we near the trade deadline.
Sabean's additions of Javier Lopez, Ramon Ramirez, Cody Ross and Pat Burrell paid big dividends for the 2010 Giants.
We saw the positive impact that Sabean's acquisitions of Marco Scutaro and Hunter Pence made for the Giants this past season. If the Giants need to strengthen their team at the trade deadline, Sabean has proven that he can do it.
As always, good health will be a key for the Giants' success. If they stay healthy and just do what they're capable of, the Giants will be in the thick of things again in 2013.
One thing that cannot be overlooked is the impact of the fan support at AT&T Park. The Giants players are pumped up to play in front of these loud and supportive fans. It's impossible to quantify that impact, but it is real, and if the victory parade speeches are any indication, the Giants to-a-man love it.