UPDATE: Latest NL Central Rotation Rankings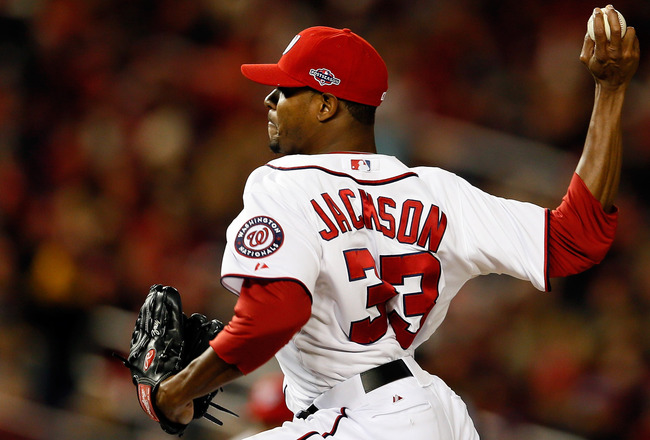 The Cubs signed two decent arms for their rotation.
Rob Carr/Getty Images
While the usual suspects like the Angels, Dodgers and Red Sox have all made splashes in free agency, the past two weeks have featured a cry of relevance from several longtime losing franchises.
The Royals sent the consensus-best prospect in baseball, Wil Myers, to the Rays along with other prospects to acquire James Shields and Wade Davis to anchor their rotation.
The long-suffering Indians pulled out all the stops to sign second-best free-agent bat Nick Swisher, but more importantly, they moved oft-injured Shin-Soo Choo in a three-team deal that netted them Drew Stubbs and Trevor Bauer.
And here in the NL Central, both the Cubs and Pirates made several moves that shake up the bottom of our division rotation rankings.
Don't look for change at the top, however. The Reds and Cardinals still sport the top-two rotations in the NL Central, if not in all of the National League.
All rosters courtesy of mlbdepthcharts.com.
5. Pittsburgh Pirates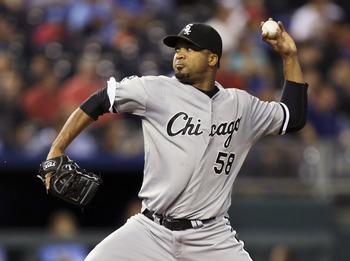 Ed Zurga/Getty Images
Projected Starting Rotation
A.J. Burnett
Wandy Rodriguez
James McDonald
Francisco Liriano (replaces Jeff Locke)
Kyle McPherson

The Pirates got a pretty nice haul from the Boston Red Sox in exchange for closer Joel Hanrahan, and it may be the best offseason move they make. Unfortunately, it did not improve their starting rotation.
We had the Pirates rotation ranked fourth in the NL Central a little over two weeks ago. They seemed to be on the right path by going with youth in the bottom of the rotation.
That plan changed, however, when they signed Francisco Liriano, the former All-Star and Rookie of the Year finalist, to a two-year deal.
It's easy to say Liriano was never the same after undergoing Tommy John surgery at the end of 2006, but since it was his first full season in the majors, it may have been a fluke season to begin with.
What isn't a fluke is the rate at which he walks major league batters—he granted 32 free passes in just 56.2 innings in 2012 which led to an awful WHIP of 1.518—and his walks-per-9 inning ratio the past two seasons has been over 5.0.
4. Milwaukee Brewers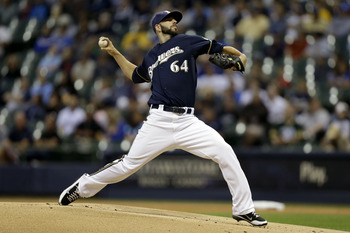 Mike McGinnis/Getty Images
Projected Starting Rotation
Yovani Gallardo
Marco Estrada
Michael Fiers
Chris Narveson
Mark Rogers
The Brewers' projected rotation hasn't changed one iota, but they drop from third to fourth in our rankings.
As mentioned in the last ranking, Yovani Gallardo is still just a No. 2 hurler at this point in his career until he can learn to allow fewer base runners.
Marco Estrada did well last year, striking out 143 batters in 138.1 innings, but his home-run rate was a little high (18 allowed). He was also never a starter until last year, and he needs to demonstrate he can hold his own over an entire season of work.
We are most concerned with Mike Fiers, who was a revelation for the Brewers in 2012 (3.74, 9-10).
According to Fangraphs.com, Fiers' FIP of 3.09 placed him eighth, right between David Price of the Rays and Adam Wainwright of the Cardinals among all pitchers with at least 100 innings thrown.
NL Central teams will have a better scouting report on him next season, and with an average fastball of around 88-mph, it may be reasonable to expect Fiers to regress in 2013
3. Chicago Cubs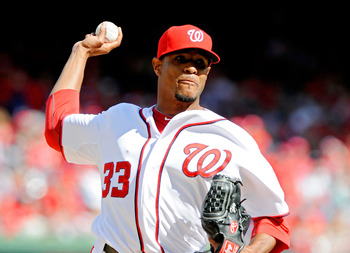 Patrick McDermott/Getty Images
Projected Starting Rotation
Matt Garza
Jeff Samardzija
Edwin Jackson (replaces Travis Wood)
Scott Feldman
Carlos Villanueva (replaces Chris Rusin)
After wearing red and appearing in the postseason the past two years, Edwin Jackson will sport Chicago Cub blue in 2013 and probably not appear in the postseason.
On the bright side, he'll have the same in-season address for four years which will be the longest stretch of his career—barring a trade, of course.
GM Theo Epstein also signed former Blue Jay Carlos Villanueva to a two-year deal, so the Cubs ostensibly have seven big-league starters to choose from to fill the rotation.
Odds are good that they are poised to move their ace, Matt Garza, before Jackson or anyone else.
Scott Baker is a former 15-game winner, and if he proves effective, he could slide into the fourth spot in the rotation when or if Garza is dealt, and the Cubs would still have the edge over Pittsburgh and Milwaukee.
However it pans out, the back-end of the Cubs' rotation improved greatly, bumping them up to third in our rankings after bringing up the rear two weeks ago.
Jackson is a solid No. 3 starter and has been slowly improving from one year to the next. His 1.218 WHIP was one of the best of his career, and he only just turned 29 this past September.
Villanueva was quite effective last year as a starter, but he did allow 23 home runs in just 125.1 innings for Toronto, which bears monitoring.
2. St. Louis Cardinals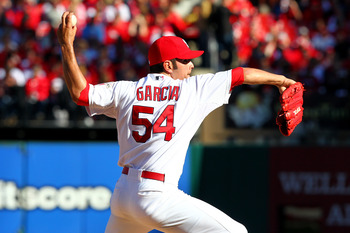 Dilip Vishwanat/Getty Images
Projected Starting Rotation
Adam Wainwright
Chris Carpenter
Jaime Garcia
Jake Westbrook
Lance Lynn
As far as the Cardinals' 2013 rotation is concerned, the most interesting news fans have heard this offseason was that lefty Jaime Garcia plans on pitching for Team Mexico in the World Baseball Classic.
After being shut down twice this past summer for shoulder issues, this news caused quite stir among St. Louis columnists and Cardinals bloggers alike and rightfully so.
As reported by MLB.com's Jenifer Langosch, GM John Mozeliak was "encouraged" by the news, however.
How can Mozeliak keep his cool in a situation like this? Because the man is a genius as we are learning time and time again.
Remember: Garcia was knowingly injured when he started Game 2 of the NLDS this past postseason, was pulled after just two innings and finally removed the NLDS roster altogether.
He reportedly upset his teammates for pulling such a stunt on top of it all.
With his injury history and questionable makeup, the team has likely no expectations for Garcia going into 2013, especially with so many power arms in Memphis waiting to move up.
Mozeliak will use Garcia's performance in the WBC to prove his health and effectiveness rather than allow the young enigma to cost the team precious wins early in the MLB season.
If Garcia falters, Mozeliak will have a free "Advance to Go" card to play on Shelby Miller or Trevor Rosenthal, allowing him to "rush" one of them into the rotation, which he may be hoping for all along.
1. Cincinnati Reds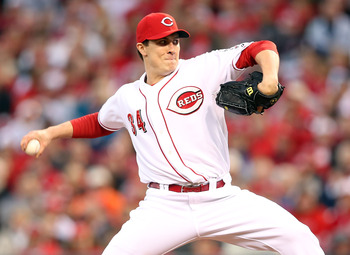 Andy Lyons/Getty Images
Projected Starting Rotation
Johnny Cueto
Mat Latos
Bronson Arroyo
Homer Bailey
Aroldis Chapman
As with St. Louis, the Reds have had no changes to their rotation since our last rankings. Cardinal fans admirably stuck up for their co-aces Wainwright and Carpenter, as well as veteran Jake Westbrook and how they stacked up against the Reds' staff.
What was interesting was seeing how little respect Cardinal fans were giving Mat Latos.
Let's ignore wins and losses and look at Latos' career peripheral stats:
| | | | | | |
| --- | --- | --- | --- | --- | --- |
| Year | Age | Inn | BB | K | WHIP |
| 2009 | 21 | 50.2 | 23 | 39 | 1.303 |
| 2010 | 22 | 184.2 | 50 | 189 | 1.083 |
| 2011 | 23 | 194.1 | 62 | 185 | 1.184 |
| 2012 | 24 | 209.1 | 64 | 185 | 1.161 |
To the critics that say Latos is unproven, just look at the above chart. He has three straight seasons with 185 strikeouts or more and three straight seasons with a WHIP under 1.20.
Walt Jocketty identified this No. 2 pitcher, who has all the earmarks of an effective workhorse and will be just 25 years old during the 2013 season.
Latos easily led all Reds' starters in batting average allowed (.230). Johnny Cueto, who should have been a Cy Young finalist, was a distant second (.252).
If a single NL Central team boasts two 20-game winners in 2013, the smart money is on the Reds being that team.
Keep Reading

St Louis Cardinals: Like this team?