Dale Earnhardt Jr. Not Worried, So Why Should Junior Nation Be?
March 27, 2009
"I'm not worried. We'll be oK. We got the team to do it, so I'm not worried at all," said Dale Earnhardt, Jr. before the Las Vegas race.
After being 35th in the points standings after California, things were already looking grim for Earnhardt and the No. 88 team.
While Junior Nation concerns continues to grow, Earnhardt still had full confidence in his team.
With a rough start to the season at Daytona, and not much better luck the next week at California, things needed to change and things did.
At Las Vegas, Earnhardt acquired his first top-10 of the year and it jumped him to 29th in the standings. Not a good spot by any stretch, but Earnhardt was showing improvement.
After two solid finishes at Atlanta and Bristol, Earnhardt leap frogged many cars, and now sits in the 19th spot in the standings, only 66 points behind Kevin Harvick for the 12th and final spot in the Chase.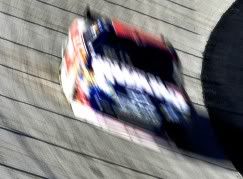 With upcoming races at Martinsville, Phoenix, Texas, and Talledega, Junior Nation should be excited of the big possibility for Earnhardt to gain a lot of points, and move himself in to position to get back in to the top 12.
Earnhardt has a combined eight wins at the next four tracks on the NASCAR circuit, with five of those coming at the capital of Junior Nation, Talladega.
Those are comforting numbers to see if you are Earnhardt, Jr., or an Earnhardt fan.
So don't get too concerned or frightened yet Junior Nation. There really is nothing to worry about.
Yes, he did start the season sort-of off slow, but so did Jimmie Johnson last year, and look where he ended up: champion.
There are still 29 races left on the schedule, so Earnhardt is still very much in the thick of things.
Bottom line is, never count out an Earnhardt.
It could come back to bite you.