Richard Sherman Makes Strong Case to Win His Appeal and More NFC West News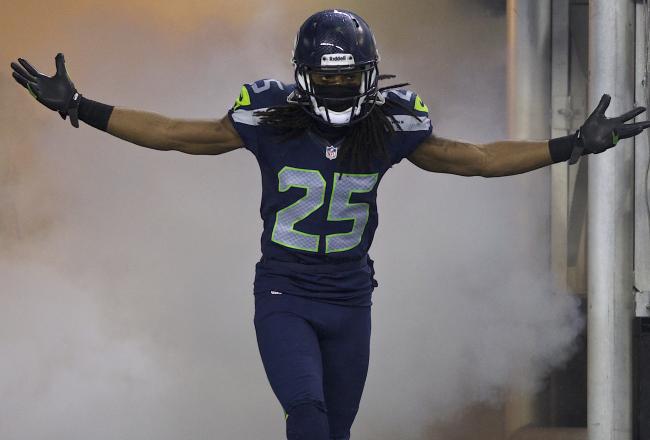 Stephen Brashear/Getty Images
By the sounds of it, the ruling of Richard Sherman's four-game suspension should be coming down this Thursday. The ruling would come three days before the Seahawks final regular season game against St. Louis, and depending on the validity of Sherman's appeals argument, he may not miss any playing time going forward.
According to Sherman's Twitter account, he claims that the tester mixed his urine sample with another urine sample. He also claims that the tester has had a history of errors during his sixth months of employment with the NFL's drug testing program.
It's unknown how Sherman received this information, but in this tweet, he says six other of the tester's tests have been thrown out due to poor testing procedures:
Hoping we play in a just League @nfl. Not a league that allows a tester to mix urine samples. A (cont) tl.gd/kfutl6

— Richard Sherman (@RSherman_25) December 25, 2012
Here's the full rundown of Sherman's defense in the case, according to Adam Schefter of ESPN:
A major part of Sherman's appeal, which was heard Friday, involved his claim that the cup containing his urine specimen was leaking, prompting the collector to place a second cup underneath it to capture any leakage.

Sherman stated that the second cup's seal already had been broken before being used to stop the leakage from his cup, according to the source. Since the second cup's seal was broken, the chain of custody also was broken, therefore nullifying Sherman's positive test for Adderall.

Sherman and his representatives argued that his tested urine sample was contaminated as a result of the second cup. If the collector confirmed the second cup's seal was broken, there would be grounds for Sherman escaping his suspension.
It sounds like the ruling should be in the favor of No. 25, not the NFL. But we all know how the NFL operates—case and point, the whole "Bountygate" scandal.
Thursday can't come soon enough for Sherman and the Seattle Seahawks, and depending on the ruling, the 'Hawks playoff fate will be greatly impacted.
Craig Powers of SBNation.com reports on the fact that the 'Cards are still uncertain as to who will start at quarterback in the season finale.
Cooper Allen of Bleacher Report looks at a seven-round wish list for Arizona in regards to the Cardinals offseason needs.
Daniel Brown of the MercuryNews.com says the 49ers have indeed lost wide receiver Mario Manningham for the season.
Joseph Akeley of Bleacher Report breaks down where San Francisco stands in the NFC playoff picture.
Seattle Seahawks
Mike Florio of ProFootballTalk.com tells us that the Seattle Seahawks could sign defensive end Ray Edwards as early as today.
Chris Trapasso of Bleacher Report examines everything we need to know about Seattle's dominant December run.
St. Louis Rams
Jim Thomas of the St. Louis Post-Dispatch says Michael Brockers' balky ankle isn't slowing him down during an impressive rookie season.
Dan Gruchala of Bleacher Report takes a look at the biggest winners and losers from Week 16.
This article is
What is the duplicate article?
Why is this article offensive?
Where is this article plagiarized from?
Why is this article poorly edited?