Why Throwing Bruce Rondon into Closer Role Won't Cost the Tigers an AL Pennant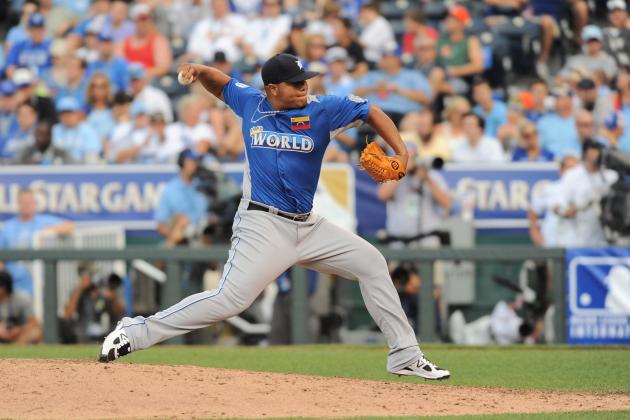 Denny Medley-USA TODAY Sports

Naming Bruce Rondon the closer going into the 2013 Spring Training is a mistake.
But it's not a big enough mistake that it will cost the Detroit Tigers a shot at winning back-to-back American League pennants.
Rondon, a 22-year-old rookie who has only made nine appearances in Triple-A and has spent less than a season above the Single-A level, won't have much of a learning curve when he makes his MLB debut next season.
But even if he struggles, which many experts have predicted is almost inevitable, the Tigers have enough talent in other areas to make up for Rondon's inexperience and should overcome any potential shortcomings at the back end of their bullpen.
The Tigers will once again be runaway favorites to win the AL Central next season.
Here are four reasons Bruce Rondon won't cost Detroit another AL Pennant:
Begin Slideshow

»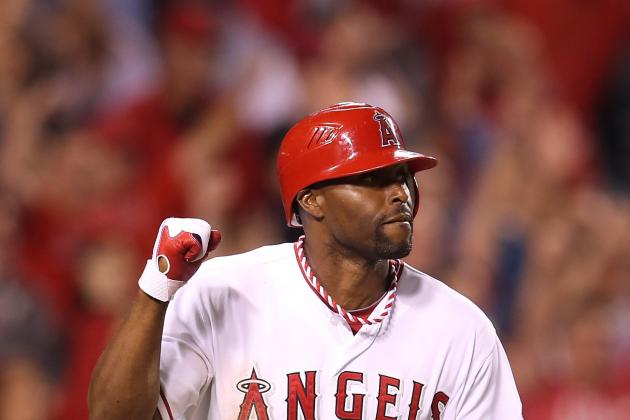 Stephen Dunn/Getty Images

Veteran leadership is one of the most underrated intangibles in sports—especially in baseball—and the Tigers have plenty to go around in 2013.
With the addition of Torii Hunter to the lineup next season, Detroit boasts proven veterans at almost every position, an asset that should be able to carry this loaded team to an AL Pennant.
If Rondon struggles and the Tigers blow some early games, Hunter, Miguel Cabrera, Justin Verlander and the rest of the leaders in the clubhouse won't allow the team to fall into an extended funk.
The younger players will rally around the proven veterans and allow them to lead, not only in the clubhouse, but by example as well.
Rondon will have the benefit of an experienced bullpen that has been through the ringer in the last of couple seasons, at times experiencing the highest highs and the lowest lows imaginable.
He'll be rushed into duty, but with the guys around him who will have his back every step of the way, it should be a smooth transition.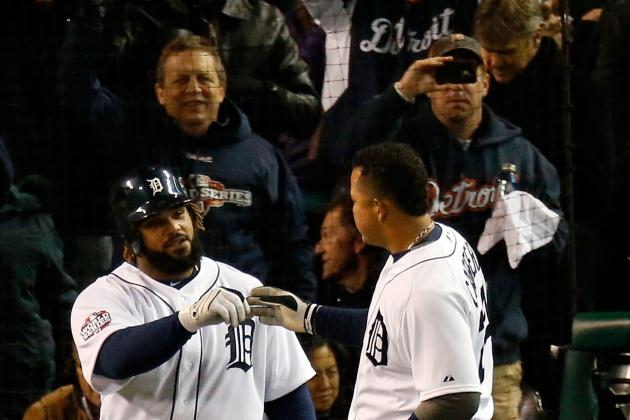 Leon Halip/Getty Images

If a talented team has a few players who are playing out of their minds, those individual performances can sometimes be enough to carry their team through a slump.
When certain players are struggling, Miguel Cabrera has shown the ability to put his team on his back and personally will them to victory.
Cabrera has his portly partner-in-crime in Prince Fielder hitting behind him, and this season, the Tigers get a presumably healthy Victor Martinez back in lineup.
Fielder and Cabrera combined for a .321 average last season to go along with 74 home runs and 247 RBI.
After throwing Martinez back into the mix, you get 724 career home runs and 2,628 RBI between the three players.
Barring another ACL injury for Martinez, it's not exactly like the three superstars are set for any type of career decline.
If Rondon takes a little longer than expected to produce at the major league level, those three players have more than enough talent to carry the load. They have the ability to make the players around them look a lot better and could take the negative spotlight away from some struggling young guys.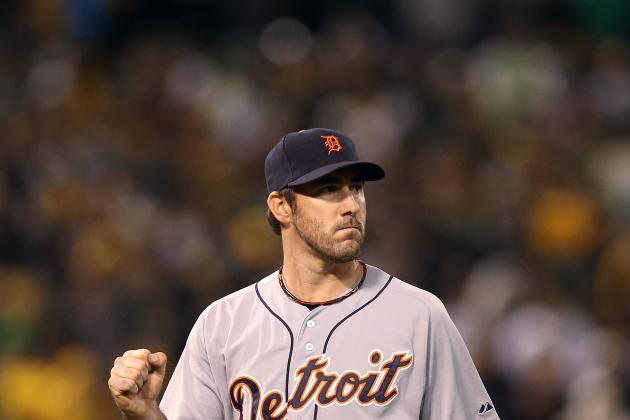 Ezra Shaw/Getty Images

Closers usually enter games when their team is leading by three runs or less and are often depended upon to close out tight games.
But because the Tigers' starting rotation is so good, Rondon most likely won't be pressed into stressful duty too often—especially in the early going—with the game on the line.
It's a lot easier, especially for a young, inexperienced closer, to come into the ninth inning with a two or three-run lead, as opposed to a one-run deficit.
The Tigers' starters have the ability to set Rondon up for success, allowing him to come into games with a comfortable lead.
Justin Verlander is coming off the two best seasons of his life, winning the AL MVP and AL Cy Young in 2011 and threatening for another Cy Young award last season.
Verlander went 17-8 with a 2.64 ERA in 2012 and led the major leagues in strikeouts for the second consecutive season with 239. He has 1,454 careers strikeouts compared to just 470 walks and boasts a career ERA of 3.40
The Tigers re-signed Anibal Sanchez to a five-year, $80 million deal this offseason, with Sanchez expected to earn his money for the Tigers for the next several years to come.
The Tigers also have Max Scherzer, who's coming off a career year, going 16-7 with a 3.74 ERA and finishing only behind Verlander in strikeouts with 231.
Scherzer stepped up his game last season, proving he can be a reliable No. 2 starter and making it easier for guys like Doug Fister and Rick Porcello.
Fister battled injuries last season but still finished with a 3.45 ERA in 26 starts, while Porcello had a decent season with a 4.59 ERA.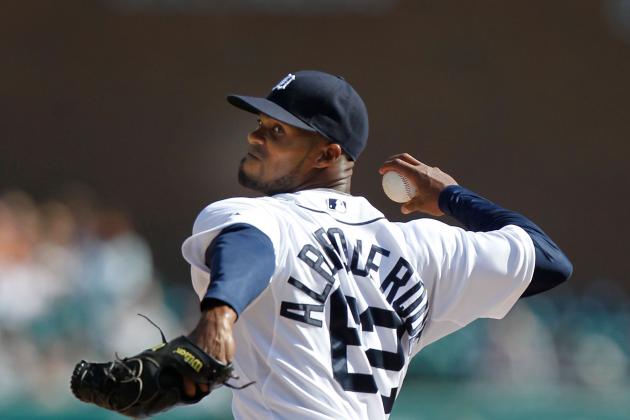 Gregory Shamus/Getty Images

The Tigers' bullpen will have Rondon's back.
Relievers are a peculiar breed and have a special bond that causes them to pick up the slack for each other.
While the bullpen looked to be Detroit's achilles heel at the beginning of last season, during the pennant race, and especially in the postseason, the Tigers' relievers stepped up big time.
After coming back from an elbow injury that kept him out of the lineup for most of the season, right-hander Al Alburquerque picked up where he left off in 2011 when he boasted a 1.87 ERA.
Last season he made his first appearance in September, finishing with eight appearances and a 0.58 ERA.
After Jose Valverde unceremoniously booted himself from the closer role, Phil Coke gave the Tigers a huge boost. He didn't have a great regular season but was outstanding in the postseason, posting a 0.84 ERA and two saves in 10 appearances.
Coke looked to have reinvigorated his career during the playoffs and will be a dependable setup man next year.
The Tigers' bullpen boasted a combined ERA of 3.79 in 2012 and no reliever, besides Valverde, had a postseason ERA higher than 3.38